Abstract
Purpose
To estimate how many boys with UDT must undergo orchiopexy to prevent one case of TC, one death from TC and one exposure to TC treatment beyond radical orchiectomy as compared to being treated at an older age.
Methods
This retrospective study utilized data from a 2007 Swedish study of males who underwent orchiopexy for UDT (Pettersson et al.). TC incidence for boys undergoing orchiopexy for UDT was assessed based on the age at orchiopexy (0–6 years, 7–9 years, 10–12 years, 13–15 years). The incidence of TC in each age cohort was calculated and used to determine the number needed to treat (NNT) for each age group using assumptions based on published TC outcomes.
Results
For an index patient ≤ 6 years, 372 boys need to undergo orchiopexy to prevent a single case of TC, 1488 boys to prevent exposure to TC therapy beyond radical orchiectomy, and 5315 boys to prevent a single TC-related death compared to treatment at an older age.
Conclusion
While there is evidence supporting benefits of early orchiopexy, the NNT to affect TC outcomes is very high. Even those with delayed orchiopexies have low risk for TC poor outcomes. This information can be used when counseling patients and families faced with UDT about the risks related to TC, especially with comorbidities.
Access options
Buy single article
Instant access to the full article PDF.
US$ 39.95
Tax calculation will be finalised during checkout.
Subscribe to journal
Immediate online access to all issues from 2019. Subscription will auto renew annually.
US$ 119
Tax calculation will be finalised during checkout.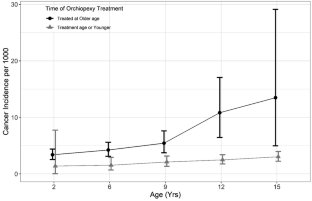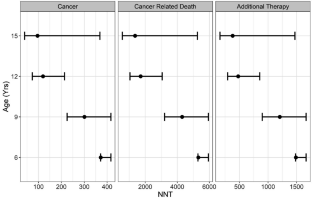 Abbreviations
NNT:

Number needed to treat

TC:

Testicular cancer

UDT:

Undescended testicle(s)
References
1.

Toppari J, Kaleva M (1999) Maldescendus testis. Horm Res 51:261

2.

Berkowitz GS, Lapinski RH, Dolgin SE et al (1993) Prevalence and natural history of cryptorchidism. Pediatrics 92:44

3.

Cortes D, Thorup JM, Visfeldt J (2001) Cryptorchidism: aspects of fertility and neoplasms. A study including data of 1335 consecutive boys who underwent testicular biopsy simultaneously with surgery for cryptorchidism. Horm Res 55:21

4.

Husmann DA (2005) Cryptorchidism and its relationship to testicular neoplasia and microlithiasis. Urology 66:424

5.

Wood HM, Elder JS (2009) Cryptorchidism and testicular cancer: separating fact from fiction. J Urol 181:452

6.

Stokes W, Amini A, Maroni PD et al (2017) Patterns of care and survival outcomes for adolescent and young adult patients with testicular seminoma in the United States: a national cancer database analysis. J Pediatr Urol 13:386.e1

7.

Saltzman AF, Cost NG (2018) Adolescent and young adult testicular germ cell tumors: special considerations. Adv Urol 2018:2375176

8.

Nichols CR, Roth B, Albers P et al (2013) Active surveillance is the preferred approach to clinical stage I testicular cancer. J Clin Oncol 31:3490

9.

Pettersson A, Richiardi L, Nordenskjold A et al (2007) Age at surgery for undescended testis and risk of testicular cancer. N Engl J Med 356:1835

10.

Kolon TF, Herndon A, Baker LA et al. (2014) Evaluation and treatment of cryptorchidism. American Urological Association 2014. https://www.auanet.org/guidelines/cryptorchidism-(2014)#x2573. Accessed 20 June 2018

11.

Radmayr C (2017) Management of undescended testes: European Association of Urology/European Society for Paediatric Urology guidelines. J Pediatr Urol 13:550

12.

Altman DG (1998) Confidence intervals for the number needed to treat. BMJ 317:1309

13.

Sui W, Morrow DC, Bermejo CE et al (2015) Trends in testicular cancer survival: a large population-based analysis. Urology 85:1394

14.

AMerican Cancer Society (2019) Cancer facts and figures 2019. American Cancer Society, Atlanta

15.

Gleason JM, Bowlin PR, Bagli DJ et al (2015) A comprehensive review of pediatric urachal anomalies and predictive analysis for adult urachal adenocarcinoma. J Urol 193:632

16.

Hanna NH, Einhorn LH (2014) Testicular cancer—discoveries and updates. N Engl J Med 371:2005

17.

Fossa SD, Oldenburg J, Dahl AA (2009) Short- and long-term morbidity after treatment for testicular cancer. BJU Int 104:1418

18.

Travis LB, Fossa SD, Schonfeld SJ et al (2005) Second cancers among 40,576 testicular cancer patients: focus on long-term survivors. J Natl Cancer Inst 97:1354

19.

Chien FL, Schwartz SM, Johnson RH (2014) Increase in testicular germ cell tumor incidence among Hispanic adolescents and young adults in the United States. Cancer 120:2728

20.

DeRouen MC, Mujahid M, Srinivas S et al (2016) Disparities in adolescent and young adult survival after testicular cancer vary by histologic subtype: a population-based study in California 1988–2010. J Adolesc Young Adult Oncol 5:31

21.

Tasian GE, Hittelman AB, Kim GE et al (2009) Age at orchiopexy and testis palpability predict germ and Leydig cell loss: clinical predictors of adverse histological features of cryptorchidism. J Urol 182:704
Funding
The study was funded by Etkin Family Fund of the Aspen Community Foundation.
Ethics declarations
Conflict of interest
The authors declare that they have no conflict of interest statement.
Ethical approval
IRB approval was not obtained for this study as it is a secondary analysis of published work.
Additional information
Publisher's Note
Springer Nature remains neutral with regard to jurisdictional claims in published maps and institutional affiliations.
About this article
Cite this article
Higgins, M., Smith, D.E., Gao, D. et al. The impact of age at orchiopexy on testicular cancer outcomes. World J Urol 38, 2531–2536 (2020). https://doi.org/10.1007/s00345-019-03034-9
Received:

Accepted:

Published:

Issue Date:
Keywords
Testicular cancer

Undescended testicle

Orchiopexy

Number needed to treat