Abstract
Purpose
When performing robotic nephron-sparing surgery (NSS) for renal tumors, either a transperitoneal approach or retroperitoneal approach can be utilized. The operative technique for robotic retroperitoneal partial nephrectomy (RPPN) is discussed and a matched-paired analysis comparing both RPPN and transperitoneal partial nephrectomy (TPPN) at a single institution is discussed.
Materials and methods
A retrospective review over a 10-year period (2006–2016) was performed for all patients who underwent robotic partial nephrectomy. A total of 281 patients underwent RPPN and 263 patients underwent TPPN. A matched-paired analysis was performed on 166 pairs of patients and the outcomes reviewed.
Results
Operative time (p < 0.001) and estimated blood loss (p < 0.001) were significantly less in the RPPN group compared to the TPPN group. No differences (p > 0.05) were seen with regard to complexity of cases, warm ischemia time, tumor pathology, positive margin rates, complications, or kidney function post-operatively.
Conclusions
Robotic RPPN and TPPN can both be used for NSS with good results. RPPN, when used appropriately, can lead to shorter operative times, less blood loss and equivalent oncologic and post-operative outcomes. Surgeon comfort and expertise will help determine which approach to use.
Access options
Buy single article
Instant access to the full article PDF.
US$ 39.95
Tax calculation will be finalised during checkout.
Subscribe to journal
Immediate online access to all issues from 2019. Subscription will auto renew annually.
US$ 119
Tax calculation will be finalised during checkout.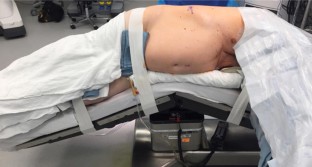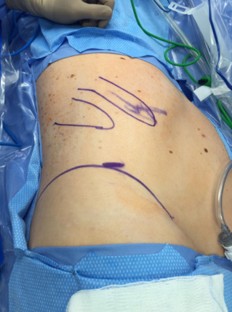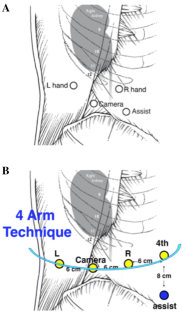 References
1.

Campbell S, Uzzo RG, Allaf ME, Bass EB, Cadeddu JA, Chang A et al (2017) Renal mass and localized renal cancer: AUA guideline. J Urol 198:520–529

2.

Sammon JD, Karakiewicz PI, Sun M, Ravi P (2013) Robot-assisted vs laparoscopic partial nephrectomy: utilization rates and perioperative outcomes. Int Braz J 39:377–386

3.

Wright JL, Porter JR (2005) Laparoscopic partial nephrectomy: comparison of transperitoneal and retroperitoneal approaches. JURO 174(3):841–845

4.

Hu JC, Treat E, Filson CP, McLaren I, Xiong S, Stepanian S et al (2014) Technique and outcomes of robot-assisted retroperitoneoscopic partial nephrectomy: a multicenter study. Eur Urol 66(3):542–549

5.

Xia L, Zhang X, Wang X, Xu T, Qin L, Zhang X et al (2016) Transperitoneal versus retroperitoneal robot-assisted partial nephrectomy: a systematic review and meta-analysis. Int J Surg 30(C):109–115

6.

Kim EH, Larson JA, Potretzke AM, Hulsey NK, Bhayani SB, Figenshau RS (2015) Retroperitoneal robot-assisted partial nephrectomy for posterior renal masses is associated with earlier hospital discharge: a single-institution retrospective comparison. J Endourol 29(10):1137–1142

7.

Choo SH, Lee SY, Sung HH, Jeon HG, Jeong BC, Jeon SS et al (2014) Transperitoneal versus retroperitoneal robotic partial nephrectomy: matched-pair comparisons by nephrometry scores. World J Urol 32(6):1523–1529

8.

Hughes-Hallett A, Patki P, Patel N, Barber NJ, Sullivan M, Thilagarajah R (2013) Robot-assisted partial nephrectomy: a comparison of the transperitoneal and retroperitoneal approaches. J Endourol 27(7):869–874

9.

Maurice MJ, Kaouk JH, Ramirez D, Bhayani SB, Allaf ME, Rogers CG et al (2017) Robotic partial nephrectomy for posterior tumors through a retroperitoneal approach offers decreased length of stay compared with the transperitoneal approach: a propensity-matched analysis. J Endourol 31(2):158–162

10.

Tanaka K, Shigemura K, Furukawa J, Ishimura T, Muramaki M, Miyake H et al (2013) Comparison of the transperitoneal and retroperitoneal approach in robot-assisted partial nephrectomy in an initial case series in Japan. J Endourol 27(11):1384–1388

11.

Huang WC, Levey AS, Serio AM, Snyder M, Vickers AJ, Raj GV, Russo P (2006) Chronic kidney disease after nephrectomy in patients with renal cortical tumours: a retrospective cohort study. Lancet Oncol 7(9):735–740. https://doi.org/10.1016/S1470-2045(06)70803-8

12.

Kim SP, Murad MH, Thompson RH, Boorjian SA, Weight CJ, Han LC, Leibovich BC (2012) comparative effectiveness for survival and renal function of partial and radical nephrectomy for localized renal tumors: a systematic review and meta-analysis. J Urol. https://doi.org/10.1016/j.juro.2012.10.026

13.

Fan X, Xu K, Lin T, Liu H, Yin Z, Dong W, Huang J (2013) Comparison of transperitoneal and retroperitoneal laparoscopic nephrectomy for renal cell carcinoma: a systematic review and meta-analysis. BJU Int 111(4):611–621. https://doi.org/10.1111/j.1464-410X.2012.11598

14.

Xia L, Talwar R, Taylor BL, Shin MH, Berger IB, Sperling CD, Guzzo TJ (2019) National trends and disparities of minimally invasive surgery for localized renal cancer, 2010 to 2015. Urol Oncol. https://doi.org/10.1016/j.urolonc.2018.10.028
Ethics declarations
Conflicts of interest
Dr. James Porter: Speaker for Intuitive Surgical, Consultant for Ceevra, C-SATS advisory board. The other authors declare that they have no competing interest.
Research involving human participants
This was a retrospective study on human participants. All procedures performed in studies involving human participants were in accordance with the ethical standards of the institutional and/or national research committee (include name of committee + reference number) and with the 1964 Helsinki declaration and its later amendments or comparable ethical standards.
Informed consent
Informed consent was obtained from all individual participants included in the study.
Additional information
Publisher's Note
Springer Nature remains neutral with regard to jurisdictional claims in published maps and institutional affiliations.
About this article
Cite this article
Mittakanti, H.R., Heulitt, G., Li, HF. et al. Transperitoneal vs. retroperitoneal robotic partial nephrectomy: a matched-paired analysis. World J Urol 38, 1093–1099 (2020). https://doi.org/10.1007/s00345-019-02903-7
Received:

Accepted:

Published:

Issue Date:
Keywords
Kidney neoplasms

Nephrectomy

Retroperitoneal space

Minimally invasive surgical procedures

Laparoscopy

Robotics