Abstract
Purpose
In this study, we investigate the ability of automated performance metrics (APMs) and task-evoked pupillary response (TEPR), as objective measures of surgeon performance, to distinguish varying levels of surgeon expertise during generic robotic surgical tasks. Additionally, we evaluate the association between APMs and TEPR.
Methods
Participants completed ten tasks on a da Vinci Xi Surgical System (Intuitive Surgical, Inc.), each representing a surgical skill type: EndoWrist® manipulation, needle targeting, suturing/knot tying, and excision/dissection. Automated performance metrics (instrument motion tracking, EndoWrist® articulation, and system events data) and TEPR were recorded by a systems data recorder (Intuitive Surgical, Inc.) and Tobii Pro Glasses 2 (Tobii Technologies, Inc.), respectively. The Kruskal–Wallis test determined significant differences between groups of varying expertise. Spearman's rank correlation coefficient measured associations between APMs and TEPR.
Results
Twenty-six participants were stratified by robotic surgical experience: novice (no prior experience; n = 9), intermediate (< 100 cases; n = 9), and experts (≥ 100 cases; n = 8). Several APMs differentiated surgeon experience including task duration (p < 0.01), time active of instruments (p < 0.03), linear velocity of instruments (p < 0.04), and angular velocity of dominant instrument (p < 0.04). Task-evoked pupillary response distinguished surgeon expertise for three out of four task types (p < 0.04). Correlation trends between APMs and TEPR revealed that expert surgeons move more slowly with high cognitive workload (ρ < − 0.60, p < 0.05), while novices move faster under the same cognitive experiences (ρ > 0.66, p < 0.05).
Conclusions
Automated performance metrics and TEPR can distinguish surgeon expertise levels during robotic surgical tasks. Furthermore, under high cognitive workload, there can be a divergence in robotic movement profiles between expertise levels.
Access options
Buy single article
Instant access to the full article PDF.
US$ 39.95
Tax calculation will be finalised during checkout.
Subscribe to journal
Immediate online access to all issues from 2019. Subscription will auto renew annually.
US$ 119
Tax calculation will be finalised during checkout.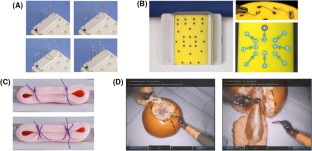 Acknowledgements
Research reported in this publication was supported in part by the National Institute Of Biomedical Imaging And Bioengineering of the National Institutes of Health under Award Number K23EB026493 and an Intuitive Surgical Clinical Research Grant. Anthony Jarc and Liheng Guo (Intuitive Surgical, Inc.) assisted with automated performance metric processing.
Ethics declarations
Conflict of interest
The study was supported in part by an Intuitive Surgical, Inc. clinical grant. Intuitive Surgical, Inc. provided the systems events data recorder.
Research involving human participants and/or animals
All procedures performed in studies involving human participants were in accordance with the ethical standards of the institutional and/or national research committee and with the 1964 Helsinki declaration and its later amendments or comparable ethical standards. This article does not contain any studies with animals performed by any of the authors.
Informed consent
Informed consent was obtained from all individual participants included in the study.
Additional information
Publisher's Note
Springer Nature remains neutral with regard to jurisdictional claims in published maps and institutional affiliations.
Electronic supplementary material
Below is the link to the electronic supplementary material.
About this article
Cite this article
Nguyen, J.H., Chen, J., Marshall, S.P. et al. Using objective robotic automated performance metrics and task-evoked pupillary response to distinguish surgeon expertise. World J Urol 38, 1599–1605 (2020). https://doi.org/10.1007/s00345-019-02881-w
Received:

Accepted:

Published:

Issue Date:
Keywords
Robotic surgical training

Surgeon assessment

Automated performance metrics

Task-evoked pupillary response