Abstract
Purpose
This report presents our early experience at Cleveland Clinic replacing conventional ultrasound with a novel 29 MHz high-resolution micro-ultrasound system for both systematic sampling and real-time targeting of suspicious regions during prostate biopsy. The added value of micro-ultrasound and MRI over systematic biopsy is presented.
Methods
Sixty-seven consecutive subjects (January–August 2018) from our prospective database who underwent prostate biopsy using the micro-ultrasound system were included. 19/67 had prostate MRI imaging available. MRI targets were sampled using the UroNav fusion system. Patients had a median PSA of 5.37 ng/mL (IQR 4.13–8.74).
Results
38/67 (56.7%) subjects were positive for prostate cancer. In six of these cases, systematic biopsy was negative with only micro-ultrasound targeted samples detecting cancer. In two other cases, patients were upgraded from Grade Group 1 to Grade Groups 4 and 2 based on micro-ultrasound targets. Micro-ultrasound targets detected cancer in two subjects where MRI was negative (Grade Groups 3 and 2). MRI targets alone did not change the overall diagnosis of any subjects. Switching biopsy guidance to real-time micro-ultrasound increased detection rate on prostate biopsy from 44.8% (30/67) to 56.7% (38/67), a relative increase of 26.7%.
Conclusion
High-resolution micro-ultrasound identified clinically significant cancer that would have, otherwise, been missed by both MRI fusion and systematic biopsy and was useful in both biopsy naïve and repeat negative patients. Early results from this small, single-center cohort are promising, particularly given the ease with which micro-ultrasound can replace the conventional ultrasound in standard prostate biopsy procedures.
This is a preview of subscription content, log in to check access.
Access options
Buy single article
Instant access to the full article PDF.
US$ 39.95
Price includes VAT for USA
Subscribe to journal
Immediate online access to all issues from 2019. Subscription will auto renew annually.
US$ 199
This is the net price. Taxes to be calculated in checkout.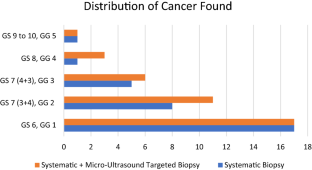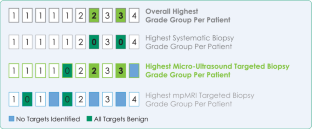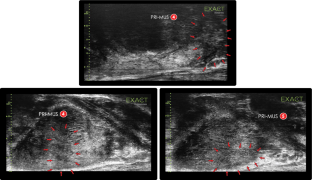 Ethics declarations
Conflict of interest
The authors declare that they have no conflict of interest.
Ethical approval
All procedures performed were in accordance and with the 1964 Helsinki declaration and its later amendments or comparable ethical standards and ethical approval was obtained from the Cleveland Clinic's Institutional Review Board (IRB study 12-118).
Informed consent
Informed consent was obtained from all individual participants included in the study.
Additional information
Publisher's Note
Springer Nature remains neutral with regard to jurisdictional claims in published maps and institutional affiliations.
About this article
Cite this article
Abouassaly, R., Klein, E.A., El-Shefai, A. et al. Impact of using 29 MHz high-resolution micro-ultrasound in real-time targeting of transrectal prostate biopsies: initial experience. World J Urol 38, 1201–1206 (2020). https://doi.org/10.1007/s00345-019-02863-y
Received:

Accepted:

Published:

Issue Date:
Keywords
Micro-ultrasound

Prostate cancer

TRUS

Biopsy

Systematic

Targeted

mpMRI

ExactVu