Abstract
Purpose
To evaluate the efficacy of oral dissolution therapy (ODT), shock wave lithotripsy (SWL), and combined SWL and ODT for medium-sized radiolucent renal stone (RLS).
Methods
A randomized controlled trial for patients with medium-sized RLS, 1–2.5 cm, ≤ 500 Hounsfield unit (HU). The ODT patients were counseled for oral potassiumsodium-hydrogen citrate (Uralyt-U®). The 2nd group underwent SWL and the last group had combined SWL and ODT. The primary outcome, stone-free rate (SFR) at 3 months, was assessed by non-contrast computed tomography (NCCT). We defined complete response (success) if no residual fragment were detected by NCCT; partial response (failure) if there was a decrease in stone size, but presence of residual stones; no response if there was no change or increase in stone size (failure).
Results
150 patients completed follow-up. The SFR at 1st month and 3rd month were, respectively; 16% and 50% in the ODT group, 10% and 46% in the SWL group, and 35% and 72% patients in combined group with (p = 0.03 and 0.003, respectively. The overall SFR for all groups was 66%. Combined treatment and initial response in first month follow-up were independent factors predicting SFR. In addition, combined treatment significantly decreased the overall stone volume (p = 0.03) and the need for additional stone management procedures after 3 months (p = 0.01).
Conclusion
Combined ODT and SWL treatment constitutes the most rapid and effective therapeutic approach for medium-sized RLS, decreasing overall stone volume as well as the number of SWL sessions needed in comparison to SWL therapy, alone.
This is a preview of subscription content, log in to check access.
Access options
Buy single article
Instant access to the full article PDF.
US$ 39.95
Price includes VAT for USA
Subscribe to journal
Immediate online access to all issues from 2019. Subscription will auto renew annually.
US$ 199
This is the net price. Taxes to be calculated in checkout.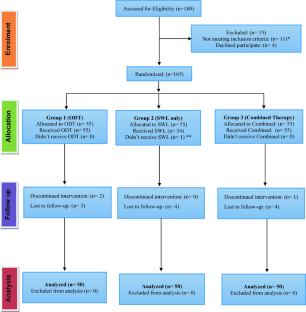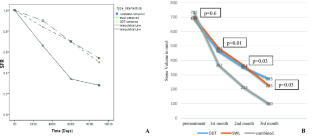 References
1.

Moe OW (2006) Kidney stones: pathophysiology and medical management. Lancet 367(9507):333–344

2.

Masch WR, Cronin KC, Sahani DV, Kambadakone A (2017) Imaging in Urolithiasis. Radiol Clin 55(2):209–224

3.

Ziemba JB, Matlaga BR (2015) Guideline of guidelines: kidney stones. BJU Int 116(2):184–189

4.

Alsinnawi M, Maan Z, Rix G (2016) Oral dissolution therapy for radiolucent kidney stones. An old treatment revisited. J Clin Urol. 9(4):268–273

5.

Maneesh S, Kumar P, Prasanna V, Venkatesh K (2013) Results of urinary dissolution therapy for radiolucent calculi. Int Braz J Urol 39(1):103–107

6.

Trinchieri A, Esposito N, Castelnuovo C (2009) Dissolution of radiolucent renal stones by oral alkalinization with potassium citrate/potassium bicarbonate. Arch Ital Urol Androl 81(3):188–191

7.

Moran ME, Abrahams HM, Burday DE, Greene TD (2002) Utility of oral dissolution therapy in the management of referred patients with secondarily treated uric acid stones. Urology. 59(2):206–210

8.

Assimos D KA, Miller NL, Monga M, Murad MH, Nelson CP, Pace KT, Pais Jr VM, Pearle MS, Preminger GM, Razvi H. Surgical management of stones: AUA/Endourological Society Guideline 2016. http://www.auanet.org/guidelines/stone-disease-surgical-(2016)

9.

Resorlu B, Unsal A, Ziypak T, Diri A, Atis G, Guven S et al (2013) Comparison of retrograde intrarenal surgery, shockwave lithotripsy, and percutaneous nephrolithotomy for treatment of medium-sized radiolucent renal stones. World J Urol 31(6):1581–1586

10.

Kumar A, Kumar N, Vasudeva P, Jha SK, Kumar R, Singh H (2015) A prospective, randomized comparison of shock wave lithotripsy, retrograde intrarenal surgery and miniperc for treatment of 1 to 2 cm radiolucent lower calyceal renal calculi: a single center experience. J Urol 193(1):160–164

11.

Elderwy AA, Kurkar A, Hussein A, Abozeid H, Hammodda HM, Ibraheim A-F (2014) Dissolution therapy versus shock wave lithotripsy for radiolucent renal stones in children: a prospective study. J Urol 191(5):1491–1495

12.

Mokhless IA, Sakr MA, Abdeldaeim HM, Hashad MM (2009) Radiolucent renal stones in children: combined use of shock wave lithotripsy and dissolution therapy. Urology. 73(4):772–775

13.

Bell JR, Posielski NM, Penniston KL, Lubner MG, Nakada SY, Pickhardt PJ (2018) Automated computer software compared with manual measurements for CT-based urinary stone metrics: an evaluation study. J Endourol 32(5):455–461

14.

Türk CNA, Petrik A, Seitz C, Skolarikos A, Thomas K. EAU guidelines for urolithiasis 2018. http://uroweb.org/guideline/urolithiasis/

15.

Pearle MS, Goldfarb DS, Assimos DG, Curhan G, Denu-Ciocca CJ, Matlaga BR et al (2014) Medical management of kidney stones: AUA guideline. J Urol 192(2):316–324

16.

Srisubat A, Potisat S, Lojanapiwat B, Setthawong V, Laopaiboon M (2009) Extracorporeal shock wave lithotripsy (ESWL) versus percutaneous nephrolithotomy (PCNL) or retrograde intrarenal surgery (RIRS) for kidney stones. Cochrane Database Syst Rev. 4:CD007044-CD

17.

Wu H, Wang J, Lu J, Wang Y, Niu Z (2016) Treatment of renal stones ≥ 20 mm with extracorporeal shock wave lithotripsy. Urol Int 96(1):99–105
Ethics declarations
Conflict of interest
The authors declare that they have no conflict of interest.
Human and animal rights
All procedures in this study involving human participants were in accordance with the 1964 Helsinki Declaration and its later amendments.
Informed consent
Informed consent was obtained from all individual participants in this study.
Additional information
Publisher's Note
Springer Nature remains neutral with regard to jurisdictional claims in published maps and institutional affiliations.
Khaled Z. Sheir and Ahmed A. Shokeir are equal last author.
About this article
Cite this article
Elbaset, M.A., Hashem, A., Eraky, A. et al. Optimal non-invasive treatment of 1–2.5 cm radiolucent renal stones: oral dissolution therapy, shock wave lithotripsy or combined treatment—a randomized controlled trial. World J Urol 38, 207–212 (2020). https://doi.org/10.1007/s00345-019-02746-2
Received:

Accepted:

Published:

Issue Date:
Keywords
Urolithiasis

Radiolucent stones

Shock wave lithotripsy (SWL)

Dissolution therapy