Abstract
Purpose
Data assessing the effectiveness of intracavernosal injections (ICIs) for the treatment of erectile dysfunction (ED) are limited. This study evaluates intracavernosal injectable therapies for ED and reviews available guidelines that inform clinical practice.
Methods
A systematic search using electronic databases (Medline, Pubmed) was performed for studies investigating injectable management strategies for ED published after 1990. Primary outcome measures were to comparatively evaluate clinical efficacy, continuation rates and adverse event profiles of each injectable agent as monotherapy or in combination. The secondary outcome measurement was to discuss available guidelines that inform clinical practice for injectable agents.
Results
ICIs demonstrate clinical efficacy in 54–100% of patients, early discontinuation rates of ≤ 38% and adverse events in ≤ 26%. Discontinuation rates are typically greatest within 3–6 months of commencement. Anxiety related to the initial injection occurs in approximately 65% and anxiety levels can remain high for 4 months. Approval of intracavernosal injection agents is mainly limited to alprostadil with the recent addition of aviptadil/phentolamine combination therapy in a select few geographical regions. Although combination therapies are attractive alternative options, their formulations are variable and should be standardised before widespread acceptance is achieved.
Conclusions
ICIs are associated with good clinical efficacy rates, high discontinuation rates and a moderate side-effect profile. They represent an important tool in the urological armamentarium for treating ED in patients that cannot tolerate or are refractory to oral therapies.
Access options
Buy single article
Instant access to the full article PDF.
USD 39.95
Price excludes VAT (USA)
Tax calculation will be finalised during checkout.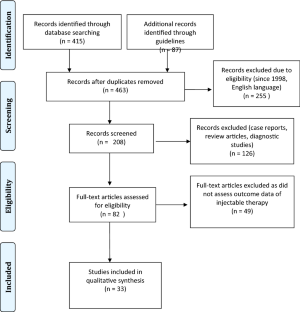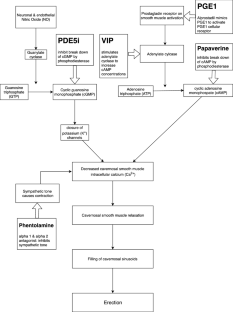 Abbreviations
AUA:

American Urology Association

BSSM:

British Society of Sexual Medicine

cAMP:

Cyclic adenosine monophosphate

cGMP:

Cyclic guanosine monophosphate

EAU:

European Association of Urology

ED:

Erectile dysfunction

FDA:

Food and Drug Authority, USA

ICI:

Intracavernosal injection

JSSM:

Japanese Society of Sexual Medicine

KSSM:

Korean Society of Sexual Medicine

PDE5:

Phosphodiesterase type 5

PGE1:

Prostaglandin 1

TGA:

Therapeutic Goods Administration, Australia

VIP:

Vasoactive intestinal polypeptide
References
Burnett AL, Nehra A, Breau RH, Culkin DJ, Faraday MM, Hakim LS et al (2018) Erectile dysfunction: AUA guideline. J Urol 07:07

Bella AJ, Lee JC, Carrier S, Benard F, Brock GB (2015) 2015 CUA Practice guidelines for erectile dysfunction. Can Urol Assoc J 9(1–2):23–29

Hatzimouratidis K, Salonia A, Adaikan G, Buvat J, Carrier S, El-Meliegy A et al (2010) Pharmacotherapy for erectile dysfunction: recommendations from the fourth international consultation for sexual medicine (ICSM 2015). J Sex Med 13(4):465–488

Linet OO, Ogrinc FG, for the Alprostadil Study Group (1996) Efficacy and safety of intracavernosal alprostadil in men with erectile dysfunction. N Engl J Med 334(14):873–877

Rabbani KJ, Tauqeer F, Rabbani R (2010) Prostaglandin E1 for the medical management of erectile dysfunction. Pak J Med Health Sci 4(4):515–519

Khan MM, Khwaja M (2005) Open label study of intracavernous injection of alpostadil alphadex in the treatment of erectile dysfunction. J Postgrad Med Inst 19(1):52–57

Virag RF, Frydman D, Legman M, Virag H (1984) Intracavernous injection of papaverine as a diagnostic and therapeutic method in erectile failure. Angiology 35(2):79–87

Dinsmore WW, Wyllie MG (2008) Vasoactive intestinal polypeptide/phentolamine for intracavernosal injection in erectile dysfunction. BJU Int 102(8):933–937

Sogari PR, Teloken C, Souto CA (1997) Atropine role in the pharmacological erection test: study of 228 patients. J Urol. 158(5):1760–1763

Coombs PG, Heck M, Guhring P, Narus J, Mulhall JP (2012) A review of outcomes of an intracavernosal injection therapy programme. BJU Int 110(11):1787–1791

Aulitzky A, Bazarnik J, Kiper J, Bolyakov A, Paduch D (2012) Safety and efficacy of intracavernosal injection therapy with concomitant daily or as needed tadalafil in men with postprostatectomy and severe erectile dysfunction. J Sex Med 1:54

Wespes E, Amar E, Hatzichristou D, Hatzimouratidis K, Montorsi F, Pryor J et al (2016) EAU guidelines on erectile dysfunction: an update. Eur Urol 49(5):806–815

Hackett G, Kell P, Ralph D, Dean J, Price D, Speakman M et al (2017) British Society for Sexual Medicine guidelines on the management of erectile dysfunction. J Sex Med 5(8):1841–1865

Ryu JK, Cho KS, Kim SJ, Oh KJ, Kam SC, Seo KK et al (2013) Korean Society for Sexual Medicine and Andrology (KSSMA) guideline on erectile dysfunction. World J Mens Health 31(2):83–102

Nelson CJ, Hsiao W, Balk E, Narus J, Tal R, Bennett NE et al (2013) Injection anxiety and pain in men using intracavernosal injection therapy after radical pelvic surgery. J Sex Med 10(10):2559–2565

Andrology Australia (2010) Erectile dysfunction: diagnosis and management. https://www.andrologyaustralia.org/wp-content/uploads/clinical-summary-guide09_May20101.pdf

Capogrosso P, Montorsi F, Salonia A (2018) Phase I and phase II clinical trials for the treatment of male sexual dysfunction—a systematic review of the literature. Expert Opin Investig Drugs 27(7):583–593

O'Kane D, Gibson L, Du Plessis J, Davidson A, Bolton D, Lawrentschuk N (2017) Delivery of intracavernosal therapies using needle-free injection devices. Int J Impot Res 29(6):225–228

Kimoto Y, Nagao K, Sasaki H, Marumo K, Takahashi Y, Nishi S et al (2008) JSSM guidelines for erectile dysfunction. Int J Urol 15(7):564–576
Funding
No funding was provided for this review.
Ethics declarations
Conflict of interest
None of the authors have conflicts of interest to disclose.
Ethical approval
Ethics approval for this project was not required as no human or animal participants were involved in this review.
Additional information
Publisher's Note
Springer Nature remains neutral with regard to jurisdictional claims in published maps and institutional affiliations.
Electronic supplementary material
Below is the link to the electronic supplementary material.
About this article
Cite this article
Duncan, C., Omran, G.J., Teh, J. et al. Erectile dysfunction: a global review of intracavernosal injectables. World J Urol 37, 1007–1014 (2019). https://doi.org/10.1007/s00345-019-02727-5
Received:

Accepted:

Published:

Issue Date:

DOI: https://doi.org/10.1007/s00345-019-02727-5
Keywords
Erectile dysfunction (ED)

Intracavernosal injections

Treatment of erectile dysfunction

Treatment of ED