Abstract
Purpose
The aim of this communication was to assess the efficacy of directed oligometastatic radiotherapy (RT) based on 68Ga-PSMA PET/CT in patients with prostate cancer (PCa) biochemical relapse (BCR) after primary treatment with curative intent.
Methods
This is a retrospective analysis of a monocentric cohort of PCa patients diagnosed with oligometastatic disease on 68Ga-PSMA PET/CT and treated with metastasis-directed RT. Inclusion criteria were: histologically proven PCa, BCR after primary treatment with curative intent, oligometastatic disease defined as ≤ 3 metastatic lesions. To evaluate the efficacy of the therapy, biochemical response defined as a decrease of > 50% of PSA (PSA50) was measured at 1 and 4 months. Patients were followed up until progression and start of androgen deprivation therapy (ADT). BCR-free survival and ADT-free survival were calculated.
Results
20 patients met the inclusion criteria. Median PSA value: 1.4 ng/ml (IQR, 0.3–2.3 ng/ml). A total of 30 PSMA-positive lesions were treated: 18 lymph nodes (60%), nine bone (30%) and three visceral lesions (10%). Median follow-up was 15 months (range 4–33 months). Biochemical response at 1 and 4 months was found in 3/20 patients (15%) and 14/20 (70%), respectively. BCR-free survival rate at 1 year was 79% and 53% at 2 years. ADT-free survival at 2 years was 74%.
Conclusion
This retrospective study suggests that metastasis-directed RT based on 68Ga-PSMA PET/CT may be a valuable treatment in patients with PCa oligometastatic disease, providing promising BCR-free survival rates and potentially postponing ADT for at least 2 years in 74% of the patients. Response assessment should not be measured before 4 months after treatment.
This is a preview of subscription content, log in to check access.
Access options
Buy single article
Instant access to the full article PDF.
US$ 39.95
Price includes VAT for USA
Subscribe to journal
Immediate online access to all issues from 2019. Subscription will auto renew annually.
US$ 199
This is the net price. Taxes to be calculated in checkout.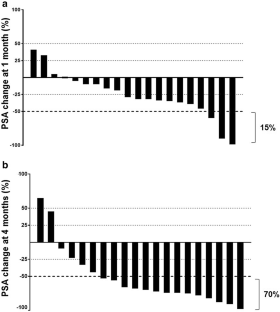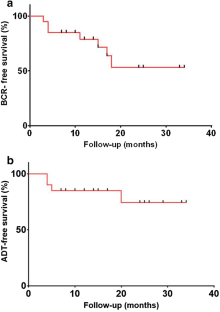 References
1.

Siegel RL, Miller KD, Jemal A (2017) Cancer statistics. CA Cancer J Clin 2017(67):7–30

2.

van den Bergh RC, van Casteren NJ, van den Broeck T et al (2016) Role of hormonal treatment in prostate cancer patients with nonmetastatic disease recurrence after local curative treatment: a systematic review. Eur Urol 69:802–820

3.

Choueiri TK, Dreicer R, Paciorek A et al (2008) A model that predicts the probability of positive imaging in prostate cancer cases with biochemical failure after initial definitive local therapy. J Urol 179(3):906–910

4.

Ost P, Decaestecker K, Lambert B et al (2014) Prognostic factors influencing prostate cancer-specific survival in non-castrate patients with metastatic prostate cancer. Prostate 74:297–305

5.

Tree AC, Khoo VS, Eeles RA et al (2013) Stereotactic body radiotherapy for oligometastases. Lancet Oncol 14:e28–e37

6.

Schweizer MT, Zhou XC, Wang H et al (2013) Metastasis-free survival is associated with overall survival in men with PSA-recurrent prostate cancer treated with deferred androgen deprivation therapy. Ann Oncol 24:2881–2886

7.

Hellman S, Weichselbaum RR (1995) Oligometastases. J Clin Oncol 13:8–10

8.

Salah S, Watanabe K, Welter S et al (2012) Colorectal cancer pulmonary oligometastases: pooled analysis and construction of a clinical lung metastasectomy prognostic model. Ann Oncol 23:2649–2655

9.

Staren ED, Salerno C, Rongione A et al (1992) Pulmonary resection for metastatic breast cancer. Arch Surg 127:1282–1284

10.

Castellucci Paolo, Fuccio Chiara, Nanni Cristina et al (2009) Influence of trigger PSA and PSA kinetics on 11C-Choline PET/CT detection rate in patients with biochemical relapse after radical prostatectomy. J Nucl Med 50:1394–1400

11.

Horoszewicz JS, Kawinski E, Murphy GP (1987) Monoclonal antibodies to a new antigenic marker in epithelial prostatic cells and serum of prostatic cancer patients. Anticancer Res 7:927–936

12.

Eder M, Schafer M, Bauder-Wust U et al (2012) (68) Ga-complex lipophilicity and the targeting property of a urea-based PSMA inhibitor for PET imaging. Bioconjug Chem 23:688–697

13.

Afshar-Oromieh A, Malcher A, Eder M et al (2013) PET imaging with a [68 Ga] gallium-labelled PSMA ligand for the diagnosis of prostate cancer: biodistribution in humans and first evaluation of tumour lesions. Eur J Nucl Med Mol Imaging. 40(4):486–495

14.

Schwenck J, Rempp H, Reischl G et al (2017) Comparison of 68 Ga-labelled PSMA-11 and 11C-choline in the detection of prostate cancer metastases by PET/CT. Eur J Nucl Med Mol Imaging 44:92–101

15.

Krause BJ, Souvatzoglou M, Tuncel M, Herrmann K et al (2008) The detection rate of (11)C]Choline-PET/CT depends on the serum PSA-value in patients with biochemical recurrence of prostate cancer. Eur J Nucl Med Mol Imaging 35:18–23

16.

Perera M, Papa N, Christidis D, Wetherell D, Hofman MS, Murphy DG et al (2016) Sensitivity, specificity, and predictors of positive (68)Ga-prostate-specific membrane antigen positron emission tomography in advanced prostate cancer: a systematic review and meta-analysis. Eur Urol 70:926–937

17.

Ponti E, Lancia A, Ost P, Trippa F, Triggiani L, Detti B, Ingrosso G (2017) Exploring all avenues for radiotherapy in oligorecurrent prostate cancer disease limited to lymph nodes: a systematic review of the role of stereotactic body radiotherapy. Eur Urol Focus. 3(6):538–544

18.

Ost P, Reynders D, Decaestecker K et al (2018) Surveillance or metastasis-directed therapy for oligometastatic prostate cancer recurrence: a prospective, randomized, multicenter phase II trial. J Clin Oncol 36(5):446–453

19.

Wimana Z, Artigas C, Flamen P, Ghanem G (2015) One-step radiosynthesis of 68 Ga-DKFZ-PSMA at room temperature. Eur J Nucl Med Mol Imaging 42(Suppl 1):S173

20.

Lecouvet FE, Geukens D, Stainier A, Jamar F et al (2007) Magnetic resonance imaging of the axial skeleton for detecting bone metastases in patients with high-risk prostate cancer: diagnostic and cost-effectiveness and comparison with current detection strategies. J Clin Oncol 25(22):3281–3287

21.

Aoun F, Kourie HR, Artigas C, Roumeguere T (2015) Next revolution in molecular theranostics: personalized medicine for urologic cancers. Future Oncol 11:2205–2219

22.

Cornford P, Bellmunt J, Bolla M et al (2017) EAU-ESTRO-SIOG guidelines on prostate cancer. Part II: treatment of relapsing, metastatic, and castration-resistant prostate cancer. Eur Urol 71:630–642

23.

Hershman DL, Unger JM, Wright JD et al (2016) Adverse health events following intermittent and continuous androgen deprivation in patients with metastatic prostate cancer. JAMA Oncol 2:453–461

24.

Silver DA, Pellicer I, Fair WR et al (1997) Prostate-specific membrane antigen expression in normal and malignant human tissues. Clin Cancer Res 3:81–85

25.

Wright GL Jr, Grob BM, Haley C et al (1996) Upregulation of prostate-specific membrane antigen after androgen-deprivation therapy. Urology 48:326–334

26.

Chang SS, Reuter VE, Heston WD, Bander NH, Grauer LS, Gaudin PB (1999) Five different anti-prostate-specific membrane antigen (PSMA) antibodies confirm PSMA expression in tumor-associated neovasculature. Cancer Res 59:3192–3198

27.

Artigas C, Alexiou J, Garcia C, Wimana Z, Otte FX, Gil T, Van Velthoven R, Flamen P (2016) Paget bone disease demonstrated on (68)Ga-PSMA ligand PET/CT. Eur J Nucl Med Mol Imaging 43(1):195–196

28.

Artigas C, Otte F-X, Lemort M, van Velthoven R, Flamen P (2017) Vertebral hemangioma mimicking bone metastasis in 68 Ga-PSMA ligand PET/CT. Clin Nucl Med 42(5):368–370

29.

Albisinni S, Artigas C, Aoun F et al (2017) Clinical impact of (68) Ga-prostate-specific membrane antigen (PSMA) positron emission tomography/computed tomography (PET/CT) in patients with prostate cancer with rising prostate-specific antigen after treatment with curative intent: preliminary analysis of a multidisciplinary approach. BJU Int 120:197–203

30.

Calais J, Czernin J, Cao M et al (2018) 68 Ga-PSMA-11 PET/CT mapping of prostate cancer biochemical recurrence after radical prostatectomy in 270 patients with a PSA level of less than 1.0 ng/mL: impact on salvage radiotherapy planning. J Nucl Med 59(2):230–237

31.

Han S, Woo S, Kim YJ, Suh CH (2018) Impact of (68) Ga-PSMA PET on the management of patients with prostate cancer: a systematic review and meta-analysis. Eur Urol 74(2):179–190

32.

Decaestecker K, De Meerleer G, Lambert B, Delrue L et al (2014) Repeated stereotactic body radiotherapy for oligometastatic prostate cancer recurrence. Radiat Oncol 9:135

33.

Murphy DG, Sweeney CJ, Tombal B (2017) "Gotta Catch 'em All", or Do We? Pokemet approach to metastatic prostate cancer. Eur Urol 72(1):1–3

34.

Goonewardene S, Alsheikh M (2018) The role of PSMA PET scans in salvage therapy planning. World J Urol 36(3):503–504

35.

Guler OC, Engels B, Onal C, Everaert H et al (2018) The feasibility of prostate-specific membrane antigen positron emission tomography (PSMA PET/CT)-guided radiotherapy in oligometastatic prostate cancer patients. Clin Transl Oncol 20(4):484–490

36.

Schmidt-Hegemann NS, Fendler WP, Ilhan H et al (2018) Outcome after PSMA PET/CT based radiotherapy in patients with biochemical persistence or recurrence after radical prostatectomy. Radiat Oncol 13(1):37

37.

Emmett L, van Leeuwen PJ, Nandurkar R et al (2017) Treatment outcomes from 68 Ga-PSMA PET/CT-informed salvage radiation treatment in men with rising PSA after radical prostatectomy: prognostic value of a negative PSMA PET. J Nucl Med 58:1972–1976

38.

Yaxley JW, Dagher J, Delahunt B et al (2018) Reconsidering the role of pelvic lymph node dissection with radical prostatectomy for prostate cancer in an era of improving radiological staging techniques. World J Urol 36(1):15–20

39.

Frees S, Akamatsu S, Bidnur S, Khalaf D et al (2018) The impact of time to metastasis on overall survival in patients with prostate cancer. World J Urol 36(7):1039–1046
Ethics declarations
Conflict of interest
The authors have no conflict of interest to declare.
Ethical approval
All procedures performed in studies involving human participants were in accordance with the ethical standards of the institutional research committee and with the 1964 Helsinki declaration and its later amendments or comparable ethical standards.
Informed consent
For this retrospective study formal consent is not required.
Additional information
Publisher's Note
Springer Nature remains neutral with regard to jurisdictional claims in published maps and institutional affiliations.
About this article
Cite this article
Artigas, C., Flamen, P., Charlier, F. et al. 68Ga-PSMA PET/CT-based metastasis-directed radiotherapy for oligometastatic prostate cancer recurrence after radical prostatectomy. World J Urol 37, 1535–1542 (2019). https://doi.org/10.1007/s00345-019-02701-1
Received:

Accepted:

Published:

Issue Date:
Keywords
PSMA

Oligometastatic

Prostate cancer

Radiotherapy

Metastasis-directed therapy