Abstract
Purpose
Antibiotic prophylaxis is standard procedure in transurethral resection of the prostate (TURP). We evaluated the necessity of antibiotic (AB) prophylaxis in TURP due to increasing microbial antibiotic resistance.
Methods
This is a prospective cohort study of 506 patients. Only patients with a pre-operative catheter/pyuria received AB-prophylaxis. Urine analysis (pre-operative, at discharge, and 3 week post-operative) was performed next to an analysis of the blood culture/irrigation fluid and of the resected prostatic tissue. Statistical analysis was performed using Fisher's exact test.
Results
67/506 (13.2%) patients received prophylactic antibiotics. 56/67 (83.5%) patients had a pre-operative catheter and 11/67 (16.4%) had pre-operative pyuria in which a fluoroquinolone-resistance (FQ-R) rate of 69.2% in Escherichia coli (EC) was observed.
Clinical infectious symptoms were present in 13/439 (2.9%) patients without antibiotic prophylaxis; 12/439 (2.7%) patients had uncomplicated fever (<38.5°) during or after hospitalization and only 1/439 patient (0.2%) was high degree fever (> 38.5°) observed.
Uncomplicated fever developed in 7/67 (10.4%) patients who did receive AB-prophylaxis.
FQ-R was observed in 60% of the positive urine cultures at discharge and in 53.8% 3 week post-operatively.
Conclusions
Our data show a low infectious complication rate (2.9%) in patients without a pre-operative catheter or pyuria,undergoing TURP without AB-prophylaxis. These findings might question the current use of AB prophylaxis in TURP in patients without a pre-operative catheter or pyuria, in times of antibiotic stewardship due to the high rate of microbial-resistance in our population.
This is a preview of subscription content, log in to check access.
Access options
Buy single article
Instant access to the full article PDF.
US$ 39.95
Price includes VAT for USA
Subscribe to journal
Immediate online access to all issues from 2019. Subscription will auto renew annually.
US$ 199
This is the net price. Taxes to be calculated in checkout.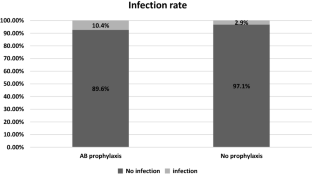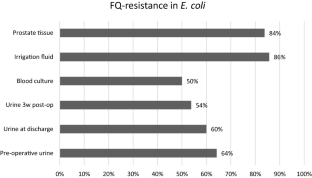 References
1.

Qiang W, Jianchen W, MacDonald R et al (2005) Antibiotic prophylaxis for transurethral prostatic resection in men with preoperative urine containing less than 100,000 bacteria per ml: a systematic review. J Urol 173(4):1175–1181

2.

Berry A, Barratt AJ (2002) J Prophylactic antibiotic use in transurethral prostatic resection: a meta-analysis. J Urol 167:571–577

3.

Wagenlehner FM, Wagenlehner C, Schinzel S et al (2005) Prospective, randomized, multicentric, open, comparative study on the efficacy of a prophylactic single dose of 500 mg levofloxacin versus 1920 mg trimethoprim/sulfamethoxazole versus a control group in patients undergoing TUR of the prostate. Eur Urol 47(4):549–556

4.

Bonkat G, Pickard R, Bartoletti R, et al (2017) EAU guidelines on urological infections. Perioperative antibacterial prophylaxis in urology. In: Complete European Association of Urology guidelines. Edn. Presented at the EAU annual congress London 2017, pp 35–9

5.

Cai T, Verze P, Bartoletti R et al (2016) Adherence to European Association of Urology guidelines on prophylactic antibiotics: an important step in antimicrobial stewardship. Eur Urol 69(2):276–283

6.

Wagenlehner F, Stöwer-Hoffmann J, Schneider-Brachert W, Naber KG, Lehn N (2000) Influence of a prophylactic single dose of ciprofloxacin on the level of resistance of Escherichia coli to fluoroquinolones in urology. Int J Antimicrob Agents 15(3):207–211

7.

Gould I (2016) Antibiotic stewardship: what's not to like? Eur Urol 69:284–285

8.

Belgian Antibiotic Policy Coordination Committee: richtlijnen voor anti-infectieuze behandelingen in ziekenhuizen. BVKIM 2017.

9.

Wolf JS Jr, Bennett CJ, Dmochowski RR et al (2008) Best practice policy statement on urologic surgery antimicrobial prophylaxis. J Urol 179(4):1379–1390. https://doi.org/10.1016/j.juro.2008.01.068

10.

Fluoroquinolone antibacterial drugs for systemic use: drug safety communication—warnings updated due to disabling side effects. 07/26/2016.

11.

FGOV.be; RIZIV: wijziging terugbetaling antibiotica vanaf 1 mei 2018.
Ethics declarations
Conflict of interest
We have nothing to disclose.
Informed consent
Informed consent was obtained for every patient.
Additional information
Publisher's Note
Springer Nature remains neutral with regard to jurisdictional claims in published maps and institutional affiliations.
About this article
Cite this article
Baten, E., Van Der Aa, F., Orye, C. et al. Antibiotic prophylaxis in TURP: a prospective analysis concerning antibiotic stewardship and a potential reduction of antibiotic use in TURP. World J Urol 37, 2467–2472 (2019). https://doi.org/10.1007/s00345-019-02676-z
Received:

Accepted:

Published:

Issue Date:
Keywords
TURP

Antibiotics

Microbial resistance

Bacteriuria