Abstract
Purpose
There are few published reviews that have assessed the clinical utility of renal urine cultures following percutaneous nephrostomy (PCN). In this systematic review, we evaluated the published evidence of the clinical utility of nephrostomy urine cultures in the light of emerging antimicrobial resistance and need for stewardship.
Methods
We performed a systematic literature search and review for evidence on the utility and role of nephrostomy urine cultures, using Medline, Embase and PubMed. We looked for evidence to assess whether there is any utility in collecting renal urine for culture at the time of percutaneous nephrostomy (PCN) and if the culture results of nephrostomy urine and bladder urine are different. We studied outcomes of treatment based on nephrostomy culture results. We also examined the role of PCN cultures at the time of routine nephrostomy exchange. Finally, we assessed if doing a PCN leads to infection or pyelonephritis.
Results
From 94 studies initially identified, we finally selected two randomised clinical trials (RCT), six original articles and five detailed conference abstracts for the review. These studies suggest that PCN urine cultures are overall useful in clinical practice. They are useful in selecting appropriate antimicrobial treatment for urosepsis following upper urinary obstruction. There does not appear to be any advantage in performing PCN cultures at routine nephrostomy exchanges. Occasionally, PCN itself can lead to subsequent urosepsis.
Conclusion
Nephrostomy urine cultures have utility in clinical practice and can help support treatment and antimicrobial stewardship.
This is a preview of subscription content, log in to check access.
Access options
Buy single article
Instant access to the full article PDF.
US$ 39.95
Price includes VAT for USA
Subscribe to journal
Immediate online access to all issues from 2019. Subscription will auto renew annually.
US$ 199
This is the net price. Taxes to be calculated in checkout.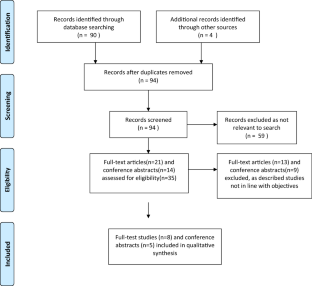 References
1.

Kandil H, Cramp E, Vaghela T (2016) Trends in antibiotic resistance in urologic practice. Eur Urol Focus 2(4):363–373. https://doi.org/10.1016/j.euf.2016.09.006

2.

Liberati A, Altman DG, Tetzlaff J et al (2009) The PRISMA statement for reporting systematic reviews and meta-analyses of studies that evaluate healthcare interventions: explanation and elaboration. BMJ 339:b2700. https://doi.org/10.1136/BMJ.B2700

3.

Koh D, Lau KK, Teoh E (2018) Are all urgent nephrostomies that urgent? Emerg Radiol 25:381–386. https://doi.org/10.1007/s10140-018-1598-7

4.

Benson AD, Juliano TM, Miller NL (2014) Infectious outcomes of nephrostomy drainage before percutaneous nephrolithotomy compared to concurrent access. J Urol 192:770–774. https://doi.org/10.1016/j.juro.2014.03.004

5.

Sancaktutar AA, Bozkurt Y, Tüfek A et al (2013) Radiation-free percutaneous nephrostomy performed on neonates, infants, and preschool-age children. J Pediatr Urol 9:464–471. https://doi.org/10.1016/j.jpurol.2012.06.001

6.

Bahu R, Chaftari A-M, Hachem RY et al (2013) Nephrostomy tube related pyelonephritis in patients with cancer: epidemiology, infection rate and risk factors. J Urol 189:130–135. https://doi.org/10.1016/j.juro.2012.08.094

7.

Etemadian M, Haghighi R, Madineay A, Tizeno A (2008) Delayed versus same-day percutaneous nephrolithotomy in patients with aspirated cloudy urine. Urol J 5:28–33

8.

Watson RA, Esposito M, Richter F et al (1999) Percutaneous nephrostomy as adjunct management in advanced upper urinary tract infection. Urology 54:234–239. https://doi.org/10.1016/S0090-4295(99)00091-6

9.

Pearle MS, Pierce HL, Miller GL et al (1998) Optimal method of urgent decompression of the collecting system for obstruction and infection due to ureteral calculi. J Urol 160:1260–1264

10.

Cox M, Dong H, Momah I, Selvarajan S (2015) Preprocedural urinalysis in percutaneous nephrostomy for pyonephrosis: does a normal urinalysis rule out pyonephrosis? Experience at an urban tertiary care center. J Vasc Interv Radiol 26:S45. https://doi.org/10.1016/j.jvir.2014.12.128

11.

Ng SKK, Pun TCT, Kan CF, Chan SWH AW (2014) Is percutaneous nephrostomy (PCN) urine culture necessary before PCN revision? BJU 113:S1. https://doi.org/10.1111/bju.12606

12.

Dede G, Deveci Ö, Dede O et al (2016) For reliable urine cultures in the detection of complicated urinary tract infection, do we use urine specimens obtained with urethral catheter or a nephrostomy tube? Turkish J Urol 42:290–294. https://doi.org/10.5152/tud.2016.00947

13.

Bahu R, Chaftari A, Hachem RY et al (2013) Infection/inflammation nephrostomy tube related pyelonephritis in patients with cancer: epidemiology, infection rate and risk factors. JURO 189:130–135. https://doi.org/10.1016/j.juro.2012.08.094

14.

Horsu H (2014) Post-nephrostomy sepsis and septic shock rate, predictive risk factors and ways of improving patient outcomes—an audit. Eur Urol Suppl 13(5):174–175

15.

Maneevese M, Sabir S, Ahrar K (2018) Risk factors associated with development of percutaneous nephrostomy related urinary tract infection (PN-CAUTI). J Vasc Interv Radiol 29(4):S290. https://doi.org/10.1016/j.jvir.2018.01.750

16.

Huang EYH, Chung HJ, Lin CC et al (2014) Is preoperative UTI associated with increased risks of UTI after ureteroscopic lithotripsy? A nationwide population-based study. Eur Urol Suppl 13(1):e1033. https://doi.org/10.1016/S1569-9056(14)61016-2
Acknowledgements
We gratefully acknowledge Ms Irena Scicinska, Librarian, for her help with our search methods.
Ethics declarations
Conflict of interest
The authors declare that they have no competing interests.
Additional information
Publisher's Note
Springer Nature remains neutral with regard to jurisdictional claims in published maps and institutional affiliations.
About this article
Cite this article
Batura, D., Gopal Rao, G. A systematic review of the clinical significance of nephrostomy urine cultures. World J Urol 38, 45–55 (2020). https://doi.org/10.1007/s00345-019-02663-4
Received:

Accepted:

Published:

Issue Date:
Keywords
Percutaneous nephrostomy

Urinalysis

Bacteriuria

Urinary tract infections

Risk factors

Drainage