Abstract
Purpose
To compare renal function and survival outcomes in patients with baseline chronic kidney disease (CKD) stage 2 undergoing partial (PN) or radical nephrectomy (RN), as nephron-sparing surgery is considered to be elective in this group.
Methods
Retrospective analysis of patients with CKD stage 2 and T1/T2 renal mass undergoing PN or RN from 2001 to 2015. Patients were stratified into substage CKD 2a or CKD 2b and analyzed between types of surgery. Primary outcome was overall survival (OS), eGFR < 45 at last follow-up was the secondary outcome. Multivariable analysis (MVA) was conducted for predictors of eGFR < 45 and OS. Kaplan–Meier analyses were conducted for freedom from eGFR < 45 and OS.
Results
1213 patients analyzed (CKD 2a 609/CKD 2b 604) on MVA, RN (OR 3.68, p = 0.001) and CKD 2b (OR 3.3, p = 0.002) were independently associated with development of eGFR < 45 at last follow-up and RN (OR 3.76, p = 0.005) and eGFR < 45 (OR 2.51, p = 0.029) were associated with decreased OS. Kaplan–Meier analyses revealed that patients with CKD 2a/PN had the highest 5-year freedom from eGFR < 45 (94.3%) compared to CKD 2a/RN patients (91.5%), CKD2b/PN patients (87.6%) and CKD 2b/RN patients 82.0% (p < 0.001). Kaplan–Meier analyses for OS demonstrated that patients with CKD 2a/PN had significantly greater 5-year OS (97.6%) compared to CKD 2a/RN patients (95.2%), CKD 2b/PN patients (93.2%), and CKD 2b/RN patients (92.4%, p = 0.043).
Conclusions
Patients with baseline CKD stage 2, particularly CKD 2b and undergoing RN, are at increased risk of GFR < 45, which was associated with decreased OS. In patients with CKD 2b, a nephron-sparing strategy is indicated and should be prioritized when feasible.
This is a preview of subscription content, log in to check access.
Access options
Buy single article
Instant access to the full article PDF.
US$ 39.95
Price includes VAT for USA
Subscribe to journal
Immediate online access to all issues from 2019. Subscription will auto renew annually.
US$ 199
This is the net price. Taxes to be calculated in checkout.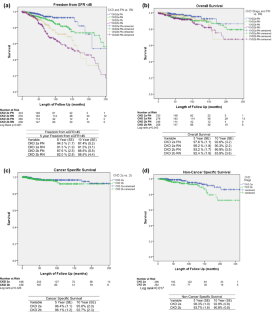 References
1.

Bray F, Ferlay J, Soerjomataram I et al (2018) Global cancer statistics 2018: GLOBOCAN estimates of incidence and mortality worldwide for 36 cancers in 185 countries. CA Cancer J Clin 68:394–424

2.

Kane CJ, Mallin K, Ritchey J et al (2008) Renal cell cancer stage migration: analysis of the National Cancer Data Base. Cancer 113:78–83

3.

Go AS, Chertow GM, Fan D et al (2004) Chronic kidney disease and the risks of death, cardiovascular events, and hospitalization. N Engl J Med 351:1296–1305

4.

Huang WC, Levey AS, Serio AM et al (2006) Chronic kidney disease after nephrectomy in patients with renal cortical tumours: a retrospective cohort study. Lancet Oncol 7:735–740

5.

Malcolm JB, Bagrodia A, Derweesh IH et al (2009) Comparison of rates and risk factors for developing chronic renal insufficiency, proteinuria and metabolic acidosis after radical or partial nephrectomy. BJU Int 104:476–481

6.

Fergany AF, Hafez KS, Novick AC (2000) Long-term results of nephron sparing surgery for localized renal cell carcinoma: 10-year followup. J Urol 163:442–445

7.

Leibovich BC, Blute M, Cheville JC et al (2004) Nephron sparing surgery for appropriately selected renal cell carcinoma between 4 and 7 cm results in outcome similar to radical nephrectomy. J Urol 171:1066–1070

8.

Patard JJ, Shvarts O, Lam JS et al (2004) Safety and efficacy of partial nephrectomy for all T1 tumors based on an international multicenter experience. J Urol 171:2181–2185

9.

Campbell S, Uzzo RG, Allaf ME et al (2017) Renal mass and localized renal cancer: AUA guideline. J Urol 198:520–529

10.

Ljungberg B, Bensalah K, Canfield S et al (2015) EAU guidelines on renal cell carcinoma: 2014 update. Eur Urol 67:913–924

11.

Finelli A, Ismaila N, Bro B et al (2017) Management of small renal masses: American Society of Clinical Oncology Clinical Practice Guideline. J Clin Oncol 35:668–680

12.

Karellas ME, O'Brien MF, Jang TL et al (2010) Partial nephrectomy for selected renal cortical tumours of ≥ 7 cm. BJU Int 106:1484–1487

13.

Breau RH, Crispen PL, Jimenez RE et al (2010) Outcome of stage T2 or greater renal cell cancer treated with partial nephrectomy. J Urol 183:903–908

14.

Long CJ, Canter DJ, Kutikov A et al (2012) Partial nephrectomy for renal masses ≥ 7 cm: technical, oncological and functional outcomes. BJU Int 109:1450–1456

15.

Kopp RP, Mehrazin R, Palazzi KL et al (2014) Survival outcomes after radical and partial nephrectomy for clinical T2 renal tumours categorised by R.E.N.A.L. nephrometry score. BJU Int 114:708–718

16.

Mir MC, Derweesh I, Porpiglia F et al (2017) Partial nephrectomy versus radical nephrectomy for clinical T1b and T2 renal tumors: a systematic review and meta-analysis of comparative studies. Eur Urol 71:606–617

17.

Van Poppel H, Da Pozzo L, Albrecht W et al (2011) A prospective, randomised EORTC intergroup phase 3 study comparing the oncologic outcome of elective nephron-sparing surgery and radical nephrectomy for low-stage renal cell carcinoma. Eur Urol 59:543–552

18.

Scosyrev E, Messing EM, Sylvester R et al (2014) Renal function after nephron-sparing surgery versus radical nephrectomy: results from EORTC randomized trial 30904. Eur Urol 65:372–377

19.

Levey AS, Stevens LA, Schmid CH et al (2009) A new equation to estimate glomerular filtration rate. Ann Intern Med 150:604–612

20.

Tobert CM, Kahnoski RJ, Thompson DE et al (2012) RENAL nephrometry score predicts surgery type independent of individual surgeon's use of nephron-sparing surgery. Urology 80:157–161

21.

Larcher A, Capitanio U, Terrone C et al (2016) Elective nephron sparing surgery decreases other cause mortality relative to radical nephrectomy only in specific subgroups of patients with renal cell carcinoma. J Urol 196:1008–1013

22.

American Joint Committee on Cancer (AJCC) (2010) Cancer staging manual, 7th edn. Springer-Verlag, New York

23.

Dindo D, Demartines N, Clavien PA (2004) Classification of surgical complications: a new proposal with evaluation in a cohort of 6336 patients and results of a survey. Ann Surg 240:205–213

24.

Mashni JW, Assell M, Maschino A et al (2015) New chronic kidney disease and overall survival after nephrectomy for small renal cortical tumors. Urology 86:1137–1143

25.

Mason R, Kapoor A, Liu Z et al (2016) The natural history of renal function after surgical management of renal cell carcinoma: results from the Canadian Kidney Cancer Information System. Urol Oncol 34:486.e1–486.e7

26.

Kim SP, Thompson RH, Boorjian SA et al (2012) Comparative effectiveness for survival and renal function of partial and radical nephrectomy for localized renal tumors: a systematic review and meta-analysis. J Urol 188:51–57

27.

Sun M, Trinh QD, Bianchi M et al (2012) A non-cancer-related survival benefit is associated with partial nephrectomy. Eur Urol 61:725–731

28.

Kim SP, Campbell SC, Gill I et al (2017) Collaborative review of risk benefit trade-offs between partial and radical nephrectomy in the management of anatomically complex renal masses. Eur Urol 72:64–75

29.

Lane BR, Demirjian S, Derweesh IH et al (2015) Survival and functional stability in chronic kidney disease due to surgical removal of nephrons: importance of the new baseline glomerular filtration rate. Eur Urol 68:996–1003

30.

Pettus JA, Jang TL, Thompson RH et al (2008) Effect of baseline glomerular filtration rate on survival in patients undergoing partial or radical nephrectomy for renal cortical tumors. Mayo Clin Proc 83:1101–1106

31.

Kopp RP, Liss MA, Mehrazin R et al (2015) Analysis of renal functional outcomes after radical or partial nephrectomy for renal masses ≥ 7 cm using the RENAL Score. Urology 86:312–319

32.

Porpiglia F, Fiori C, Bertolo R et al (2012) Long-term functional evaluation of the treated kidney in a prospective series of patients who underwent laparoscopic partial nephrectomy for small renal tumors. Eur Urol 62:130–135

33.

Takagi T, Mir MC, Sharma N et al (2014) Compensatory hypertrophy after partial and radical nephrectomy in adults. J Urol 192:1612–1618
Acknowledgements
This project was supported by the Stephen Weissman Kidney Cancer Research Fund. Biostatistical analyses were supported by NIH Grants UL1TR000100 and UL1TR001442.
Ethics declarations
Conflict of interest
None of the authors have any conflict of interest to declare.
Ethical standards
Ethical standards have been met; study is IRB approved at both institutions.
Additional information
Publisher's Note
Springer Nature remains neutral with regard to jurisdictional claims in published maps and institutional affiliations.
About this article
Cite this article
Hamilton, Z.A., Capitanio, U., Lane, B.R. et al. Should partial nephrectomy be considered "elective" in patients with stage 2 chronic kidney disease? A comparative analysis of functional and survival outcomes after radical and partial nephrectomy. World J Urol 37, 2429–2437 (2019). https://doi.org/10.1007/s00345-019-02650-9
Received:

Accepted:

Published:

Issue Date:
Keywords
Carcinoma

Renal cell

Chronic kidney disease

Glomerular filtration rate

Nephrectomy

Partial nephrectomy

Overall survival