Abstract
Purpose
To objectively quantify continence rates and to correlate continence outcomes with health-related quality of life (HRQOL) after radical cystectomy and orthotopic ileal neobladder (ONB).
Methods
Questionnaires were sent to 244 patients who underwent radical cystectomy with ONB between 2004 and 2015, and information about the current continence status was retrieved. To objectify postoperative urine loss, daytime and nocturnal pad tests were performed. Continence was defined as need of up to one safety pad. HRQOL was assessed using EORTC QLQ-C30 scoring with global health status being the primary endpoint. Statistical analysis included Fisher's test, Mann–Whitney U test, Pearson's rank correlation, and binary regression models (p < 0.05).
Results
178 patients (73.0%) answered the QLQ-C30 questionnaires and were included in the study. Median follow-up was 61 months. Median daytime pad use was 1 and median daily urine loss based on pad testing was 4.0 g, leading to a daytime continence rate of 48.5%. Continence had a significant impact on postoperative HRQOL (p = 0.017). ICIQ-SF score (p = 0.001, OR = 0.805) and need for condom catheter during nighttime (p = 0.015, OR = 0.123) were independent predictors for worse HRQOL outcomes based on global health status. A history of pelvic floor muscle training was an independent predictor of increased HRQOL (p = 0.009, OR = 10.459).
Conclusions
Need of condom urinals and higher ICIQ-SF scores are independent predictors for worse HRQOL outcomes. We show significant beneficial effects of pelvic floor muscle training on patients' HRQOL.
This is a preview of subscription content, log in to check access.
Access options
Buy single article
Instant access to the full article PDF.
US$ 39.95
Price includes VAT for USA
Subscribe to journal
Immediate online access to all issues from 2019. Subscription will auto renew annually.
US$ 199
This is the net price. Taxes to be calculated in checkout.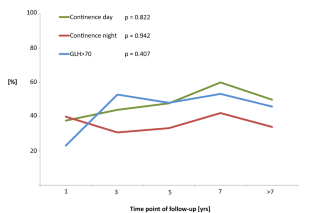 Abbreviations
BMI:

Body mass index

CI:

Confidence interval

CIC:

Clean intermittent self-catheterization

ECOG:

Eastern Cooperative Oncology Group

EORTC:

European Organization for Research and Treatment of Cancer

HRQOL:

Health-related quality of life

ICIQ-SF:

International consultation on incontinence questionnaire short form

OR:

Odds ratio

ONB:

Orthotopic ileal neobladder

PFMT:

Pelvic floor muscle training
References
1.

Siegel R, Ma J, Zou Z, Jemal A (2014) Cancer statistics, 2014. CA Cancer J Clin 64(1):9–29. https://doi.org/10.3322/caac.21208

2.

Witjes JA, Comperat E, Cowan NC, De Santis M, Gakis G, Lebret T et al (2014) EAU guidelines on muscle-invasive and metastatic bladder cancer: summary of the 2013 guidelines. Eur Urol 65(4):778–792. https://doi.org/10.1016/j.eururo.2013.11.046

3.

Studer UE, Burkhard FC, Schumacher M, Kessler TM, Thoeny H, Fleischmann A et al (2006) Twenty years experience with an ileal orthotopic low pressure bladder substitute–lessons to be learned. J Urol 176(1):161–166. https://doi.org/10.1016/S0022-5347(06)00573-8

4.

Todenhofer T, Stenzl A, Schwentner C (2013) Optimal use and outcomes of orthotopic neobladder reconstruction in men and women. Curr Opin Urol 23(5):479–486. https://doi.org/10.1097/MOU.0b013e328363f6e9

5.

Kretschmer A, Grimm T, Buchner A, Grimm J, Grabbert M, Jokisch F et al (2017) Prognostic features for objectively defined urinary continence after radical cystectomy and ileal orthotopic neobladder in a contemporary cohort. J Urol 197(1):210–215. https://doi.org/10.1016/j.juro.2016.08.004

6.

Zahran MH, El-Hefnawy AS, Zidan EM, El-Bilsha MA, Taha DE, Ali-El-Dein B (2014) Health-related quality of life after radical cystectomy and neobladder reconstruction in women: impact of voiding and continence status. Int J Urol 21(9):887–892. https://doi.org/10.1111/iju.12452

7.

Takenaka A, Hara I, Soga H, Sakai I, Terakawa T, Muramaki M et al (2010) Assessment of long-term quality of life in patients with orthotopic neobladder followed for more than 5 years. Int Urol Nephrol 43(3):749–754. https://doi.org/10.1007/s11255-010-9851-3

8.

Imbimbo C, Mirone V, Siracusano S, Niero M, Cerruto MA, Lonardi C et al (2015) Quality of life assessment with orthotopic ileal neobladder reconstruction after radical cystectomy: results from a prospective italian multicenter observational study. Urology 86(5):974–980. https://doi.org/10.1016/j.urology.2015.06.058

9.

Hautmann RE, Egghart G, Frohneberg D, Miller K (1988) The ileal neobladder. J Urol 139(1):39–42

10.

Avery K, Donovan J, Peters TJ, Shaw C, Gotoh M, Abrams P (2004) ICIQ: a brief and robust measure for evaluating the symptoms and impact of urinary incontinence. Neurourol Urodyn 23(4):322–330. https://doi.org/10.1002/nau.20041

11.

Aaronson NK, Ahmedzai S, Bergman B, Bullinger M, Cull A, Duez NJ et al (1993) The European Organization for Research and Treatment of Cancer QLQ-C30: a quality-of-life instrument for use in international clinical trials in oncology. J Natl Cancer Inst 85(5):365–376

12.

Fayers PM (2001) Interpreting quality of life data: population-based reference data for the EORTC QLQ-C30. Eur J Cancer 37(11):1331–1334

13.

Snyder CF, Blackford AL, Okuyama T, Akechi T, Yamashita H, Toyama T et al (2013) Using the EORTC-QLQ-C30 in clinical practice for patient management: identifying scores requiring a clinician's attention. Qual Life Res 22(10):2685–2691. https://doi.org/10.1007/s11136-013-0387-8

14.

Cerruto MA, D'Elia C, Siracusano S, Gedeshi X, Mariotto A, Iafrate M et al (2015) Systematic review and meta-analysis of non RCT's on health related quality of life after radical cystectomy using validated questionnaires: Better results with orthotopic neobladder versus ileal conduit. Eur J Surg Oncol. https://doi.org/10.1016/j.ejso.2015.10.001

15.

Kretschmer A, Grimm T, Buchner A, Stief CG, Karl A (2016) Prognostic features for quality of life after radical cystectomy and orthotopic neobladder. Int Braz J Urol 42(6):1109–1120. https://doi.org/10.1590/S1677-5538.IBJU.2015.0491

16.

Goode PS, Burgio KL, Johnson TM 2nd, Clay OJ, Roth DL, Markland AD et al (2011) Behavioral therapy with or without biofeedback and pelvic floor electrical stimulation for persistent postprostatectomy incontinence: a randomized controlled trial. JAMA 305(2):151–159. https://doi.org/10.1001/jama.2010.1972

17.

Fernandez RA, Garcia-Hermoso A, Solera-Martinez M, Correa MT, Morales AF, Martinez-Vizcaino V (2015) Improvement of continence rate with pelvic floor muscle training post-prostatectomy: a meta-analysis of randomized controlled trials. Urol Int 94(2):125–132. https://doi.org/10.1159/000368618
Ethics declarations
Conflict of interest
The authors declare that they have no conflict of interest.
Informed consent
Informed consent was obtained from all individual participants included in the study.
Ethical approval
All procedures performed in studies involving human participants were in accordance with the ethical standards of the institutional and/or national research committee and with the 1964 Helsinki declaration and its later amendments or comparable ethical standards.
Additional information
Publisher's Note
Springer Nature remains neutral with regard to jurisdictional claims in published maps and institutional affiliations.
Electronic supplementary material
Below is the link to the electronic supplementary material.
About this article
Cite this article
Grimm, T., Grimm, J., Buchner, A. et al. Health-related quality of life after radical cystectomy and ileal orthotopic neobladder: effect of detailed continence outcomes. World J Urol 37, 2385–2392 (2019). https://doi.org/10.1007/s00345-019-02643-8
Received:

Accepted:

Published:

Issue Date:
Keywords
Cystectomy

Urinary incontinence

Ileal neobladder

Bladder cancer

Quality of life