Abstract
Purpose
To evaluate a five-step training model for transperineal prostate biopsies (TPPB) and the differences in terms of the detection rate (DR) and the ease of execution when using either the "fan technique" (FT) or the use of a Free Hand technique (FH).
Methods
A prospective observational randomised study was conducted from September 2015 to November 2017. Six naïve residents, who underwent the same five-steps training model, were randomly subdivided into two different groups of three residents based on the selected TPPB technique: A (FT) and B (FH). Patient characteristics (age, PSA, prostatic volume, DRE, MRI), intraoperative (operative time, number of samples) and postoperative parameters (histologic, pain) were evaluated in the 2 groups. The overall and stratified DR for PSA ranges and prostate volume (PV), operative time and complications were compared.
Results
The overall detection rate was very high in both groups (FT 58.2% vs FH 59.6%) and not statistically different between the two techniques. There were no differences in terms of complication rates and pain. The FH showed a better detection rate in prostates smaller than 40 cc (p = 0.023) and a faster operative time (p = 0.025) compared to FT.
Conclusions
Within the TPPB, FH is associated with a higher detection rate in patients with prostate < 40 cc compared to an FT when performed by inexperienced trainees. Standardised training organised in consecutive steps seems to contribute to the achievement of overall high detection rates with both methods.
This is a preview of subscription content, log in to check access.
Access options
Buy single article
Instant access to the full article PDF.
US$ 39.95
Price includes VAT for USA
Subscribe to journal
Immediate online access to all issues from 2019. Subscription will auto renew annually.
US$ 199
This is the net price. Taxes to be calculated in checkout.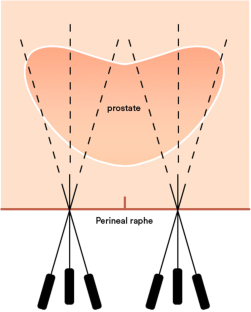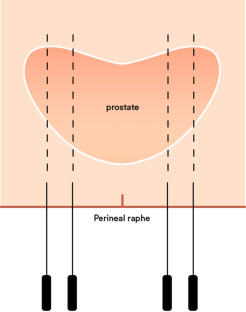 References
1.

Di Franco CA, Jallous H, Porru D, Giliberto GL, Cebrelli T, Tinelli C, Rovereto B (2017) A retrospective comparison between transrectal and transperineal prostate biopsy in the detection of prostate cancer. Arch Ital Urol Androl 89(1):55–59

2.

Fabiani A, Principi E, Filosa A, Servi L (2017) The eternal enigma in prostatic biopsy access route. Arch Ital Urol Androl 89(3):245–246

3.

Chang DT, Challacombe B, Lawrentschuk N (2013) Transperineal biopsy of the prostate—is this the future? Nat Rev Urol 10(12):690–702

4.

Kawakami S, Yamamoto S, Numao N, Ishikawa Y, Kihara K, Fukui I (2007) Direct comparison between transrectal and transperineal extended prostate biopsy for the detection of cancer. Int J Urol 14(8):719–724

5.

Ficarra V, Novella G, Galfano A, Artibani W (2007) Transperineal TRUS-guided prostate biopsy. Urologia 74(1):1–7

6.

Babaei Jandaghi A, Habibzadeh H, Falahatkar S, Heidarzadeh A, Pourghorban R (2016) Transperineal prostate core needle biopsy: a comparison of coaxial versus noncoaxial method in a randomised trial. Cardiovasc Intervent Radiol 39(12):1736–1742

7.

Dindo D, Demartines N, Clavien PA (2004) Classification of surgical complications: a new proposal with evaluation in a cohort of 6336 patients and results of a survey. Ann Surg 240(2):205–213

[8]

Bonkat G, Pickard R, Bartoletti R, et al. (2018) EAU Guidelines on urological infections. European Association of Urology. https://uroweb.org/guideline/urological-infections

9.

Fulgham PF (2018) Multiparametric ultrasound-targeted biopsy compares favorably to multiparametric MRI-transrectal ultrasound fusion-targeted biopsy on initial biopsy of men at risk for prostate cancer. World J Urol 36(5):713–718

10.

Xie Y, Tokas T, Grabski B, Loch T (2018) Internal Fusion: exact correlation of transrectal ultrasound images of the prostate by detailed landmarks over time for targeted biopsies or follow-up. World J Urol 36(5):693–698

11.

Kaufmann S, Russo GI, Bamberg F, Löwe L, Morgia G, Nikolaou K, Stenzl A, Kruck S, Bedke J (2018) Prostate cancer detection in patients with prior negative biopsy undergoing cognitive-, robotic- or in-bore MRI target biopsy. World J Urol 36(5):761–768

12.

Cicione A, De Nunzio C, Manno S, Damiano R, Posti A, Lima E, Tubaro A, Balloni F (2018) An update on prostate biopsy in the era of magnetic resonance imaging. Urol Nefrol 70(3):264–274. https://doi.org/10.23736/S0393-2249.18.03048-5 (Epub 2018 Mar 28)

13.

Vis AN, Boerma MO, Ciatto S, Hoedemaeker RF, Schröder FH, van der Kwast TH (2000) Detection of prostate cancer: a comparative study of the diagnostic efficacy of sextant transrectal versus sextant transperineal biopsy. Urology 56(4):617–621

14.

Emiliozzi P, Corsetti A, Tassi B, Federico G, Martini M, Pansadoro V (2003) Best approach for prostate cancer detection: a prospective study on transperineal versus transrectal six-core prostate biopsy. Urology 61(5):961–966

15.

Miller J, Perumalla C, Heap G (2005) Complications of transrectal versus transperineal prostate biopsy. ANZ J Surg 75(1–2):48–50

16.

Hung AJ, Bottyan T, Clifford TG, Serang S, Nakhoda ZK, Shah SH, Yokoi H, Aron M, Gill IS (2017) Structured learning for robotic surgery utilizing a proficiency score: a pilot study. World J Urol 35(1):27–34

17.

Ruparel RK, Taylor AS, Patel J, Patel VR, Heckman MG, Rawal B, Leveillee RJ, Thiel DD (2014) Assessment of virtual reality robotic simulation performance by urology resident trainees. J Surg Educ 71(3):302–308

18.

Gregorio SA, Rivas JG, Molina SS, Gómez AT, Ledo JC, Sebastián JD, Barthel JJ (2014) Laparoscopic radical prostatectomy training for residents: Hospital Universitario La Paz model. Cent European J Urol 67(3):247–252

19.

Somani BK, Van Cleynenbreugel B, Gozen A, Palou J, Barmoshe S, Biyani S, Gaya JM, Hellawell G, Pini G, Oscar FR, Sanchez Salas R, Macek P, Skolarikos A, Wagner C, Eret V, Haensel S, Siena G, Schmidt M, Klitsch M, Vesely S, Ploumidis A, Proietti S, Kamphuis G, Tokas T, Geraghty R, Veneziano D (2018) The European urology residents education programme hands-on training format: 4 years of hands-on training improvements from the European school of urology. Eur Urol Focus S2405–4569(18):30080–30084

20.

Garde Garcia H, Ortiz Oshiro E, Ciappara Paniagua M, Poma Medrano L, Fuentes Ferrer M, Vera Gonzalez V, Moreno Sierra J (2014) Interest areas for training in endourology, laparoscopy and robotics: results of a multicentric survey among Spanish residents. Arch Esp Urol 67(8):673–683

21.

Miernik A, Sevcenco S, Kuehhas FE, Bach C, Buchholz N, Adams F, Wilhelm K, Schoenthaler M (2014) Bringing excellence into urology: How to improve the future training of residents? Arab J Urol 12(1):15–20

22.

Blankstein U, Lantz AG, D'A Honey RJ, Pace KT, Ordon M, Lee JY (2015) Simulation-based flexible ureteroscopy training using a novel ureteroscopy part-task trainer. Can Urol Assoc J 9(9–10):331–335

23.

Safir IJ, Shrewsberry AB, Issa IM, Ogan K, Ritenour CW, Sullivan J, Issa MM (2015) Impact of remote monitoring and supervision on resident training using new ACGME milestone criteria. Can J Urol 22(5):7959–7964

24.

Mai Z, Yan W, Zhou Y, Zhou Z, Chen J, Xiao Y, Liang Z, Ji Z, Li H (2016) Transperineal template-guided prostate biopsy: 10 years of experience. BJU Int 117(3):424–429

25.

Pinkstaff DM, Igel TC, Petrou SP, Broderick GA, Wehle MJ, Young PR (2005) Systematic transperineal ultrasound-guided template biopsy of the prostate: three-year experience. Urology 65(4):735–739

26.

Emiliozzi P, Longhi S, Scarpone P, Pansadoro A, DePaula F, Pansadoro V (2001) The value of a single biopsy with 12 transperineal cores for detecting prostate cancer in patients with elevated prostate specific antigen. J Urol 166(3):845–850

27.

Furuno T, Demura T, Kaneta T, Gotoda H, Muraoka S, Sato T, Nagamori S, Shinohara N, Koyanagi T (2004) Difference of cancer core distribution between first and repeat biopsy: In patients diagnosed by extensive transperineal ultrasound guided template prostate biopsy. Prostate 58(1):76–81

28.

Bochenska K, Milad MP, DeLancey JO, Lewicky-Gaupp C (2018) Instructional video and medical student surgical knot-tying proficiency: randomized controlled trial. JMIR Med Educ 4(1):e9

29.

Alameddine MB, Englesbe MJ, Waits SA (2018) A video-based coaching intervention to improve surgical skill in fourth-year medical students. J Surg Educ. https://doi.org/10.1016/j.jsurg.2018.04.003

30.

Malas T, Al-Atassi T, Brandys T, Naik V, Lapierre H, Lam BK (2018) Impact of visualization on simulation training for vascular anastomosis. J Thorac Cardiovasc Surg 155(4):1686–1693
Ethics declarations
Conflict of interest
The authors declare that they have no conflict of interest.
Informed consent
Informed consent was obtained from all individual participants included in the study.
About this article
Cite this article
Mantica, G., Pacchetti, A., Aimar, R. et al. Developing a five-step training model for transperineal prostate biopsies in a naïve residents' group: a prospective observational randomised study of two different techniques. World J Urol 37, 1845–1850 (2019). https://doi.org/10.1007/s00345-018-2599-6
Received:

Accepted:

Published:

Issue Date:
Keywords
Prostate cancer

Prostate biopsy

Transperineal prostate biopsy

Training

Residents