Abstract
Purpose
To identify potential risk factors for the development of venous thromboembolic events in testicular cancer patients receiving platinum-based chemotherapy.
Methods
We performed a retrospective analysis including 255 patients with testicular germ cell tumors who received platinum-based chemotherapy from 2003 to 2018 as a multi-center observational cohort study. Patient and tumor characteristics of patients with and without a thromboembolic event were analyzed.
Results
49 (19%) patients experienced a venous thromboembolic event, with the majority representing pulmonary embolism and deep venous thrombosis (47%). There were no significant differences regarding the development of a venous thromboembolic event between first- and second-line regimes. Multivariate analysis showed an increased risk for a venous thromboembolic event in patients with clinical stage ≥ IIC disease (OR 2.259 [95% CI 1.105–4.618], p = 0.026), elevated serum LDH (OR 2.162 [95% CI 1.018–4.593], p = 0.045), febrile neutropenia (OR 2.973 [95% CI 1.363–6.487], p = 0.006) and central venous access (OR 3.465 [95% CI 1.068–11.243], p = 0.039). Patients suffering from a venous thromboembolic event revealed a significantly reduced overall survival (p = 0.033) during a median follow-up of 8 months [IQR 2–18].
Conclusions
19% of all patients treated by platinum-based chemotherapy due to testicular cancer suffered from a venous thromboembolic event, associated with reduced overall survival. As a result, monitoring of cancer patients at risk as well as the improvement of patients' awareness of a thromboembolic event should thus be the main goal of their treating physicians.
This is a preview of subscription content, log in to check access.
Access options
Buy single article
Instant access to the full article PDF.
US$ 39.95
Price includes VAT for USA
Subscribe to journal
Immediate online access to all issues from 2019. Subscription will auto renew annually.
US$ 199
This is the net price. Taxes to be calculated in checkout.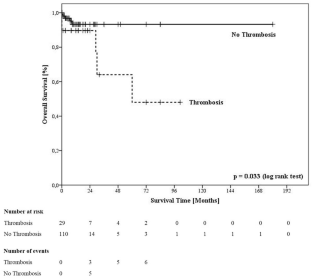 Abbreviations
AFP:

Alpha-Fetoprotein

BEP:

Bleomycin, etoposide, cisplatin

GCT:

Germ cell tumors

β-hCG:

Human chorionic gonadotropin

IGCCCG:

International germ cell cancer collaborative group

IQR:

Interquartile range

LDH:

Lactate dehydrogenase

PEI:

Cisplatin, etopside, ifosfamide

PC-RPLND:

Post-chemotherapy retroperitoneal lymph node dissection

TIP:

Cisplatin, ifosfamide, paclitaxel
References
1.

Albers P, Albrecht W, Algaba F et al (2015) Guidelines on testicular cancer: 2015 update. Eur Urol 68:1054–1068. https://doi.org/10.1016/j.eururo.2015.07.044

2.

Donnellan E, Khorana AA (2017) Cancer and venous thromboembolic disease: a review. Oncologist 22:199–207. https://doi.org/10.1634/theoncologist.2016-0214

3.

Piketty A-C, Fléchon A, Laplanche A et al (2005) The risk of thrombo-embolic events is increased in patients with germ-cell tumours and can be predicted by serum lactate dehydrogenase and body surface area. Br J Cancer 93:909–914. https://doi.org/10.1038/sj.bjc.6602791

4.

Fosså SD, Aass N, Harvei S, Tretli S (2004) Increased mortality rates in young and middle-aged patients with malignant germ cell tumours. Br J Cancer 90:607–612. https://doi.org/10.1038/sj.bjc.6601558

5.

Gizzi M, Oberic L, Massard C et al (2016) Predicting and preventing thromboembolic events in patients receiving cisplatin-based chemotherapy for germ cell tumours. Eur J Cancer 69:151–157. https://doi.org/10.1016/j.ejca.2016.10.003

6.

Heidegger I, Porres D, Veek N et al (2017) Predictive factors for developing venous thrombosis during cisplatin-based chemotherapy in testicular cancer. Urol Int 99:104–109. https://doi.org/10.1159/000471888

7.

Dieckmann K-P, Gerl A, Witt J et al (2010) Myocardial infarction and other major vascular events during chemotherapy for testicular cancer. Ann Oncol 21:1607–1611. https://doi.org/10.1093/annonc/mdp597

8.

Weijl NI, Rutten MFJ, Zwinderman AH et al (2000) Thromboembolic events during chemotherapy for germ cell cancer: a cohort study and review of the literature. J Clin Oncol 18:2169–2178. https://doi.org/10.1200/JCO.2000.18.10.2169

9.

Solari L, Krönig M, Ihorst G et al (2016) High rates of thromboembolic events in patients with germ cell cancer undergoing cisplatin-based polychemotherapy. Urol Int 96:399–405. https://doi.org/10.1159/000445126

10.

Bezan A, Posch F, Ploner F et al (2017) Risk stratification for venous thromboembolism in patients with testicular germ cell tumors. PLoS One 12:e0176283. https://doi.org/10.1371/journal.pone.0176283

11.

Mandala M, Falanga A, Roila F, ESMO Guidelines Working Group (2011) Management of venous thromboembolism (VTE) in cancer patients: ESMO clinical practice guidelines. Ann Oncol 22:vi85–vi92. https://doi.org/10.1093/annonc/mdr392

12.

Burness CB, Perry CM (2014) Rivaroxaban: a review of its use in the treatment of deep vein thrombosis or pulmonary embolism and the prevention of recurrent venous thromboembolism. Drugs 74:243–262. https://doi.org/10.1007/s40265-013-0174-4

13.

Babyak MA (2004) What you see may not be what you get: a brief, nontechnical introduction to overfitting in regression-type models. Psychosom Med 66:411–421

14.

Moore RA, Adel N, Riedel E et al (2011) High incidence of thromboembolic events in patients treated with cisplatin-based chemotherapy: a large retrospective analysis. J Clin Oncol 29:3466–3473. https://doi.org/10.1200/JCO.2011.35.5669

15.

Shlebak AA, Smith DB (1997) Incidence of objectively diagnosed thromboembolic disease in cancer patients undergoing cytotoxic chemotherapy and/or hormonal therapy. Cancer Chemother Pharmacol 39:462–466. https://doi.org/10.1007/s002800050599

16.

Khorana AA (2010) Venous thromboembolism and prognosis in cancer. Thromb Res 125:490–493. https://doi.org/10.1016/j.thromres.2009.12.023

17.

Chaturvedi S, Sidana S, Elson P et al (2014) Symptomatic and incidental venous thromboembolic disease are both associated with mortality in patients with prostate cancer. PLoS One 9:e94048. https://doi.org/10.1371/journal.pone.0094048

18.

Honecker F, Koychev D, Luhmann AD et al (2013) Venous thromboembolic events in germ cell cancer patients undergoing platinum-based chemotherapy. Onkologie 36:7–7. https://doi.org/10.1159/000355652

19.

Srikanthan A, Tran B, Beausoleil M et al (2015) Large retroperitoneal lymphadenopathy as a predictor of venous thromboembolism in patients with disseminated germ cell tumors treated with chemotherapy. J Clin Oncol 33:582–587. https://doi.org/10.1200/JCO.2014.58.6537

20.

Mead GM, Stenning SP (1997) The international germ cell consensus classification: a new prognostic factor-based staging classification for metastatic germ cell tumours. Clin Oncol (R Coll Radiol) 9:207–209

21.

Kyriazi V, Theodoulou E (2013) Assessing the risk and prognosis of thrombotic complications in cancer patients. Arch Pathol Lab Med 137:1286–1295. https://doi.org/10.5858/arpa.2012-0490-RA

22.

Khorana AA, Francis CW, Culakova E et al (2006) Thromboembolism in hospitalized neutropenic cancer patients. J Clin Oncol 24:484–490. https://doi.org/10.1200/JCO.2005.03.8877

23.

Lin J, Proctor MC, Varma M et al (2003) Factors associated with recurrent venous thromboembolism in patients with malignant disease. J Vasc Surg 37:976–983. https://doi.org/10.1067/mva.2003.191

24.

Nestler T, Huber J, Laury AM et al (2018) Thromboprophylaxis and the route of administration of chemotherapy in testicular cancer patients in German-speaking countries. World J Urol. https://doi.org/10.1007/s00345-018-2222-x

25.

Carrier M, Lee AY (2009) Prophylactic and therapeutic anticoagulation for thrombosis—major issues in oncology. Nat Clin Pract Oncol 6:74–84. https://doi.org/10.1038/ncponc1244

26.

Yamashita Y, Wada H, Nomura H et al (2014) Elevated fibrin-related markers in patients with malignant diseases frequently associated with disseminated intravascular coagulation and venous thromboembolism. Intern Med 53:413–419

27.

Li XD, Guo SJ, Chen SL et al (2017) Clinical outcome of postchemotherapy retroperitoneal lymph node dissection and predicting retroperitoneal histology in advanced nonseminomatous germ cell tumours of the testis. Zhonghua Wai Ke Za Zhi 55:603–607. https://doi.org/10.3760/cma.j.issn.0529-5815.2017.08.010

28.

Madoiwa S (2017) Management of venous thromboembolism in cancer patients. Gan To Kagaku Ryoho 44:2064–2071

29.

Noble S, Prout H, Nelson A (2015) Patients' Experiences of LIving with CANcer-associated thrombosis: the PELICAN study. Patient Prefer Adherence 9:337. https://doi.org/10.2147/PPA.S79373

30.

Cushman M (2007) Epidemiology and risk factors for venous thrombosis. Semin Hematol 44:62–69. https://doi.org/10.1053/j.seminhematol.2007.02.004
Funding
This research did not receive any specific grant from funding agencies in the public, commercial, or not-for-profit sectors.
Ethics declarations
Conflict of interest
The authors declare that they have no conflict of interest.
Ethical approval
All procedures performed in studies involving human participants were in accordance with the ethical standards of the institutional and/or national research committee and with the 1964 Helsinki declaration and its later amendments or comparable ethical standards. For this type of study formal consent is not required.
Electronic supplementary material
Below is the link to the electronic supplementary material.
About this article
Cite this article
Paffenholz, P., Grein, K., Heidegger, I. et al. Predictors of thrombosis in testicular cancer during platinum-based chemotherapy. World J Urol 37, 1907–1916 (2019). https://doi.org/10.1007/s00345-018-2598-7
Received:

Accepted:

Published:

Issue Date:
Keywords
Thrombosis

Germ cell tumor

Cisplatin

Chemotherapy