Abstract
Objectives
To determine and investigate the intraoperative factors that contribute to a change in plan from continent orthotopic neobladder to ileal conduit or continent cutaneous diversion at the time of radical cystectomy.
Subjects and methods
A retrospective review of our prospectively maintained bladder cancer database was performed. Of the 711 patients who underwent radical cystectomy from 2012 to 2016, 387 (54.4%) had given consent to have a NB. Of these 387 patients, 348 (89.9%) ultimately received a neobladder while 34 (8.8%) received an ileal conduit and 5 (1.3%) continent cutaneous diversion. The factors involved in the intraoperative change of plan were examined in this study.
Results
Patients who ultimately received a neobladder were significantly more likely to have clinical node-negative disease (p = 0.045), negative soft tissue margins (p = 0.001), lower body mass index (p = 0.045) and higher volume surgeons (p < 0.001). Oncologic reasons for intraoperative conversions were more common than technical reasons (58.3% vs 35.9%), in both robotic and open surgical techniques. The choice of surgical approach (open vs robotic) did not influence the rate of intraoperative conversion.
Conclusion
The factors influencing intraoperative decision not to perform neobladder are predominantly oncologic rather than technical. A clear understanding of the factors involved in influencing the intraoperative change in the urinary diversion plan may improve shared decision making in patients undergoing radical cystectomy in the future.
This is a preview of subscription content, log in to check access.
Access options
Buy single article
Instant access to the full article PDF.
US$ 39.95
Price includes VAT for USA
Subscribe to journal
Immediate online access to all issues from 2019. Subscription will auto renew annually.
US$ 199
This is the net price. Taxes to be calculated in checkout.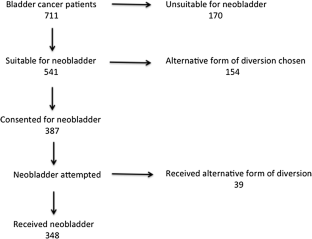 References
1.

Lee RK, Abol-Enein H, Artibani W, Bochner B, Dalbagni G, Daneshmand S et al (2014) Urinary diversion after radical cystectomy for bladder cancer: options, patient selection, and outcomes. BJU Int 113(1):11–23

2.

Ashley MS, Daneshmand S (2010) Factors influencing the choice of urinary diversion in patients undergoing radical cystectomy. BJU Int 106(5):654–657

3.

Pak JS, Lee JJ, Bilal K, Finkelstein M, Palese MA (2017) Utilization trends and short-term outcomes of robotic versus open radical cystectomy for bladder cancer. Urology 103:117–123

4.

Kim SP, Shah ND, Weight CJ, Thompson RH, Wang JK, Karnes RJ et al (2013) Population-based trends in urinary diversion among patients undergoing radical cystectomy for bladder cancer. BJU Int 112(4):478–484

5.

Stein JP, Skinner DG (2004) Surgical atlas. Radical cystectomy. BJU Int 94(1):197–221

6.

Chopra S, de Castro Abreu AL, Berger AK, Sehgal S, Gill I, Aron M et al (2017) Evolution of robot-assisted orthotopic ileal neobladder formation: a step-by-step update to the University of Southern California (USC) technique. BJU Int 119(1):185–191

7.

Hedgepeth RC, Gilbert SM, He C, Lee CT, Wood DP Jr (2010) Body image and bladder cancer specific quality of life in patients with ileal conduit and neobladder urinary diversions. Urology 76(3):671–675

8.

Kretschmer A, Grimm T, Buchner A, Grabbert M, Jokisch F, Schneevoigt BS et al (2017) Prospective evaluation of health-related quality of life after radical cystectomy: focus on peri- and postoperative complications. World J Urol 35(8):1223–1231

9.

Schmid M, Rink M, Traumann M, Bastian PJ, Bartsch G, Ellinger J et al (2015) Evidence from the 'prospective multicenter radical cystectomy series 2011 (PROMETRICS 2011)' study: how are preoperative patient characteristics associated with urinary diversion type after radical cystectomy for bladder cancer? Ann Surg Oncol 22(3):1032–1042

10.

Somani BK, Gimlin D, Fayers P, N'Dow J (2009) Quality of life and body image for bladder cancer patients undergoing radical cystectomy and urinary diversion—a prospective cohort study with a systematic review of literature. Urology 74(5):1138–1143

11.

Daneshmand S, Bartsch G (2011) Improving selection of appropriate urinary diversion following radical cystectomy for bladder cancer. Expert Rev Anticancer Ther 11(6):941–948

12.

Bochner BH, Dalbagni G, Sjoberg DD, Silberstein J, Keren Paz GE, Donat SM et al (2015) Comparing open radical cystectomy and robot-assisted laparoscopic radical cystectomy: a randomized clinical trial. Eur Urol 67(6):1042–1050

13.

Abdollah F, Sun M, Schmitges J, Thuret R, Djahangirian O, Jeldres C et al (2011) Surgical caseload is an important determinant of continent urinary diversion rate at radical cystectomy: a population-based study. Ann Surg Oncol 18(9):2680–2687
Ethics declarations
Conflict of interest
None.
Ethical approval
All procedures performed in studies involving human participants were in accordance with the ethical standards of the institutional and/or national research committee and with the 1964 Helsinki declaration and its later amendments or comparable ethical standards.
Informed consent
Informed consent was obtained from all individual participants included in the study.
About this article
Cite this article
Ghodoussipour, S., Ahmadi, N., Hartman, N. et al. Factors influencing intraoperative conversion from planned orthotopic to non-orthotopic urinary diversion during radical cystectomy. World J Urol 37, 1851–1855 (2019). https://doi.org/10.1007/s00345-018-2582-2
Received:

Accepted:

Published:

Issue Date:
Keywords
Radical cystectomy

Urinary diversion

Orthotopic neobladder

Ileal conduit