Abstract
Purpose
Uric acid (UA) calculi can be referred to chemolitholysis rather than invasive treatment. Dual-energy computed tomography (DECT) may be able to distinguish between UA and non-UA (NUA) calculi. The aim of this study was to evaluate the validity of third-generation DECT for the first time and to investigate whether combining DECT with clinical parameters can increase its predictive accuracy.
Materials and methods
All patients who presented to our emergency department between January 2015 and March 2017 with urinary stones were prospectively included in this observational study and underwent DECT with subsequent interventional stone removal. Stone composition was analyzed using infrared spectrometry as the gold standard. Predictive accuracy of DECT and clinical covariates was computed by assessing univariate and multivariate areas under the curve (AUCs).
Results
Of 84 patients with 144 urinary stones, 10 (11.9%) patients had UA stones according to infrared spectrometry, and the remaining stones were NUA or mixed stones. DECT had a positive predictive value of 100% and a negative predictive value of 98.5% for UA stones. The AUC for urine pH alone was 0.71 and 0.97 for DECT plus urine pH. No UA stones were found in patients with a urine pH above > 5.5. Mean DLP was 225.15 ± 128.60 mGy*cm and mean effective dose was 3.38 ± 1.93 mSv.
Conclusions
DECT is a safe method for assigning patients to oral chemolitholysis. Clinical preselection of patients based on urinary pH (< 6.0) leads to a more liable use of DECT. Third-generation DECT needs significant lower radiation doses compared to previous generations.
Access options
Buy single article
Instant access to the full article PDF.
USD 39.95
Price excludes VAT (USA)
Tax calculation will be finalised during checkout.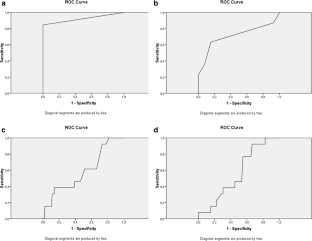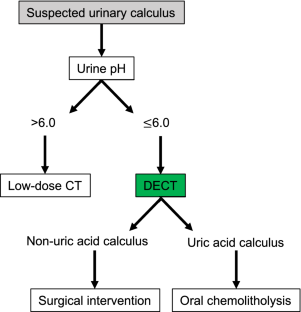 References
Curhan GC (2007) Epidemiology of stone disease. Urol Clin North Am 34(3):287–293. https://doi.org/10.1016/j.ucl.2007.04.003

Seitz C, Fajkovic H (2013) Epidemiological gender-specific aspects in urolithiasis. World J Urol 31(5):1087–1092. https://doi.org/10.1007/s00345-013-1140-1

Turk C, Petrik A, Sarica K, Seitz C, Skolarikos A, Straub M, Knoll T (2016) EAU guidelines on diagnosis and conservative management of urolithiasis. Eur Urol 69(3):468–474. https://doi.org/10.1016/j.eururo.2015.07.040

Niemann T, Kollmann T, Bongartz G (2008) Diagnostic performance of low-dose CT for the detection of urolithiasis: a meta-analysis. AJR Am J Roentgenol 191(2):396–401. https://doi.org/10.2214/AJR.07.3414

Nakada SY, Hoff DG, Attai S, Heisey D, Blankenbaker D, Pozniak M (2000) Determination of stone composition by noncontrast spiral computed tomography in the clinical setting. Urology 55(6):816–819

Knoll T, Schubert AB, Fahlenkamp D, Leusmann DB, Wendt-Nordahl G, Schubert G (2011) Urolithiasis through the ages: data on more than 200,000 urinary stone analyses. J Urol 185(4):1304–1311. https://doi.org/10.1016/j.juro.2010.11.073

Zhang GM, Sun H, Xue HD, Xiao H, Zhang XB, Jin ZY (2016) Prospective prediction of the major component of urinary stone composition with dual-source dual-energy CT in vivo. Clin Radiol 71(11):1178–1183. https://doi.org/10.1016/j.crad.2016.07.012

Spek A, Strittmatter F, Graser A, Kufer P, Stief C, Staehler M (2016) Dual energy can accurately differentiate uric acid-containing urinary calculi from calcium stones. World J Urol 34(9):1297–1302. https://doi.org/10.1007/s00345-015-1756-4

Deak PD, Smal Y, Kalender WA (2010) Multisection CT protocols: sex- and age-specific conversion factors used to determine effective dose from dose-length product. Radiology 257(1):158–166. https://doi.org/10.1148/radiol.10100047

Chaytor RJ, Rajbabu K, Jones PA, McKnight L (2016) Determining the composition of urinary tract calculi using stone-targeted dual-energy CT: evaluation of a low-dose scanning protocol in a clinical environment. Br J Radiol 89(1067):20160408. https://doi.org/10.1259/bjr.20160408

Bonatti M, Lombardo F, Zamboni GA, Pernter P, Pycha A, Mucelli RP, Bonatti G (2017) Renal stones composition in vivo determination: comparison between 100/Sn140 kV dual-energy CT and 120 kV single-energy CT. Urolithiasis 45(3):255–261. https://doi.org/10.1007/s00240-016-0905-6

Lombardo F, Bonatti M, Zamboni GA, Avesani G, Oberhofer N, Bonelli M, Pycha A, Pozzi Mucelli R, Bonatti G (2017) Uric acid versus non-uric acid renal stones: in vivo differentiation with spectral CT. Clin Radiol 72(6):490–496. https://doi.org/10.1016/j.crad.2017.01.018

Wilhelm K, Schoenthaler M, Hein S, Adams F, Schlager D, Kuehhas FE, Sevcenco S, Pache G, Langer M, Bulla S, Miernik A (2015) Focused dual-energy CT maintains diagnostic and compositional accuracy for urolithiasis using ultralow-dose noncontrast CT. Urology 86(6):1097–1102. https://doi.org/10.1016/j.urology.2015.06.052

Akand M, Koplay M, Islamoglu N, Gul M, Kilic O, Erdogdu MB (2016) Role of dual-source dual-energy computed tomography versus X-ray crystallography in prediction of the stone composition: a retrospective non-randomized pilot study. Int Urol Nephrol 48(9):1413–1420. https://doi.org/10.1007/s11255-016-1320-1

Zheng X, Liu Y, Li M, Wang Q, Song B (2016) Dual-energy computed tomography for characterizing urinary calcified calculi and uric acid calculi: a meta-analysis. Eur J Radiol 85(10):1843–1848. https://doi.org/10.1016/j.ejrad.2016.08.013

Wisenbaugh ES, Paden RG, Silva AC, Humphreys MR (2014) Dual-energy vs conventional computed tomography in determining stone composition. Urology 83(6):1243–1247. https://doi.org/10.1016/j.urology.2013.12.023

Jepperson MA, Cernigliaro JG, Sella D, Ibrahim E, Thiel DD, Leng S, Haley WE (2013) Dual-energy CT for the evaluation of urinary calculi: image interpretation, pitfalls and stone mimics. Clin Radiol 68(12):e707–e714. https://doi.org/10.1016/j.crad.2013.07.012

Reichard C, Gill BC, Sarkissian C, De S, Monga M (2015) 100% uric acid stone formers: what makes them different? Urology 85(2):296–298. https://doi.org/10.1016/j.urology.2014.10.029

Coe FL (1983) Uric acid and calcium oxalate nephrolithiasis. Kidney Int 24(3):392–403

Thomas C, Heuschmid M, Schilling D, Ketelsen D, Tsiflikas I, Stenzl A, Claussen CD, Schlemmer HP (2010) Urinary calculi composed of uric acid, cystine, and mineral salts: differentiation with dual-energy CT at a radiation dose comparable to that of intravenous pyelography. Radiology 257(2):402–409. https://doi.org/10.1148/radiol.10100526

Jepperson MA, Cernigliaro JG, el Ibrahim SH, Morin RL, Haley WE, Thiel DD (2015) In vivo comparison of radiation exposure of dual-energy CT versus low-dose CT versus standard CT for imaging urinary calculi. J Endourol 29(2):141–146. https://doi.org/10.1089/end.2014.0026

Franken A, Gevenois PA, Muylem AV, Howarth N, Keyzer C (2018) In vivo differentiation of uric acid versus non-uric acid urinary calculi with third-generation dual-source dual-energy CT at reduced radiation dose. AJR Am J Roentgenol 210(2):358–363. https://doi.org/10.2214/AJR.17.18091
Acknowledgements
American Journal Experts assisted with manuscript editing.
Funding
This work was supported by the German Ministry of Defence.
Ethics declarations
Informed consent
The study complied with the Declaration of Helsinki and local ethics committee approval (15-01-27) was obtained. All patients provided written informed consent prior to their DECT examinations.
Conflict of interest
The authors declare that they have no conflict of interest.
About this article
Cite this article
Nestler, T., Nestler, K., Neisius, A. et al. Diagnostic accuracy of third-generation dual-source dual-energy CT: a prospective trial and protocol for clinical implementation. World J Urol 37, 735–741 (2019). https://doi.org/10.1007/s00345-018-2430-4
Received:

Accepted:

Published:

Issue Date:

DOI: https://doi.org/10.1007/s00345-018-2430-4
Keywords