Abstract
Purpose
To review the United States National Cancer Database (NCDB) from 2004 to 2015 and analyze survival outcomes of invasive non-urachal adenocarcinoma based on treatment modality.
Methods
The NCDB 2004–2015 bladder dataset was queried for adenocarcinoma histology, excluding urachal variant, and limited to patients with clinical stage T2–T4 disease. Treatment modality was categorized as no treatment, cystectomy (partial or radical), external beam radiation therapy (EBRT), or EBRT plus cystectomy. Our primary outcome was overall survival. Cox regression (CR) and Kaplan–Meier (KM) analysis were performed.
Results
851 patients were identified with invasive (cT2–T4) adenocarcinoma of the bladder. Treatment modalities included 398 (47.8%) no treatment, 298 (35.8%) cystectomy, 124 (14.9%) EBRT, and 31 (3.7%) EBRT plus cystectomy. On KM analysis excluding those with metastatic disease, the 5-year survival was significantly better (p < 0.001) for patients who underwent cystectomy (39.6%), versus no treatment (21.0%), EBRT (18.6%), or EBRT plus cystectomy (26.9%) (log rank, p < 0.001). On CR for mortality, age (HR 1.030, p < 0.001), Charlson score 1 (HR 1.287, p = 0.034), cT4 (HR 1.768, p < 0.001), and receiving treatment at a low-volume center (HR 1.289, p = 0.026) were associated with worsened survival; however, cystectomy (HR 0.593, p < 0.001) was the only factor associated with improved survival. For those undergoing cystectomy, the mean length of stay was 8.5 days and the 30-day readmission rate was 7.0%.
Conclusions
Invasive non-urachal adenocarcinoma of the bladder is a rare diagnosis. Survival benefits in patients without metastatic disease are seen only in those patients undergoing definitive surgery.
Access options
Buy single article
Instant access to the full article PDF.
USD 39.95
Price includes VAT (USA)
Tax calculation will be finalised during checkout.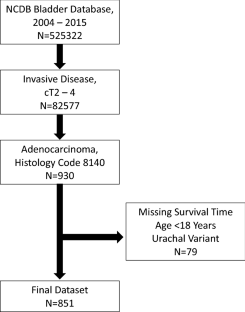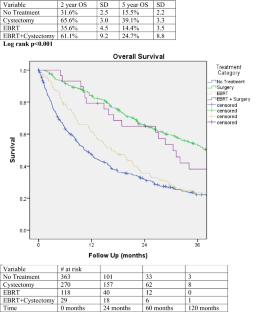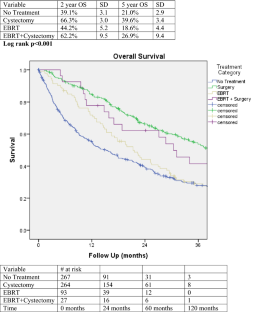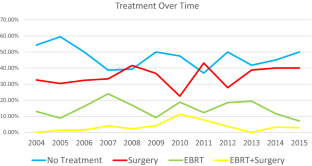 References
1.

American Cancer Society. Cancer Facts & Figures (2018). American Cancer Society, Atlanta. Retrieved April 12, 2018. https://www.cancer.org/content/dam/cancer-org/research/cancer-facts-and-statistics/annual-cancer-facts-and-figures/2018/cancer-facts-and-figures-2018.pdf

2.

Chang SS, Boorjian SA, Chour R et al (2017) Treatment of non-metastatic muscle-invasive bladder cancer: American Urological Association/American Society of Clinical Oncology/American Society for Radiation Oncology/Society of Urologic Oncology Clinical Practice Guideline Summary. J Oncol Pract 13(9):1554–7477

3.

Jue JS, Koru-Sengul T, Moore KJ et al (2018) Sociodemographic and survival disparities for histologic variants of bladder cancer. Can J Urol. 25(1):9179–9185

4.

Black PC, Brown GA, Dinney CP (2009) The impact of variant histology on the outcome of bladder cancer treated with curative intent. Urol Oncol 27(1):3–7

5.

Zaghloul MS, Nouh A, Nazmy M et al (2006) Long-term results of primary adenocarcinoma of the urinary bladder: a report on 192 patients. Urol Oncol 24(1):13–20

6.

Wright JL, Porter MP, Li CI, Lange PH, Lin DW (2006) Differences in survival among patients with urachal and nonurachal adenocarcinomas of the bladder. Cancer 107(4):721–728

7.

Lughezzani G, Sun M, Jeldres C et al (2010) Adenocarcinoma versus urothelial carcinoma of the urinary bladder: comparison between pathologic stage at radical cystectomy and cancer-specific mortality. Urology. 75(2):376–381

8.

Vetterlein MW, Seisen T, Leow JJ, et al. Effect of nonurothelial histologic variants on the outcomes of radical cystectomy for nonmetastatic muscle-invasive urinary bladder cancer. Clin Genitourin Cancer. 2017 Aug 24. pii: S1558-7673(17)30248-3

9.

National Cancer, Database (n.d.). https://www.facs.org/quality-programs/cancer/ncdb

10.

Alfred WJ, Lebret T, Compérat EM et al (2017) Updated 2016 EAU guidelines on muscle-invasive and metastatic bladder cancer. Eur Urol 71(3):462–475

11.

Yin M, Joshi M, Meijer RP et al (2016) Neoadjuvant chemotherapy for muscle-invasive bladder cancer: a systematic review and two-step meta-analysis. Oncologist 21(6):708–715

12.

El-Mekresh MM, El-Baz MA, Abol-Enein H, Ghoneim MA (1998) Primary adenocarcinoma of the urinary bladder: a report of 185 cases. Br J Urol 82(2):206–212

13.

Zhang H, Jiang H, Wu Z, Fang Z, Fan J, Ding Q (1998) Primary adenocarcinoma of the urinary bladder: a single site analysis of 21 cases. Br J Urol 82(2):206–212

14.

Pons F, Orsola A, Morote J, Bellmunt J (2011) Variant forms of bladder cancer: basic considerations on treatment approaches. Curr Oncol Rep 13(3):216–221

15.

Royce TJ, Lin CC, Gray PJ, Shipley WU, Jemal A, Efstathiou JA (2018) Clinical characteristics and outcomes of nonurothelial cell carcinoma of the bladder: results from the National Cancer Data Base. Urol Oncol 36(2):78.e1–78.e12

16.

Krasnow RE, Drumm M, Roberts HJ et al (2017) Clinical outcomes of patients with histologic variants of urothelial cancer treated with trimodality bladder-sparing therapy. Eur Urol 72(1):54–60

17.

Vetterlein MW, Wankowicz SA, Seisen T et al (2017) Neoadjuvant chemotherapy prior to radical cystectomy for muscle-invasive bladder cancer with variant histology. Cancer 123(22):4346–4355

18.

Jozwicki W, Domaniewski J, Skok Z et al (2005) Usefulness of histologic homogeneity estimation of muscle-invasive urinary bladder cancer in an individual prognosis: a mapping study. Urology 66(5):1122–1126
Ethics declarations
Conflict of interest
The authors declare that they have no conflict of interest.
Ethical approval
All procedures performed in studies involving human participants were in accordance with the ethical standards of the institutional and/or national research committee and with the 1964 Helsinki Declaration and its later amendments or comparable ethical standards. For this type of study formal consent is not required.
About this article
Cite this article
Davaro, F., Schaefer, J., May, A. et al. Invasive non-urachal adenocarcinoma of the bladder: analysis of the National Cancer Database. World J Urol 37, 497–505 (2019). https://doi.org/10.1007/s00345-018-2411-7
Received:

Accepted:

Published:

Issue Date:
Keywords
Bladder cancer

Adenocarcinoma

Invasive

Survival