Abstract
Purpose
To evaluate whether the size of spontaneously passed stones (SPS) may be associated with clinical parameters.
Methods
A search for SPS was conducted in our electronic stone database, comprising data on stones analyzed over the last 33 years at our institution. Adults with upper urinary tract stones were included. Cases with stenotic urinary tract disease or past history of anastomotic urinary tract surgery were excluded. Stone size expressed as maximal stone diameter (MSD) and stone volume (SV) was compared between groups by one-way ANOVA. Logistic regression analyses were performed to identify predictors of MSD ≥ 6 mm.
Results
Overall mean MSD and SV for 18,029 SPS was 4.1 mm and 11.5 mm3, respectively, and significantly differed between stone composition groups (p < 0.001). The lowest mean MSD and SV were found for calcium oxalate monohydrate (3.6 mm and 9.0 mm3, respectively) and the highest mean MSD and SV were found for struvite (7.9 mm and 61.0 mm3, respectively). Stone composition and increasing age were found to be independent predictors of MSD ≥ 6 mm (both p < 0.001). Sex differentiation did not contribute as a predictor of MSD ≥ 6 mm.
Conclusions
Stone composition and—to a lesser extent—age serve as independent predictors of size of spontaneously passed stones. Of particular importance, large spontaneously passed stones of ≥ 6 mm may be frequently found in cystine, brushite or struvite stone formers, whereas a minority of all calcium oxalate stones exceed that cutoff. Future studies shall evaluate these parameters as possible predictors of spontaneous stone passage.
This is a preview of subscription content, log in to check access.
Access options
Buy single article
Instant access to the full article PDF.
US$ 39.95
Price includes VAT for USA
Subscribe to journal
Immediate online access to all issues from 2019. Subscription will auto renew annually.
US$ 199
This is the net price. Taxes to be calculated in checkout.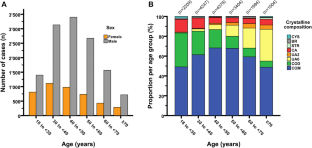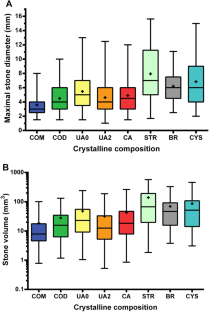 References
1.

Hesse A, Brandle E, Wilbert D, Kohrmann KU, Alken P (2003) Study on the prevalence and incidence of urolithiasis in Germany comparing the years 1979 vs 2000. Eur Urol 44(6):709–713

2.

Daudon M, Traxer O, Lechevallier E, Saussine C (2008) Epidemiology of urolithiasis. Prog Urol 18(12):802–814. https://doi.org/10.1016/j.purol.2008.09.029

3.

Yallappa S, Amer T, Jones P, Greco F, Tailly T, Somani BK, Umez-Eronini N, Aboumarzouk OM (2018) Natural history of conservatively managed ureteral stones: analysis of 6600 patients. J Endourol 32(5):371–379. https://doi.org/10.1089/end.2017.0848

4.

Hubner WA, Irby P, Stoller ML (1993) Natural history and current concepts for the treatment of small ureteral calculi. Eur Urol 24(2):172–176

5.

Ueno A, Kawamura T, Ogawa A, Takayasu H (1977) Relation of spontaneous passage of ureteral calculi to size. Urology 10(6):544–546

6.

Coll DM, Varanelli MJ, Smith RC (2002) Relationship of spontaneous passage of ureteral calculi to stone size and location as revealed by unenhanced helical CT. AJR Am J Roentgenol 178(1):101–103. https://doi.org/10.2214/ajr.178.1.1780101

7.

Miller OF, Kane CJ (1999) Time to stone passage for observed ureteral calculi: a guide for patient education. J Urol 162(3):688–690 (discussion 681–690)

8.

Turk C, Petrik A, Sarica K, Seitz C, Skolarikos A, Straub M, Knoll T (2016) EAU guidelines on diagnosis and conservative management of urolithiasis. Eur Urol 69(3):468–474. https://doi.org/10.1016/j.eururo.2015.07.040

9.

Turk C, Neisius AP, Seitz C, Skolarikos A, Knoll T (2018) EAU guidelines on urolithiasis. https://uroweb.org/guideline/urolithiasis. Accessed 25 Sept 2018 (last update March 2018)

10.

Assimos D, Krambeck A, Miller NL, Monga M, Murad MH, Nelson CP, Pace KT, Pais VM Jr, Pearle MS, Preminger GM, Razvi H, Shah O, Matlaga BR (2016) Surgical management of stones: American Urological Association/Endourological Society guideline. Part I. J Urol 196(4):1153–1160. https://doi.org/10.1016/j.juro.2016.05.090

11.

Skolarikos A, Laguna MP, Alivizatos G, Kural AR, de la Rosette JJ (2010) The role for active monitoring in urinary stones: a systematic review. J Endourol 24(6):923–930. https://doi.org/10.1089/end.2009.0670

12.

Ohkawa M, Tokunaga S, Nakashima T, Yamaguchi K, Orito M, Hisazumi H (1993) Spontaneous passage of upper urinary tract calculi in relation to composition. Urol Int 50(3):153–158. https://doi.org/10.1159/000282474

13.

Sutor DJ, Wooley SE (1975) Some data on urinary stones which were passed. Br J Urol 47(2):131–135

14.

Daudon M, Dessombz A, Frochot V, Letavernier E, Haymann J-P, Jungers P, Bazin D (2016) Comprehensive morpho-constitutional analysis of urinary stones improves etiological diagnosis and therapeutic strategy of nephrolithiasis. C R Chim 19(11–12):1470–1491. https://doi.org/10.1016/j.crci.2016.05.008

15.

Daudon M, Jungers P (2012) Stone composition and morphology: a window on etiology. In: Talati JJ, Albala DM, Ye Z (eds) Urolithiasis: basic science and clinical practice. Springer, London, pp 113–140. https://doi.org/10.1007/978-1-4471-4387-1_15

16.

Morse RM, Resnick MI (1991) Ureteral calculi: natural history and treatment in an era of advanced technology. J Urol 145(2):263–265

17.

Preminger GM, Tiselius HG, Assimos DG, Alken P, Buck AC, Gallucci M, Knoll T, Lingeman JE, Nakada SY, Pearle MS, Sarica K, Turk C, Wolf JS Jr, American Urological Association E, Research I, European Association of U (2007) 2007 Guideline for the management of ureteral calculi. Eur Urol 52(6):1610–1631

18.

Tchey DU, Ha YS, Kim WT, Yun SJ, Lee SC, Kim WJ (2011) Expectant management of ureter stones: outcome and clinical factors of spontaneous passage in a single institution's experience. Korean J Urol 52(12):847–851. https://doi.org/10.4111/kju.2011.52.12.847

19.

Sfoungaristos S, Kavouras A, Perimenis P (2012) Predictors for spontaneous stone passage in patients with renal colic secondary to ureteral calculi. Int Urol Nephrol 44(1):71–79. https://doi.org/10.1007/s11255-011-9971-4

20.

Kishore TA, Pedro RN, Hinck B, Monga M (2008) Estimation of size of distal ureteral stones: noncontrast CT scan versus actual size. Urology 72(4):761–764. https://doi.org/10.1016/j.urology.2008.05.047

21.

Daudon M, Dore JC, Jungers P, Lacour B (2004) Changes in stone composition according to age and gender of patients: a multivariate epidemiological approach. Urol Res 32(3):241–247. https://doi.org/10.1007/s00240-004-0421-y

22.

Daudon M, Bouzidi H, Bazin D (2010) Composition and morphology of phosphate stones and their relation with etiology. Urol Res 38(6):459–467. https://doi.org/10.1007/s00240-010-0320-3

23.

Kenney WL, Chiu P (2001) Influence of age on thirst and fluid intake. Med Sci Sports Exerc 33(9):1524–1532

24.

Daudon M, Jungers P, Bazin D, Williams JC Jr (2018) Recurrence rates of urinary calculi according to stone composition and morphology. Urolithiasis. https://doi.org/10.1007/s00240-018-1043-0

25.

Maalouf NM (2011) Metabolic syndrome and the genesis of uric acid stones. J Ren Nutr 21(1):128–131. https://doi.org/10.1053/j.jrn.2010.10.015

26.

Tailly T, Larish Y, Nadeau B, Violette P, Glickman L, Olvera-Posada D, Alenezi H, Amann J, Denstedt J, Razvi H (2016) Combining mean and standard deviation of hounsfield unit measurements from preoperative CT allows more accurate prediction of urinary stone composition than mean hounsfield units alone. J Endourol 30(4):453–459. https://doi.org/10.1089/end.2015.0209

27.

Patel SR, Haleblian G, Zabbo A, Pareek G (2009) Hounsfield units on computed tomography predict calcium stone subtype composition. Urol Int 83(2):175–180. https://doi.org/10.1159/000230020

28.

Saw KC, McAteer JA, Monga AG, Chua GT, Lingeman JE, Williams JC Jr (2000) Helical CT of urinary calculi: effect of stone composition, stone size, and scan collimation. AJR Am J Roentgenol 175(2):329–332. https://doi.org/10.2214/ajr.175.2.1750329

29.

Pak CY, Poindexter JR, Peterson RD, Heller HJ (2004) Biochemical and physicochemical presentations of patients with brushite stones. J Urol 171(3):1046–1049. https://doi.org/10.1097/01.ju.0000104860.65987.4a
Acknowledgements
We wish to thank Philippe Autier, MD, MPH, PhD, Senior Faculty of the International Prevention Research Institute in Lyon for statistical assistance and review.
Ethics declarations
Conflict of interest
Olivier Traxer is a consultant for Coloplast, Rocamed, Olympus, EMS and Boston Scientific. Steeve Doizi is a consultant for Coloplast. Etienne Xavier Keller is supported by a Travel Grant from the University Hospital Zurich and from the Kurt and Senta Herrmann Foundation. Vincent De Coninck is supported by the EUSP scholarship from the European Association of Urology and by a grant from the Belgische Vereniging voor Urologie (BVU).
Ethical approval
All procedures performed in studies involving human participants were in accordance with the ethical standards of the institutional and/or national research committee and with the 1964 Helsinki Declaration and its later amendments or comparable ethical standards.
Additional information
Publisher's Note
Springer Nature remains neutral with regard to jurisdictional claims in published maps and institutional affiliations.
About this article
Cite this article
Keller, E.X., De Coninck, V., Audouin, M. et al. Stone composition independently predicts stone size in 18,029 spontaneously passed stones. World J Urol 37, 2493–2499 (2019). https://doi.org/10.1007/s00345-018-02627-0
Received:

Accepted:

Published:

Issue Date:
Keywords
Urinary stone

Stone size

Stone composition

Spontaneous passage

Age

Recommendations

Adults