Abstract
Purpose
To test the face and content validity of 3D virtual-rendered printed models used before robot-assisted prostate cancer and nephron-sparing surgery.
Methods
Patients who underwent live surgery during an international urological meeting organized in January 2017 were enrolled. Those with organ-confined prostate cancer underwent robot-assisted radical prostatectomy. Patients with a single renal tumor underwent minimally invasive nephron-sparing surgery. High-resolution (HR) imaging was obtained for all patients. Those with kidney tumors received contrast-enhanced CT scan with angiography; those with prostate cancer underwent mp-MRI. Images in DICOM format were processed by dedicated software. The first step was the rendering of a 3D virtual model. The models were then printed. They were presented during the live surgery of the urological meeting. All the participants and the operated patients were asked to fill a questionnaire about their opinion expressed in Likert scale (1–10) about the use and application of the 3D printed models.
Results
18 patients were enrolled, including 8 undergoing robot-assisted radical prostatectomy and 10 undergoing minimally invasive partial nephrectomy. For each patient, a virtual 3D printed model was created. The attendants rated the utility of printed models in surgical planning, anatomical representation and the role of technology in surgical training as 8/10, 10/10 and 9/10, respectively. All patients reported favorable feedbacks (from 9 to 10/10) about the use of the technology during the case discussion with the surgeon.
Conclusions
In our experience, 3D printing technology has been perceived as a useful tool for the purpose of surgical planning, physician education/training and patient counseling. Further researches are expected to increase the level of evidence.
Access options
Buy single article
Instant access to the full article PDF.
US$ 39.95
Tax calculation will be finalised during checkout.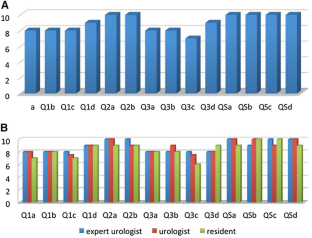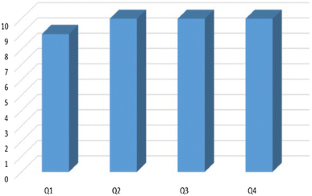 References
1.

Autorino R, Porpiglia F, Dasgupta P, Rassweiler J, Catto JW, Hampton LJ, Lima E, Mirone V, Derweesh IH, Debruyne FM (2017) Precision surgery and genitourinary cancers. Eur J Surg Oncol (Epub ahead of print)

2.

Schiffmann J, Haese A, Boehm K, Salomon G, Steuber T, Heinzer H, Huland H, Graefen M, Karakiewicz PI (2017) Ten-year experience of robot-assisted radical prostatectomy: the road from cherry-picking to standard procedure. Minerva Urol Nefrol 69(1):69–75. https://doi.org/10.23736/S0393-2249.16.02563-7 (Epub 2016 Mar 9)

3.

Monni F, Fontanella P, Grasso A, Wiklund P, Ou YC, Randazzo M, Rocco B, Montanari E, Bianchi G (2017) MRI in prostate cancer detection and management: a systematic review. Minerva Urol Nefrol. https://doi.org/10.23736/S0393-2249.17.02819-3 (Epub ahead of print)

4.

Klatte et al (2015) A literature review of renal surgical anatomy and surgical strategies for partial nephrectomy. Eur Urol 68(6):980–992

5.

Bertolo RG, Zargar H, Autorino R, Fiori C, Kaouk JH, Russo P, Thompson RH, Porpiglia F (2017) Estimated glomerular filtration rate, renal scan and volumetric assessment of the kidney before and after partial nephrectomy: a review of the current literature. Minerva Urol Nefrol (Epub ahead of print)

6.

Borofsky MS, Gill IS, Hemal AK, Marien TP, Jayaratna I, Krane LS, Stifelman MD (2013) Near-infrared fluorescence imaging to facilitate super-selective arterial clamping during zero-ischaemia robotic partial nephrectomy. BJU Int 111(4):604–610

7.

Maurer T, Weirich G, Schottelius M, Weineisen M, Frisch B, Okur A, Kübler H, Thalgott M, Navab N, Schwaiger M, Wester HJ, Gschwend JE, Eiber M (2015) Prostate-specific membrane antigen-radioguided surgery for metastatic lymph nodes in prostate cancer. Eur Urol 68(3):530–534

8.

Youssef RF, Spradling K, Yoon R et al (2015) Applications of three-dimensional printing technology in urological practice. BJU Int. 116(5):697–702

9.

Shin T, Ukimura O, Gill IS (2016) Three-dimensional printed model of prostate anatomy and targeted biopsy-proven index tumor to facilitate nerve-sparing prostatectomy. Eur Urol 69(2):377–379

10.

Von Rundstedt FC, Scovell JM, Agrawal S, Zaneveld J, Link RE (2017) Utility of patient-specific silicone renal models for planning and rehearsal of complex tumour resections prior to robot-assisted laparoscopic partial nephrectomy. BJU Int 119(4):598–604

11.

Gravetter Frederick J, Forzano Lori-Ann B (2012) Research methods for the behavioral sciences, 4th edn. Wadsworth, Belmont, p 78

12.

Jones N (2012) Science in three dimensions: the print revolution. Nature 487(7405):22–23

13.

Bernhard JC, Isotani S, Matsugasumi T, Duddalwar V, Hung AJ, Suer E, Baco E, Satkunasivam R, Djaladat H, Metcalfe C, Hu B, Wong K, Park D, Nguyen M, Hwang D, Bazargani ST, de Castro Abreu AL, Aron M, Ukimura O, Gill IS (2016) Personalized 3D printed model of kidney and tumor anatomy: a useful tool for patient education. World J Urol 34(3):337–345

14.

Hurson C, Tansey A, O'Donnchadha B, Nicholson P, Rice J, McElwain J (2007) Rapid prototyping in the assessment, classification and preoperative planning of acetabular fractures. Injury 38(10):1158–1162

15.

Spottiswoode BS, van den Heever DJ, Chang Y, Engelhardt S, Du Plessis S, Nicolls F, Hartzenberg HB, Gretschel A (2013) Preoperative three-dimensional model creation of magnetic resonance brain images as a tool to assist neurosurgical planning. Stereotact Funct Neurosurg 91(3):162–169

16.

Schmauss D, Gerber N, Sodian R (2013) Three-dimensional printing of models for surgical planning in patients with primary cardiac tumors. J Thorac Cardiovasc Surg 145(5):1407–1408

17.

Ukimura O, Aron M, Nakamoto M, Shoji S, Abreu AL, Matsugasumi T, Berger A, Desai M, Gill IS (2014) Three-dimensional surgical navigation model with TilePro display during robot-assisted radical prostatectomy. J Endourol 28(6):625–630

18.

Ukimura O, Nakamoto M, Gill IS (2012) Three-dimensional reconstruction of renovascular-tumor anatomy to facilitate zero-ischemia partial nephrectomy. Eur Urol 61(1):211–217

19.

Porpiglia F, Manfredi M, Checcucci E, Mele F, Bertolo R, De Luca S, Garrou D, Cattaneo G, Amparore D, Fiori C (2017) 66–3D prostate MRI reconstruction for cognitive robot assisted radical prostatectomy: Is it able to reduce the positive surgical margin rate? Eur Urol Suppl 16(3):e110

20.

Ayodeji ID, Schijven M, Jakimowicz J, Greve JW (2007) Face validation of the Simbionix LAP Mentor virtual reality training module and its applicability in the surgical curriculum. Surg Endosc 21(9):1641–1649

21.

Hruby GW, Sprenkle PC, Abdelshehid C, Clayman RV, McDougall EM, Landman J (2008) The EZ trainer: validation of a portable and inexpensive simulator for training basic laparoscopic skills. J Urol 179(2):662–666

22.

Koch AD, Buzink SN, Heemskerk J, Botden SM, Veenendaal R, Jakimowicz JJ, Schoon EJ (2008) Expert and construct validity of the Simbionix GI Mentor II endoscopy simulator for colonoscopy. Surg Endosc 22(1):158–162

23.

Schijven M, Jakimowicz J (2002) Face-, expert, and referent validity of the Xitact LS500 laparoscopy simulator. Surg Endosc 16(12):1764–1770

24.

Schout BM, Bemelmans BL, Martens EJ, Scherpbier AJ, Hendrikx AJ (2009) How useful and realistic is the uro trainer for training transurethral prostate and bladder tumor resection procedures? J Urol 181(3):1297–1303

25.

Zhang Y, Ge HW, Li NC, Yu CF, Guo HF, Jin SH, Liu JS, Na YQ (2016) Evaluation of three-dimensional printing for laparoscopic partial nephrectomy of renal tumors: a preliminary report. World J Urol 34(4):533–537

26.

Golab A, Smektala T, Kaczmarek K, Stamirowski R, Hrab M, Slojewski M (2017) Laparoscopic partial nephrectomy supported by training involving personalized silicone replica poured in three-dimensional printed casting mold. J Laparoendosc Adv Surg Tech A (Epub ahead of print)

27.

Silberstein JL, Maddox MM, Dorsey P, Feibus A, Thomas R, Lee BR (2014) Physical models of renal malignancies using standard cross-sectional imaging and 3-dimensional printers: a pilot study. Urology. 84(2):268–272

28.

Knoedler M, Feibus AH, Lange A, Maddox MM, Ledet E, Thomas R, Silberstein JL (2015) individualized physical 3-dimensional kidney tumor models constructed from 3-dimensional printers result in improved trainee anatomic understanding. Urology 85(6):1257–1261

29.

Srougi V, Rocha BA, Tanno FY, Almeida MQ, Baroni RH, Mendonça BB, Srougi M, Fragoso MC, Chambô JL (2016) the use of three-dimensional printers for partial adrenalectomy: estimating the resection limits. Urology 90:217–220
Acknowledgements
The authors would like to thank the professional engineers who collaborated in this study and all the participants of the Techno-Urology Meeting who filled the questionnaire.
Ethics declarations
Conflict of interest
The authors declare that they have no conflict of interest.
Research involving human participants and/or animals
The study was in accordance with the ethical standards of the institutional research committee and with the 1964 Helsinki Declaration and its later amendments.
Informed consent
Informed consent was obtained from all individual participants included in the study
Electronic supplementary material
Below is the link to the electronic supplementary material.
About this article
Cite this article
Porpiglia, F., Bertolo, R., Checcucci, E. et al. Development and validation of 3D printed virtual models for robot-assisted radical prostatectomy and partial nephrectomy: urologists' and patients' perception. World J Urol 36, 201–207 (2018). https://doi.org/10.1007/s00345-017-2126-1
Received:

Accepted:

Published:

Issue Date:
Keywords
3D

Rendering

Partial nephrectomy

Radical prostatectomy

Precision surgery

3D reconstruction