Abstract
Introduction
Kidney transplantation (KT) is the preferred treatment for patients with end-stage renal disease (ESRD). To reduce the morbidity of the open surgery, a robotic-assisted approach has been recently introduced. Our aim is to evaluate surgical and functional results on 17 cases of robotic-assisted kidney transplantation (RAKT) performed at the same institution.
Materials and methods
From July 2015 to June 2016, we performed 17 cases of RAKT from living donors in pre-emptive patients, who underwent laparoscopic nephrectomy. A prospective pilot study was made at Fundació Puigvert (Barcelona), evaluating functional and surgical outcomes. In this series, we considered the functional results, surgical outcomes and complications rates.
Results
Seventeen patients successfully underwent RAKT, in particular surgical console time was 181 min (150–200) with vascular suture time 42 min (32–48), and estimated blood loss <70 ml. Overall ischemia time was 98.9 min (84–140). No patient was converted to open transplantation. No major surgical intra-operative complications were observed. The mean post-operative serum creatinine level 160 μmol/L (81–479). We reported a case of delayed graft function (DGF), one case of graft arterial thrombosis and one case of intraperitoneal hematoma. No anastomosis revision and wounds infections occurred.
Conclusion
RAKT with regional hypothermia appears to be a safe surgical procedure in a properly selected group of patients. The potential advantages of RAKT are related to the quality of the vascular anastomosis, the possible lower complication rate and the shorter recovery of the recipients.
Access options
Buy single article
Instant access to the full article PDF.
US$ 39.95
Tax calculation will be finalised during checkout.
Subscribe to journal
Immediate online access to all issues from 2019. Subscription will auto renew annually.
US$ 119
Tax calculation will be finalised during checkout.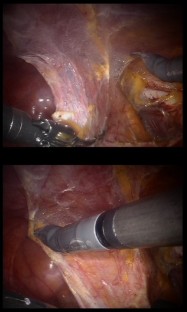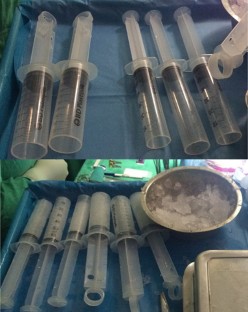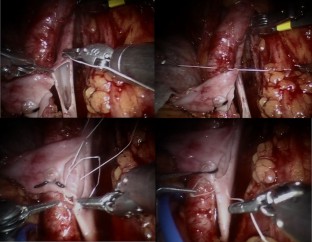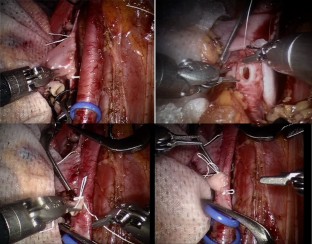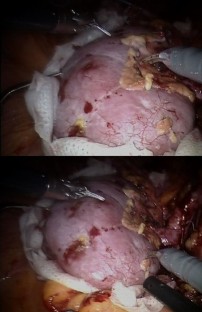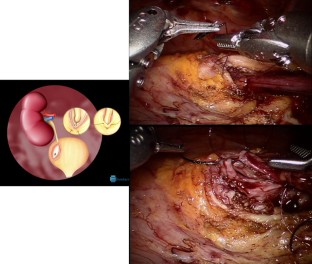 Abbreviations
BMI:

Body mass index

dVSS® :

Da Vinci surgical system®

DGF:

Delayed graft function

ESRD:

End-stage renal disease

GFR:

Glomerular filtration rate

KT:

Kidney transplantation

PKD:

Polycystic kidney disease

POD:

Post-operative day

RAKT:

Robotic-assisted kidney transplantation

VAS:

Visual analog scale
References
1.

Ojo AO, Hanson JA, Meier-Kriesche H, Okechukwu CN, Wolfe RA, Leichtman AB et al (2001) Survival in recipients of marginal cadaveric donor kidneys compared with other recipients and wait-listed transplant candidates. J Am Soc Nephrol 12(3):589–597

2.

Collins AJ, Foley RN, Gilbertson DT, Chen S-C (2015) United States Renal Data System public health surveillance of chronic kidney disease and end-stage renal disease. Kidney Int Suppl 5(1):2–7

3.

MURRAY JE, MERRILL JP, HARRISON JH (1958) Kidney transplantation between seven pairs of identical twins. Ann Surg 148(3):343–359

4.

Herrell SD, Smith JA (2005) Laparoscopic and robotic radical prostatectomy: what are the real advantages? BJU Int 95(1):3–4

5.

Hockstein NG, Gourin CG, Faust RA, Terris DJ (2007) A history of robots: from science fiction to surgical robotics. J Robot Surg 1(2):113–118

6.

Giulianotti P, Gorodner V, Sbrana F, Tzvetanov I, Jeon H, Bianco F et al (2010) Robotic transabdominal kidney transplantation in a morbidly obese patient. Am J Transpl 10(6):1478–1482

7.

Menon M, Sood A, Bhandari M, Kher V, Ghosh P, Abaza R et al (2014) Robotic kidney transplantation with regional hypothermia: a step-by-step description of the Vattikuti Urology Institute-Medanta technique (IDEAL phase 2a). Eur Urol 65(5):991–1000

8.

Boggi U, Vistoli F, Signori S, D'Imporzano S, Amorese G, Consani G et al (2011) Robotic renal transplantation: first European case. Transpl Int 24(2):213–218

9.

Breda A, Gausa L, Territo A, López-Martínez JM, Rodríguez-Faba O, Caffaratti J, de León JP, Guirado LVH (2016) Robotic-assisted kidney transplantation: our first case. World J Urol 34(3):443–447.

10.

Doumerc N, Roumiguié M, Rischmann PSF (2015) Totally robotic approach with transvaginal insertion for kidney transplantation. Eur Urol 68(6):1103–1104.

11.

Harper JD, Leppert JT, Breda A, Schulam PG (2011) Standardized linear port configuration to improve operative ergonomics in laparoscopic renal and adrenal surgery: experience with 1264 cases. J Endourol 25(11):1769–1773

12.

Riedmiller H, Gerharz EW (2008) Antireflux surgery: Lich-Gregoir extravesical ureteric tunnelling. BJU Int 101(11):1467–1482

13.

Dindo D, Demartines N, Clavien P-A (2004) Classification of surgical complications: a new proposal with evaluation in a cohort of 6336 patients and results of a survey. Ann Surg 240(2):205–213

14.

Yohannes P, Rotariu P, Pinto P, Smith AD, Lee BR (2002) Comparison of robotic versus laparoscopic skills: is there a difference in the learning curve? Urology 60(1):39–45 (discussion 45).

15.

Menon M, Abaza R, Sood A, Ahlawat R, Ghani KR, Jeong W et al (2014) Robotic kidney transplantation with regional hypothermia: evolution of a novel procedure utilizing the IDEAL guidelines (IDEAL phase 0 and 1). Eur Urol 65(5):1001–1009

16.

Sood A, Ghani KR, Ahlawat R, Modi P, Abaza R, Jeong W et al (2014) Application of the statistical process control method for prospective patient safety monitoring during the learning phase: robotic kidney transplantation with regional hypothermia (IDEAL phase 2a-b). Eur Urol 66(2):371–378

17.

McCulloch P, Altman DG, Campbell WB, Flum DR, Glasziou P, Marshall JC et al. (2009) No surgical innovation without evaluation: the IDEAL recommendations. Lancet (London, England).374(9695):1105–1112

18.

Sood A, McCulloch P, Dahm P, Ahlawat R, Jeong W, Bhandari M et al (2016) Ontogeny of a surgical technique: robotic kidney transplantation with regional hypothermia. Int J Surg 25:158–161

19.

Abaza R, Ghani KR, Sood A, Ahlawat R, Kumar RK, Jeong W et al (2014) Robotic kidney transplantation with intraoperative regional hypothermia. BJU Int 113(4):679–681

20.

Redfield RR, Scalea JR, Zens TJ, Muth B, Kaufman DB, Djamali A et al (2016) Predictors and outcomes of delayed graft function after living-donor kidney transplantation. Transpl Int 29(1):81–87

21.

Rouvière O, Berger P, Béziat C, Garnier J-L, Lefrançois N, Martin X et al (2002) Acute thrombosis of renal transplant artery: graft salvage by means of intra-arterial fibrinolysis. Transplantation 73(3):403–409

22.

Demyttenaere S, Feldman LS, Fried GM (2007) Effect of pneumoperitoneum on renal perfusion and function: a systematic review. Surg Endosc 21(2):152–160

23.

Tzvetanov I, D'Amico G, Benedetti E. Robotic-assisted kidney transplantation: our experience and literature review. Curr Transpl Rep. 2(2):122–126.

24.

London ET, Ho HS, Neuhaus AM, Wolfe BM, Rudich SM PR (2000) Effect of intravascular volume expansion on renal function during prolonged CO2 pneumoperitoneum. Ann Surg 231(2):195–201.

25.

Territo A, Mottrie A, Abaza R, Rogers C, Menon M, Bhandari M et al (2016) Robotic kidney transplantation: current status and future perspectives. Minerva Urol Nefrol 69(1):5–13
Authors' contribution
A Breda: Project development, data analysis, manuscript writing. A Territo: Data collection, data analysis, manuscript writing. L Gausa: Project development. M Guazzieri: Data collection. A Guttilla: Data analysis, manuscript writing. O Rodriguez-Faba: Data collection. J Caffaratti: Data collection. J Ponce de León: Data collection. L Guirado: Data collection, data analysis. H Villavicencio: Manuscript editing.
Ethics declarations
Conflict of interest
The authors declare that they have no conflict of interest.
Statement of human rights
All procedures performed in studies involving human participants were in accordance with the ethical standards of the institutional and/or national research committee and with the 1964 Helsinki declaration and its later amendments or comparable ethical standards.
Informed consent
Informed consent was obtained from all individual participants included in the study.
About this article
Cite this article
Breda, A., Territo, A., Gausa, L. et al. Robotic kidney transplantation: one year after the beginning. World J Urol 35, 1507–1515 (2017). https://doi.org/10.1007/s00345-017-2006-8
Received:

Accepted:

Published:

Issue Date:
Keywords
Kidney transplantation

Regional hypothermia

Robot-assisted kidney transplantation

Robotic surgery

Vascular anastomosis