Abstract
Purpose
Prostate cancer (CaP) in younger men (age ≤50 years) appears to present differently compared with older men. This study describes CaP characteristics and outcomes in Australian young men.
Methods
The South Australian Prostate Cancer Clinical Outcomes Collaborative database was used to identify men diagnosed with CaP 1998–2012. Men were stratified by age at diagnosis into groups ≤50, 50–70 and ≥70 years. Primary outcomes of cumulative biochemical recurrence (BCR) and cumulative prostate cancer-specific mortality (PCSM) were assessed at 5 and 10 years.
Results
In total, 7018 men were included. At time of diagnosis, 182 (2.6 %) were aged ≤50 years. Median follow-up exceeded 4 years. Younger men had a greater proportion of T stage <2 disease, lower median PSA and higher rates of Gleason score <7 (all p < 0.001). They were more likely to experience active surveillance (AS) (4.9, 3.1, 1.5 %) or radical prostatectomy (RP) (70, 55, 8 %) and less likely radiotherapy (13, 24, 29 %) as their principal modality (all p < 0.001). Although only 4.9 % underwent AS, 48 % of men ≤50 years were eligible for AS. Men ≤50 years had both the lowest unadjusted cumulative BCR and PCSM at 10 years. After multivariate analysis, BCR was not significantly different. Sample size limited multivariate analysis of PCSM.
Conclusions
In our cohort, men ≤50 years with CaP had less aggressive clinical characteristics, but were more likely to undergo RP. They appear to experience lower unadjusted PCSM, but similar rates of adjusted BCR. Further studies are needed to assess whether AS is appropriately utilised in these men.
Access options
Buy single article
Instant access to the full article PDF.
USD 39.95
Price excludes VAT (USA)
Tax calculation will be finalised during checkout.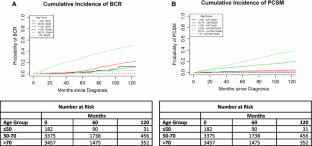 References
Hussein S, Satturwar S, Van der Kwast T (2015) Young-age prostate cancer. J Clin Pathol. doi:10.1136/jclinpath-2015-202993

Hankey BF, Feuer EJ, Clegg LX, Hayes RB, Legler JM, Prorok PC, Ries LA, Merrill RM, Kaplan RS (1999) Cancer surveillance series: interpreting trends in prostate cancer–part I: evidence of the effects of screening in recent prostate cancer incidence, mortality, and survival rates. J Natl Cancer Inst 91(12):1017–1024

Newcomer LM, Stanford JL, Blumenstein BA, Brawer MK (1997) Temporal trends in rates of prostate cancer: declining incidence of advanced stage disease, 1974 to 1994. J Urol 158(4):1427–1430

Howlader N, Noone AM, Krapcho M, Garshell J, Miller D, Altekruse SF, Kosary CL, Yu M, Ruhl J, Tatalovich Z,Mariotto A, Lewis DR, Chen HS, Feuer EJ, Cronin KA (eds). SEER Cancer Statistics Review, 1975–2012. National Cancer Institute. Bethesda, MD. http://seer.cancer.gov/csr/1975_2012/, based on November 2014 SEER data submission, posted to the SEER web site, April 2015. Accessed 07 Aug 2015

Li J, German R, King J, Joseph D, Thompson T, Wu XC, Ajani U, Tai E (2012) Recent trends in prostate cancer testing and incidence among men under age of 50. Cancer Epidemiol 36(2):122–127. doi:10.1016/j.canep.2011.10.014

McCaul KA, Luke CG, Roder DM (1995) Trends in prostate cancer incidence and mortality rates in South Australia, 1977–1993. Med J Aust 162(10):520–522

World Health Organisation (WHO). International Agency for Research on Cancer. Estimate Cancer Incidence, Mortality and Prevalence Worldwide in 2012 [Internet]. France: WHO; 2015 http://globocan.iarc.fr/Pages/fact_sheets_cancer.aspx. Accessed 07 Aug 2015

Ranasinghe WK, Kim SP, Lawrentschuk N, Sengupta S, Hounsome L, Barber J, Jones R, Davis P, Bolton D, Persad R (2014) Population-based analysis of prostate-specific antigen (PSA) screening in younger men (<55 years) in Australia. BJU Int 113(1):77–83. doi:10.1111/bju

Australian Institute of Health and Welfare (AIHW) (2015) Australian Cancer Incidence and Mortality (ACIM) books: Prostate Cancer. Canberra: AIHW; 2015 Jan 08. http://www.aihw.gov.au/acim-books. Accessed 07 Aug 2015

Tjaden HB, Culp DA, Flocks RH (1965) Clinical adenocarcinoma of the prostate in patients under 50 years of age. J Urol 93:618–621

Grönberg H, Damber L, Jonson H, Damber JE (1997) Prostate cancer mortality in northern Sweden, with special reference to tumor grade and patient age. Urology 49(3):374–378

Parker PM, Rice KR, Sterbis JR, Chen Y, Cullen J, McLeod DG, Brassell SA (2011) Prostate cancer in men less than the age of 50: a comparison of race and outcomes. Urology 78(1):110–115. doi:10.1016/j.urology.2010.12.046

Smith CV, Bauer JJ, Connelly RR, Seay T, Kane C, Foley J, Thrasher JB, Kusuda L, Moul JW (2000) Prostate cancer in men age 50 years or younger: a review of the department of defense center for prostate disease research multicenter prostate cancer database. J Urol 164(6):1964–1967

Becker A, Tennstedt P, Hansen J, Trinh QD, Kluth L, Atassi N, Schlomm T, Salomon G, Haese A, Budaeus L, Michl U, Heinzer H, Huland H, Graefen M, Steuber T (2014) Functional and oncological outcomes of patients aged < 50 years treated with radical prostatectomy for localised prostate cancer in a European population. BJU Int 114(1):38–45. doi:10.1111/bju.12407

Australian Bureau of Statistics. http://stat.abs.gov.au/ Accessed April 2015

Klotz L, Zhang L, Lam A, Nam R, Mamedov A, Loblaw A (2010) Clinical results of long-term follow-up of a large, active surveillance cohort with localized prostate cancer. J Clin Oncol 28(1):126–131. doi:10.1200/JCO.2009.24.2180

Heyns CF, Fisher M, Lecuona A, Van der Merwe A (2011) Should baseline PSA testing be performed in men aged 40 to detect those aged 50 or less who are at risk of aggressive prostate cancer? S Afr Med J 101(9):642–644

Spangler E, Zeigler-Johnson CM, Malkowicz SB, Wein AJ, Rebbeck TR (2005) Association of prostate cancer family history with histopathological and clinical characteristics of prostate tumors. Int J Cancer 113(3):471–474

Khan MA, Han M, Partin AW, Epstein JI, Walsh PC (2003) Long-term cancer control of radical prostatectomy in men younger than 50 years of age: update 2003. Urology. 62(1):86–91

Freedland SJ, Presti JC Jr, Kane CJ, Aronson WJ, Terris MK, Dorey F, Amling CL, SEARCH Database Study Group (2004) Do younger men have better biochemical outcomes after radical prostatectomy? Urology 63(3):518–522

Twiss C, Slova D, Lepor H (2005) Outcomes for men younger than 50 years undergoing radical prostatectomy. Urology 66(1):141–146

Peyromaure M, Valéri A, Rebillard X, Beuzeboc P, Richaud P, Soulié M, Salomon L, CCAFU (2009) Characteristics of prostate cancer in men less than 50-year-old. Article in French. Prog Urol 19(11):803–809. doi:10.1016/j.purol.2009.04.010

Lin DW, Porter M, Montgomery B (2009) Treatment and survival outcomes in young men diagnosed with prostate cancer: a population-based cohort study. Cancer 115(13):2863–2871. doi:10.1002/cncr.24324

Lund L, Svolgaard N, Poulsen MH (2014) Prostate cancer: a review of active surveillance. Res Rep Urol. 16(6):107–112. doi:10.2147/RRU.S41653

Thomsen FB, Brasso K, Klotz LH, Røder MA, Berg KD, Iversen P (2014) Active surveillance for clinically localized prostate cancer–a systematic review. J Surg Oncol 109(8):830–835. doi:10.1002/jso.23584

Abdollah F, Sun M, Thuret R, Jeldres C, Tian Z, Briganti A, Shariat SF, Perrotte P, Rigatti P, Montorsi F, Karakiewicz PI (2011) A competing-risks analysis of survival after alternative treatment modalities for prostate cancer patients: 1988–2006. Eur Urol 59(1):88–95. doi:10.1016/j.eururo.2010.10.003

Thomas JA, Gerber L, Moreira DM, Hamilton RJ, Bañez LL, Castro-Santamaria R, Andriole GL, Isaacs WB, Xu J, Freedland SJ (2012) Prostate cancer risk in men with prostate and breast cancer family history: results from the REDUCE study (R1). J Intern Med 272(1):85–92. doi:10.1111/j.1365-2796.2011.02504.x

Noone AM, Schussler N, Negoita S, Adamo M, Cronin K, Cyr J, Gress D, Grove C, Kosary C, Liu B, Sun L, Ward K, Penberthy L (2015) Availability of TNM staging data elements in the medical record and training needs assessment: results from the 2014 SEER training needs assessment for TNM study. J Regist Manag. 42(2):40–47
Acknowledgments
Data included in this study have been obtained from the South Australian Prostate Cancer Clinical Outcomes Collaborative (SA-PCCOC) database which has received funding from: Movember, the Urological Society of Australia and New Zealand, the Repat Foundation, the Hospital Research Foundation (Australian Prostate Cancer Research), Tolmar, the South Australian Health and Medical Research Institute Breast Cancer initiative, Lions Australia and the Rebecca L Cooper Medical Research Foundation.
Authors' contribution
NJ Kinnear, G Kichenadasse and D Foreman contributed to project development and manuscript writing. S Plagakis helped in manuscript editing. ME O'Callaghan contributed toproject development, data analysis and manuscript editing. T Kopsaftis contributed to data collection and data management. S Walsh contributed to data management.
Ethics declarations
Conflict of interest
The authors declare that they have no conflict of interest.
Research involving human participants
This retrospective cohort analysis analysed the characteristics and outcomes of patients already enrolled in SA-PCCOC database. This study has ethics approval from the Southern Adelaide Clinical Human Research Ethics Committee, a joint committee of the Southern Adelaide Local Health Network and Flinders University.
Ethical approval
All procedures performed in studies involving human participants were in accordance with the ethical standards of the institutional and/or national research committee and with the 1964 Helsinki Declaration and its later amendments or comparable ethical standards. For this type of retrospective study, formal consent is not required. Nevertheless, this study has ethics approval from the Southern Adelaide Clinical Human Research Ethics Committee, a joint committee of the Southern Adelaide Local Health Network and Flinders University.
Informed consent
Informed consent was not obtained from participants included in the study. Enrolment to the SA-PCCOC database uses an opt-out system for recruitment as recommended by the Australian National Statement on Ethical Conduct in Human Research (2007)—Updated May 2015.
About this article
Cite this article
Kinnear, N.J., Kichenadasse, G., Plagakis, S. et al. Prostate cancer in men aged less than 50 years at diagnosis. World J Urol 34, 1533–1539 (2016). https://doi.org/10.1007/s00345-016-1824-4
Received:

Accepted:

Published:

Issue Date:

DOI: https://doi.org/10.1007/s00345-016-1824-4
Keywords