Abstract
Introduction
Endoscopic treatment of ureter stones and renal calculi relies on the surgeon's estimation of the stone size for both lithotripsy and removal of stones or stone fragments. We therefore compared precision and reliability of the endoscopic estimation of stone size by the surgeon with measurements on a scale on a stone basket.
Materials and methods
Two surgeons (one high experienced and one low experienced) first estimated, then measured the size of 12 stones differing in size and color using different stone baskets (2.5, 3.0, 4.0 Ch) each via a semirigid renoscope in an artificial ureter under water repeatedly on two different days. All together, we had 288 measurements and 288 estimations.
Results
On the whole, the accuracy of the estimation diminished with bigger stones. There is an increasing underestimation with increasing stone size. Factors, which significantly influence the estimation, are the operating surgeon, the color of the stone, the time sequence, and the size of the closed basket, which was held beside the stone. The accuracy of the measurement of the stone baskets is not as good as the estimation. The small 2.5-Ch basket is the most accurate in measuring big stones (>6 mm), the 3.5 Ch in intermediate stones (3–6 mm), the big basket (4.0 Ch) in small stones (<3 mm).
Conclusion
This first attempt at validation of a scale on stone baskets shows different results for each basket which could be systematically improved. Until now, the estimation of the surgeons is better than the measurement, but it is also influenced by factors like the surgeon or the color of the stone.
This is a preview of subscription content, log in to check access.
Access options
Buy single article
Instant access to the full article PDF.
US$ 39.95
Price includes VAT for USA
Subscribe to journal
Immediate online access to all issues from 2019. Subscription will auto renew annually.
US$ 199
This is the net price. Taxes to be calculated in checkout.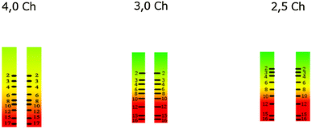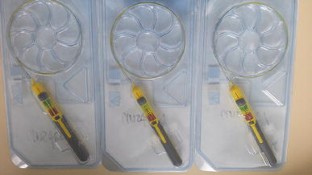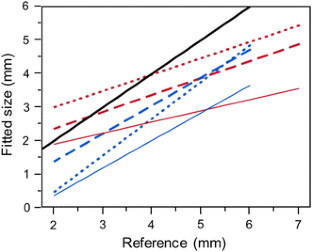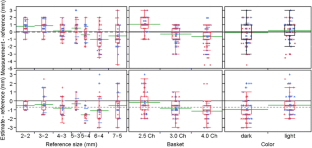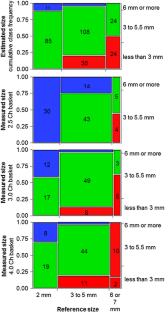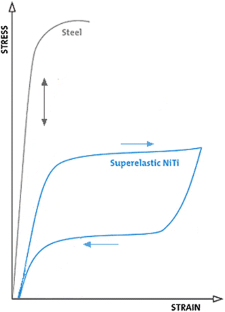 References
1.

Preminger GM, Tiselius HG, Assimos DG, Alken P, Buck AC, Gallucci M, Knoll T, Lingeman JE, Nakada SY, Pearle MS, Sarica K, Türk C, Wolf JS Jr (2007) Guideline for the management of ureteral calculi. Eur Urol 52(6):1610–1631

2.

Breda A, Ogunyemi O, Leppert JT, Lam JS, Schulam PG (2008) Flexible ureteroscopy and laser lithotripsy for single intrarenal stones 2 cm or greater—is this the new frontier. J Urol 179(3):981–984

3.

Abdelrahim AF, Abdelmaguid A, Abuzeid H, Amin M, Mousa ES, Abdelrahim F (2008) Rigid ureteroscopy for ureteral stones: factors associated with intraoperative adverse events. J Endourol 22:277–280

4.

Cordes J, Nguyen F, Pinkowski W, Jocham D (2013) Measurement of stone diameter with three sizes of automatically fixating stone baskets. Open J Urol 3:58–61

5.

Cordes J, Lange B, Jocham D, Kausch I (2011) Destruction of stone extraction basket during an in vitro lithotripsy: a comparision of four lithotripters. J Endourol 25(1–4):58–61

6.

Treisman A (1996) The binding problem. Curr Opin Neurobiol 6:171–178

7.

Masahiko M, Shigemitsu M, Hiromi M (2010) Attribute pair-based visual recognition and memory. PLoS ONE 5:e9571

8.

Stoeckel D (2001) Umformung von NiTi-Legierungen - Einen Herausforderung. Neuere Entwicklungen in der Massivumformung Siegert K (Hrsg.) 141–157

9.

Patel N, Chew B, Knudsen B, Lipkin M, Wenzler D, Sur RL (2014) Accuracy of endoscopic intraoperative assessment of urologic stone size. J Endourol 28:582–586
Ethics declarations
Conflict of interest
None.
About this article
Cite this article
Cordes, J., Teske, L., Nguyen, F. et al. A comparison between an in vitro ureteroscopic stone size estimation and the stone size measurement with the help of a scale on stone baskets. World J Urol 34, 1303–1309 (2016). https://doi.org/10.1007/s00345-016-1774-x
Received:

Accepted:

Published:

Issue Date:
Keywords
Stone size estimation

Endourology

Stone basket