Abstract
Background
Lower urinary tract symptoms (LUTS) and benign prostatic hyperplasia increase with age. To date, several medications are available to treat LUTS, including herbal remedies which offer less side effects but lack robust efficacy studies.
Methods
This 6-month, randomized, double-blind, placebo-controlled study aimed at evaluating the dose effect of 250 or 500 mg cranberry powder (Flowens™) on LUTS and uroflowmetry in men over the age of 45. A total of 124 volunteers with PSA levels <2.5 ng/mL and an international prostate symptoms score (IPSS) score ≥8 were recruited and randomized. The primary outcome measure was the IPSS, evaluated at 3 and 6 months. Secondary outcome measures included quality of life, bladder volume (Vol), maximum urinary flow rate (Q max), average urinary flow rate (Q ave), ultrasound-estimated post-void residual urine volume (PVR), serum prostate-specific antigen, selenium, interleukin 6, and C-reactive protein at 6 months.
Results
After 6 months, subjects in both Flowens™ groups had a lower IPSS (−3.1 and −4.1 in the 250- and 500-mg groups, p = 0.05 and p < 0.001, respectively) versus the placebo group (−1.5), and a dose–response effect was observed. There were significant differences in Q max, Q ave, PVR, and Vol in the Flowens™ 500-mg group versus baseline (p < 0.05). A dose-dependent effect on Vol was observed, as well as on PVR, for participants with a nonzero PVR. There was no effect on clinical chemistry or hematology markers.
Conclusions
Flowens™ showed a clinically relevant, dose-dependent, and significant reduction in LUTS in men over 45.
Access options
Buy single article
Instant access to the full article PDF.
USD 39.95
Price includes VAT (USA)
Tax calculation will be finalised during checkout.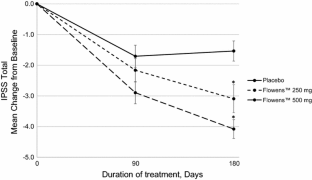 References
1.

McVary KT (2006) BPH: epidemiology and comorbidities. Am J Manag Care 12:S122–S128

2.

Sarma AV, Wei JT (2012) Clinical practice. Benign prostatic hyperplasia and lower urinary tract symptoms. N Engl J Med 367:248–257

3.

American Urological Association (2010) American urological association guideline: management of benign prostatic hyperplasia (BPH). https://www.auanet.org/education/guidelines/benign-prostatic-hyperplasia.cfm. Accessed 4 June 2015

4.

Elterman DS, Barkin J, Kaplan SA (2012) Optimizing the management of benign prostatic hyperplasia. Ther Adv Urol 4:77–83

5.

Cheetham PJ (2013) Role of complimentary therapy for male LUTS. Curr Urol Rep 14:606–613

6.

Pappas E, Schaich KM (2009) Phytochemicals of cranberries and cranberry products: characterization, potential health effects, and processing stability. Crit Rev Food Sci Nutr 49:741–781

7.

Blumberg JB, Camesano TA, Cassidy A, Kris-Etherton P, Howell A, Manach C et al (2013) Cranberries and their bioactive constituents in human health. Adv Nutr 4:618–632

8.

Vidlar A, Vostalova J, Ulrichova J, Student V, Stejskal D, Reichenbach R et al (2010) The effectiveness of dried cranberries (Vaccinium macrocarpon) in men with lower urinary tract symptoms. Br J Nutr 104:1181–1189

9.

Pridgeon S, Harding C, Newton D, Pickard R (2007) Clinical evaluation of a simple uroflowmeter for categorization of maximum urinary flow rate. Indian J Urol 23:114–118

10.

Ball AJ, Feneley RC, Abrams PH (1981) The natural history of untreated "prostatism". Br J Urol 53:613–616

11.

Kolman C, Girman CJ, Jacobsen SJ, Lieber MM (1999) Distribution of post-void residual urine volume in randomly selected men. J Urol 161:122–127

12.

Kaplan SA, Wein AJ, Staskin DR, Roehrborn CG, Steers WD (2008) Urinary retention and post-void residual urine in men: separating truth from tradition. J Urol 180:47–54

13.

Schafer W, Abrams P, Liao L, Mattiasson A, Pesce F, Spangberg A et al (2002) Good urodynamic practices: uroflowmetry, filling cystometry, and pressure-flow studies. Neurourol Urodyn 21:261–274

14.

Tacklind J, MacDonald R, Rutks I, Wilt TJ (2009) Serenoa repens for benign prostatic hyperplasia. Cochrane Database Syst Rev (2):CD001423. doi:10.1002/14651858.CD001423

15.

McNicholas T, Kirby R (2011) Benign prostatic hyperplasia and male lower urinary tract symptoms (LUTS). Clinical Evidence;08:1801. http://www.ncbi.nlm.nih.gov/pmc/articles/PMC3217770/pdf/2011-1801.pdf. Accessed 4 June 2015

16.

Wilt T, Ishani A, MacDonald R, Stark G, Mulrow C, Lau J (2000) Beta-sitosterols for benign prostatic hyperplasia. Cochrane Database Syst Rev (3):CD001043. doi:10.1002/14651858

17.

Chrubasik JE, Roufogalis BD, Wagner H, Chrubasik S (2007) A comprehensive review on the stinging nettle effect and efficacy profiles. Part II: urticae radix. Phytomedicine 14:568–579

18.

Nahata A, Dixit VK (2012) Ameliorative effects of stinging nettle (Urtica dioica) on testosterone-induced prostatic hyperplasia in rats. Andrologia 44(Suppl 1):396–409

19.

Spettel S, Chughtai B, Feustel P, Kaufman A, Levin RM, De E (2013) A prospective randomized double-blind trial of grape juice antioxidants in men with lower urinary tract symptoms. Neurourol Urodyn 32:261–265

20.

Takeda M, Araki I, Mochizuki T, Nakagomi H, Kobayashi H, Sawada N et al (2010) The forefront for novel therapeutic agents based on the pathophysiology of lower urinary tract dysfunction: pathophysiology of voiding dysfunction and pharmacological therapy. J Pharmacol Sci 112:121–127

21.

Caremel R, Oger-Roussel S, Behr-Roussel D, Grise P, Giuliano FA (2010) Nitric oxide/cyclic guanosine monophosphate signalling mediates an inhibitory action on sensory pathways of the micturition reflex in the rat. Eur Urol 58:616–625

22.

Kim MJ, Ohn J, Kim JH, Kwak HK (2011) Effects of freeze-dried cranberry powder on serum lipids and inflammatory markers in lipopolysaccharide treated rats fed an atherogenic diet. Nutr Res Pract 5:404–411

23.

Kramer G, Mitteregger D, Marberger M (2007) Is benign prostatic hyperplasia (BPH) an immune inflammatory disease? Eur Urol 51:1202–1216

24.

Wang W, Bergh A, Damber JE (2004) Chronic inflammation in benign prostate hyperplasia is associated with focal upregulation of cyclooxygenase-2, Bcl-2, and cell proliferation in the glandular epithelium. Prostate 61:60–72
Acknowledgments
Financial support from NATUREX-DBS is gratefully acknowledged. The cranberry powder (Flowens™) was supplied by NATUREX-DBS, SAGAMORE, MA 02561.
Conflict of interest
MR and EF are employed by NATUREX and NATUREX-DBS, respectively.
Ethical standard
Ethics Committee of the University Hospital and Faculty of Medicine and Dentistry, Palacky University in Olomouc, Czech Republic (reference 55/12).
About this article
Cite this article
Vidlar, A., Student, V., Vostalova, J. et al. Cranberry fruit powder (Flowens™) improves lower urinary tract symptoms in men: a double-blind, randomized, placebo-controlled study. World J Urol 34, 419–424 (2016). https://doi.org/10.1007/s00345-015-1611-7
Received:

Accepted:

Published:

Issue Date:
Keywords
Vaccinium macrocarpon

Cranberry

Lower urinary tract symptoms

Benign prostatic hyperplasia

IPSS