Abstract
Purpose
To evaluate whether core length impacts biopsy accuracy and Gleason score underestimation compared to radical prostatectomy (RP) specimens.
Methods
From 2010 to 2011, 8,928 cores were trans-rectal obtained from 744 consecutive patients (178 RP, 24 %), 557 by an experienced performer (>250/year) and 187 (25 %) by in-training urology residents. Prospectively analyzed variables were core length, age, prostate volume, free and total prostate-specific antigen (PSA), PSA density and free/total PSA ratio.
Results
Mean core length for Gleason upgrading on RP (42.7 %, n = 76) was 11.61 (±2.5, median 11.40) compared to 13.52 (±3.2, median 13.70), p < 0.001 for perfect biopsy-RP Gleason agreement (57.3 %, n = 102). In multivariate analysis, for each unit of core length increment in millimeter, the Gleason upgrading risk decreased 89.9 %, p = 0.049 [odds ratio (OR) 0.10, 95 % confidence interval (CI) 0.01–0.99]. Biopsy positivity between experienced (35.5 %) and in-training performer (30.1 %) was not significantly different (p = 0.20), with comparable mean patient age (65.1 vs. 64.1), prostate volume (52.3 vs. 50.7) and median PSA (5.2 vs. 5.1), respectively. Denoting wider variability in terms of core length, in-training performers obtained significantly larger cores for positive biopsies (11.33 ± 3.42 vs. 10.83 ± 3.68), p = 0.043, compared to experienced performer (11.39 ± 3.36 vs. 11.37 ± 3.64), p = 0.30. In multivariate analysis, PSA density (OR 1.14, 95 % CI 1.02–1.28) and age (OR 1.04, 95 % CI 1.01–1.07) were significantly associated with biopsy positivity, p = 0.021 and p = 0.011, respectively.
Conclusion
While core length on trans-rectal biopsy independently affects Gleason upgrading on RP specimens, performer experience has minor impact on Gleason discordance or biopsy positivity due to a sharp learning curve.
Access options
Buy single article
Instant access to the full article PDF.
US$ 39.95
Tax calculation will be finalised during checkout.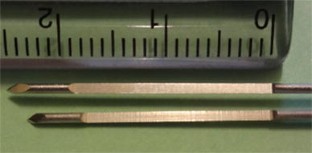 Abbreviations
RP:

Radical prostatectomy

PV:

Prostate volume

PSA:

Prostate-specific antigen

AUA:

American urological association

EAU:

European association of urology

ISUP:

International society of urological pathology

ERSPC:

European randomized study of screening for prostate cancer

DRE:

Digital rectal examination

OR:

Odds ratio

CI:

Confidence interval
References
1.

Bjurlin MA, Carter HB, Schellhammer P et al (2013) Optimization of initial prostate biopsy in clinical practice: sampling, labeling, and specimen processing. J Urol 189(6):2039–2046

2.

Reis LO, Reinato JA, Silva DC et al (2010) The impact of core biopsy fragmentation in prostate cancer. Int Urol Nephrol 42(4):965–969

3.

Ukimura O, Coleman JA, de la Taille A et al (2013) Contemporary role of systematic prostate biopsies: indications, techniques, and implications for patient care. Eur Urol 63(2):214–230

4.

Van der Kwast T, Bubendorf L, Mazerolles C et al (2013) Guidelines on processing and reporting of prostate biopsies: the 2013 update of the pathology committee of the European randomized study of screening for prostate cancer (ERSPC). Virchows Arch 463(3):367–377

5.

Billis A, Quintal MM, Meirelles L et al (2014) The value of the 2005 international society of urological pathology (ISUP) modified Gleason grading system as a predictor of biochemical recurrence after radical prostatectomy. Int Urol Nephrol 46(5):935–940

6.

Ficarra V, Martignoni G, Novella G et al (2006) Needle core length is a quality indicator of systematic transperineal prostate biopsy. Eur Urol 50(2):266–271

7.

Cormio L, Scattoni V, Lorusso F et al (2014) Prostate cancer detection rates in different biopsy schemes. Which cores for which patients? World J Urol 32(2):341–346

8.

Durmus T, Goldmann U, Baur AD et al (2013) MR-guided biopsy of the prostate: comparison of diagnostic specimen quality with 18 G and 16 G biopsy needles. Eur J Radiol 82(12):e749–e754

9.

Reis LO, Zani EL, Freitas LL et al (2013) Higher prostate weight is inversely associated with Gleason score upgrading in radical prostatectomy specimens. Adv Urol. 2013:710421

10.

Colleselli D, Pelzer AE, Steiner E et al (2010) Upgrading of Gleason score 6 prostate cancers on biopsy after prostatectomy in the low and intermediate PSA range. Prostate Cancer Prostatic Dis. 13(2):182–185

11.

Helpap B, Köllermann J (2012) Combined histoarchitectural and cytological biopsy grading improves grading accuracy in low-grade prostate cancer. Int J Urol 19(2):126–133

12.

Descazeaud A, Rubin MA, Allory Y et al (2005) What information are urologists extracting from prostate needle biopsy reports and what do they need for clinical management of prostate cancer? Eur Urol 48(6):911–915

13.

Berney DM, Algaba F, Camparo P et al (2014) Variation in reporting of cancer extent and benign histology in prostate biopsies among European pathologists. Virchows Arch 464(5):583–587

14.

Kanao K, Eastham JA, Scardino PT et al (2013) Can transrectal needle biopsy be optimised to detect nearly all prostate cancer with a volume of ≥0.5 mL? A three-dimensional analysis. BJU Int. 112(7):898–904

15.

Lawrentschuk N, Toi A, Lockwood GA et al (2009) Operator is an independent predictor of detecting prostate cancer at transrectal ultrasound guided prostate biopsy. J Urol 182(6):2659–2663

16.

Hori S, Fuge O, Trabucchi K et al (2013) Can a trained non-physician provider perform transrectal ultrasound-guided prostatic biopsies as effectively as an experienced urologist? BJU Int. 111(5):739–744

17.

Benchikh El Fegoun A, El Atat R, Choudat L et al (2013) The learning curve of transrectal ultrasound guided prostate biopsies implications for training programs. Urology 81(1):12–15

18.

Han M, Chang D, Kim C et al (2012) Geometric evaluation of systematic transrectal ultrasound guided prostate biopsy. J Urol 188(6):2404–2409

19.

Bostwick DG, Qian J, Drewnowska K et al (2010) Prostate needle biopsy quality in reduction by dutasteride of prostate cancer events study: worldwide comparison of improvement with investigator training and centralized laboratory processing. Urology. 75(6):1406–1410

20.

Öbek C, Doğanca T, Erdal S et al (2012) Core length in prostate biopsy: size matters. J Urol 187(6):2051–2055

21.

Fiset PO, Aprikian A, Brimo F (2013) Length of prostate biopsy cores: does it impact cancer detection? Can J Urol. 20(4):6848–6853

22.

Siadat F, Sykes J, Van der Kwast TH (2013) Length matters in prostate cancer. Can J Urol. 20(4):6854

23.

Iczkowski KA, Casella G, Seppala RJ et al (2002) Needle core length in sextant biopsy influences prostate cancer detection rate. Urology 59(5):698–703
Acknowledgments
We would like to thank Wagner França for help with data collection.
Conflict of interest
The authors declare that they have no conflict of interest.
Ethical standard
Performed in accordance with the institutional ethical guidelines ethical standards laid down in the 1964 Declaration of Helsinki its later amendments.
About this article
Cite this article
Reis, L.O., Sanches, B.C.F., de Mendonça, G.B. et al. Gleason underestimation is predicted by prostate biopsy core length. World J Urol 33, 821–826 (2015). https://doi.org/10.1007/s00345-014-1371-9
Received:

Accepted:

Published:

Issue Date:
Keywords
Prostate

Trans-rectal biopsy

Technique optimization

Cancer

Staging

Diagnosis

Gleason

Pathology report

Radical prostatectomy

Needle

Learning curve

Upgrading

Downgrading