Abstract
Purpose
Increasing in incidence, testicular cancer is the most commonly diagnosed cancer in young men in the USA and in Europe. We sought to determine contemporary trends in testicular cancer incidence in the USA and Europe.
Methods
Testicular cancer incidence data covering the USA and Europe were extracted from the SEER-13 (SEER*Stat 8.0.1) and the EUREG databases, respectively. Trends were determined using JoinPoint 3.5.3.
Results
Testicular germ cell tumor (TGCT) incidence among US males >15 years increased from 1992 (5.7/100,000) to 2009 (6.8/100,000) with a significant annual percentage change (APC: 1.1 %, p < 0.001). Seminomas were 29 % of all TGCTs in 15–26 year-olds, increasing to 78 % in those 40+ years of age. TGCT rates were highest in White men (1992: 7.5/100,000; 2009: 8.6/100,000) followed by Hispanic men (1992: 4.0/100,000; 2009: 6.3/100,000) and lowest among Asian (1992: 2.0/100,000; 2009: 2.8/100,000) and Black men (1992: 0.7/100,000; 2009: 1.7/100,000). Significantly increasing incidence rates were observed in White men (APC: 1.2 %, p < 0.001) and most prominently in Hispanic men, especially from 2002 to 2009 (APC: 5.6 %, p < 0.01). Incidence of testicular cancer increased in 15 of 19 (79 %) European countries analyzed (p < 0.05). Denmark (13.4/100,000 man-years), Switzerland (12.7/100,000 man-years), and Norway (12.7/100,000 man-years) exhibited the highest age-standardized rates, while Spain had the greatest APC (APC = 5.5, 95 % CI 3.9–7.0 %, p < 0.001).
Conclusions
Between 1992 and 2009, testicular cancer incidence in the USA and Europe continued to increase, most notably in US Hispanic, Northern European, Spanish, and younger and older populations.
Access options
Buy single article
Instant access to the full article PDF.
USD 39.95
Price includes VAT (USA)
Tax calculation will be finalised during checkout.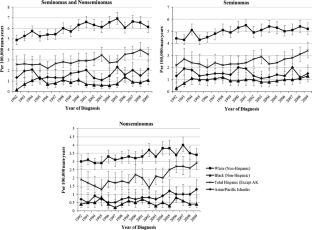 References
1.

Curado MP, Edwards B, Shin HR et al (2007) Cancer incidence in five continents, vol IX. IARC, Lyon

2.

McKiernan JM, Goluboff ET, Liberson GL et al (1999) Rising risk of testicular cancer by birth cohort in the United States from 1973 to 1995. J Urol 162:361–363

3.

Stang A, Trabert B, Wentzensen N et al (2012) Gonadal and extragonadal germ cell tumours in the United States, 1973–2007. Int J Androl 35:616–625. doi:10.1111/j.1365-2605.2011.01245.x

4.

Bray F, Richiardi L, Ekbom A et al (2006) Trends in testicular cancer incidence and mortality in 22 European countries: continuing increases in incidence and declines in mortality. Int J Cancer J Int Cancer 118:3099–3111. doi:10.1002/ijc.21747

5.

Shah MN, Devesa SS, Zhu K, McGlynn KA (2007) Trends in testicular germ cell tumours by ethnic group in the United States. Int J Androl 30:206–13; discussion 213–4. doi: 10.1111/j.1365-2605.2007.00795.x

6.

Looijenga LH, Gillis AJ, Stoop H et al (2011) Dissecting the molecular pathways of (testicular) germ cell tumour pathogenesis; from initiation to treatment-resistance. Int J Androl 34:e234–e251. doi:10.1111/j.1365-2605.2011.01157.x

7.

Van de Geijn GJ, Hersmus R, Looijenga LH (2009) Recent developments in testicular germ cell tumor research. Birth Defects Res C Embryo Today Rev 87:96–113. doi:10.1002/bdrc.20140

8.

Reuter VE (2005) Origins and molecular biology of testicular germ cell tumors. Mod Pathol Off J US Can Acad Pathol Inc 18(Suppl 2):S51–S60. doi:10.1038/modpathol.3800309

9.

National Cancer Institute D (2012) Surveillance, epidemiology, and end results (SEER) Program SEER*stat database: incidence-SEER 13 Regs Public-Use, Nov 2011 Sub (1973–2009)-linked to county attributes-total US., 1969–2010 Counties

10.

JoinPoint Regression Program, Version 3.5-April 2011; Statistical methodology and applications branch and data modeling branch, surveillance research program national cancer institute

11.

Znaor A, Lortet-Tieulent J, Jemal A, Bray F (2013) International variations and trends in testicular cancer incidence and mortality. Eur Urol. doi:10.1016/j.eururo.2013.11.004

12.

Shanmugalingam T, Soultati A, Chowdhury S et al (2013) Global incidence and outcome of testicular cancer. Clin Epidemiol 5:417–427. doi:10.2147/CLEP.S34430

13.

Cook MB, Akre O, Forman D et al (2010) A systematic review and meta-analysis of perinatal variables in relation to the risk of testicular cancer–experiences of the son. Int J Epidemiol 39:1605–1618. doi:10.1093/ije/dyq120

14.

Giwercman A, Giwercman YL (2011) Environmental factors and testicular function. Best Pract Res Endocrinol Metab 25:391–402. doi:10.1016/j.beem.2010.09.011

15.

Swerdlow AJ, De Stavola BL, Swanwick MA, Maconochie NE (1997) Risks of breast and testicular cancers in young adult twins in England and wales: evidence on prenatal and genetic aetiology. Lancet 350:1723–1728

16.

Westergaard T, Olsen JH, Frisch M et al (1996) Cancer risk in fathers and brothers of testicular cancer patients in Denmark. a population-based study. Int J Cancer J Int Cancer 66:627–631

17.

Gilbert D, Rapley E, Shipley J (2011) Testicular germ cell tumours: predisposition genes and the male germ cell niche. Nat Rev 11:278–288. doi:10.1038/nrc3021

18.

Korkola JE, Houldsworth J, Bosl GJ, Chaganti RS (2009) Molecular events in germ cell tumours: linking chromosome-12 gain, acquisition of pluripotency and response to cisplatin. BJU Int 104:1334–1338. doi:10.1111/j.1464-410X.2009.08855.x

19.

Kanetsky PA, Mitra N, Vardhanabhuti S et al (2009) Common variation in KITLG and at 5q31.3 predisposes to testicular germ cell cancer. Nat Genet 41:811–815. doi:10.1038/ng.393

20.

Korkola JE, Houldsworth J, Feldman DR et al (2009) Identification and validation of a gene expression signature that predicts outcome in adult men with germ cell tumors. J Clin Oncol Off J Am Soc Clin Oncol 27:5240–5247. doi:10.1200/JCO.2008.20.0386

21.

Krausz C, Looijenga LH (2008) Genetic aspects of testicular germ cell tumors. Cell Cycle Georget Tex 7:3519–3524

22.

Weir HK, Marrett LD, Kreiger N et al (2000) Pre-natal and peri-natal exposures and risk of testicular germ-cell cancer. Int J Cancer J Int Cancer 87:438–443

23.

Meeks JJ, Sheinfeld J, Eggener SE (2012) Environmental toxicology of testicular cancer. Urol Oncol 30:212–215. doi:10.1016/j.urolonc.2011.09.009

24.

Garner MJ, Birkett NJ, Johnson KC et al (2003) Dietary risk factors for testicular carcinoma. Int J Cancer J Int Cancer 106:934–941. doi:10.1002/ijc.11327

25.

Lacson JC, Carroll JD, Tuazon E et al (2012) Population-based case-control study of recreational drug use and testis cancer risk confirms an association between marijuana use and non seminoma risk. Cancer. doi:10.1002/cncr.27554

26.

McGlynn KA, Graubard BI, Klebanoff MA, Longnecker MP (2006) Risk factors for cryptorchism among populations at differing risks of testicular cancer. Int J Epidemiol 35:787–795. doi:10.1093/ije/dyl024

27.

Pohl HG, Joyce GF, Wise M, Cilento BG (2007) Cryptorchidism and hypospadias. J Urol 177:1646–1651. doi:10.1016/j.juro.2007.01.058

28.

Bryc K, Velez C, Karafet T et al (2010) Colloquium paper: genome-wide patterns of population structure and admixture among Hispanic/Latino populations. Proc Natl Acad Sci USA 107(Suppl 2):8954–8961. doi:10.1073/pnas.0914618107

29.

Chia VM, Quraishi SM, Devesa SS et al (2010) International trends in the incidence of testicular cancer, 1973–2002. Cancer Epidemiol Biomark Prev Publ Am Assoc Cancer Res Cosponsored Am Soc Prev Oncol 19:1151–1159. doi:10.1158/1055-9965.EPI-10-0031

30.

McGlynn KA, Cook MB (2009) Etiologic factors in testicular germ-cell tumors. Future Oncol Lond Engl 5:1389–1402. doi:10.2217/fon.09.116
Acknowledgments
This research was supported by a training grant from the National Institute of Diabetes and Digestive and Kidney Diseases.
Conflict of interest
The authors declare that they have no conflicts of interest.
Ethical standard
The manuscript does not contain clinical studies. Institutional review board exemption was acquired since no patient, physician, or hospital identifiers were examined in this study utilizing the Surveillance, Epidemiological, and End Results and EUREG databases.
About this article
Cite this article
Nigam, M., Aschebrook-Kilfoy, B., Shikanov, S. et al. Increasing incidence of testicular cancer in the United States and Europe between 1992 and 2009. World J Urol 33, 623–631 (2015). https://doi.org/10.1007/s00345-014-1361-y
Received:

Accepted:

Published:

Issue Date:
Keywords
Testis

Neoplasms

Germ cell and embryonal

Testicular neoplasms

Epidemiology