Abstract
Purpose
Many men with "late-onset hypogonadism" (LOH) experience lower urinary tract symptoms (LUTS) that can be distressing and may decrease quality of life. LUTS often appear in men when testosterone levels begin to decline, which could be a significant association. We investigated whether testosterone replacement could alleviate LUTS in men with LOH.
Methods
Two hundred and sixty-one hypogonadal patients (mean age 59.5 years) presenting with erectile dysfunction, having also been evaluated for LUTS, received a single testosterone undecanoate injection at day 1, at week 6 and quarterly thereafter. Parameters, including International Prostate Symptom Score (IPSS), post-voiding residual urine volume, transrectal ultrasound, prostate volume and prostate-specific antigen were measured at each treatment visit. Two hundred and fifty-nine patients were included in the full analysis set. These were subsequently divided into weight losers (L ≥ 5 % weight loss at last visit from baseline) and non-losers (NL). t test analyses were used to compare the IPSS means of these subgroups. The potentially confounding effect on IPSS of using the phosphodiesterase-5 inhibitor (PDE5i) vardenafil was also accounted for.
Results
Mean IPSS showed a significant decrease with time following initiation of testosterone treatment (p < 0.05). No significant differences were observed in either IPSS between L and NL groups or in mean IPSS between vardenafil users and non-users.
Conclusion
Testosterone replacement is associated with improvements in LUTS which are not confounded by weight loss or PDE5i. The mechanisms of this association require further investigation.
Access options
Buy single article
Instant access to the full article PDF.
USD 39.95
Price excludes VAT (USA)
Tax calculation will be finalised during checkout.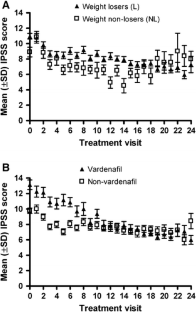 References
Yassin A, Saad F, Hoesl CE, Traish AM, Hammadeh M, Shabsigh R (2006) Alpha-adrenoceptors are a common denominator in the pathophysiology of erectile function and BPH/LUTS—implications for clinical practice. Andrologia 38:1–12

Yassin AA, El-Sakka AI, Saad F, Gooren LJ (2008) Lower urinary-tract symptoms and testosterone in elderly men. World J Urol 26:359–364

Rohrmann S, Nelson WG, Rifai N, Kanarek N, Basaria S, Tsilidis KK, Smit E, Giovannucci E, Platz EA (2007) Serum sex steroid hormones and lower urinary tract symptoms in third national health and nutrition examination survey (NHANES III). Urology 69:708–713

Kaufman JM, Vermeulen A (2005) The decline of androgen levels in elderly men and its clinical and therapeutic implications. Endocr Rev 26:833–876

McVary KT, Rademaker A, Lloyd GL, Gann P (2005) Autonomic nervous system overactivity in men with lower urinary tract symptoms secondary to benign prostatic hyperplasia. J Urol 174:1327–1433

Shabsigh R (1997) The effects of testosterone on the cavernous tissue and erectile function. World J Urol 15:21–26

Rhoden EL, Riedner CE, Fornari A, Fuchs SC, Ribeiro EP (2008) Evaluation of the association between lower urinary tract symptoms and erectile dysfunction, considering its multiple risk factors. J Sex Med 5:2662–2668

Dahle SE, Chokkalingam AP, Gao YT, Deng J, Stanczyk FZ, Hsing AW (2002) Body size and serum levels of insulin and leptin in relation to the risk of benign prostatic hyperplasia. J Urol 168:599–604

Schatzl G, Madersbacher S, Haitel A, Gsur A, Preyer M, Haidinger G, Gassner C, Ochsner M, Marberger M (2003) Associations of serum testosterone with microvessel density, androgen receptor density and androgen receptor gene polymorphism in prostate cancer. J Urol 169:1312–1315

Litman HJ, Bhasin S, O'Leary MP, Link CL, McKinlay JB (2007) An investigation of the relationship between sex-steroid levels and urological symptoms: results from the Boston Area Community Health survey. BJU Int 100:321–326

Traish AM, Park K, Dhir V, Kim NN, Moreland RB, Goldstein I (1999) Effects of castration and androgen replacement on erectile function in a rabbit model. Endocrinology 140:1861–1868

Stage AC, Hairston JC (2005) Symptom scores: mumbo jumbo or meaningful measures? Curr Urol Rep 6:251–256

McVary KT, Monnig W, Camps JL Jr, Young JM, Tseng LJ, van den Ende G (2007) Sildenafil citrate improves erectile function and urinary symptoms in men with erectile dysfunction and lower urinary tract symptoms associated with benign prostatic hyperplasia: a randomized, double-blind trial. J Urol 177:1071–1077

McVary KT, Roehrborn CG, Kaminetsky JC, Auerbach SM, Wachs B, Young JM, Esler A, Sides GD, Denes BS (2007) Tadalafil relieves lower urinary tract symptoms secondary to benign prostatic hyperplasia. J Urol 177:1401–1407

Zhang X, Zang N, Wei Y, Yin J, Teng R, Seftel A, Disanto ME (2012) Testosterone regulates smooth muscle contractile pathways in the rat prostate: emphasis on PDE5 signaling. Am J Physiol Endocrinol Metab 302:E243–E253

Saboor Aftab SA, Kumar S, Barber TM (2013) The role of obesity and type 2 diabetes mellitus in the development of male obesity-associated secondary hypogonadism. Clin Endocriol (Oxf) 78:330–337

Braun M, Wassmer G, Klotz T, Reifenrath B, Mathers M, Engelmann U (2000) Epidemiology of erectile dysfunction: results of the 'Cologne Male Survey'. Int J Impot Res 12:305–311

Vermeulen A (2001) Androgen replacement therapy in the aging male—a critical evaluation. J Clin Endocrinol Metab 86:2380–2390

Kwan M, Greenleaf WJ, Mann J, Crapo L, Davidson JM (1983) The nature of androgen action on male sexuality: a combined laboratory-self-report study on hypogonadal men. J Clin Endocrinol Metab 57:557–562

Rosenzweig BA, Bolina PS, Birch L, Moran C, Marcovici I, Prins GS (1995) Location and concentration of estrogen, progesterone, and androgen receptors in the bladder and urethra of the rabbit. Neurourol Urodyn 14:87–96

Celayir S (2003) Effects of different sex hormones on male rabbit urodynamics: an experimental study. Horm Res 60:215–220

Filippi S, Morelli A, Sandner P, Fibbi B, Mancina R, Marini M, Gacci M, Vignozzi L, Vannelli GB, Carini M, Forti G, Maggi M (2007) Characterization and functional role of androgen-dependent PDE5 activity in the bladder. Endocrinology 148:1019–1029

Morelli A, Sarchielli E, Comeglio P, Filippi S, Mancina R, Gacci M, Vignozzi L, Carini M, Vannelli GB, Maggi M (2011) Phosphodiesterase type 5 expression in human and rat lower urinary tract tissues and the effect of tadalafil on prostate gland oxygenation in spontaneously hypertensive rats. J Sex Med 8:2746–2760

Giuliano F, Uckert S, Maggi M, Birder L, Kissel J, Viktrup L (2013) The mechanism of action of phosphodiesterase type 5 inhibitors in the treatment of lower urinary tract symptoms related to benign prostatic hyperplasia. Eur Urol 63:506–516

Shabsigh R, Arver S, Channer KS, Eardley I, Fabbri A, Gooren L, Heufelder A, Jones H, Meryn S, Zitzmann M (2008) The triad of erectile dysfunction, hypogonadism and the metabolic syndrome. Int J Clin Pract 62:791–798

Bhasin S, Calof OM, Storer TW, Lee ML, Mazer NA, Jasuja R, Montori VM, Gao W, Dalton JT (2006) Drug insight: testosterone and selective androgen receptor modulators as anabolic therapies for chronic illness and aging. Nat Clin Pract Endocrinol Metab 2:146–159
Conflict of interest
Aksam Yassin has received honoraria for lectures from Bayer Healthcare, Ferring Pharmaceuticals and GSK. Ridwan Shabsigh has received honoraria for lectures from Bayer Healthcare. Editorial support for the manuscript was provided by Astra-Health, www.astra-health.co.uk.
About this article
Cite this article
Yassin, DJ., El Douaihy, Y., Yassin, A.A. et al. Lower urinary tract symptoms improve with testosterone replacement therapy in men with late-onset hypogonadism: 5-year prospective, observational and longitudinal registry study. World J Urol 32, 1049–1054 (2014). https://doi.org/10.1007/s00345-013-1187-z
Received:

Accepted:

Published:

Issue Date:

DOI: https://doi.org/10.1007/s00345-013-1187-z
Keywords
LOH

Testosterone

LUTS

BPH

IPSS