Abstract
Purpose
To explore the relationships between nephrostomy tube (NT) size and outcome of percutaneous nephrolithotomy (PCNL).
Methods
The Clinical Research Office of the Endourological Society (CROES) prospectively collected data from consecutive patients treated with PCNL over a 1-year period at 96 participating centers worldwide. This report focuses on the 3,968 patients who received a NT of known size. Preoperative, surgical procedure and outcome data were analyzed according to NT size, dividing patients into two groups, namely small-bore (SB; nephrostomy size ≤ 18 Fr) and large-bore (LB; nephrostomy size > 18 Fr) NT.
Results
Patients who received a LB NT had a significantly lower rate of hemoglobin reduction (3.0 vs. 4.3 g/dL; P < 0.001), overall complications (15.8 vs. 21.4 %; P < 0.001) and a trend toward a lower rate of fever (9.1 vs. 10.7 %). Patients receiving a LB NT conversely had a statistically, though not clinically significant, longer postoperative hospital stay (4.4 vs. 4.2 days; P = 0.027). There were no differences in urinary leakage (0.9 vs. 1.3 %, P = 0.215) or stone-free rates (79.5 vs. 78.1 %, P = 0.281) between the two groups.
Conclusions
LB NTs seem to reduce bleeding and overall complication rate. These findings would suggest that if a NT has to be placed, it should better be a LB one.
This is a preview of subscription content, log in to check access.
Access options
Buy single article
Instant access to the full article PDF.
US$ 39.95
Price includes VAT for USA
Subscribe to journal
Immediate online access to all issues from 2019. Subscription will auto renew annually.
US$ 199
This is the net price. Taxes to be calculated in checkout.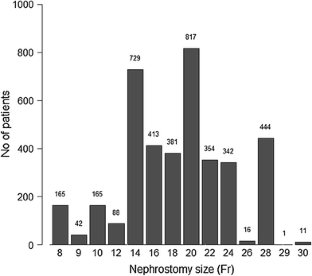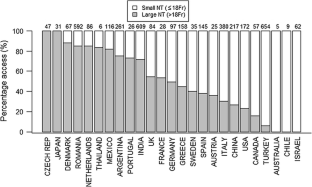 References
1.

De Sio M, Autorino R, Quattrone C, Giugliano F, Balsamo R, D'Armiento M (2011) Choosing the nephrostomy size after percutaneous nephrolithotomy. World J Urol 29(6):707–711

2.

Fernström I, Johansson B (1976) Percutaneous pyelolithotomy. A new extraction technique. Scand J Urol Nephrol 10(3):257–259

3.

Pietrow PK, Auge BK, Lallas CD, Santa-Cruz RW, Newman GE, Albala DM, Preminger GM (2003) Pain after percutaneous nephrolithotomy: impact of nephrostomy tube size. J Endourol 17(6):411–414

4.

Maheshwari PN, Andankar MG, Bansal M (2000) Nephrostomy tube after percutaneous nephrolithotomy: large-bore or pigtail catheter? J Endourol 14(9):735–737

5.

Borges CF, Fregonesi A, Silva D, Sasse AD (2010) Systematic review and meta-analysis of nephrostomy placement versus tubeless percutaneous nephrolithotomy. J Endourol 24(11):1738–1746

6.

Ni S, Qiyin C, Tao W, Liu L, Jiang H, Hu H, Han R, Wang C (2011) Tubeless percutaneous nephrolithotomy is associated with less pain and shorter hospitalization compared with standard or small bore drainage: a meta-analysis of randomized, controlled trials. Urology 77(6):1293–1298

7.

Yuan H, Zheng S, Liu L, Han P, Wang J, Wei Q (2011) The efficacy and safety of tubeless percutaneous nephrolithotomy: a systematic review and meta-analysis. Urol Res 39(5):401–410

8.

Wang J, Zhao C, Zhang C, Fan X, Lin Y, Jiang Q (2012) Tubeless vs standard percutaneous nephrolithotomy: a meta-analysis. BJU Int 109(6):918–924

9.

Choi M, Brusky J, Weaver J, Amantia M, Bellman GC (2006) Randomized trial comparing modified tubeless percutaneous nephrolithotomy with tailed stent with percutaneous nephrostomy with small-bore tube. J Endourol 20(10):766–770

10.

Shah HN, Sodha HS, Khandkar AA, Kharodawala S, Hegde SS, Bansal MB (2008) A randomized trial evaluating type of nephrostomy drainage after percutaneous nephrolithotomy: small bore v tubeless. J Endourol 22(7):1433–1439

11.

Türk C, Knoll T, Petrik A, Sarica K, Straub M, Seitz C (2010) EAU guidelines on urolithiasis 2010. http://www.uroweb.org/gls/pdf/18_Urolithiasis.pdf

12.

de la Rosette J, Assimos D, Desai M, Gutierrez J, Lingeman J, Scarpa R, Tefekli A, CROES PCNL Study Group (2011) The Clinical Research Office of the Endourological Society Percutaneous Nephrolithotomy Global Study: indications, complications, and outcomes in 5803 patients. J Endourol 25(1):11–17

13.

Clavien PA, Barkun J, de Oliveira ML, Vauthey JN, Dindo D, Schulick RD, de Santibañes E, Pekolj J, Slankamenac K, Bassi C, Graf R, Vonlanthen R, Padbury R, Cameron JL, Makuuchi M (2009) The Clavien-Dindo classification of surgical complications: five-year experience. Ann Surg 250(2):187–196

14.

Graefen M (2010) The modified Clavien system: a plea for a standardized reporting system for surgical complications. Eur Urol 57(3):387–389

15.

De la Rosette JJMCH, Opondo D, Daels FPJ, Giusti G, Serrano A, Kandasami SV, Wolf JS, Grabe M, Gravas S, on behalf of the CROES PCNL Study group (2012) Categorisation of complications and validation of the Clavien score for percutaneous nephrolithotomy (PCNL). Eur Urol 62(2):246–255

16.

Tefekli A, Ali Karadag M, Tepeler K, Sari E, Berberoglu Y, Baykal M, Sarilar O, Muslumanoglu AY (2008) Classification of percutaneous nephrolithotomy complications using the modified clavien grading system: looking for a standard. Eur Urol 53(1):184–190

17.

Zuazu JR, Hruza M, Rassweiler JJ, de la Rosette JJ (2010) The Clavien classification system to optimize the documentation of PCNL morbidity. Arch Ital Urol Androl 82(1):20–22

18.

Yamaguchi A, Skolarikos A, Buchholz N-P, Chomón GB, Grasso M, Saba P, Nakada S, de la Rosette J, Clinical Research Office Of The Endourological Society Percutaneous Nephrolithotomy Study Group (2011) Operating times and bleeding complications in percutaneous nephrolithotomy: a comparison of tract dilation methods in 5537 patients in the Clinical Research Office of the Endourological Society Percutaneous Nephrolithotomy Global Study. J Endourol 25(6):933–939

19.

Cormio L, Gonzalez GI, Tolley D, Sofer M, Muslumanoglu A, Klingler H-C, Stolzenburg J-U, de al Rosette J (2012) Exit strategies following percutaneous nephrolithotomy (PCNL): A comparison of surgical outcomes in The Clinical Research Office of The Endourological Society (CROES) PCNL Global Study. World J Urol (in press)

20.

Cormio L, Perrone A, Di Fino G, Ruocco N, De Siati M, de la Rosette J, Carrieri G (2012) TachoSil® sealed tubeless percutaneous nephrolithotomy to reduce urine leakage and bleeding: outcome from a randomized controlled study. J Urol 188(1):145–150
Acknowledgments
The Global PCNL Study was supported by an unrestricted educational grant from Olympus.
Conflict of interest
No competing financial interests exist.
Additional information
This study was conducted on behalf of the CROES PCNL Study Group.
About this article
Cite this article
Cormio, L., Preminger, G., Saussine, C. et al. Nephrostomy in percutaneous nephrolithotomy (PCNL): does nephrostomy tube size matter? Results from The Global PCNL Study from The Clinical Research Office Endourology Society. World J Urol 31, 1563–1568 (2013). https://doi.org/10.1007/s00345-012-0969-z
Received:

Accepted:

Published:

Issue Date:
Keywords
Exit strategy

Nephrostomy tube size

Renal access

Complications

PCNL