Abstract
Male chronic pelvic pain syndrome (MCPPS) and interstitial cystitis (IC) patients show striking similarities in clinical presentation, diagnostic evaluation, purported pathogenesis, and even response to therapy. This makes the distinction between them very difficult. This review aims to show just how easy it is for the clinician to miss the features of IC in the MCPPS patient (and conversely). Misdiagnosis can result in the rejection of various potentially helpful therapies while accurate early diagnosis will lead to appropriate therapies and a better quality of life for the patient.
Access options
Buy single article
Instant access to the full article PDF.
USD 39.95
Price includes VAT (USA)
Tax calculation will be finalised during checkout.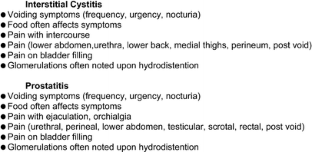 References
1.

Alexander RB, Brady F, Ponniah S (1997) Autoimmune prostatitis: evidence of T cell reactivity with normal prostatic proteins. Urology 50:893–899

2.

Amir R, Pai RR, Raghuveer CV (1998) Mast cell profile in prostatic lesions. Indian J Med Sci 52:507–513

3.

Anderson JB, Parivar F, Lee G et al. (1989) The enigma of interstitial cystitis: an autoimmune disease? Br J Urol 63:58–63

4.

Bates S, Talbot M (2000) Short course oral prednisolone therapy in chronic abacterial prostatitis and prostatodynia: case reports of three responders and one non-responder. Sex Transm Infect 76:398–399

5.

Batstone GR, Doble A, Gaston JS (2002) Autoimmune T cell responses to seminal plasma in chronic pelvic pain syndrome (CPPS). Clin Exp Immunol 128:302–307

6.

Berger RE, Krieger JN, Rothman I et al. (1997) Bacteria in the prostate tissue of men with idiopathic prostatic inflammation. J Urol 157:863–865

7.

Chen Y, Varghese R, Chiu P, et al. (1999) Urinary substance P is elevated in women with interstitial cystitis. J Urol 161:26

8.

Collins, MM, Stafford RS, O'Leary MP et al. (1998) How common is prostatitis? A national survey of physician visits. J Urol 159:1224–128

9.

Curhan GC, Speizer FE, Hunter DJ et al. (1999) Epidemiology of interstitial cystitis: a population based study. J Urol 161:549–552

10.

Driscoll A, Teichman JMH (2001) How do patients with interstitial cystitis present? J Urol 166:2118–2120

11.

Duncan JL, Schaeffer AJ (1997) Do infectious agents cause interstitial cystitis? Urology 49(Suppl 5A):48–51

12.

Elbadawi A (1997) Interstitial cystitis: a critique of current concepts with a new proposal for pathologic diagnosis and pathogenesis. Urology 49(Suppl 5A):14–40

13.

Elgavish A, Robert B, Lloyd K et al. (1995) Evidence for a mechanism of bacterial toxin action that may lead to the onset of urothelial injury in the interstitial cystitis bladder. J Urol 153:329A

14.

El-Mansoury M, Boucher W, Sant GR et al. (1994) Increased urine histamine and methylhistamine in interstitial cystitis. J Urol 153:350–353

15.

Feltis JT, Perez-Marrero R, Emerson LE (1987) Increased mast cells of bladder in suspected cases of interstitial cystitis: possible disease marker. J Urol 138:746–752

16.

Forrest JB, Vo Q (2001) Observations on the presentation, diagnosis, and treatment of interstitial cystitis in men. Urology 57(Suppl 6A):26–29

17.

Hanno PM (2002) Analysis of long-term elmiron therapy for interstitial cystitis. J Urol 159:2253–2254

18.

Hanno PM, Landis JR, Matthews-Cook Y et al. (1999) The diagnosis of interstitial cystitis revisited: lessons learned from the National Institutes of Health Interstitial Cystitis Database Study. J Urol 161:552–557

19.

Held PJ, Hanno PM, Wein AJ et al. (1990) Epidemiology of interstitial cystititis. In: Hanno PM, Staskin DR, Krane RJ, Wein AJ (eds) Interstitial iystitis. Springer, Berlin Heidelberg New York, pp 29–48.

20.

Hochreiter WW, Duncan JL, Schaeffer AJ (2000) Evaluation of the bacterial flora of the prostate using a 16S rRNA gene based polymerase chain reaction. J Urol 163:127–130

21.

Hohenfellner M, Nunues L, Schmidt RA et al. (1992) Interstitial cystitis: increased sympathetic innervation and related neuropeptide synthesis. J Urol 147:587–591

22.

Holm-Bentzen M, Sondergaard I, Hald T (1987) Urinary excretion of a metabolite of histamine (1,4-methyl-imidazole-acetic-acid) in painful bladder disease. Br J Urol 59:230–233

23.

Jarvi K, Wang W, Korithoski B et al. (2001) Identification of unusual bacteria in the semen and urine of men with NIH type III prostatitis. J Urol 165 (Suppl):27

24.

Jokinen E, Alfthan S, Oravisto K (1972) Antitissue autoantibodies in interstitial cystitis. Clin Exp Immunol 11:333–339

25.

Jones EG, Harper ME (1992) Studies on the proliferation, secretory activities, and epidermal growth factor expression in benign prostatic hyperplasia explant cultures. Prostate 20:133–149

26.

Kastrup J, Hald T, Larsen S et al. (1983) Histamine content and mast cell count of detrusor muscle in patients with interstitial cystitis and other types of chronic cystitis. Br J Urol 55:495–500

27.

Keay S, Zhang CO, Baldwin BR et al. (1998) Polymerase chain reaction amplification of bacterial 16S rRNA genes in interstitial cystitis and control patient bladder biopsies. J Urol 159:280–283

28.

Keay S, Zhang CO, Baldwin BR, Alexander RB (1999) Polymerase chain reaction amplification of bacterial 16S rRNA genes in prostate biopsies from men without chronic prostatitis. Urology 53:487–491

29.

Keith IM, Jin J, Neal DJr et al. (2001) Cell relationship in a Wistar rat model of spontaneous prostatitis. J Urol 166:323–328

30.

Kirby RS, Lowe D, Bultitude MI, Shuttleworth KE (1982) Intra-prostatic urinary reflux: an aetiological factor in abacterial prostatitis. Br J Urol 54:729–731

31.

Kirkemo A, Peabody M, Diokno AC et al. (1997) Associations among urodynamic findings and symptoms in women enrolled in the Interstitial Cystitis Database (IDCB) Study. Urology 49 (Suppl 5A):76–80

32.

Kushner L, Chiu PY, Brettschneider N et al. (2001) Urinary substance P concentration correlates with urinary frequency and urgency in interstitial cystitis patients treated with intravesical dimethyl sulfoxide and not intravesical anesthetic cocktail. Urology 57 (Suppl 1):129

33.

Lagunoff D, Martin TW, Read G (1983) Agents that release histamine from mast cells. Annu Rev Pharmacol Toxicol 23:331–351

34.

Lilius HG, Oravisto KJ, Valtonen EJ (1973) Origin of pain in interstitial cystitis. Scand J Urol Nephrol 7:150–152

35.

Lynes WL, Flynn SD, Shortliffe LD et al. (1987) Mast cell involvement in interstitial cystitis. J Urol 138:746–752

36.

Mayo ME, Ross SO, Krieger JN (1998) Few patients with "chronic prostatitis" have significant bladder outlet obstruction. Urology 52:417–421

37.

McNaughton CM, Pontari MA, O'Leary MP et al. (2001) Quality of life is impaired in men with chronic prostatitis: the Chronic Prostatitis Collaborative Research Network. J Gen Int Med 16:656–662

38.

McNeal JE (1988) Normal histology of the prostate. Am J Surg Pathol 12:619–633

39.

Miller JL, Rothman I, Bavendam TG, Berger RE (1995) Prostatodynia and interstitial cystitis: one and the same? Urology 45:587–590

40.

Moldwin RM, Mendelowitz F (1993) Pelvic floor dysfunction and interstitial cystitis. Paper presented at the Research Symposium on Interstitial Cystitis, A century of awareness, a decade of progress. Orlando, Florida, October 8–9, 1993

41.

Nickel JC (1998) Effective office management of chronic prostatitis. Urol Clin North Am 25:677–684

42.

Nickel JC, Johnston B, Downey J et al. (2000) Pentosan polysulfate therapy for chronic nonbacterial prostatitis (chronic pelvic pain syndrome category IIIA): a prospective multicenter clinical trial. Urology 56: 413–417

43.

Nickel JC, Downey J, Johnston B et al. (2001) Predictors of patient response to antibiotic therapy for the chronic prostatitis/chronic pelvic pain syndrome: a prospective multicenter trial. J Urol 165:1539–1544

44.

Nickel JC, Forrest J, Tomera KM et al. (2002) Effects of pentosanpolysulfate sodium: a multicenter randomized, placebo-controlled study. J Urol 167:63A

45.

Ohkawa M, Yamaguchi K et al. (1993) Antimicrobial treatment for chronic prostatitis as a means of defining the role of Ureaplasma urealyticum. Urol Int 51:129–132

46.

Pang X, Marchand J, Sant GR et al. (1995) Increased number of substance P positive fibers in interstitial cystitis. Br J Urol 75:744–750

47.

Parsons CL (1996) Potassium sensitivity test. Tech Urol 2:171–173

48.

Parsons CL, Albo M (2002) Intravesical potassium sensitivity in patients with prostatitis. J Urol 168:1054–1057

49.

Parsons CL, Lilly JD, Stein P et al. (1991) Epithelial dysfunction in nonbacterial cystitis (interstitial cystitis). J Urol 145:732–735

50.

Potts JM, Ward AM, Rackley RR (2000) Association of chronic urinary symptoms in women and ureaplasma urealyticum. Urology 55:486–489

51.

Schmidt RA, Vapnek JM (1991) Pelvic floor behavior and interstitial cystitis. Semin Urol 9:154–159

52.

Seethalaskshmi L, Bala RS, Malhotra RK et al. (1996) 17 beta-estradiol induced prostatitis in the rat is an autoimmune disease. J Urol 156:1838–1842

53.

Segura JW, Opitz JL, Greene LF (1979) Prostatitis, prostatosis or pelvic floor muscle tension myalgia? J Urol 122:168–169

54.

Shirley SW, Stewart BH, Mirelman S (1978) Dimethyl sulfoxide in the treatment of inflammatory genitourinary disorders. Urology 11:215–220

55.

Shortliffe LM, Sellers RG, Schachter J (1992) The characterization of nonbacterial prostatitis: search for an etiology. J Urol 148:1461–1466

56.

Shoskes DA, Shahed AR (1970) Detection of bacterial signal by 16S rRNA polymerase chain reaction in expressed prostatic secretions predicts response to antibiotic therapy in men with chronic pelvic pain syndrome. Tech Urol 6:240–242

57.

Silk MR (1970) Bladder antibodies in interstitial cystitis. J Urol 103:307–309

58.

Siroky MB, Goldstein I, Krane RJ (1981) Functional voiding disorders in men. J Urol 126:200–204

59.

Siroky MB (1994) Is it interstitial cystitis? Diagnostic distinctions in reduced bladder capacity. Contemp Urol 6:13–22

60.

Spanos C, Pang X, Ligris K et al. (1997) Stress-induced bladder mast cell activation: implications for interstitial cystitis. J Urol 157:669–672

61.

Talbot M, Bates S (2001) Variability of the symptoms of chronic abacterial prostatitis/chronic pelvic pain syndrome during intermittent therapy with rectal prenisolone foam for ulcerative colitis. Int J STD AIDS 12:752–753

62.

Theoarides TC, Sant GR (1991) Bladder mast cell activation in interstitial cystitis. Semin Urol 9:74–87

63.

Theoharides TC, Flaris N, Cronin CT et al. (1990) Mast cell activation in sterile bladder and prostate inflammation. Int Arch Allergy Appl Immunol 92:281–286

64.

Theoharides T, Duraisamy K, Sant G (2001) Mast cell involvement in interstitial cystitis: a review of human and experimental evidence. Urology 57(Suppl 6A):47–55

65.

Walsh PC (ed) Campbell's Urology, 8th edn. WB Saunders, Philadelphia

66.

Warren JW (1994) Interstitial cystitis as an infectious disease. Urol Clin North Am 21:31–39

67.

Weiss JM (2001) Pelvic floor myofascial trigger points: manual therapy for interstitial cystitis and the urgency-frequency syndrome. J Urol 166:226–2231

68.

Zisman A, Zisman E, Lindner A et al. (1995) Autoantibodies to prostate specific antigen in patients with benign prostatic hyperplasia. Urology 154:1052–1055
About this article
Cite this article
Eisenberg, E.R., Moldwin, R.M. Etiology: where does prostatitis stop and interstitial cystitis begin?. World J Urol 21, 64–69 (2003). https://doi.org/10.1007/s00345-003-0337-0
Received:

Accepted:

Published:

Issue Date:
Keywords
Prostatitis

Interstitial cystitis

Clinical presentation

Diagnostic evaluation

Appropriate therapy