Abstract
Silybum marianum (L.) Gaertn (Asteraceae) is a well-known medicinal plant enriched with antioxidative properties beneficial for liver-related diseases. The experiment was conducted to explore the effect of different PGPs as soil-supplied mode to modulate the growth-related attributes, gas exchange parameters, and antioxidative efficiency of different milk thistle ecotypes such as Faisalabad (FSD), Gujranwala (GUJ), Quetta (QTA), and Kallar Kahar (KK) under saline stresses conditions (NaCl 120 mM/irrigation water). After salinity development, ascorbic acid (AsA), thiourea (TU), and moringa leaf extract (MLE) were soil supplied with 500 µM, 250 µM, and 3% concentrations, respectively. Data conferring the growth parameters elucidate significant reduction in all growth parameters and pigment contents under salinity stress. The effect of PGPs effectively upregulates the activity of these enzymatic antioxidants and improved salt tolerance to saline field conditions with numerous additional stresses, and the order of improvement was AsA, followed by MLE and TU. The percent increase with AsA treatment was noted as GR (34.78), DHAR (1.73), MDHAR (11.83), soluble sugar (8.78), amino acid (7.47), and free proline 15.75, while percent decrease in H2O2 content was 20.56 as compared to control plants. QTA and FSD ecotypes were observed as salt-tolerant ecotypes compared to GUJ and KK.
Access options
Buy single article
Instant access to the full article PDF.
USD 39.95
Price includes VAT (USA)
Tax calculation will be finalised during checkout.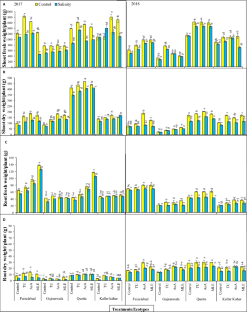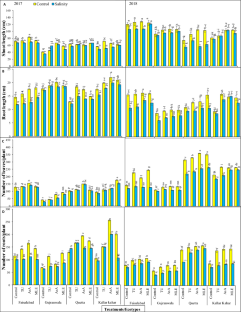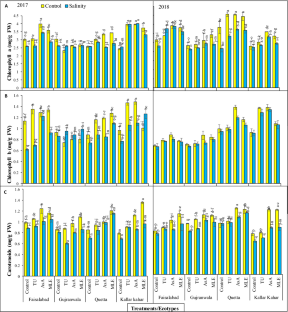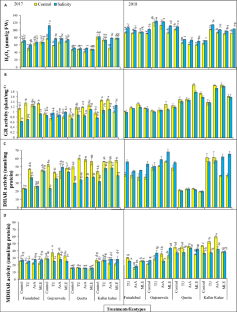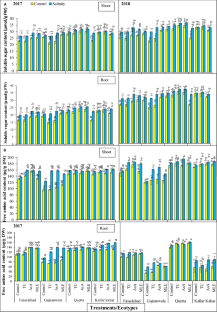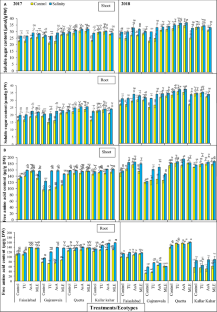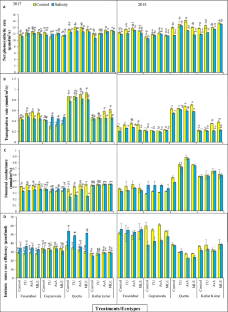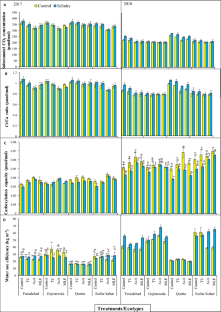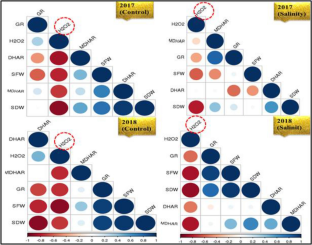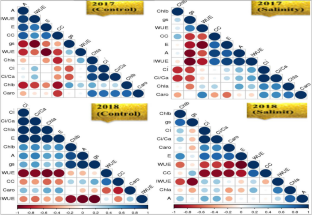 References
Abenavoli L, Izzo AA, Milić N, Cicala C, Santini A, Capasso R (2018) Milk thistle (Silybum marianum): a concise overview on its chemistry, pharmacological, and nutraceutical uses in liver diseases. Phytother Res 32:2202–2213

Ahmad P, Abd Allah EF, Alyemeni MN, Wijaya L, Alam P, Bhardwaj R, Siddique KH (2018) Exogenous application of calcium to 24-epibrassinosteroid pre-treated tomato seedlings mitigates NaCl toxicity by modifying ascorbate–glutathione cycle and secondary metabolites. Sci Rep 8(1):1–5

Ahmad P, Ahanger MA, Alam P, Alyemeni MN, Wijaya L, Ali S, Ashraf M (2019) Silicon (Si) supplementation alleviates NaCl toxicity in mung bean [Vigna radiata (L.) Wilczek] through the modifications of physio-biochemical attributes and key antioxidant enzymes. J Plant Growth Regul 38:70–82

Akram NA, Shafiq F, Ashraf M (2017) Ascorbic acid—a potential oxidant scavenger and its role in plant development and abiotic stress tolerance. Front Plant Sci 8:613

Ali S et al (2017) Biochar soil amendment on alleviation of drought and salt stress in plants: a critical review. Environ Sci Pollut Res 24:12700–12712

Arnon DI (1949) Copper enzymes in isolated chloroplasts. Polyphenoloxidase in Beta vulgaris. Plant Physiol 24:1

Aslam MF et al (2020) Inorganic fertilization improves quality and biomass of Moringa oleifera L. Agrofor Syst 94:975–983

Bates LS, Waldren RP, Teare I (1973) Rapid determination of free proline for water-stress studies. Plant Soil 39:205–207

Batool S et al (2019) Impact of natural and synthetic plant stimulants on Moringa seedlings grown under low-temperature conditions. Int Lett Nat Sci 76:50–59

Billah M, Rohman M, Hossain N, Uddin MS (2017) Exogenous ascorbic acid improved tolerance in maize (Zea mays L.) by increasing antioxidant activity under salinity stress. Afr J Agric Res 12:1437–1446

Cuevas J, Daliakopoulos IN, del Moral F, Hueso JJ, Tsanis IK (2019) A review of soil-improving cropping systems for soil salinization. Agronomy 9:295

Dalton DA, Baird LM, Langeberg L, Taugher CY, Anyan WR, Vance CP, Sarath G (1993) Subcellular localization of oxygen defense enzymes in soybean (Glycine max [L.] Merr.) root nodules. Plant Physiol 102:481–489

Davies B (1976) Chemistry and biochemistry of plant pigments. Carotenoids 2:38–165

Denev P, Ognyanov M, Georgiev Y, Teneva D, Klisurova D, Yanakieva IZ (2020) Chemical composition and antioxidant activity of partially defatted milk thistle (Silybum marianum L.) seeds. Bulg Chem Commun 52:182–187

Faisal M et al (2020) Moringa landraces of Pakistan are potential source of premium quality oil. S Afr J Bot 129:397–403

Faizan M, Bhat JA, Chen C, Alyemeni MN, Wijaya L, Ahmad P, Yu F (2021) Zinc oxide nanoparticles (ZnO-NPs) induce salt tolerance by improving the antioxidant system and photosynthetic machinery in tomato. Plant Physiol Biochem 161:122–130

Farooq M, Nadeem F, Arfat M, Nabeel M, Musadaq S, Cheema S, Nawaz A (2018) Exogenous application of allelopathic water extracts helps improving tolerance against terminal heat and drought stresses in bread wheat (Triticum aestivum L. Em. Thell.). J Agron Crop Sci 204:298–312

Grieve C, Grattan S (1983) Rapid assay for determination of water soluble quaternary ammonium compounds. Plant Soil 70:303–307

Hafeez MB, Raza A, Zahra N, Shaukat K, Akram MZ, Iqbal S, Basra SMA (2021) Gene regulation in halophytes in conferring salt tolerance. In: Handbook of bioremediation. Elsevier, Amsterdam, pp 341–370

Hamilton P, Van Slyke D (1943) Amino acid determination with ninhydrin. J Biol Chem 150:231–250

Hammami H, Saadatian B, Hosseini SAH (2020) Geographical variation in seed germination and biochemical response of milk thistle (Silybum marianum) ecotypes exposed to osmotic and salinity stresses. Ind Crop Prod 152:112507

Hasanuzzaman M, Bhuyan M, Anee TI, Parvin K, Nahar K, Mahmud JA, Fujita M (2019) Regulation of ascorbate-glutathione pathway in mitigating oxidative damage in plants under abiotic stress. Antioxidants 8:384

Hniličková H, Hnilička F, Orsák M, Hejnák V (2019) Effect of salt stress on growth, electrolyte leakage, Na+ and K+ content in selected plant species. Plant Soil Environ 65(2):90–96

Huang P, He L, Abbas A, Hussain S, Hussain S, Du D, Hafeez MB, Balooch S, Zahra N, Ren X, Rafiq M (2021) Seed priming with sorghum water extract improves the performance of Camelina (Camelina sativa (L.) Crantz.) under salt stress. Plants 10(4):749

Hossain MA, Asada K (1985) Monodehydroascorbate reductase from cucumber is a flavin adenine dinucleotide enzyme. J Biol Chem 260:12920–12926

Hussain T, Koyro HW, Zhang W, Liu X, Gul B, Liu X (2020) Low salinity improves photosynthetic performance in Panicum antidotale under drought stress. Front Plant Sci 11:481

Iqbal S, Basra SM, Afzal I, Wahid A, Saddiq MS, Hafeez MB, Jacobsen SE (2019) Yield potential and salt tolerance of quinoa on salt-degraded soils of Pakistan. J Agron Crop Sci 205:13–21

Ishaq H, Nawaz M, Azeem M, Mehwish M, Naseem MBB (2021) Ascorbic acid (Asa) improves salinity tolerance in wheat (Triticum aestivum L.) by modulating growth and physiological attributes. J Bioresour Manag 8:1

Kaya C, Ashraf M, Sönmez O (2015) Promotive effect of exogenously applied thiourea on key physiological parameters and oxidative defense mechanism in salt-stressed Zea mays L. plants. Turk J Bot 39:786–795

Kazazis CE, Evangelopoulos AA, Kollas A, Vallianou NG (2014) The therapeutic potential of milk thistle in diabetes. Rev Diabet Stud 11:167

Khan S, Basit A, Hafeez MB, Irshad S, Bashir S, Bashir S et al (2021) Moringa leaf extract improves biochemical attributes, yield and grain quality of rice (Oryza sativa L.) under drought stress. PLoS ONE 16(7):e0254452

Khanna K, Jamwal VL, Gandhi SG, Ohri P, Bhardwaj R (2019a) Metal resistant PGPR lowered Cd uptake and expression of metal transporter genes with improved growth and photosynthetic pigments in Lycopersicon esculentum under metal toxicity. Sci Rep 9(1):1–4

Khanna K, Jamwal VL, Sharma A, Gandhi SG, Ohri P, Bhardwaj R, Al-Huqail AA, Siddiqui MH, Ali HM, Ahmad P (2019b) Supplementation with plant growth promoting rhizobacteria (PGPR) alleviates cadmium toxicity in Solanum lycopersicum by modulating the expression of secondary metabolites. Chemosphere 230:628–639

Khanna K, Jamwal VL, Kohli SK, Gandhi SG, Ohri P, Bhardwaj R, Abd Allah EF, Hashem A, Ahmad P (2019c) Plant growth promoting rhizobacteria induced Cd tolerance in Lycopersicon esculentum through altered antioxidative defense expression. Chemosphere 217:463–474

Khanna K, Kohli SK, Sharma A, Ohri P, Bhardwaj R, Al-Huqail AA, Siddiqui MH, Ahmad P (2020) Histochemical and physicochemical studies reveal improved defense in tomato under Cd stress with rhizobacterial supplementation. Plant Soil 446(1):393–411

Lyubenova L, Götz C, Golan-Goldhirsh A, Schröder P (2007) Direct effect of Cd on glutathione S-transferase and glutathione reductase from Calystegia sepium. Int J Phytoremediat 9:465–473

Machado RMA, Serralheiro RP (2017) Soil salinity: effect on vegetable crop growth. Management practices to prevent and mitigate soil salinization. Horticulturae 3:30

Manai J, Gouia H, Corpas FJ (2014) Redox and nitric oxide homeostasis are affected in tomato (Solanum lycopersicum) roots under salinity-induced oxidative stress. J Plant Physiol 171:1028–1035

Martinelli T, Andrzejewska J, Salis M, Sulas L (2015) Phenological growth stages of Silybum marianum according to the extended BBCH scale. Ann Appl Biol 166:53–66

Mubarik MS et al (2021) A manipulative interplay between positive and negative regulators of phytohormones: a way forward for improving drought tolerance in plants. Physiol Plant 172(2):1–22

Munns R, Tester M (2008) Mechanisms of salinity tolerance. Annu Rev Plant Biol 59:651–681

Naz H, Akram NA, Ashraf M (2016) Impact of ascorbic acid on growth and some physiological attributes of cucumber (Cucumis sativus) plants under water-deficit conditions. Pak J Bot 48:877–883

Parvin K, Hasanuzzaman M, Bhuyan M, Nahar K, Mohsin SM, Fujita M (2019) Comparative physiological and biochemical changes in tomato (Solanum lycopersicum L.) under salt stress and recovery: role of antioxidant defense and glyoxalase systems. Antioxidants 8:350

Pinheiro HA et al (2008) Leaf gas exchange, chloroplastic pigments and dry matter accumulation in castor bean (Ricinus communis L) seedlings subjected to salt stress conditions. Ind Crop Prod 27:385–392

Porwal O, Ameen MSM, Anwer ET, Uthirapathy S, Ahamad J, Tahsin A (2019) Silybum marianum (Milk Thistle): review on its chemistry, morphology, ethno medical uses, phytochemistry and pharmacological activities. J Drug Deliv Ther 9:199–206

Rady MM, Mohamed GF (2015) Modulation of salt stress effects on the growth, physio-chemical attributes and yields of Phaseolus vulgaris L. plants by the combined application of salicylic acid and Moringa oleifera leaf extract. Sci Hortic 193:105–113

Rady MM, Kuşvuran A, Alharby HF, Alzahrani Y, Kuşvuran S (2019) Pretreatment with proline or an organic bio-stimulant induces salt tolerance in wheat plants by improving antioxidant redox state and enzymatic activities and reducing the oxidative stress. J Plant Growth Regul 8:449–462

Saddiq MS et al (2019) Mitigation of salinity stress in wheat (Triticum aestivum L.) seedlings through physiological seed enhancements. J Plant Nutr 42:1192–1204

Saddiq MS, Iqbal S, Hafeez MB, Ibrahim AM, Raza A, Fatima EM, Baloch H, Woodrow P, Ciarmiello LF (2021a) Effect of salinity stress on physiological changes in winter and spring wheat. Agronomy 11(6):1193

Saddiq MS, Afzal I, Iqbal S, Hafeez MB, Raza A (2021b) Low sodium content in leaves improves grain yield and physiological performance of wheat genotypes in saline-sodic soil. Trop Agric Res 51:e67663

Shin S-Y, Kim M-H, Kim Y-H, Park H-M, Yoon H-S (2013) Co-expression of monodehydroascorbate reductase and dehydroascorbate reductase from Brassica rapa effectively confers tolerance to freezing-induced oxidative stress. Mol Cell 36:304–315

Trigo C, Castelló ML, Ortolá MD, García-Mares FJ, Desamparados Soriano M (2021) Moringa oleifera: an unknown crop in developed countries with great potential for industry and adapted to climate change. Foods 10:31

Velikova V, Yordanov I, Edreva A (2000) Oxidative stress and some antioxidant systems in acid rain-treated bean plants: protective role of exogenous polyamines. Plant Sci 151:59–66

Wahid A, Basra S, Farooq M (2017) Thiourea: a molecule with immense biological significance for plants. Int J Agric Biol 19:911–920

Yoshida S, Forno DA, Cock JH (1971) Laboratory manual for physiological studies of rice. Laboratory manual for physiological studies of rice, 61. International Rice Research Institute

Yuan P, Pan H, Boak EN, Pierson LS III, Pierson EA (2020) Phenazine-producing rhizobacteria promote plant growth and reduce redox and osmotic stress in wheat seedlings under saline conditions. Front Plant Sci 11:1442

Zahra N, Mahmood S, Raza ZA (2018) Salinity stress on various physiological and biochemical attributes of two distinct maize (Zea mays L.) genotypes. J Plant Nutr 41:1368–1380

Zahra N, Raza ZA, Mahmood S (2020) Effect of salinity stress on various growth and physiological attributes of two contrasting maize genotypes. Brazil Arc Biol Technol 18:63

Zahra N et al (2021a) Hypoxia and Anoxia Stress: plant responses and tolerance mechanisms. J Agron Crop Sci. https://doi.org/10.1111/jac.12471

Zahra N, Wahid A, Basra SMA, Arfan M (2021b) Phenotypic plasticity for growth and nutrient uptake in milk thistle under salt stress: modulatory role of soil supplementations with plant growth promoters. Int J Agric Biol 25(3):692–700

Zahra N, Wahid A, Shaukat K, Hafeez MB, Batool A, Hasanuzzaman M (2021c) Oxidative stress and tolerance potential of milk thistle ecotypes after supplementation of different plant growth-promoting agents under salinity. Plant Physiol Biochem 166:53–65
Acknowledgements
 The authors would like to acknowledge the Department of Botany, University of Agricultural, Faisalabad, Pakistan, for providing facilities for this study which is a part of NZ Ph.D work. The authors would also like to extend their sincere appreciation to the Researchers Supporting Project Number (RSP-2021/180), King Saud University, Saudi Arabia.
Ethics declarations
Conflict of interest
The authors declare that they have no known competing financial interests or personal relationships that could have appeared to influence the work reported in this paper.
Additional information
Publisher's Note
Springer Nature remains neutral with regard to jurisdictional claims in published maps and institutional affiliations.
Communicated by Parvaiz Ahmad.
About this article
Cite this article
Zahra, N., Wahid, A., Hafeez, M.B. et al. Plant Growth Promoters Alleviate Oxidative Damages and Improve the Growth of Milk Thistle (Silybum marianum L.) Under Salinity Stress. J Plant Growth Regul (2021). https://doi.org/10.1007/s00344-021-10498-w
Received:

Accepted:

Published:
Keywords
Salinity stress

Milk thistle

Ecotypes

Osmoprotectants

Antioxidants

Gas exchange attributes

Salinity tolerance

Plant growth promoters

Soil supplementation