Abstract
Studies have shown that the application of arbuscular mycorrhizal (AM) fungi or exogenous melatonin (MT) can alleviate drought stress and improve plant growth, but the additive effects of both treatments on plants grown under drought stress are largely unknown. In this study, we conducted a pot experiment to investigate the effects of AM inoculation (Funneliformis mosseae BGC XJ01) and/or MT application on tobacco (Nicotiana tabacum L. cv. Yuyan No. 6) seedling growth, photosynthetic and chlorophyll fluorescence parameters, antioxidant enzymatic activity, osmotic adjustment substance accumulation, and nutrient uptake under three water conditions (75–80%, 50–55%, and 30–35% of the maximum moisture retention capacity). The results show that applying either the AM inoculant or MT alone significantly increased tobacco seedling growth and decreased the negative effects of drought stress. Furthermore, AM inoculation alone promoted root function (root biomass, root/shoot ratio, root system architecture), facilitated the capture and conversion of solar energy (photosynthetic rate, ΦPSII), and increased nutrient uptake more effectively than MT. In contrast, exogenous MT application alone was more effective at increasing peroxidase and catalase activity and decreasing H2O2 and MDA accumulation, which in turn enhanced the adaptation of seedlings to drought stress by improving their antioxidant capacity and reducing oxidative damage. Nevertheless, applying exogenous MT significantly enhanced the AM colonization rate under AM inoculation conditions but had no obvious effect on AM colonization under noninoculated conditions. The combined application of AM and MT had an additive effect and produced the largest increases in tobacco seedling growth, photosynthetic ability, antioxidant enzymatic activity, and N, P, and K uptake and the largest decreases in H2O2 and MDA contents of all the treatments. The results suggest that AM inoculation in combination with exogenous MT application may render plants more productive and more tolerant of drought stress.
Access options
Buy single article
Instant access to the full article PDF.
USD 39.95
Price excludes VAT (USA)
Tax calculation will be finalised during checkout.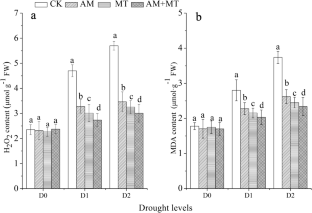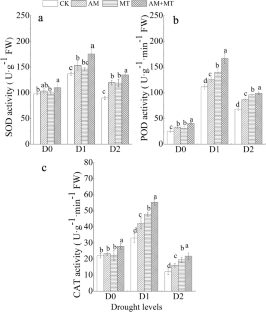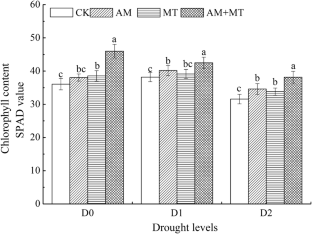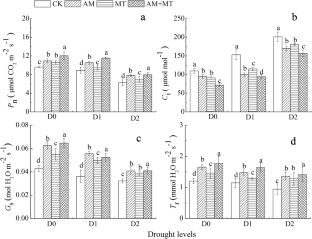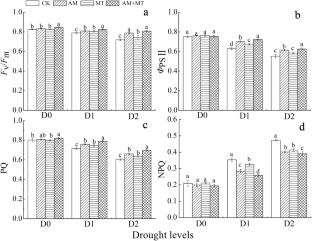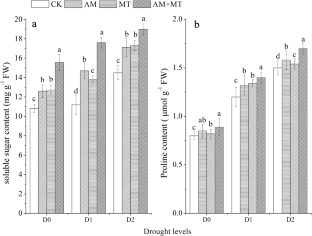 References
Abbaspour H, Saeidi-Sar S, Afshari H, Abdel-Wahhab MA (2012) Tolerance of mycorrhiza infected pistachio (Pistacia vera L.) seedling to drought stress under glasshouse conditions. J Plant Physiol 169:704–709

Ahammed GJ, Li X, Yang YX, Liu CC, Zhou GZ, Wan HJ, Cheng Y (2019) Tomato WRKY81 acts as a negative regulator for drought tolerance by modulating guard cell H2O2–mediated stomatal closure. Environ Exp Bot 171:103960

Ahammed GJ, Mao Q, Yan YR, Wu MJ, Wang YQ, Ren JJ, Guo P, Liu AR, Chen SC (2020a) Role of melatonin in arbuscular mycorrhizal fungi-induced resistance to Fusarium wilt in cucumber. Phytopathology. https://doi.org/10.1094/phyto-11-19-0435-r

Alam SA, Huang JG, Stadt KJ, Comeau PG, Dawson A, Gea-Izquierdo G, Aakala T, Holtta T, Vesala T, Makela A, Berninger F (2017) Effects of competition, drought stress and photosynthetic productivity on the radial growth of white spruce in western Canada. Front Plant Sci 8:1915

Arnao MB, Hernández-Ruiz J (2014) Melatonin: plant growth regulator and/or biostimulator during stress? Trends Plant Sci 19:789–797

Arnao MB, Hernández-Ruiz J (2015) Functions of melatonin in plants: a review. J Pineal Res 59:133–150

Augé RM (2001) Water relations, drought and vesicular arbuscular mycorrhizal symbiosis. Mycorrhiza 11:3–42

Augé RM, Toler HD, Saxton AM (2015) Arbuscular mycorrhizal symbiosis alters stomatal conductance of host plants more under drought than under amply watered conditions: a meta-analysis. Mycorrhiza 25:13–24

Barea JM, Pozo MJ, Azcon R, Azcon-Aguilar C (2005) Microbial cooperation in the rhizosphere. J Exp Bot 56:1761–1778

Bárzana G, Aroca R, Paz JA, Chaumont F, Martinez-Ballest MC, Carvajal M, Ruiz-Lozano JM (2012) Arbuscular mycorrhizal symbiosis increases relative apoplastic water flow in roots of the host plant under both well-watered and drought stress conditions. Ann Bot 109:1009–1017

Bates LS, Waldren RP, Teare ID (1973) Rapid determination of free proline for water-stress studies. Plant Soil 39:205–207

Bernardo L, Carletti P, Badeck FW, Rizza F, Morcia C, Ghizzoni R, Lucini L (2019) Metabolomic responses triggered by arbuscular mycorrhiza enhance tolerance to water stress in wheat cultivars. Plant Physiol Biochem 137:203–221

Berruti A, Borriello R, Orgiazzi A, Barbera AC, Lumini E, Bianciotto V (2014) Arbuscular mycorrhizal fungi and their value for ecosystem management. In: Oscar G (ed) The dynamic balance of the planet. IntechOpen, London, pp 159–191

Buege JA, Aust SD (1978) Microsomal lipid peroxidation. Method Enzymol 52:302–310

Cakmak I, Marschner H (1992) Magnesium deficiency and high light intensity enhance activities of superoxide dismutase, ascorbate peroxidase, and glutathione reductase in bean leaves. Plant Physiol 98:1222–1227

Campos CN, Ávila RG, de Souza KRD, Azevedo LM, Alves JD (2019) Melatonin reduces oxidative stress and promotes drought tolerance in young Coffea arabica L plants. Agr Water Manage 211:37–47

Carnicer J, Coll M, Ninyerola M, Pons X, Sanchez G, Penuelas J (2011) Widespread crown condition decline, food web disruption, and amplified tree mortality with increased climate change-type drought. Proc Natl Acad Sci USA 108:1474–1478

Chen Q, Qi WB, Reiter RJ, Wei W, Wang BM (2009) Exogenously applied melatonin stimulates root growth and raises endogenous indoleacetic acid in roots of etiolated seedlings of Brassica juncea. J Plant Physiol 166:324–328

Chen X, Liao DH, Yang XF, Ji MJ, Wang SS, Gu M, Chen AQ, Xu GH (2017) Three cis-regulatory motifs, auxre, MYCRS1 and MYCRS2, are required for modulating the auxin- and mycorrhiza-responsive expression of a tomato GH3 gene. Plant Cell Physiol 58:770–778

Dubbels R, Reiter RJ, Klenke E, Goebel A, Schnakenberg E, Ehlers C, Schloot W (1995) Melatonin in edible plants identified by radioimmunoassay and by high performance liquid chromatography-mass spectrometry. J Pineal Res 18:28–31

DuBois M, Gilles KA, Hamilton JK, Rebers PA, Smith F (1956) Colorimetric method for determination of sugars and related substances. Anal Chem 28:350–356

Etemadi M, Gutjahr C, Couzigou JM, Zouine M, Lauressergues D, Timmers A, Audran C, Bouzayen M, Bécard G, Combier JP (2014) Auxin perception is required for arbuscule development in arbuscular mycorrhizal symbiosis. Plant Physiol 166:281–292

Flexas J, Medrano H (2002) Drought-inhibition of photosynthesis in C3 plants: stomatal and non-stomatal limitations revisited. Ann Bot 89:183–189

Ganie SA, Ahammed GJ, Wani SH (2020) Vascular plant one zinc-finger (VOZ) transcription factors: novel regulators of abiotic stress tolerance in rice (Oryza sativa L.). Genet Resour Crop Evol 67:799–807

Ghosh M, Singh SP (2005) A comparative study of cadmium phytoextraction by accumulator and weed species. Environ Pollut 133:365–371

Giovannetti M, Mosse B (1980) Evaluation of techniques for measuring vesicular arbuscular mycorrhizal infection in roots. New Phytol 84:489–500

Gupta N, Thind SK, Bains NS (2014) Glycine betaine application modifies biochemical attributes of osmotic adjustment in drought stressed wheat. Plant Growth Regul 72:221–228

Hasan MK, Ahammed GJ, Sun SC, Li MQ, Yin HQ, Zhou J (2019) Melatonin inhibits cadmium translocation and enhances plant tolerance by regulating sulfur uptake and assimilation in Solanum lycopersicum L. J Agric Food Chem 67:10563–10576

Hattori A, Migitaka H, Iigo M, Itoh M, Yamamoto K, Ohtani-Kaneko R, Hara M, Suzuki T, Reiter RJ (1995) Identification of melatonin in plants and its effects on plasma melatonin levels and binding to melatonin receptors in vertebrates. Biochem Mol Biol Int 35:627–634

Hernández-Ruiz J, Cano A, Arnao MB (2004) Melatonin: a growth-stimulating compound present in lupin tissues. Planta 220:140–144

Hernández-Ruiz J, Cano A, Arnao MB (2005) Melatonin acts as a growth-stimulating compound in some monocot species. J Pineal Res 39:137–142

Huang Z, Zou ZR, He CX, He ZQ, Zhang ZB, Li JM (2011) Physiological and photosynthetic responses of melon (Cucumis melo L.) seedlings to three Glomus species under water deficit. Plant Soil 339:391–399

Jiang CQ, Cui QR, Feng K, Xu DF, Li CF, Zheng QS (2016) Melatonin improves antioxidant capacity and ion homeostasis and enhances salt tolerance in maize seedlings. Acta Physiol Plant 38:82

Juan M, Rivero RM, Romero L, Ruiz JM (2005) Evaluation of some nutritional and biochemical indicators in selecting salt-resistant tomato cultivars. Environ Exp Bot 54:193–201

Kaczmarek M, Fedorowicz-Strońska O, Głowacka K, Waśkiewicz A, Sadowski J (2017) CaCl2 treatment improves drought stress tolerance in barley (Hordeum vulgare L.). Acta Physiol Plant 39:41

Karimi S, Yadollahi A, Arzani K, Imani A, Aghaalikhani M (2015) Gas-exchange response of almond genotypes to water stress. Photosynthetica 53:29–34

Lenoir I, Fontaine J, Lounès-Hadj Sahraoui A (2016) Arbuscular mycorrhizal fungal responses to abiotic stresses: a review. Phytochemistry 123:4–15

Liang BW, Ma CQ, Zhang ZJ, Wei ZW, Gao TT, Zhao Q, Ma FW, Li C (2018) Long-term exogenous application of melatonin improves nutrient uptake fluxes in apple plants under moderate drought stress. Environ Exp Bot 155:650–661

Liao DH, Chen X, Chen AQ, Wang HM, Liu JJ, Liu JL, Gu M, Sun SB, Xu GH (2015) The characterization of six auxin-induced tomato GH3 genes uncovers a member, SlGH3.4, strongly responsive to arbuscular mycorrhizal symbiosis. Plant Cell Physiol 56:674–687

Liao DH, Wang SS, Cui MM, Liu JH, Chen AQ, Xu GH (2018) Phytohormones regulate the development of arbuscular mycorrhizal symbiosis. Int J Mol Sci 19:3146

Liu L, Li JW, Yue FX, Yan XW, Wang FY, Bloszies S, Wang YF (2018) Effects of arbuscular mycorrhizal inoculation and biochar amendment on maize growth, cadmium uptake and soil cadmium speciation in Cd-contaminated soil. Chemosphere 194:495–503

Liu L, Li D, Ma YL, Wang LJ, Zhao SM, Zhou JX, Shen HT, Wang YF (2019) Alleviation of drought stress and the physiological mechanisms in tobacco seedlings treated with exogenous melatonin. Acta Prataculturae Sinica 28:95–105 (in Chinese)

Maksup S, Roytrakul S, Supaibulwatana K (2014) Physiological and comparative proteomic analyses of Thai jasmine rice and two check cultivars in response to drought stress. J Plant Interact 9:43–55

Martin-StPaul N, Delzon S, Cochard H (2017) Plant resistance to drought depends on timely stomatal closure. Ecol Lett 20:1437–1447

Mathur S, Tomar RS, Jajoo A (2018) Arbuscular Mycorrhizal fungi (AMF) protects photosynthetic apparatus of wheat under drought stress. Photosynth Res 139:227–238

Meixner C, Ludwig-Müller J, Miersch O, Gresshoff P, Staehelin C, Vierheilig H (2005) Lack of mycorrhizal autoregulation and phytohormonal changes in the supernodulating soybean mutant nts1007. Planta 222:709–715

Meixner C, Vegvari G, Ludwig-Müller J, Gagnon H, Steinkellner S, Staehelin C, Vierheilig H (2007) Two defined alleles of the LRR receptor kinase GmNARK in supernodulating soybean govern differing autoregulation of mycorrhization. Physiol Plant 130:261–270

Park Williams A, Allen CD, Macalady AK, Griffin D, Woodhouse CA, Meko DM, McDowell NG (2012) Temperature as a potent driver of regional forest drought stress and tree mortality. Nat Clim Chang 3:292–297

Patterson BD, Macrae EA, Ferguson IB (1984) Estimation of hydrogen peroxide in plant extracts using titanium (IV). Anal Biochem 139:487–492

Pozo MJ, López-Ráez JA, Azcón C, García-Garrido JM (2015) Phytohormones as integrators of environmental signals in the regulation of mycorrhizal symbioses. New Phytol 205:1431–1436

Rai AC, Singh M, Shah K (2012) Effect of water withdrawal on formation of free radical, proline accumulation and activities of antioxidantenzymes in ZAT12-transformed transgenic tomato plants. Plant Physiol Biochem 61:108–114

Rao KVM, Sresty TVS (2000) Antioxidative parameters in the seedlings of pigeonpea (Cajanus cajan (L.) Millspaugh) in response to Zn and Ni stresses. Plant Sci 157:113–128

Reiter RJ, Tan DX, Zhou Z, Coelho-Cruz MH, Fuentes-Broto L, Galano A (2015) Phytomelatonin: assisting plants to survive and thrive. Molecules 20:7396–7437

Ruiz-Lozano JM (2003) Arbuscular mycorrhizal symbiosis and alleviation of osmotic stress. New perspectives for molecular studies. Mycorrhiza 13:309–317

Ruiz-Lozano JM, Aroca R, Zamarreño ÁM, Molina S, Andreo-Jiménez B, Porcel R, López-Ráez JA (2015) Arbuscular mycorrhizal symbiosis induces strigolactone biosynthesis under drought and improves drought tolerance in lettuce and tomato. Plant Cell Environ 39:441–452

Salah SM, Guan YJ, Cao DD, Li J, Aamir N, Hu QJ, Hu WM, Ning MY, Hu J (2015) Seed priming with polyethylene glycol regulating the physiological and molecular mechanism in rice (Oryza sativa L.) under nano-ZnO stress. Sci Rep 5:14278

Santander C, Aroca R, Ruiz-Lozano JM, Olave J, Cartes P, Borie F, Cornej P (2017) Arbuscular mycorrhiza effects on plant performance under osmotic stress. Mycorrhiza 27:639–657

Sarropoulou V, Dimassi-Theriou K, Therios I, Koukourikou-Petridou M (2012) Melatonin enhances root regeneration, photosynthetic pigments, biomass, total carbohydrates and proline content in the cherry rootstock PHL-C (Prunus avium×Prunus cerasus). Plant Physiol Biochem 61:162–168

Shi HT, Qian YQ, Tan DX, Reiter RJ, He CZ (2015) Melatonin induces the transcripts of CBF/DREB1s and their involvement in both abiotic and biotic stresses in Arabidopsis. J Pineal Res 59:334–342

Shi HT, Chen KL, Wei YX, He CZ (2016) Fundamental issues of melatonin-mediated stress signaling in plants. Front Plant Sci 7:1124

Shi QH, Ding F, Wang XF, Wei M (2007) Exogenous nitric oxides protect cucumber roots against oxidative stress induced by salt stress. Plant Physiol Biochem 45:542–550

Smith SE, Jakobsen I, Gronlund M, Smith FA (2011) Roles of arbuscular mycorrhizas in plant phosphorus nutrition: interactions between pathways of phosphorus uptake in arbuscular mycorrhizal roots have important implications for understanding and manipulating plant phosphorus acquisition. Plant Physiol 156:1050–1057

Sperdouli I, Moustakas M (2012) Interaction of proline, sugars, and anthocyanins during photosynthetic acclimation of Arabidopsis thaliana to drought stress. J Plant Physiol 169:577–585

Sperry JS (2004) Coordinating stomatal and xylem functioning: an evolutionary perspective. New Phytol 162:568–570

Stec N, Banasiak J, Jasiński M (2016) Abscisic acid: an overlooked player in plant-microbe symbioses formation? Acta Biochim Pol 63:53–58

Subramanian K, Santhanakrishnan P, Balasubramanian P (2006) Responses of field grown tomato plants to arbuscular mycorrhizal fungal colonization under varying intensities of drought stress. Sci Hortic 107:245–253

Szafrańska K, Glińska S, Janas KM (2013) Ameliorative effect of melatonin on meristematic cells of chilled and re-warmed Vigna radiata roots. Bio Plantarum 57:91–96

Takeda N, Handa Y, Tsuzuki S, Kojima M, Sakakibara H, Kawaguchi M (2015) Gibberellins interfere with symbiosis signaling and gene expression and alter colonization by arbuscular mycorrhizal fungi in Lotus japonicus. Plant Physiol 167:545–557

Wang YG, Peng CX, Zhan YN, Yu LH, Li M, Li J, Geng G (2017) Comparative proteomic analysis of two sugar beet cultivars with contrasting drought tolerance. J Plant Growth Regul 36:537–549

Wu QS, Srivastava AK, Zou YN (2013) AMF-induced tolerance to drought stress in citrus: a review. Sci Hortic 164:77–87

Yang X, Shao XH, Mao XY, Li MH, Zhao TC, Wang F, Chang TT, Guang JF (2019) Influences of drought and microbial water-retention fertilizer on leaf area index and photosynthetic characteristics of flue-cured tobacco. Irrig Drain 68:729–739

Zhang J, Zhang JY, Wang MY, Wu SC, Wang HL, Niazi NK, Man YB, Christie P, Shan SD, Wong MH (2019a) Effect of tobacco stem-derived biochar on soil metal immobilization and the cultivation of tobacco plant. J Soil Sediment 19:2313–2321

Zhang Y, Liang Y, Zhao X, Jin X, Hou LP, Shi Y, Ahammed GJ (2019b) Silicon compensates phosphorus deficit-Induced growth inhibition by improving photosynthetic capacity, antioxidant potential, and nutrient homeostasis in tomato. Agronomy 9:733

Zhang ZW, Wu P, Zhang WB, Yang ZF, Liu HY, Ahammed GJ, Cui JX (2019c) Calcium is involved in exogenous NO-induced enhancement of photosynthesis in cucumber (Cucumis sativus L.) seedlings under low temperature. Sci Hortic-Amsterdam 261:108953

Zhou Y, Guang YL, Li JW, Wang F, Ahammed GJ, Yang YX (2019) The CYP74 gene family in watermelon: genome-wide identification and expression profiling under hormonal stress and root-knot nematode infection. Agronomy 9:872
Acknowledgements
This work was supported by the National Natural Science foundation of China (31700367), the HAUST Discipline Improvement and Promotion Plan A (13660001, 13660002), China Tobacco Henan Industrial Limited Company Project (2020410001340006), and Luoyang Branch of Henan Provincial Tobacco Corporation Project (LYKJ201803).
Ethics declarations
Conflict of interest
On behalf of all authors, the corresponding author states that there is no conflict of interest.
Additional information
Publisher's Note
Springer Nature remains neutral with regard to jurisdictional claims in published maps and institutional affiliations.
About this article
Cite this article
Liu, L., Li, D., Ma, Y. et al. Combined Application of Arbuscular Mycorrhizal Fungi and Exogenous Melatonin Alleviates Drought Stress and Improves Plant Growth in Tobacco Seedlings. J Plant Growth Regul 40, 1074–1087 (2021). https://doi.org/10.1007/s00344-020-10165-6
Received:

Accepted:

Published:

Issue Date:

DOI: https://doi.org/10.1007/s00344-020-10165-6
Keywords
Tobacco seedling growth

Colonization rate

Antioxidant enzymatic activities

Photosynthetic and chlorophyll fluorescence parameters

Nutrient uptake