Abstract
Crop allelopathy is a useful tool in integrated weed suppression. Although the abiotic stresses affect the produced secondary metabolites, the impact of soil salinity on crop allelopathic potential under field conditions has not been investigated. So, the effect of soil salinity on the allelopathic activity of 18 allelopathic barley (Hordeum vulgare L.) varieties was investigated. The allelopathy of barley grown on saline and non-saline soils was investigated during a 2-year field experiment using the Perlite-based bioassay with rigid ryegrass (Lolium rigidum L.) as plant indicator. The two main allelopathic substances in barley, gramine and hordenine, were determined using the high-performance liquid chromatography with tandem mass spectrometry. The results indicated that rigid ryegrass germination and root length were adversely affected by the barley aqueous extracts. The secondary metabolite gramine was detected in greater concentrations than those of hordenine. For most barley varieties, soil salinity reduced the phytotoxicity of aqueous extracts, as well as the concentration of gramine. However, gramine and hordenine were not highly correlated with the barley extract phytotoxicity, indicating the possible involvement of other allelopathic substances. In conclusion, the barley allelopathic potential probably decreases in soils with high salinity.
Access options
Buy single article
Instant access to the full article PDF.
US$ 39.95
Tax calculation will be finalised during checkout.
Subscribe to journal
Immediate online access to all issues from 2019. Subscription will auto renew annually.
US$ 79
Tax calculation will be finalised during checkout.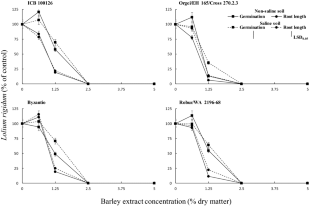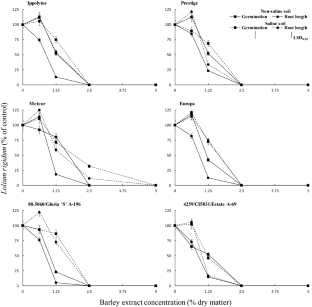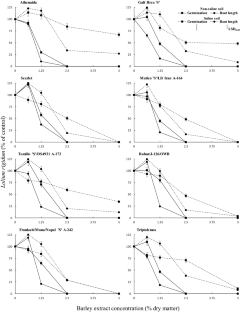 References
An M, Pratley JE, Haig T, Liu DL (2005) Whole-range assessment: a simple method for analysing allelopathic dose-response data. Nonlinearity Biol Toxicol Med 3:245–260

Baghestani A, Lemieux C, Lemieux GD, Baziramakenga R, Simard RR (1999) Determination of allelochemicals in spring cereal cultivars of different competitiveness. Weed Sci 47:498–504

Ben-Hammouda M, Ghorbal H, Kremer RJ, Oueslati O (2001) Allelopathic effects of barley extracts on germination and seedlings growth of bread and durum wheats. Agronomie 21:65–71

Ben-Hammouda M, Ghorbal H, Kremer RJ, Oueslati O (2002) Autotoxicity of barley. J Plant Nutr 25:1155–1161

Bertholdsson NO (2004) Variation in allelopathic activity over one 100-years of barley selection and breeding. Weed Res 44:78–86

Bouhaouel I, Gfeller A, Fauconnier M-L, Rezgui S, Slim Amara H, du Jardin P (2015) Allelopathic and autotoxicity effects of barley (Hordeum vulgare L. ssp. vulgare) root exudates. Biocontrol 60:425–436

Burgos NR, Talbert RE (2000) Differential activity of allelochemicals from Secale cereale in seedling bioassays. Weed Sci 48:302–310

Cawood ME, Allemann I, Allemann J (2018) Impact of temperature stress on secondary metabolite profile and phytotoxicity of Amaranthus cruentus L. leaf extracts. Acta Agric Slov 111:609–620

Chon SU, Kim YM (2004) Herbicidal potential and quantification of suspected allelochemicals from four grass crop extracts. J Agron Crop Sci 190:145–150

Corcuera LJ, Argandona VH, Zuniga GE (1992) Allelochemicals in wheat and barley: role in plant–insect interactions. In: Rizvi SJH, Rizvi V (eds) Allelopathy: basic and applied aspects. Chapman and Hall, London, pp 119–127

Dhima KV, Vasilakoglou IB, Eleftherohorinos IG, Lithourgidis AS (2006) Allelopathic potential of winter cereals and their cover crop mulch effect on grass weed suppression and corn development. Crop Sci 46:345–352

Fang C, Wang Q, Yu Y, Luo M, Huang L, Xiong J, Shen L, Lin W (2011) Differential expression of PAL multigene family in allelopathic rice and its counterpart exposed to stressful conditions. Acta Ecol Sin 31:4760–4767

Farhoudi R, Lee DJ (2013) Allelopathic effects of barley (Hordeum vulgare) on sucrose synthase activity, lipid peroxidation and antioxidant enzymatic activities of Hordeum spontoneum and Avena ludoviciana. Proc Natl A Sci India B 83:447–452. https://doi.org/10.1007/s40011-012-0137-7

Farhoudi R, Zangane HS, Saeedipour S (2012) Allelopathic effect of barley [Hordeum vulgare (L.) cv. Karon] on germination and lipid peroxidation of wild mustard seedling. Res Crop 13:467–471

Ghafari Z, Karimmojeni H, Majidi MM, Naderi B (2018) Assessment of the allelopathic potential of cumin accessions in different soil water potential. J Crop Sci Biotechnol 21:249–260

Hanson AD, Traynor PL, Ditz KM, Reicosky DA (1981) Gramine in barley forage-effects of genotype and environment. Crop Sci 21:726–730

Hoagland RE, Williams RD (2004) Bioassays—useful tools for the study of allelopathy. In: Macias FA, Galindo JCG, Molinillo JMG, Cutler HG (eds) Allelopathy. Chemistry and mode of action of allelochemicals. CRC Press, Boca Raton, pp 315–351

Karageorgou P, Levizou E, Manetas Y (2002) The influence of drought, shade and availability of mineral nutrients on exudate phenolics of Dittrichia viscosa. Flora 197:285–289

Katerji N, van Hoorn JW, Hamdy A, Mastrorilli M, Fares C, Ceccarelli S, Grando S, Oweis T (2006) Classification and salt tolerance analysis of barley varieties. Agric Water Manage 85:184–192

Kim KU, Shin DH (2003) The importance of allelopathy in breeding new cultivars. In: Labrada R (ed) Weed management for developing countries. FAO Plant Production and Protection, Paper 120 (Addendum 1), FAO, Rome, pp 195–210

Kudsk P, Olsen J, Mathiassen SK, Brandt K, Christensen LP (2001) Allelopathy in barley. DIAS Rep 42:43–45

Lancashire PD, Bleiholder H, Langelüddecke P, Stauss R, van den Boom T, Weber E, Witzen-Berger A (1991) An uniformdecimal code for growth stages of crops and weeds. Ann Appl Biol 119:561–601

Lebecque S, Crowet J-M, Lins L, Delory BM, du Jardin P, Fauconnier M-L, Deleu M (2018) Interaction between the barley allelochemical compounds gramine and hordenine and artificial lipid bilayers mimicking the plant plasma membrane. Sci Rep-UK 8:9784

Li FR, Liang SC, Li M, Duan LL (2017) The effects of N deposition on allelopathic potential of invasive plant Spartina alterniflora Loisel. Allelopathy J 41:201–210

Liu DL, Lovett JV (1993a) Biologically active secondary metabolites of barley. I. Developing techniques and assessing allelopathy in barley. J Chem Ecol 19:2217–2230

Liu DL, Lovett JV (1993b) Biologically active secondary metabolites of barley. II. Phytotoxicity of barley allelochemicals. J Chem Ecol 19:2231–2244

Liu DL, An M, Wu H (2007) Implementation of WESIA: Whole-range evaluation of the strength of inhibition in allelopathic-bioassay. Allelopathy J 19:203–214

Ma SY, Kim JS, Ryang HS (1999) Allelopathic effects of barley to red rice and barnyardgrass. Korean J Weed Sci 19:228–235

MSTAT-C (1989) A microcomputer program for the design, management, and analysis of agronomic research experiments. Crop and Soil Sciences Department, Michigan State University, East Lansing

O'Connor SE, Maresh JJ (2006) Chemistry and biology of monoterpene indole alkaloid biosynthesis. Nat Prod Rep 23:532–547

Overland L (1966) The role of allelopathic substances in the 'smother crop' barley. Am J Bot 53:423–432

Rehman S, Shahzad B, Bajwa AA, Hussain S, Rehman A, Cheema SA, Abbas T, Ali A, Shah L, Adkins S, Li P (2019) Utilizing the allelopathic potential of Brassica species for sustainable crop production: a review. J Plant Growth Regul 38:343–356

Rivoal A, Fernandez C, Greff S, Montes N, Vila B (2011) Does competition stress decrease allelopathic potential? Biochem Syst Ecol 39:401–407

Singh HP, Batish DR, Kohli RK (2003) Allelopathic interactions and allelochemicals: new possibilities for sustainable weed management. Crit Rev Plant Sci 22:239–311

Tesio F, Ferrero A (2010) Allelopathy, a chance for sustainable weed management. Int J Sust Dev World 17:377–389

Vasilakoglou I, Dhima K, Lithourgidis A, Eleftherohorinos I (2009) Allelopathic potential of 50 barley cultivars and herbicidal effects of barley extract. Allelopathy J 24:309–320

Wang HB, He HB, Xiong J, Qiu L, Fang CX, Zeng CM, Yan L, Lin WX (2008) Effects of potassium stress on allelopathic potential of rice (Oryza sativa L.). Acta Ecol Sin 28:6219–6227

Wang HB, He HB, Ye CY, Lu JC, Chen RS, Liu CH, Guo XK, Lin WX (2010) Molecular physiological mechanism of increased weed suppression ability of allelopathic rice mediated by low phosphorus stress. Allelopathy J 25:239–248

Wang RL, Xia WN, Liu SW, Qin Z, Liang KM, Su YJ, Zhang JE (2016) Effects of water stress on the growth and allelopathic potential of invasive plant Mikania micrantha H.B.K. Allelopathy J 39:143–152

Worthington M, Reberg-Horton C (2013) Breeding cereal crops for enhanced weed suppression: optimizing allelopathy and competitive ability. J Chem Ecol 39:213–231
Acknowledgements
The authors thank Dr De Li Liu, E.H. Graham Centre for Agricultural Innovation, Charles Sturt University, Wagga Wagga, NSW 2650, Australia, for providing the WESIA software used in our study. This research was supported financially by the European Commission and the Greek Ministry of Development.
Ethics declarations
Conflict of interest
The authors have no conflict of interest to declare.
Additional information
Publisher's Note
Springer Nature remains neutral with regard to jurisdictional claims in published maps and institutional affiliations.
About this article
Cite this article
Kotzamani, A., Vasilakoglou, I., Dhima, K. et al. Impact of Soil Salinity on Barley Allelopathic Potential and Main Secondary Metabolites Gramine and Hordenine. J Plant Growth Regul 40, 137–146 (2021). https://doi.org/10.1007/s00344-020-10084-6
Received:

Accepted:

Published:

Issue Date:
Keywords
Allelopathy

Barley variety

Dose–response

Lolium rigidum L.

Whole-range assessment