Abstract
To better understand the role of phytohormones and antioxidative responses in plant-viroid interaction, changes in endogenous phytohormone contents and activities of key antioxidant enzymes during latent infection of Solanum laxum by potato spindle tuber viroid (PSTVd) were examined. The results showed that endogenous jasmonic acid (JA) and castasterone (CS) content significantly increased, whereas abscisic acid content significantly decreased in symptomless leaves of systemically infected plants compared to that of mock-inoculated control plants. Regarding endogenous salicylic acid and indole-3-acetic acid content, there were no differences between infected and control plants. PSTVd infection also caused excessive production of hydrogen peroxide and enhanced the activity of ascorbate peroxidase (APX) and superoxide dismutase but not the activity of peroxidase and catalase (CAT). When expressed on a protein-weight base, only APX activity increased while CAT activity decreased almost by half in systemic leaves of infected plants. Furthermore, there was a fall in total glutathione content but also a rise in the content of oxidized forms of both ascorbate and glutathione, indicating that the regeneration of glutathione is insufficient. Results of this study strongly suggest the involvement of JA, CS and enzymatic and non-enzymatic antioxidants in the physiological response of S. laxum during latent infection by PSTVd.
This is a preview of subscription content, log in to check access.
Access options
Buy single article
Instant access to the full article PDF.
US$ 39.95
Price includes VAT for USA
Subscribe to journal
Immediate online access to all issues from 2019. Subscription will auto renew annually.
US$ 99
This is the net price. Taxes to be calculated in checkout.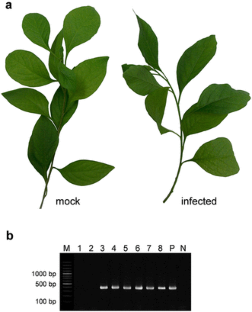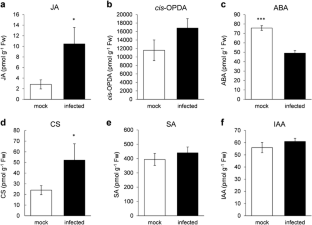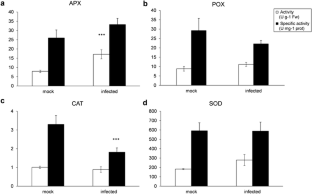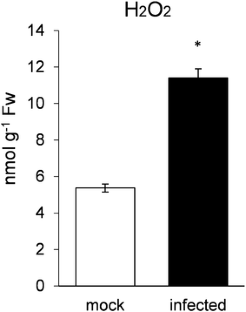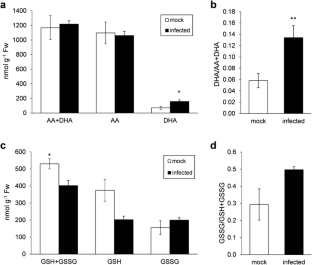 References
Alazem M, Lin NS (2015) Roles of plant hormones in the regulation of host-virus interactions. Mol Plant Pathol 16:529–540. https://doi.org/10.1111/mpp.12204

Asselbergh B, De Vleesschauwer D, Höfte M (2008) Global switches and fine-tuning-ABA modulates plant pathogen defense. Mol Plant Microbe Interact 21:709–719. https://doi.org/10.1094/MPMI-21-6-0709

Bagherian SAA, Hamzehzarghani H, Izadpanah K, Djavaheri M (2016) Effects of Potato spindle tuber viroid infection on tomato metabolic profile. J Plant Physiol 201:42–53. https://doi.org/10.1016/j.jplph.2016.06.014

Bradford M (1976) A rapid and sensitive method for the quantitation and sensitive of microgram quantities of protein utilizing the principle of protein-dye binding. Anal Biochem 72:248–254. https://doi.org/10.1016/0003-2697(76)90527-3

Chance M, Maehly AC (1955) Assay of catalases and peroxidases. Meth Enzymol 2:764–817. https://doi.org/10.1016/S0076-6879(55)02300-8

Clarke SF, Guy PL. Jameson PE, Schmierer D, Burritt DJ (2000) Influence of white clover mosaic potexvirus infection on the endogenous levels of jasmonic acid and related compounds in Phaseolus vulgaris L. seedlings. J Plant Physiol 156:433–437. https://doi.org/10.1016/S0176-1617(00)80155-8

Clouse SD, Feldmann KA (1999) Molecular genetics of brassinosteroid action. In: Sakurai A, Yokota T, Clouse SD (eds) Brassinosteroids: steroidal plant hormones. Springer, Tokyo, pp 163–190

Di Serio F (2007) Identification and characterization of Potato spindle tuber viroid infecting Solanum jasminodes and S. rantonnetii in Italy. J Plant Pathol 89:297–300. https://doi.org/10.4454/jpp.v89i2.759

Dixon DP, Lapthorn A, Edwards R (2002) Plant glutathione transferases. Genome Biol. https://doi.org/10.1186/gb-2002-3-3-reviews3004

Dubreuil-Maurizi C, Poinssot B (2012) Role of glutathione in plant signaling under biotic stress. Plant Signal Behav 7:2:210–212. https://doi.org/10.4161/psb.18831

Faggioli F, Ferretti L, Albanese G, Sciarroni R, Pasquini G, Lumia V, Barba M (2005) Distribution of olive tree viruses in Italy as revealed by one-step RT-PCR. J Plant Pathol 87:49–55. https://doi.org/10.4454/jpp.v87i1.896

Floková K, Tarkowská D, Miersch O, Strnad M, Wasternack C, Novák O (2014) UHPLC-MS/MS based target profiling of stress-induced phytohormones. Phytochem 105:147–157. https://doi.org/10.1016/j.phytochem.2014.05.015

Flores R, Di Serio F, Navarro B, Duran-Vila N, Owens R (2011) Viroids and viroid diseases of plants. In: Hurst CJ (ed) Studies in viral ecology: microbial and botanical host systems. Wiley, Hoboken, pp 307–341

Giannopolitis CN, Reis SK (1997) Superoxide dismutases: I. Occurrence in higher plants. Plant Physiol 59:309–314. https://doi.org/10.1104/pp.59.2.309

Gillespie KM, Ainsworth EA (2007) Measurement of reduced, oxidized and total ascorbate content in plants. Nat Protoc 2(4):871–874. https://doi.org/10.1038/nprot.2007.101

Hernández JA, Gullner G, Clemente-Moreno MJ, Künstler A, Juhász C, Díaz-Vivancos P, Király L (2016) Oxidative stress and antioxidative responses in plant-virus interactions. Physiol Mol Plant Path 94:134–148. https://doi.org/10.1016/j.pmpp.2015.09.001

Katsarou K, Wu Y, Zhang R, Bonar N, Morris J, Hedley PE, Bryan GJ, Kalantidis K, Hornyik C (2016) Insight on genes affecting tuber development in potato upon Potato spindle tuber viroid (PSTVd) infection. PLoS ONE 11:e0150711. https://doi.org/10.1371/journal.pone.0150711

Khan NA, Nazar R, Iqbal N, Anjum NA (2012) Phytohormones and abiotic stress tolerance in plants. Springer, Berlin

Kovač M, Müller A, Jarh DM, Milavec M, Düchting P, Ravnikar M (2009) Multiple hormone analysis indicates involvement of jasmonate signalling in the early defence of potato to potato virus YNTN. Biol Plant 53:195–199. https://doi.org/10.1007/s10535-009-0034-y

Luhová L, Lebeda A, Hedererová D, Peč P (2003) Activities of amino peroxidase, peroxidase and catalase in seedlings of Pisum sativum L. under different light conditions. Plant Soil Environ 49:151–157

Milanović J, Kajić V, Mihaljević S (2014) Occurrence and molecular variability of Potato spindle tuber viroid and Tomato apical stunt viroid in ornamental plants in Croatia. Eur J Plant Pathol 139:785–788. https://doi.org/10.1007/s10658-014-0432-7

Mukherjee SP, Choudhuri MA (1983) Implications of water stress-induced changes in the levels of endogenous ascorbic acid and hydrogen peroxide in Vigna seedlings. Physiol Plant 58:166–170. https://doi.org/10.1111/j.1399-3054.1983.tb04162.x

Nakano Y, Asada K (1981) Hydrogen peroxide is scavenged by ascorbate-specific peroxidase in spinach chloroplasts. Plant Cell Physiol 22:867–880. https://doi.org/10.1093/oxfordjournals.pcp.a076232

Nakashita H, Yasuda M, Nitta T, Asami T, Fujioka S, Arai Y, Sekima ta K, Takatsuto S, Yamaguchi I, Yoshida S (2003) Brassinosteroid functions in a broad range of disease resistance in tobacco and rice. Plant J 33:887–898. https://doi.org/10.1046/j.1365-313X.2003.01675.x

Noctor G, Foyer CH (1998) Ascorbate and glutathione: keeping active oxygen under control. Annu Rev Plant Physiol Plant Mol Biol 49:249–279. https://doi.org/10.1146/annurev.arplant.49.1.249

Oklestkova J, Tarkowská D, Eyer L, Elbert T, Marek A, Smrzova Z, Novák O, Fránek M, Zhabinskii VN, Strnad M (2017) Immunoaffinity chromatography combined with tandem mass spectrometry: a new tool for the selective capture and analysis of brassinosteroid plant hormones. Talanta 170:432–440. https://doi.org/10.1016/j.talanta.2017.04.044

Owens RA, Hammond RW (2009) Viroid pathogenicity: one process, many faces. Viruses 1:298–316. https://doi.org/10.3390/v1020298

Owens RA, Tech KB, Shao JY, Sano T, Baker CJ (2012) Global analysis of tomato gene expression during Potato spindle tuber viroid infection reveals a complex array of changes affecting hormone signalling. Mol Plant Microbe Interact 25:582–598. https://doi.org/10.1094/MPMI-09-11-0258

Rizza S, Conesa A, Juarez J, Catara A, Navarro L. Duran-Vila N, Ancillo G (2012) Microarray analysis of Etrog citron (Citrus medica L.) reveals changes in chloroplast, cell wall, peroxidase and symporter activities in response to viroid infection. Mol Plant Pathol 13:852–886. https://doi.org/10.1111/j.1364-3703.2012.00794.x

Sharma P, Bhushan Jha A, Shanker Dubey R, Pessarakli M (2012) Reactive oxygen species, oxidative damage, and antioxidative defense mechanism in plants under stressful conditions. J Bot 37:1–26. https://doi.org/10.1155/2012/217037

Smith IK (1985) Stimulation of glutathione synthesis in photorespiring plants by catalase inhibitors. Plant Physiol 79:1044–1047. https://doi.org/10.1104/pp.79.4.1044

Verhoeven JJ, Jansen CCC, Willemen TM, Kox LFF, Owens RA, Roenhorst JW (2004) Natural infections of tomato by Citrus exocortis viroid, Columnea latent viroid, Potato spindle tuber viroid and Tomato chlorotic dwarf viroid. Eur J Plant Pathol 110:823–831

Verhoeven JTJ, Hüner L, Marn MV, Plesko IM, Roenhorst JW (2010) Mechanical transmission of Potato spindle tuber viroid between plants of Brugmansia suaveoles, Solanum jasminoides and potatoes and tomatoes. Eur J Plant 128:417–421. https://doi.org/10.1007/s10658-010-9675-0

Xia XJ, Zhou YH, Shi K, Zhou J, Foyer CH, Yu JQ (2015) Interplay between reactive oxygen species and hormones in the control of plant development and stress tolerance. J Exp Bot 66:2839–2856. https://doi.org/10.1093/jxb/erv089
Acknowledgements
This research was funded by the Ministry of Agriculture of the Republic of Croatia (National Survey of Quarantine Organisms Program), Croatian Centre for Agriculture, Food and Rural Affairs (PhD research fellowship to JM), and by the Ministry of Education, Youth and Sports of the Czech Republic (Grant No. CR NPUI LO1204).
Ethics declarations
Conflict of interest
The authors declare that they have no conflict of interest.
About this article
Cite this article
Milanović, J., Oklestkova, J., Novák, O. et al. Effects of Potato Spindle Tuber Viroid Infection on Phytohormone and Antioxidant Responses in Symptomless Solanum laxum Plants. J Plant Growth Regul 38, 325–332 (2019). https://doi.org/10.1007/s00344-018-9842-7
Received:

Accepted:

Published:

Issue Date:
Keywords
Antioxidants

Brassinosteroids

Jasmonic acid

Latent infection

Peroxidase

PSTVd