Abstract
Information on the involvement of elongation-controlling hormones, particularly gibberellin (GA), in UV-B modulation of stem elongation and leaf growth, is limited. We aimed to study the effect of UV-B on levels of GA and indole-3-acetic acid (IAA) as well as involvement of GA in UV-B inhibition of stem elongation and leaf expansion in pea. Reduced shoot elongation (13%) and leaf area (37%) in pea in response to a 6-h daily UV-B (0.45 W m−2) exposure in the middle of the light period for 10 days were associated with decreased levels of the bioactive GA1 in apical stem tissue (59%) and young leaves (69%). UV-B also reduced the content of IAA in young leaves (35%). The importance of modulation of GA metabolism for inhibition of stem elongation in pea by UV-B was confirmed by the lack of effect of UV-B in the le GA biosynthesis mutant. No UV-B effect on stem elongation in the la cry-s (della) pea mutant demonstrates that intact GA signalling is required. In conclusion, UV-B inhibition of shoot elongation and leaf expansion in pea depends on UV-B modulation of GA metabolism in shoot apices and young leaves and GA signalling through DELLA proteins. UV-B also affects the IAA content in pea leaves.
Access options
Buy single article
Instant access to the full article PDF.
US$ 39.95
Tax calculation will be finalised during checkout.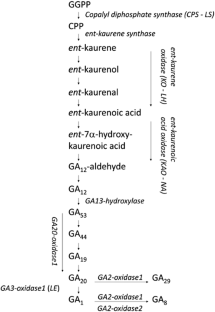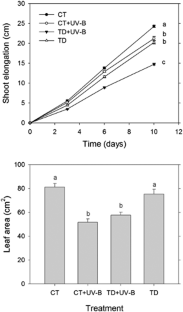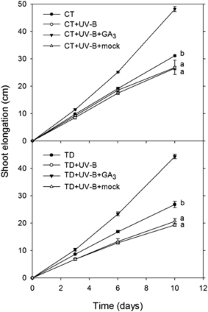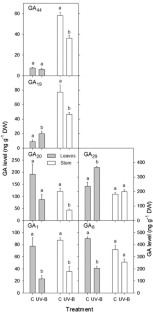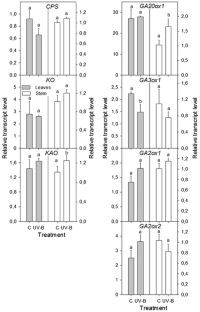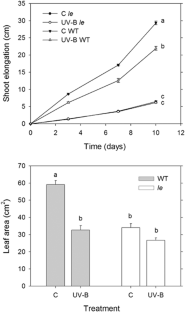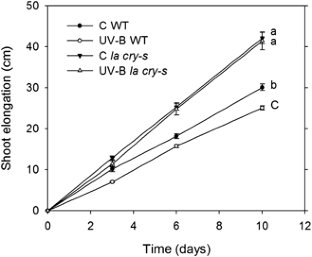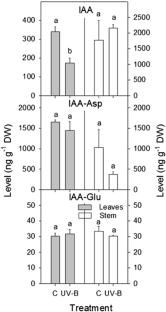 References
Abrams SR, Nelson K, Ambrose SJ (2003) Deuterated abscisic acid analogs for mass spectrometry and metabolism studies. J Label Comp Radiopharm 46:273–283

Björn LO (1995) Estimation of fluence rate from irradiance measurements with a cosine-corrected sensor. J Photochem Photobiol B 29:179–183

Campbell BR, Bonner BA (1986) Evidence for phytochrome regulation of gibberellin A20 (β-Hydroxylation in shoots of the dwarf (lele) Pisum sativum L. Plant Physiol 82:909–915

Chandler PM, Robertson M (1999) Gibberellin dose-response curves and characterization of dwarf mutants of barley. Plant Physiol 120:623–632

Chiwocha SDS, Abrams SR, Ambrose SJ, Cutler AJ, Loewen M, Ross ARS, Kermode AR (2003) A method for profiling classes of plant hormones and their metabolites using liquid chromatography-electrospray ionization tandem mass spectrometry: analysis of hormone regulation of thermodormancy of lettuce (Lactuca sativa L.) seeds. Plant J 3:405–417

Chiwocha SDS, Cutler AJ, Abrams SR, Ambrose SJ, Yang J, Ross ARS, Kermode AR (2005) The etr1-2 mutation in Arabidopsis thaliana affects the abscisic acid, auxin, cytokinin and gibberellin metabolic pathways during maintenance of seed dormancy, moist-chilling and germination. Plant J 42:35–48

De Castro VL, Goes KP, Chiorato SH (2004) Developmental toxicity potential of paclobutrazol in the rat. Int J Environ Health Res 14:371–380

Donnelly PM, Bonetta D, Tsukaya H, Dengler RE, Dengler NG (1999) Cell cycling and cell enlargement in developing leaves of Arabidopsis. Dev Biol 215:407–419

Frigerio M, Alabadi D, Perez-Gomez J, Garcia-Carel L, Phillips A, Hedden P, Blazquez MA (2006) Transcriptional regulation of gibberellin metabolism genes by auxin signaling in Arabidopsis. Plant Physiol 142:563–663

Green AES, Sawada T, Shettle EP (1974) The middle ultraviolet reaching the ground. Photochem Photobiol 19:251–259

Grindal G, Ernstsen A, Reid JB, Junttila O, Lindgaard B, Moe R (1998) Endogenous gibberellin A1 levels control thermoperiodic stem elongation in Pisum sativum. Physiol Plant 102:523–531

Hansen E, Olsen JE, Junttila O (1999) Gibberellins and subapical cell divisions in relation to bud set and bud break in Salix pentandra. J Plant Growth Regul 18:167–170

Hayes S, Velanis CN, Jenkins GI, Franklin KA (2014) UV-B detected by the UVR8 photoreceptor antagonizes auxin signaling and plant shade avoidance. Proc Natl Acad Sci USA 11:11894–11899

Hectors K, Prinsen E, De Coen W, Jansen MA, Guisez Y (2007) Arabidopsis thaliana plants acclimated to low dose rates of ultraviolet B radiation show specific changes in morphology and genes expression in the absence of stress symptoms. New Phytol 175:255–270

Hectors K, van Oevelen S, Guisez Y, Promsem E, Jansen MA (2012) The phytohormone auxin is a component of the regulatory system that controls UV-mediated accumulation of flavonoids and UV-induced morphogenesis. Physiol Plant 145:594–603

Huang S, Dai Q, Peng S, Chavez AQ, Miranda MLL, Visperas RM, Vergara BS (1997) Influence of supplemental ultraviolet-B on indole acetic acid and calmodulin in the leaves of rice (Oryza sativa L.). Plant Growth Regul 21:59–64

Ingram TJ, Reid JB (1987) Internode length in Pisum – biochemical expression of the le and na mutations in the slender phenotype. J Plant Growth Regul 5:235–243

Ingram TJ, Reid JB, Murfet IC, Gaskin P, Willis CL, MacMillan J (1984) Internode length in Pisum – the Le gene controls 3β-hydroxylation of gibberellin A20 to gibberellin A1. Planta 160:455–463

Islam MA, Tarkowska D, Clarke JL, Blystad DR, Gislerød HR, Torre S, Olsen JE (2014) Impact of end-of-day red and far-red light on plant morphology and hormone physiology in poinsettia. Sci Hortic 174:77–86

Jansen MA (2002) Ultraviolet-B radiation effects on plants: Induction of morphogenetic responses. Physiol Plant 116:423–429

Jansen MA, Bornman J (2012) UV-B radiation: from generic stressor to specific regulator. Physiol Plant 145:501–504

Jones RL, Kaufman PB (1983) The role of gibberellins in plant cell elongation. Critical Rev. Plant Sci 1:23–47

Lester DR, Ross JJ, Davies PJ, Reid JB (1997) Mendel`s stem length gene (Le) encodes a gibberellin 3-beta hydroxylase. Plant Cell 9:1435–1443

Lester DR, Ross JJ, Smith JJ, Elliott RC, Reid JB (1999) Gibberellin 2-oxidation and the SLN gene of Pisum sativum. Plant J 19:65–73

Ljung K, Bhalerao RP, Sandberg G (2001) Sites and homeostatic control of auxin biosynthesis in Arabidopsis during vegetative growth. Plant J 28:465–474

Magome H, Yamaguchi S, Hanada A, Kamiya Y, Oda K (2008) The DDF1 transcriptional activator upregulates expression of a gibberellin-deactivating gene GA2ox7, under high-salinity stress in Arabidopsis. Plant J 56:613–626

Myster J, Moe R (1995) Effect of diurnal temperature alternations on plant morphology in some greenhouse crops—a mini review. Sci Hortic 62:205–215

O`Neill DP, Ross JJ (2002) Auxin regulation of the gibberellin pathway in pea. Plant Physiol 130:1974–1982

Peng J, Carol P, Richards DE, King KE, Cowling RJ, Murphy GP, Harberd NP (1997) The Arabidopsis GAI gene defines a signaling pathway that negetatively regulates gibberellin response modulators. Nature 400:256–261

Pfaffl MW (2001) A new mathematical model for relative quantification in real-time RT-PCR. Nucleic Acids Res 29:e45–e45

Potts WC, Reid JB, Murfet IC (1985) Internode length in Pisum. Gibberellins and the slender phenotype. Physiol Plant 63:357–364

Reid JB, Ross JJ, Swain SM (1992) Internode length in Pisum sativum – a new slender mutant with elevated levels of C19 gibberellins. Planta 188:462–467

Richards DE, King KE, Ait-Ali T, Harberd NP (2001) How gibberellin regulates plant growth and development: a molecular genetic analysis of gibberellin signaling. Annu Rev Plant Biol 52:67–88

Robson T, Klem K, Urgan O, Jansen MA (2014) Re-interpreting plant morphological responses to UV-B radiation. Plant Cell Environ 38:856–866

Ross JJ, Reid JB, Gaskin P, MacMillan J (1989) Internode length in Pisum – estimation of GA1 levels in genotypes Le, le and led. Physiol Plant 76:173–176

Ross JJ, O`Neill DP, Smith JJ, Huub L, Kerchoffs J, Elliot RC (2000) Evidence that auxin promotes gibberellin A1 biosynthesis in pea. Plant J 21:547–552

Sachs RM (1965) Stem elongation. Ann Rev Plant Physiol 16:73–96

Sauter M, Mekhedov SL, Kende H (1995) Gibberellin promotes histone H1 kinase activity and the expression of the cdc2 and cyclin genes during the induction of rapid growth in deepwater rice internodes. Plant J 7:623–632

Silverstone AL, Jung H, Dill A, Kawaide Y, Sun T (2001) Repressing a repressor: gibberellin-induced rapid reduction of the RGA protein in Arabidopsis. Plant Cell 13:1555–1565

Sørensen MT, Danielsen V (2006) Effects of the plant growth regulator, chlormequat, on mammalian fertility. Int J Androl 29:129–133

Stavang JA, Ernstsen A, Lindgård B, Lid S, Moe R, Olsen JE (2005) Thermoperiodic regulation of shoot elongation is mediated by transcriptional regulation of GA inactivation in pea. Plant Physiol 158:2344–2353

Stavang JA, Junttila O, Moe R, Olsen JE (2007) Differential temperature regulation of GA metabolism in light and darkness. J Exp Bot 58:3061–3069

Stavang JA, Gallego-Bartolome J, Gomez MD, Yoshida S, Asami T, Olsen JE, Garcia-Martinez JL, Alabadi D, Blazquez MA (2009) Hormonal regulation of temperature-induced growth in Arabidopsis. Plant J 60:589–601

Stavang JA, Pettersen RI, Wendell M, Solhaug KA, Junttila O, Moe R, Olsen JE (2010) Thermoperiodic growth control by gibberellin does not involve changes in photosynthetic capacity or respiration in pea. J Exp Bot 61:1015–1029

Thingnæs E, Torre S, Ernstsen A, Moe R (2003) Day and night temperature responses in Arabidopsis: Effects on gibberellin and auxin content, cell size, morphology and flowering time. Ann Bot 92:601–612

Tsuge T, Tsukaya H, Uchimiya H (1996) Two independent and polarized processes of cell elongation regulate leaf blade expansion in Arabidopsis thaliana (L.) Heynh. Development 122: 1589–1600

Wargent JJ, Gegas VC, Jenkins GI, Doonan JH, Paul ND (2009) UVR8 in Arabidopsis thaliana regulates multiple aspects of cellular differentiation during leaf development in response to ultraviolet B radiation. New Phytol 183:315–326

Went FW (1944) Plant growth under controlled conditions. II. Thermoperiodicity in growth and fruiting of tomato. Am J Bot 31: 135–150

Weston DE, Elliott RC, Lester DR, Rameau C, Reid JB, Murfet IC, Ross JJ (2008) The pea DELLA proteins LA and CRY are important regulators of gibberellin synthesis and root growth. Plant Physiol 147:199–205

Wolbang CM, Ross JJ (2001) Auxin promotes gibberellin biosynthesis in decapitated tobacco plants. Planta 214:153–157

Yamaguchi S (2008) Gibberellin metabolism and its regulation. Annu Rev Plant Biol 59:225–251
Acknowledgements
We gratefully acknowledge Dr. Irina Zaharia, Dr. Suzanne Abrams and technical staff at the Plant Biotechnology Institute of the National Research Council of Canada, Saskatoon, Canada for the work with the hormone profiling, Prof. John Ross for the pea mutants, Marit Siira and Ida K Hagen for excellent technical assistance, and the Norwegian Agency for Development Cooperation, the Norwegian Research Council (NFR 223268/F50; CERAD), the Norwegian University of Life Sciences and Hawassa University, Ethiopia, for funding.
Electronic supplementary material
Below is the link to the electronic supplementary material.
About this article
Cite this article
Roro, A.G., Dukker, S.A.F., Melby, T.I. et al. UV-B-induced Inhibition of Stem Elongation and Leaf Expansion in Pea Depends on Modulation of Gibberellin Metabolism and Intact Gibberellin Signalling. J Plant Growth Regul 36, 680–690 (2017). https://doi.org/10.1007/s00344-017-9671-0
Received:

Accepted:

Published:

Issue Date:
Keywords
Auxin

Gibberellin

Leaf expansion

Pisum sativum

Stem elongation

UV-B