Abstract
Tissue culture systems have long been exploited to study the process of organogenesis. In response to externally applied cytokinins, pluripotent cells proliferate into green calli and subsequently regenerate shoots. Conventionally, the cytokinin-induced greening phenotype has been evaluated by counting numbers of green foci or to present photographic evidence of morphological changes. However, because the structure of calli is disorganized and the development of pigmentation takes place gradually from pale white through yellow to green, adequately defining and counting green foci remains difficult. In this study, we employed chlorophyll measurement as an alternative method to statistically assess the greening phenotype in tissue culture material. We found that N,N-dimethylformamide was the most effective solvent for the extraction of chlorophylls from callus tissue and that bead disruption of the structured tissue improved solvent penetration and the consistency of results. The sensitivity of the method facilitated the quantification of chlorophylls in single-cultured root explants and the use of a spectrophotometer increased the efficiency of measuring multiple samples. Our measurements showed that chlorophyll contents from calli of wild-type and altered cytokinin response mutants (cre1; ahk3, or cytokinin hypersensitive 2 (ckh2)/pickle (pkl) were statistically distinguishable, validating the method. Our proposed procedure represents gains in efficiency and precision and leads to more robust standardization than the conventionally used counting of green foci.
This is a preview of subscription content, log in to check access.
Access options
Buy single article
Instant access to the full article PDF.
US$ 39.95
Price includes VAT for USA
Subscribe to journal
Immediate online access to all issues from 2019. Subscription will auto renew annually.
US$ 99
This is the net price. Taxes to be calculated in checkout.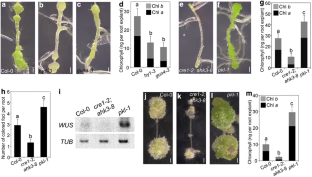 References
Atta R, Laurens L, Boucheron-Dubuisson E, Guivarc'h A, Carnero E, Giraudat-Pautot V, Rech P, Chriqui D (2009) Pluripotency of Arabidopsis xylem pericycle underlies shoot regeneration from root and hypocotyl explants grown in vitro. Plant J 57:626–644

Barnes JD, Balaguer L, Manrique E, Elvira S, Davison AW (1992) A reappraisal of the use of DMSO for the extraction and determination of chlorophylls a and b in lichens and higher plants. Environ Exp Bot 32:85–100

Chory J, Peto CA, Ashbaugh M, Saganich R, Pratt L, Ausubel F (1989) Different Roles for Phytochrome in Etiolated and Green Plants Deduced from Characterization of Arabidopsis thaliana Mutants. Plant Cell 1:867–880

Davis SJ, Kurepa J, Vierstra RD (1999) The Arabidopsis thaliana HY1 locus, required for phytochrome-chromophore biosynthesis, encodes a protein related to heme oxygenases. Proc Natl Acad Sci USA 96:6541–6546

Furuta K, Kubo M, Sano K, Demura T, Fukuda H, Liu YG, Shibata D, Kakimoto T (2011) The CKH2/PKL chromatin remodeling factor negatively regulates cytokinin responses in Arabidopsis calli. Plant Cell Physiol 52:618–628

Hu X, Tanaka A, Tanaka R (2013) Simple extraction methods that prevent the artifactual conversion of chlorophyll to chlorophyllide during pigment isolation from leaf samples. Plant Methods 9:19. doi:10.1186/1746-4811-9-19

Ikeda Y, Banno H, Niu QW, Howell SH, Chua NH (2006) The ENHANCER OF SHOOT REGENERATION 2 gene in Arabidopsis regulates CUP-SHAPED COTYLEDON 1 at the transcriptional level and controls cotyledon development. Plant Cell Physiol 47:1443–1456

Ikeuchi M, Sugimoto K, Iwase A (2013) Plant callus: mechanisms of induction and repression. Plant Cell 25:3159–3173

Inskeep WP, Bloom PR (1985) Extinction coefficients of chlorophyll a and B in n, n-dimethylformamide and 80 % acetone. Plant Physiol 77:483–485

Motte H, Vercauteren A, Depuydt S, Landschoot S, Geelen D, Werbrouck S, Goormachtig S, Vuylsteke M, Vereecke D (2014a) Combining linkage and association mapping identifies RECEPTOR-LIKE PROTEIN KINASE1 as an essential Arabidopsis shoot regeneration gene. Proc Natl Acad Sci USA 111:8305–8310

Motte H, Vereecke D, Geelen D, Werbrouck S (2014b) The molecular path to in vitro shoot regeneration. Biotechnol Adv 32:107–121

Perianez-Rodriguez J, Manzano C, Moreno-Risueno MA (2014) Post-embryonic organogenesis and plant regeneration from tissues: two sides of the same coin? Front Plant Sci 5:219. doi:10.3389/fpls.2014.00219

Peter E, Grimm B (2009) GUN4 is required for posttranslational control of plant tetrapyrrole biosynthesis. Mol Plant 2:1198–1210

Riefler M, Novak O, Strnad M, Schmulling T (2006) Arabidopsis cytokinin receptor mutants reveal functions in shoot growth, leaf senescence, seed size, germination, root development, and cytokinin metabolism. Plant Cell 18:40–54

Skoog F, Miller CO (1957) Chemical regulation of growth and organ formation in plant tissues cultured in vitro. Symp Soc Exp Biol 11:118–130

Stiegler JC, Bell GE, Maness NO (2004) Comparison of acetone and N, N-dimethylformamide for pigment extraction in turfgrass. Commun Soil Sci Plant Anal 35:1801–1813

Sugimoto K, Jiao Y, Meyerowitz EM (2010) Arabidopsis regeneration from multiple tissues occurs via a root development pathway. Dev Cell 18:463–471

Valvekens D, Montagu MV, Van Lijsebettens M (1988) Agrobacterium tumefaciens-mediated transformation of Arabidopsis thaliana root explants by using kanamycin selection. Proc Natl Acad Sci USA 85:5536–5540

Warren CR (2008) Rapid measurement of chlorophylls with a microplate reader. J Plant Nutri 31:1321–1332
Acknowledgments
This work was supported by grant LO1204 from the National Program of Sustainability I from the Ministry of Education, Youth and Sports, Czech Republic. We thank European Arabidopsis Stock Centre (NASC) and Tatsuo Kakimoto for providing mutant seeds, Brian Jones and Jun'ichi Mano for critical reading of manuscript.
Ethics declarations
Conflict of interest
The authors declare that they have no conflict of interest.
Electronic supplementary material
Below is the link to the electronic supplementary material.
About this article
Cite this article
Kubalová, I., Ikeda, Y. Chlorophyll Measurement as a Quantitative Method for the Assessment of Cytokinin-Induced Green Foci Formation in Tissue Culture. J Plant Growth Regul 36, 516–521 (2017). https://doi.org/10.1007/s00344-016-9637-7
Received:

Accepted:

Published:

Issue Date:
Keywords
Chlorophyll measurement

Tissue culture

Green foci

Arabidopsis thaliana

Cytokinin