Abstract
Since their discovery in the 1950s, cytokinins (CKs) have become integral, almost indispensable, components of plant growth media in in vitro propagation. However, despite the extensive use of exogenous CKs in plant tissue culture systems, there is a paucity of knowledge on the longevity of their physiological effect post in vitro. The objective of this study was to evaluate the long-term physiological effect of CKs (including a novel meta-topolin derivative) applied during in vitro propagation of Merwilla plumbea after 1 year of ex vitro growth. Ultra-high-performance liquid chromatography–tandem mass spectrometry (UHPLC–MS/MS) was used for the quantification of endogenous auxins and phenolic compounds in the 1-year-old M. plumbea plants. Compared to the control, exogenous CKs had a significant carry-over effect on ex vitro growth of M. plumbea plants after 1 year growing under ex vitro conditions. M. plumbea plants treated with the novel CK 6-(3-hydroxybenzylamino)-9-(tetrahydropyran-2-yl)purine (mTTHP, 1.0 µM) had significantly higher leaf area per plant, total leaf fresh weight and bulb diameter. Varying concentrations of free indole-3-acetic acid (IAA), oxindole-3-acetic acid (OxIAA) and indole-3-acetyl-l-aspartic acid (IAA-Asp) were detected in leaves of plants originally treated with exogenous CKs, whereas these compounds were absent in leaves of plants without exogenous CKs. Likewise, a CK-type and concentration-dependent response was observed for hydroxybenzoic acids, hydroxycinnamic acids, flavonoids and antioxidant activity of the extracts. The current study showed the influence of type and concentration of exogenous CKs used in vitro on production of phytochemical compounds during ex vitro growth. Taken together, the study provides significant insights on the residual effect of exogenous CKs on the regulation of auxin homeostasis and phenolic acid and/or flavonoid metabolism in 1-year-old M. plumbea plants growing under ex vitro conditions.
This is a preview of subscription content, log in to check access.
Access options
Buy single article
Instant access to the full article PDF.
US$ 39.95
Price includes VAT for USA
Subscribe to journal
Immediate online access to all issues from 2019. Subscription will auto renew annually.
US$ 99
This is the net price. Taxes to be calculated in checkout.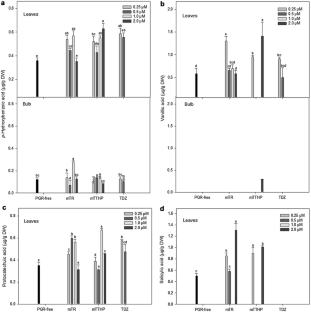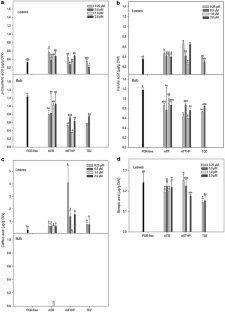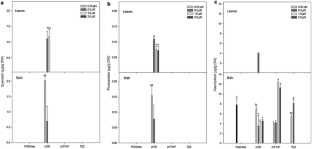 References
Agati G, Brunetti C, Di Ferdinando M, Ferrini F, Pollastri S, Tattini M (2013) Functional roles of flavonoids in photoprotection: new evidence, lessons from the past. Plant Physiol Biochem 72:35–45

Amarowicz R, Pegg RB, Rahimi-Moghaddam P, Barl B, Weil JA (2004) Free-radical scavenging capacity and antioxidant activity of selected plant species from the Canadian prairies. Food Chem 84:551–562

Amoo SO, Ndhlala AR, Finnie JF, Van Staden J (2009) Antibacterial, antifungal and anti-inflammatory properties of Burchellia bubalina. S Afr J Bot 75:60–63

Amoo SO, Aremu AO, Moyo M, Sunmonu TO, Plíhalová L, Doležal K, Van Staden J (2015) Physiological and biochemical effects of a tetrahydropyranyl-substituted meta-topolin in micropropagated Merwilla plumbea. Plant Cell Tissue Organ Cult 121:579–590

Aremu AO, Gruz J, Šubrtová M, Szüčová L, Doležal K, Bairu MW, Finnie JF, Van Staden J (2013) Antioxidant and phenolic acid profiles of tissue cultured and acclimatized Merwilla plumbea plantlets in relation to the applied cytokinins. J Plant Physiol 170:1303–1308

Aremu AO, Moyo M, Amoo SO, Gruz J, Šubrtová M, Plíhalová L, Doležal K, Van Staden J (2014) Effect of a novel aromatic cytokinin derivative on phytochemical levels and antioxidant potential in greenhouse grown Merwilla plumbea. Plant Cell Tissue Organ Cult 119:501–509

Aremu AO, Plačková L, Gruz J, Bíba O, Šubrtová M, Novák O, Doležal K, Van Staden J (2015) Accumulation pattern of endogenous cytokinins and phenolics in different organs of one-year-old cytokinin pre-incubated plants: implications for conservation. Plant Biol 17:1146–1155

Bairu MW, Stirk WA, Doležal K, van Staden J (2008) The role of topolins in micropropagation and somaclonal variation of banana cultivars 'Williams' and 'Grand Naine' (Musa spp. AAA). Plant Cell Tissue Organ Cult 95:373–379

Bhalerao RP, Bennett MJ (2003) The case for morphogens in plants. Nat Cell Biol 5:939–943

Burda S, Oleszek W (2001) Antioxidant and antiradical activities of flavonoids. J Agric Food Chem 49:2774–2779

Campanella JJ, Smith SM, Leibu D, Wexler S, Ludwig-Müller J (2008) The auxin conjugate hydrolase family of Medicago truncatula and their expression during the interaction with two symbionts. J Plant Growth Regul 27:26–38

De Diego N, Montalbán IA, Moncaleán P (2011) Improved micropropagation protocol for maritime pine using zygotic embryos. Scand J For Res 26:202–211

Doležal K, Popa I, Kryštof V, Spíchal L, Fojtíková M, Holub J, Lenobel R, Schmülling T, Strnad M (2006) Preparation and biological activity of 6-benzylaminopurine derivatives in plants and human cancer cells. Bioorg Med Chem 14:875–884

Eloff J (1998) A sensitive and quick microplate method to determine the minimal inhibitory concentration of plant extracts for bacteria. Planta Med 64:711–713

Gomes CA, Girão da Cruz T, Andrade JL, Milhazes N, Borges F, Marques MPM (2003) Anticancer activity of phenolic acids of natural or synthetic origin: a structure-activity study. J Med Chem 46:5395–5401

Gruz J, Novák O, Strnad M (2008) Rapid analysis of phenolic acids in beverages by UPLC–MS/MS. Food Chem 111:789–794

Heim KE, Tagliaferro AR, Bobilya DJ (2002) Flavonoid antioxidants: chemistry, metabolism and structure-activity relationships. J Nutr Biochem 13:572–584

Ignat I, Volf I, Popa VI (2011) A critical review of methods for characterisation of polyphenolic compounds in fruits and vegetables. Food Chem 126:1821–1835

Jones B, Gunnerås SA, Petersson SV, Tarkowski P, Graham N, May S, Dolezal K, Sandberg G, Ljung K (2010) Cytokinin regulation of auxin synthesis in Arabidopsis involves a homeostatic feedback loop regulated via auxin and cytokinin signal transduction. Plant Cell 22:2956–2969

Karioti A, Hadjipavlou-Litina D, Mensah ML, Fleischer TC, Skaltsa H (2004) Composition and antioxidant activity of the essential oils of Xylopia aethiopica (Dun) A. Rich. (Annonaceae) leaves, stem bark, root bark, and fresh and dried fruits, growing in Ghana. J Agric Food Chem 52:8094–8098

Korasick DA, Enders TA, Strader LC (2013) Auxin biosynthesis and storage forms. J Exp Bot 64:2541–2555

Kowalczyk M, Sandberg G (2001) Quantitative analysis of indole-3-acetic acid metabolites in Arabidopsis. Plant Physiol 127:1845–1853

Makara A, Rubaihayo P, Magambo M (2012) Carry-over effect of thidiazuron on banana in vitro proliferation at different culture cycles and light incubation conditions. Afr J Biotechnol 9:3079–3085

Masoko P, Picard J, Eloff JN (2007) The antifungal activity of twenty-four southern African Combretum species (Combretaceae). S Afr J Bot 73:173–183

Miller CO, Skoog F, Von Saltza MH, Strong F (1955) Kinetin, a cell division factor from deoxyribonucleic acid. J Am Chem Soc 77:1392–1392

Mok MC, Martin RC, Mok DW (2000) Cytokinins: biosynthesis, metabolism and perception. In Vitro Cell Dev Biol Plant 36:102–107

Moncaleán P, Rodríguez A, Fernández B (2001) In vitro response of Actinidia deliciosa explants to different BA incubation periods. Plant Cell Tissue Organ Cult 67:257–266

Montalbán IA, De Diego N, Moncaleán P (2011) Testing novel cytokinins for improved in vitro adventitious shoots formation and subsequent ex vitro performance in Pinus radiata. Forestry 84:363–373

Murashige T, Skoog F (1962) A revised medium for rapid growth and bio assays with tobacco tissue cultures. Physiol Plant 15:473–497

Nordström A, Tarkowski P, Tarkowska D, Norbaek R, Åstot C, Dolezal K, Sandberg G (2004) Auxin regulation of cytokinin biosynthesis in Arabidopsis thaliana: a factor of potential importance for auxin–cytokinin-regulated development. Proc Natl Acad Sci USA 101:8039–8044

Östin A, Kowalyczk M, Bhalerao RP, Sandberg G (1998) Metabolism of indole-3-acetic acid in Arabidopsis. Plant Physiol 118:285–296

Peer WA, Murphy AS (2007) Flavonoids and auxin transport: modulators or regulators? Trends Plant Sci 12:556–563

Pěnčík A, Rolčík J, Novák O, Magnus V, Barták P, Buchtík R, Salopek-Sondi B, Strnad M (2009) Isolation of novel indole-3-acetic acid conjugates by immunoaffinity extraction. Talanta 80:651–655

Pietta P-G (2000) Flavonoids as antioxidants. J Nat Prod 63:1035–1042

Procházková D, Boušová I, Wilhelmová N (2011) Antioxidant and prooxidant properties of flavonoids. Fitoterapia 82:513–523

Rampey RA, LeClere S, Kowalczyk M, Ljung K, Sandberg G, Bartel B (2004) A family of auxin-conjugate hydrolases that contributes to free indole-3-acetic acid levels during Arabidopsis germination. Plant Physiol 135:978–988

Rice-Evans CA, Miller NJ, Paganga G (1996) Structure-antioxidant activity relationships of flavonoids and phenolic acids. Free Radic Biol Med 20:933–956

Rice-Evans C, Miller N, Paganga G (1997) Antioxidant properties of phenolic compounds. Trends Plant Sci 2:152–159

Salvi ND, George L, Eapen S (2002) Micropropagation and field evaluation of micropropagated plants of turmeric. Plant Cell Tissue Organ Cult 68:143–151

Sparg SG, van Staden J, Jäger AK (2002) Pharmacological and phytochemical screening of two Hyacinthaceae species: scilla natalensis and Ledebouria ovatifolia. J Ethnopharmacol 80:95–101

Stirk WA, van Staden J (2010) Flow of cytokinins through the environment. Plant Growth Regul 62:101–116

Swartz HJ (1991) Post culture behavior: genetic and epigenetic effects and related problems. In: Debergh PC, Zimmerman RH (eds) Micropropagation. Kluwer Academic Publishers, Dordrecht, pp 95–121

Szüčová L, Spíchal L, Doležal K, Zatloukal M, Greplová J, Galuszka P, Kryštof V, Voller J, Popa I, Massino FJ, Jørgensen J-E, Strnad M (2009) Synthesis, characterization and biological activity of ring-substituted 6-benzylamino-9-tetrahydropyran-2-yl and 9-tetrahydrofuran-2-ylpurine derivatives. Bioorg Med Chem 17:1938–1947

Tam YY, Epstein E, Normanly J (2000) Characterization of auxin conjugates in Arabidopsis: low steady-state levels of indole-3-acetyl-aspartate, indole-3-acetyl-glutamate, and indole-3-acetyl-glucose. Plant Physiol 123:589–596

Taylor LP, Grotewold E (2005) Flavonoids as developmental regulators. Curr Opin Plant Biol 8:317–323

Tromas A, Perrot-Rechenmann C (2010) Recent progress in auxin biology. Comptes Rendus Biol 333:297–306

Tsao R, Yang R (2003) Optimization of a new mobile phase to know the complex and real polyphenolic composition: towards a total phenolic index using high-performance liquid chromatography. J Chromatogr A 1018:29–40

Werbrouck SP, Strnad M, Van Onckelen HA, Debergh PC (1996) Meta-topolin, an alternative to benzyladenine in tissue culture? Physiol Plant 98:291–297

Werner T, Schmülling T (2009) Cytokinin action in plant development. Curr Opin Plant Biol 12:527–538

Williams VL, Balkwill K, Witkowski ETF (2007) Size-class prevalence of bulbous and perennial herbs sold in the Johannesburg medicinal plant markets between 1995 and 2001. S Afr J Bot 73:144–155
Acknowledgments
The National Research Foundation and University of KwaZulu-Natal, South Africa provided financial support. This work was also financed by the Ministry of Education, Youth and Sports, Czech Republic (Grant LO1204 from the National Program of Sustainability). We thank Mrs Alison Young (UKZN Botanical Garden, Pietermaritzburg, South Africa) and her staff for their assistance in maintaining the greenhouse facilities.
Contributions
M.M., S.O.A. and A.O.A. conceived research idea and designed the experiments. L.P. and K.D. synthesized the meta-topolins and prepared 6-(3-hydroxybenzylamino)-9-(tetrahydropyran-2-yl)purine. J.G. and M.S. quantified the phenolic compounds while AP conducted the auxin analysis. M.M., A.O.A., S.O.A., A.P., J.G. and M.S. analysed the data. M.M. wrote the draft manuscript with help from S.O.A. and A.O.A. K.D. and J.V.S. contributed research facilities/reagents/materials and supervised the research. All authors read and edited the final manuscript.
About this article
Cite this article
Moyo, M., Amoo, S.O., Aremu, A.O. et al. Physiological and Biochemical Responses of Merwilla plumbea Cultured In Vitro with Different Cytokinins After 1 Year of Growth Under Ex Vitro Conditions. J Plant Growth Regul 36, 83–95 (2017). https://doi.org/10.1007/s00344-016-9621-2
Received:

Accepted:

Published:

Issue Date:
Keywords
Asparagaceae

Auxins

Cytokinins

Flavonoids

Phenolic acids