Abstract
Apple cultivars exhibit considerable variation in fruit maturation patterns that could influence at-harvest fruit firmness and postharvest storability. Based on the results from our previous transcriptome profiling of apple fruit maturation and well-documented auxin–ethylene crosstalk in other plant processes, the current experiment attempts to get insight into the potential crosstalk between auxin metabolism and ethylene biosynthesis during apple fruit maturation and ripening. Weekly apple fruit samples were collected to include the early maturation stages until 2 weeks after physiological maturity for both 'Minneiska' and 'Scifresh' cultivars. The expression patterns for genes with annotated functions of auxin transport, conjugation, biosynthesis, and responses were profiled by qRT-PCR along the apple fruit ripening processes and in different apple fruit tissues (seed, core, cortex, and peel). The expression profiles of both auxin metabolism and ethylene biosynthesis genes correlated with the apple fruit maturation process, but with different expression patterns and strength in each cultivar. Temporal and spatial gene expression patterns from seed to the outer fruit tissues corresponded with the center-outward ripening characteristics of apple fruit. It seems that timely reduction of biologically active auxin, in apple fruit cells of specific tissue, is critical for the activation of ethylene biosynthesis, even though auxin is needed for early fruit development. Our results suggest that the regulation of auxin transport and homeostasis may contribute to the time of activation of the ethylene biosynthesis pathway in maturing apple fruit and consequently influence the time of ripening for a specific cultivar.
Access options
Buy single article
Instant access to the full article PDF.
US$ 39.95
Tax calculation will be finalised during checkout.
Subscribe to journal
Immediate online access to all issues from 2019. Subscription will auto renew annually.
US$ 79
Tax calculation will be finalised during checkout.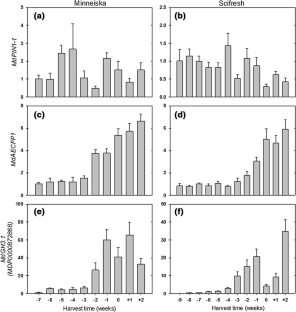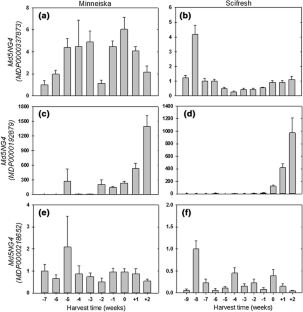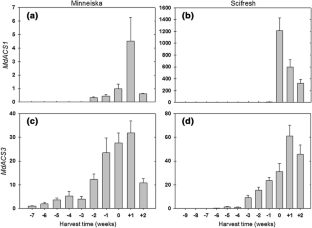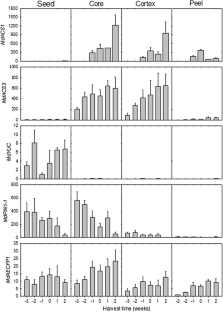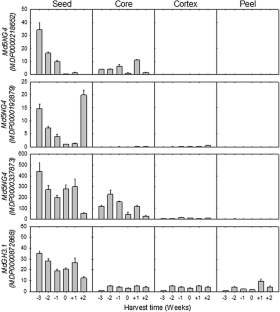 References
Abel S, Theologis A (1996) Early genes and auxin action. Plant Physiol 111:9–17

Abel S, Nguyen MD, Chow W, Theologis A (1995) ACS4, a primary indoleacetic acid-responsive gene encoding 1-aminocyclopropane-1-carboxylate synthase in Arabidopsis thaliana. J Biol Chem 270:19093–19099

Barbez E et al (2012) A novel putative auxin carrier family regulates intracellular auxin homeostasis in plants. Nature 485:119–122. doi:10.1038/nature11001

Bartel B, LeClere S, Magidin M, Zolman BK (2001) Inputs to the active indole-3-acetic acid pool: De novo synthesis, conjugate hydrolysis, and indole-3-butyric acid β-oxidation. J Plant Growth Regul 20:198–216. doi:10.1007/s003440010025

Bleecker AB, Kende H (2000) Ethylene: a gaseous signal molecule in plants Ann Rev Cell. Dev Biol 16:1–18. doi:10.1146/annurev.cellbio.16.1.1

Bottcher C, Keyzers RA, Boss PK, Davies C (2010) Sequestration of auxin by the indole-3-acetic acid-amido synthetase GH3-1 in grape berry (Vitis vinifera L.) and the proposed role of auxin conjugation during ripening. J Exp Bot 61:3615–3625. doi:10.1093/jxb/erq174

Brookfield P, Murphy P, Harker R, MacRae E (1997) Starch degradation and starch pattern indices; interpretation and relationship to maturity. Postharvest Biol Technol 11:23–30. doi:10.1016/s0925-5214(97)01416-6

Busov VB, Johannes E, Whetten RW, Sederoff RR, Spiker SL, Lanz-Garcia C, Goldfarb B (2004) An auxin-inducible gene from loblolly pine (Pinus taeda L.) is differentially expressed in mature and juvenile-phase shoots and encodes a putative transmembrane protein. Planta 218:916–927. doi:10.1007/s00425-003-1175-4

Devoghalaere F et al (2012) A genomics approach to understanding the role of auxin in apple (Malus × domestica) fruit size control. BMC Plant Biol 12:7. doi:10.1186/1471-2229-12-7

Fan X, Argenta L, Mattheis JP (2002) Interactive effects of 1-MCP and temperature on 'Elberta' peach quality. HortSci 37:134–138

Frenkel C, Dyck R (1973) Auxin inhibition of ripening in bartlett pears. Plant Physiol 51:6–9

Gapper NE, McQuinn RP, Giovannoni JJ (2013) Molecular and genetic regulation of fruit ripening. Plant Mol Biol 82:575–591. doi:10.1007/s11103-013-0050-3

Gasic K, Hernandez A, Korban S (2004) RNA extraction from different apple tissues rich in polyphenols and polysaccharides for cDNA library construction. Plant Mol Biol Report 22:437a–437g

Giovannoni JJ (2004) Genetic regulation of fruit development and ripening. Plant Cell 16:S170–S180. doi:10.1105/tpc.019158

Given NK, Venis MA, Gierson D (1988) Hormonal regulation of ripening in the strawberry, a non-climacteric fruit. Planta 174:402–406. doi:10.1007/bf00959527

Ishiki Y et al (2000) Cloning of an auxin-responsive 1-aminocyclopropane-1-carboxylate synthase gene (CMe-ACS2) from melon and the expression of ACS genes in etiolated melon seedling and melon fruits. Plant Sci 159:173–181

Iwahori S (1967) Auxin of tomato fruit at different stages of its development with special reference to high temperature injuries. Plant Cell Physiol 8:15–22

Jack DL, Yang NM, Saier MH (2001) The drug/metabolite transporter superfamily. Eur J Biochem 268:3620–3639. doi:10.1046/j.1432-1327.2001.02265.x

Janick J, Cummins JN, Brown SK, Hemmat M (1996) Chapter 1: apples. In: Janick J, Moore JN (eds) Fruit breed, volume 1: tree and tropical fruits, vol 1. Wiley, New York

Kuppusamy KT, Walcher CL, Nemhauser JL (2009) Cross-regulatory mechanisms in hormone signaling. Plant Mol Biol 69:375–381. doi:10.1007/s11103-008-9389-2

Li J, Yuan R (2008) NAA and ethylene regulate expression of genes related to ethylene biosynthesis, perception, and cell wall degradation during fruit abscission and ripening in 'Delicious' apples. J Plant Growth Regul 27:283–295. doi:10.1007/s00344-008-9055-6

Liu K et al (2005) A GH3-like gene, CcGH3, isolated from Capsicum chinense L. fruit is regulated by auxin and ethylene. Plant Mol Biol 58:447–464. doi:10.1007/s11103-005-6505-4

Ljung K (2013) Auxin metabolism and homeostasis during plant development. Development 140:943–950. doi:10.1242/dev.086363

Morgan PW, Hall WC (1962) Effect of 2,4-dichlorophenoxyacetic acid on the production of ethylene by cotton and grain sorghum. Physiol Plant 15:420–427. doi:10.1111/j.1399-3054.1962.tb08045.x

Mousdale DMA, Knee M (1981) Indolyl-3-acetic acid and ethylene levels in ripening apple fruits. J Exp Bot 32:753–758

Mravec J et al (2009) Subcellular homeostasis of phytohormone auxin is mediated by the ER-localized PIN5 transporter. Nature 459:1136–1140. doi:10.1038/nature08066

Nishio S et al (2010) Expression analysis of the auxin efflux carrier family in tomato fruit development. Planta 232:755–764. doi:10.1007/s00425-010-1211-0

Nitsch JP (1950) Growth and morphogenesis of the strawberry as related to auxin. Am J Bot 37:211–215. doi:10.2307/2437903

Normanly J (1997) Auxin metabolism. Physiol Plant 100:431–442. doi:10.1111/j.1399-3054.1997.tb03047.x

Pratt C (1988) Horticultural reviews. Apple flower and fruit: morphology and anatomy. Wiley, New York, pp 273–308. doi:10.1002/9781118060834.ch8

Reverchon S, Nasser W, Robert-Baudouy J (1994) pecS: a locus controlling pectinase, cellulase and blue pigment production in Erwinia chrysanthemi. Mol Microbiol 11:1127–1139. doi:10.1111/j.1365-2958.1994.tb00389.x

Rouanet C, Nasser W (2001) The PecM protein of the phytopathogenic bacterium Erwinia chrysanthemi, membrane topology and possible involvement in the efflux of the blue pigment indigoidine. J Mol Microbiol Biotechnol 2:309–318

Ruzicka K et al (2010) Arabidopsis PIS1 encodes the ABCG37 transporter of auxinic compounds including the auxin precursor indole-3-butyric acid. Proc Natl Acad Sci USA 107:10749–10753. doi:10.1073/pnas.1005878107

Sato T, Kudo T, Akada T, Wakasa Y, Niizeki M, Harada T (2004) Allelotype of a ripening-specific 1-aminocyclopropane-1-carboxylate synthase gene defines the rate of Fruit Drop in Apple. J Am Soc Hort Sci 129:32–36

Schaffer RJ, Ireland HS, Ross JJ, Ling TJ, David KM (2013) SEPALLATA1/2-suppressed mature apples have low ethylene, high auxin and reduced transcription of ripening-related genes. AoB Plants. doi:10.1093/aobpla/pls047

Seymour GB, Manning K, Eriksson EM, Popovich AH, King GJ (2002) Genetic identification and genomic organization of factors affecting fruit texture. J Exp Bot 53:2065–2071

Shin S, Lee J, Rudell D, Evans K, Zhu Y (2015) Transcript profiles of auxin efflux carrier and IAA-amido synthetase genes suggest the role of auxin on apple (Malus × domestica) fruit maturation patterns. Am J Plant Sci 6:620–632. doi:10.4236/ajps.2015.65067

Simon S, Petrasek J (2011) Why plants need more than one type of auxin. Plant Sci 180:454–460. doi:10.1016/j.plantsci.2010.12.007

Spartz AK, Gray WM (2008) Plant hormone receptors: new perceptions. Gene Dev 22:2139–2148

Srivastava A, Handa AK (2005) Hormonal regulation of tomato fruit development: a molecular perspective. J Plant Growth Regul 24:67–82. doi:10.1007/s00344-005-0015-0

Staswick PE, Serban B, Rowe M, Tiryaki I, Maldonado MT, Maldonado MC, Suza W (2005) Characterization of an Arabidopsis enzyme family that conjugates amino acids to indole-3-acetic acid. Plant Cell 17:616–627. doi:10.1105/tpc.104.026690

Strader LC, Bartel B (2009) The Arabidopsis PLEIOTROPIC DRUG RESISTANCE8/ABCG36 ATP binding cassette transporter modulates sensitivity to the auxin precursor indole-3-butyric acid. Plant Cell 21:1992–2007. doi:10.1105/tpc.109.065821

Sun L, John Bukovac M, Forsline PL, Nocker S (2008) Natural variation in fruit abscission-related traits in apple (Malus). Euphytica 165:55–67. doi:10.1007/s10681-008-9754-x

Tancred SJ, Zeppa AG, Cooper M, Stringer JK (1995) Heritability and patterns of inheritance of the ripening date of apples. HortSci 30:325–328

Trainotti L, Tadiello A, Casadoro G (2007) The involvement of auxin in the ripening of climacteric fruits comes of age: the hormone plays a role of its own and has an intense interplay with ethylene in ripening peaches. J Exp Bot 58:3299–3308. doi:10.1093/jxb/erm178

Vandenbussche F, Van Der Straeten D (2007) One for all and all for one: cross-talk of multiple signals controlling the plant phenotype. J Plant Growth Regul 26:178–187

Varanasi V, Shin S, Mattheis J, Rudell D, Zhu Y (2011) Expression profiles of the MdACS3 gene suggest a function as an accelerator of apple (Malus × domestica) fruit ripening. Postharvest Biol Technol 62:141–148. doi:10.1016/j.postharvbio.2011.05.005

Velasco R et al (2010) The genome of the domesticated apple (Malus × domestica Borkh.). Nat Gen 42:833–839. doi:10.1038/ng.654

Yang SF, Hoffman NE (1984) Ethylene biosynthesis and its regulation in higher plants. Annu Rev Plant Physiol 35:155–189

Zhu Y, Zheng P, Varanasi V, Shin S, Main D, Curry E, Mattheis JP (2012) Multiple plant hormones and cell wall metabolism regulate apple fruit maturation patterns and texture attributes. Tree Genet Genomes 8:1389–1406. doi:10.1007/s11295-012-0526-3
Acknowledgments
We thank Steve Reymond, Janie Countryman, Dave Buchanan, and Edward Valdez for their excellent technical assistance. We thank Dr. Amit Dhingra and Dr. Tianbao Yang for their critical review of the manuscript. This work was supported by the funds from Washington Tree Fruit Research Committee.
Electronic supplementary material
Below is the link to the electronic supplementary material.
Fig. S1. Phylogenetic tree of the apple auxin-related genes: () MdPIN1, (b) MdAECFP1, (c) Md5NG4, (d) MdGH3.1. Phylogenetic analysis was performed by comparing peptide sequences of apple gene family members and the reference genes: Arabidopsis thaliana—AtPIN1 (At1g73590), AtAECFP1 (At1g76530), and AtGH3.1 (At2g14960); Pinus taeda—Pt5NG4. Supplementary material 1 (PDF 101 kb)
About this article
Cite this article
Shin, S., Lee, J., Rudell, D. et al. Transcriptional Regulation of Auxin Metabolism and Ethylene Biosynthesis Activation During Apple (Malus × domestica) Fruit Maturation. J Plant Growth Regul 35, 655–666 (2016). https://doi.org/10.1007/s00344-015-9568-8
Received:

Accepted:

Published:

Issue Date:
Keywords
Apple fruit maturation

Auxin–ethylene crosstalk

Ethylene biosynthesis activation

Plant hormone

Quantitative gene expression