Abstract
This study was carried out to evaluate the inoculation effects of Achromobacter xylosoxidans AUM54 and Indole-3-butyric acid (IBA) on the growth of the medicinal plant Naravelia zeylanica (L.) DC under micropropagation conditions. Results revealed that the micropropagated shoots treated with the combination of endophytic bacterium and IBA promoted shoot growth, root length, number of roots, chlorophyll content, nitrogen content, antioxidant enzymes, and stress tolerance compared with the control plants. A significant increase in shoot fresh and dry weights (64.65 and 8.85 %), root fresh and dry weights (61.65 and 3.91 %), shoot length (30.17 %), root length (28.57 %) and number of roots (276.9 %) was observed in treated plants over controls. Total chlorophyll and nitrogen content of bacterized plants also treated with IBA showed a 48.39 and 116.66 % increase, respectively, compared with controls. A significant increase in peroxidase (22.52 %) and superoxide dismutase levels (48.38 %) and fewer changes in the polyphenol oxidase level were observed in plants treated with A. xylosoxidans AUM54 and IBA. Moreover, stress ethylene levels were reduced by 21.4 and 14.5 % due to bacterization with A. xylosoxidans AUM54 and IBA treatment during postacclimatization and acclimatization stages, respectively. The shoot primordial with application of A. xylosoxidans AUM54 and IBA (1 mg l−1) had increased survivability of N. zeylanica plants by 30 % during the acclimatization stage under greenhouse conditions. From the present study it could be inferred that the association of endophytic bacterium A. xylosoxidans AUM54 and IBA with in vitro shoots of N. zeylanica improved root initiation, promoted plant growth and development under micropropagation conditions, reduced stress ethylene levels, and increased survivability during the postacclimatization stage. Therefore, A. xylosoxidans AUM54 along with IBA treatment can be used as a valuable tool for micropropagation of N. zeylanica and other endangered plants.
Access options
Buy single article
Instant access to the full article PDF.
US$ 39.95
Tax calculation will be finalised during checkout.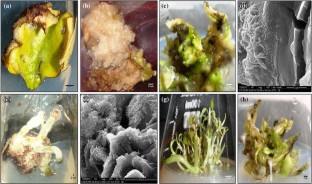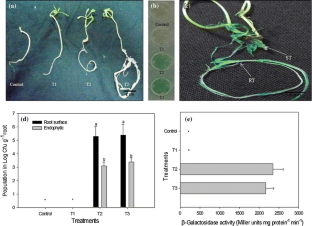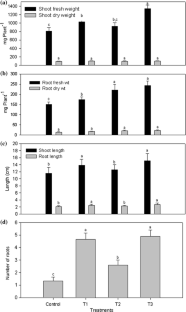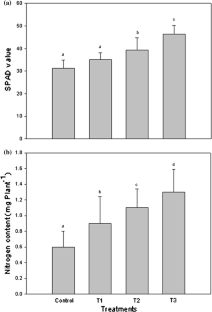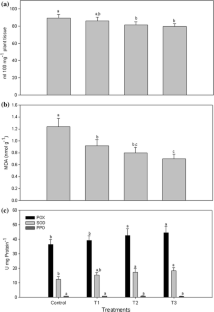 References
Arsene F, Katupitiya S, Kennedy IR, Elmerich C (1994) Use of lac Z fusions to study the expression of nif genes of Azospirillum brasilense in association with plants. Mol Plant Microbe Interact 7:748–757

Avdiushko SA, Ye XS, Kuc J (1993) Detection of several enzymatic activities in leaf prints of cucumber plants. Physiol Mol Plant Pathol 42:441–454

Azevedo JL, Maccheroni WJ, Pereira JO, Araujo WL (2000) Endophytic microorganisms: a review on insect control and recent advances on tropical plants. Electron J Biotechnol 3:4

Beauchamp C, Fridovich I (1971) Superoxide dismutase: improve assays and an essay applicable to acrylamide gels. Anal Biochem 44:276–287

Blaha D, Prigent-Combaret C, Mirza SM, Moënne-Loccoz Y (2005) Phylogeny of the 1-aminocyclopropane-1-carboxylic acid deaminase-encoding gene acdS in phytobeneficial and pathogenic Proteobacteria and relation with strain biogeography. FEMS Microbiol Ecol 56:455–470

Chantarangsee M, Tanthanuch W, Fujimura T, Fry SC, Cairns JK (2007) Molecular characterization of b-galactosidases from germinating rice (Oryza sativa). Plant Sci 173:118–134

Concon JM, Soltess D (1973) Rapid micro-Kjeldahl digestion of cereal grains and other biological materials. Anal Biochem 53:35–41

Frommel MI, Nowak J, Lazarovits G (1991) Growth enhancement and development modifications of in vitro grown potato (Solanum tuberosums sp. tuberosum) as affected by a non fluorescent Pseudomonas sp. Plant Physiol 96:928–936

Glick BR, Penrose D, Li J (1998) A model for the lowering of plant ethylene concentrations by plant growth-promoting bacteria. J Theor Biol 190:63–68

Idris A, Labuschagne N, Korsten L (2009) Efficacy of rhizobacteria for growth promotion in sorghum under greenhouse conditions and selected modes of action studies. J Agric Sci 147:17–30

Karthikeyan B, Joe MM, Rasheedul Md, Sa T (2012) ACC deaminase containing diazotrophic endophytic bacteria ameliorates salt stress in Catharanthus roseus through reduced ethylene levels and induction of antioxidative defense system. Symbiosis 56:77–86

Katupitiya S, Millet J, Vesk M, Viccars L, Zeman A, Lidong Z, Elmerich C, Kennedy IR (1995) A mutant of Azospirillum brasilense Sp7 impaired in flocculation with a modified colonization pattern and superior nitrogen fixation in association with wheat. Appl Environ Microbiol 61:1987–1995

Khan Z, Doty SL (2009) Characterization of bacterial endophytes of sweet potato plants. Plant Soil 322:197–207

Khanam M, Khoo C, Close R, Khan AG (2000) Organogenesis, differentiation and histolocalization of alkaloids in cultured tissues and organs of Duboisia myoporoides R. Br Ann Bot 86:745–752

Kim C, Kecskes ML, Decker-Rosalind J, Gilchrist K, Newpeter B, Kennedy-Ivan R, Kim S, Sa T (2005) Wheat root colonization and nitrogenase activity by Azospirillum isolates from crop plants in Korea. Can J Microbiol 51:948–956

Kloepper J, Schroth M (1978) Plant growth promoting rhizobacteria in radish. In: Proceedings of the 4th international conference on plant pathogenic bacteria, Vol. II. Angers, France: INRA, pp 879–882

Kumar KB, Khan PA (1982) Peroxidase and polyphenol oxidase in excised ragi (Eleusine coracana cv. PR 202) leaves during senescence. Indian J Exp Bot 20:412–416

Larraburu EE, Carletti SM, Rodríguez Cáceres EA, Llorente BE (2007) Micropropagation of photinia employing rhizobacteria to promote root development. Plant Cell Rep 26:711–717

Mayak S, Tirosh T, Glick B (2004) Plant growth-promoting bacteria confer resistance in tomato plants to salt stress. Plant Physiol Biochem 42:565–572

Miller GL (1972) Use of DNS reagent for the determination of glucose. Anal Chem 31:426–428

Murashige T, Skoog FK (1962) A revised medium for rapid growth and bioassays with tobacco tissue cultures. Physiol Plant 15:473–497

Naik BS, Shashikala J, Krishnamurthy YL (2008) Host growth characteristics influenced by seed inoculation with microorganisms. World J Agric Sci 4:891–895

Naika HR, Krishna V (2008) Micropropagation, isolation and characterization of berberine from the leaves of Naravelia zeylanica (L.) DC. Res J Med Plant 2:1–9

Ohkawa H, Ohishin N, Yagi K (1979) Assay for lipid peroxides in animal tissues by thiobarbituric acid reaction. Anal Biochem 95:351–358

Oliveira ALM, Urquiaga S, Dobereiner J, Baldani JI (2002) The effect of inoculating endophytic N2-fixing bacteria on micropropagated sugarcane plant. Plant Soil 242:205–221

Poonguzhali S, Madhaiyan M, Sa T (2007) Quorum-sensing signals produced by plant-growth promoting Burkholderia strains under in vitro and in planta conditions. Res Microbiol 158(3):287–294

Praveendhar T, Ashalatha SN (2003) In vitro regeneration and detection of berberine from Naravelia zeylanica. J Cytol Genet 4:155–160

Preece JE, Sutter EC (1991) Acclimatization of micropropagated plants to the greenhouse and field. In: Debergh PC, Zimmerman RH (eds) Micropropagation., Technology and application, Kluwer, Dordrecht, pp 71–93

Rajan MS, Randhir Y, Ashok S, Sabraya AR, Raut RG (2012) Evaluation of anti-inflammatory activity of Naravelia zeylanica Linn. leaves extract. Int Res J Pharmacol 6:77–79

Reinhold-Hurek B, Hurek T (1998) Life in grasses: diazotrophic endophytes. Trend Microbiol l6:139–144

Russo A, Vettori L, Felici C, Fiaschi G, Morini S, Toffanin A (2008) Enhanced micropropagation response and biocontrol effect of Azospirillum brasilense Sp245 on Prunus cerasifera L. clone Mr.S 2/5 plants. J Biotechnol 134:312–319

Saher S, Piqueras A, Hellin E, Olmos E (2004) Hyperhydricity in micropropagated carnation shoots: the role of oxidative stress. Physiol Plant 120:152–161

Saldanha CJ (1984) Flora of Karnataka. Oxford and IBH Publishing Company, New Delhi, pp 78–79

Simon R, Priefer UB, Pühler A (1983) A broad host range mobilization system for in vivo genetic engineering: transposon mutagenesis in Gram-negative bacteria. Biotechnology 1:784–791

Smart RE, Bingham GE (1974) Rapid estimates of relative water content. Plant Physiol 53:258–260
Acknowledgments
We thank the VIT University for their constant support and encouragement. We acknowledge the University Grants Commission, New Delhi, for providing financial support through the Maulana Azad National Fellowship to Abitha Benson [No. F.40-160(C)/2009(SA-III/MANF)]. We also acknowledge IIT Madras for the SEM analysis.
About this article
Cite this article
Benson, A., Joe, M.M., Karthikeyan, B. et al. Role of Achromobacter xylosoxidans AUM54 in Micropropagation of Endangered Medicinal Plant Naravelia zeylanica (L.) DC. J Plant Growth Regul 33, 202–213 (2014). https://doi.org/10.1007/s00344-013-9363-3
Received:

Accepted:

Published:

Issue Date:
Keywords
Naravelia zeylanica
Achromobacter xylosoxidans

Endophytic bacteria

Antioxidant enzyme

Micropropagation