Abstract
The effects of Cd, in combination with salicylic acid (SA) and sodium nitroprusside (SNP), on ryegrass seedlings were studied. Exposure of plants to 0.1 mM CdCl2 for 2 weeks resulted in toxicity symptoms such as chlorosis and necrotic spots on leaves. The addition of 0.2 mM SA or 0.1 mM SNP slightly alleviated the toxic effects of Cd. After application of both SA and SNP, these symptoms significantly decreased. Treatment with Cd resulted in a decrease of dry weight of roots and shoots, chlorophyll content, net photosynthetic rate (P n), transpiration rate (T r), and the uptake and translocation of mineral elements. In Cd-treated plants, levels of lipoxygenase activity and malondialdehyde, hydrogen peroxide (H2O2), and proline contents significantly increased, whereas the activities of antioxidant enzymes, such as superoxide dismutase, guaiacol peroxidase, catalase, and ascorbate peroxidase, decreased in both roots and shoots. The results indicated that Cd caused physiological stresses in ryegrass plants. The Cd-stressed plants exposed to SA or SNP, especially to SA + SNP, exhibited improved growth compared with Cd-stressed plants. Application of SA or SNP, especially the combination SA + SNP, considerably reduced root-to-shoot translocation of Cd and increased the activities of antioxidant enzymes in both roots and shoots of Cd-stressed plants. The interaction of SA and SNP increased chlorophyll content, P n and T r in leaves, and the uptake and translocation of mineral elements, and decreased lipid peroxidation and H2O2 and proline accumulation in roots and shoots. These results suggest that SA or SNP, and, in particular, their combination counteracted the negative effects of Cd on ryegrass plants.
Access options
Buy single article
Instant access to the full article PDF.
USD 39.95
Price includes VAT (USA)
Tax calculation will be finalised during checkout.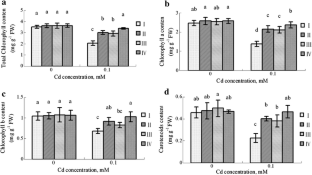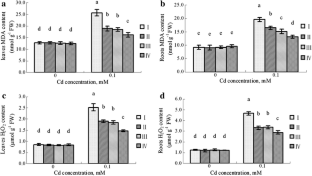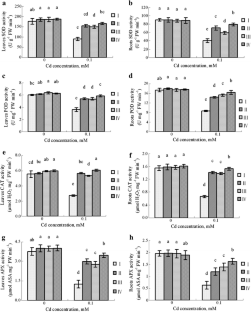 References
Ait Ali N, Bernal MP, Ater M (2002) Tolerance and bioaccumulation of copper in Phragmites australis and Zea mays. Plant Soil 239:103–111

Arienzo M, Adamo P, Cozzolino V (2004) The potential of Lolium perenne for revegetation of contaminated soil from a metallurgical site. Sci Total Environ 319:13–25

Bates LS, Waldern SP, Teare ID (1973) Rapid determination of free proline for water-stress studies. Plant Soil 39:205–207

Benavides MP, Gallego SM, Tomaro ML (2005) Cadmium toxicity in plants. Braz J Plant Physiol 17:21–34

Cui X, Zhang YK, Wu XB, Liu CS (2010) The investigation of the alleviated effect of copper toxicity by exogenous nitric oxide in tomato plants. Plant Soil Environ 6:274–281

Drazic G, Mihailovic N (2005) Modification of cadmium toxicity in soybean seedlings by salicylic acid. Plant Sci 168:511–517

Drazic G, Mihailovic N, Lojic M (2006) Cadmium accumulation in Medicago sativa seedlings treated with salicylic acid. Biol Plantarum 50:239–244

Ekmekci Y, Tanyolac D, Ayhan B (2008) Effects of cadmium on antioxidant enzyme and photosynthetic activities in leaves of two maize cultivars. J Plant Physiol 165:600–611

El-Tayeb MA, El-Enany AE, Ahmed NL (2006) Salicylic acid-induced adaptive response to copper stress in sunflower (Helianthus annuus L.). Plant Growth Regul 50:191–199

Groppa MD, Rosales EP, Lannone MF, Benavides MP (2008) Nitric oxide, polyamines and Cd-induced phytotoxicity in wheat roots. Phytochemistry 69:2609–2615

Guo B, Liang YC, Zhu YG, Zhao FJ (2007) Role of salicylic acid in alleviating oxidative damage in rice roots (Oryza sativa) subjected to cadmium stress. Environ Pollut 147:743–749

Guo B, Liang YC, Zhu YG (2009) Does salicylic acid regulate antioxidant defense system, cell death, cadmium uptake and partitioning to acquire cadmium tolerance in rice? J Plant Physiol 166:20–31

Hannaway D, Fransen S, Cropper J, Teel M, Chaney M, Griggs T, Halse R, Hart J, Cheeke P, Hansen D, Klinger R, Lane W (1999) Perennial ryegrass (Lolium perenne L.). In: A Pacific Northwest Extension Publication, vol PNW 503. Oregon State University, Washington State University, University of Idaho

He Y, Liu Y, Cao W, Hua M, Xu B, Huang B (2005) Effects of salicylic acid on heat tolerance associated with antioxidant metabolism in Kentucky bluegrass. Crop Sci 45:988–995

Heath RL, Packer L (1968) Photoperoxidation in isolated chloroplasts. I. Kinetics and stoichiometry of fatty acid peroxidation. Arch Biochem Biophys 125:189–198

Hoagland DR, Arnon DI (1950) The water culture method for growing plants without soil. Circ Calif Agric Exp Sta 347:29–32

Hsu YT, Kao CH (2004) Cadmium toxicity is reduced by nitric oxide in rice leaves. Plant Growth Regul 42:227–238

Knudson LL, Tibbitts TW, Edwards GE (1977) Measurement of ozone injury by determination of leaf chlorophyll concentration. Plant Physiol 60:606–608

Kovacik J, Gruz J, Backor M, Strnad M, Repcak M (2009) Salicylic acid-induced changes to growth and phenolic metabolism in Matricaria chamomilla plants. Plant Cell Rep 28:135–143

Lamattina L, Garcia-Mata C, Graziano M, Pagnussat G (2003) Nitric oxide: the versatility of an extensive signal molecule. Annu Rev Plant Biol 54:109–136

Laspina NV, Groppa MD, Tomaro ML, Benavides MP (2005) Nitric oxide protects sunflower leaves against Cd-induced oxidative stress. Plant Sci 169:323–330

Lee S, Park CM (2010) Modulation of reactive oxygen species by salicylic acid in Arabidopsis seed germination under high salinity. Plant Signal Behav 5:1534–1536

Leonor R, Marcela S, Irene M, Eduardo Z, Lorenzo L (2011) Nitric oxide, nitrosyl iron complexes, ferritin and frataxin: a well equipped team to preserve plant iron homeostasis. Plant Sci 181:582–592

Liu JG, Liang JS, Li KQ, Zhang ZJ, Yu BY, Lu XL, Yang JC, Zhu QS (2003) Correlations between cadmium and mineral nutrients in absorption and accumulation in various genotypes of rice under cadmium stress. Chemosphere 52:1467–1473

Lopez-Carrion AI, Castellano R, Rosales MA, Ruiz JM, Romero L (2008) Role of nitric oxide under saline stress: implications on proline metabolism. Plant Biol 52:587–591

Macek T, Mackova M, Pavlikova D, Szakova J, Truksa M, Singh Cundy A, Kotrba P, Yancey N, Scouten WH (2002) Accumulation of cadmium by transgenic tobacco. Acta Biotechnol 22:101–106

Metwally A, Finkemeier I, Georgi M, Dietz KJ (2003) Salicylic acid alleviates the cadmium toxicity in barley seedlings. Plant Physiol 132:272–281

Mishra A, Choudhuri MA (1999) Effects of salicylic acid on heavy metal-induced membrane deterioration mediated by lipoxygenase in rice. Biol Plantarum 42:409–415

Nakano Y, Asada K (1981) Hydrogen peroxide scavenged by ascorbate specific peroxidase in spinach chloroplast. Plant Cell Physiol 22:867–880

Nickel RS, Cunningham BA (1969) Improved peroxidase assay method using Ieuco 2,3,6-trichloroindophenol and application to comparative measurements of peroxidase catalysis. Anal Biochem 27:292–299

Patra HL, Kar M, Mishre D (1978) Catalase activity in leaves and cotyledons during plant development and senescence. Biochem Pharmacol 172:385–390

Patterson BD, Mackae EA, Mackae IB (1984) Estimation of hydrogen peroxide in plant extracts using Titanium (IV). Anal Chem 139:487–492

Prasad KVSK, Saradhi PP, Sharmila P (1999) Concerted action of antioxidant enzymes and curtailed growth under zinc toxicity in Brassica juncea. Environ Exp Bot 42:1–10

Rivetta A, Negrini N, Cocucci M (1997) Involvement of Ca2+-calmodulin in Cd2+ toxicity during the early phases of radish (Raphanus satious L.) seed germination. Plant Cell Environ 20:600–608

Rodriguez SM, Romero PC, Zabalza A, Corpas FJ, Gómez M, Del Rio LA, Sandalio LM (2006) Cadmium effect on oxidative metabolism of pea (Pisum sativum L.) roots. Imaging of reactive oxygen species and nitric oxide accumulation in vivo. Plant Cell Environ 291:1532–1544

Sanita di Toppi L, Gabbrielli R (1999) Response to cadmium in higher plants. Environ Exp Bot 41:105–130

Seregin IV, Kozhevnikova AD (2006) Physiological role of nickel and its toxic effects on higher plants. Russian J Plant Physiol 53:257–277

Shi GR, Cai QS (2008) Photosynthetic and anatomic responses of peanut leaves to cadmium stress. Photosynthetica 46:627–630

Shi QH, Zhu ZJ (2008) Effects of exogenous salicylic acid on manganese toxicity, element contents and antioxidative system in cucumber. Environ Exp Bot 63:317–326

Siedlecka A, Baszinsky T (1993) Inhibition of electron flow around photosystem I in chloroplasts of Cd-treated maize plants is due to Cd induced iron deficiency. Plant Physiol 87:199–202

Singh HP, Batish DR, Kaur G, Arora K, Kohli RK (2008) Nitric oxide (as sodium nitroprusside) supplementation ameliorates Cd toxicity in hydroponically grown wheat roots. Environ Exp Bot 63:158–167

Singh BR, Gupta SK, Azaizeh H, Shilev S, Sudre D, Song WY, Martinoia E, Mench M (2011) Safety of food crops on land contaminated with trace elements. J Sci Food Agr 91:1349–1366

Smeets K, Ruytinx J, Semane B, Belleghem FV, Remans T, Sanden SV, Vangronsveld J, Cuypers A (2008) Cadmium-induced transcriptional and enzymatic alterations related to oxidative stress. Environ Exp Bot 63:1–8

Smith G, Brennan E, Greenhalgh B (1985) Cadmium sensitivity of soybean related to efficiency in iron utilization. Environ Exp Bot 25:99–106

Stewart RC, Bewley JD (1980) Lipid peroxidation associated with accelerated aging of soybean axes. Plant Physiol 65:245–248

Stochs SJ, Bagchi D (1995) Oxidative mechanism in the toxicity of mental ions. Free Radic Res Commun 18:321–336

Wang QH, Liang X, Dong YJ, Xu LL, Zhang XW, Hou J, Fan ZY (2013) Effects of exogenous nitric oxide on cadmium toxicity, element contents and antioxidative system in perennial ryegrass. Plant Growth Regul 69:11–20

Xiong J, An LY, Lu H, Zhu C (2009) Exogenous nitric oxide enhances cadmium tolerance of rice by increasing pectin and hemicellulose contents in root cell wall. Planta 230:755–765

Xu J, Wang WY, Yin HX, Liu XJ, Sun H, Mi Q (2010) Exogenous nitric oxide improves antioxidative capacity and reduces auxin degradation in roots of Medicago truncatula seedlings under cadmium stress. Plant Soil 326:321–330

Yi TH, Ching HK (2007) Toxicity in leaves of rice exposed to cadmium is due to hydrogen peroxide accumulation. Plant Soil 298:231–241

Yilmaz DD, Parlak KU (2011) Changes in proline accumulation and antioxidative enzyme activities in Groenlandia densa under cadmium stress. Ecol Indic 11:417–423

Yu CC, Hung KT, Kao CH (2005) Nitric oxide reduces Cu toxicity and Cu-induced NH4 + accumulation in rice leaves. J Plant Physiol 162:1319–1330

Zawoznik MS, Groppa MD, Tomaro ML, Benavides MP (2007) Endogenous salicylic acid potentiates cadmium-induced oxidative stress in Arabidopsis thaliana. Plant Sci 173:190–197

Zhang GP, Fukami M, Sekimoto H (2002) Influence of cadmium on mineral concentrations and yield components in wheat genotypes differing in Cd tolerance at seedling stage. Field Crop Res 4079:1–7

Zhang FQ, Zhang HX, Xia Y, Wang JP, Xu LL, Shen ZJ (2011) Exogenous application of salicylic acid alleviates cadmium toxicity and reduces hydrogen peroxide accumulation in root apoplasts of Phaseolus aureus and Vicia sativa. Plant Cell Rep 30:1475–1483

Zhou ZS, Guo K, Abdelrahman AE, Yang ZM (2009) Salicylic acid alleviates mercury toxicity by preventing oxidative stress in roots of Medicago sativa. Environ Exp Bot 65:27–34
Acknowledgments
The authors thank English Lecturer Mr. Stuart Craig MA (England, Taishan University, China), Doctor Chengliang Li (RWTH Aachen University, Germany), lecturer Xiujuan Wang (College of Foreign Languages, Shandong Agricultural University), and Doctor Hongyi Luo (Nanyang Technological University, Singapore) for their critical reading and revision of the manuscript. Special acknowledgments are given to the editors and reviewers. This research work was financially supported by the Projects National Natural Science Foundation of China (No. 40701094) and the Projects "948" of the Agriculture Ministry of China (NO. 2011-G30).
About this article
Cite this article
Wang, Q., Liang, X., Dong, Y. et al. Effects of Exogenous Salicylic Acid and Nitric Oxide on Physiological Characteristics of Perennial Ryegrass Under Cadmium Stress. J Plant Growth Regul 32, 721–731 (2013). https://doi.org/10.1007/s00344-013-9339-3
Received:

Accepted:

Published:

Issue Date:
Keywords
Antioxidant enzymes

Cadmium

Lolium perenne L

Mineral elements

Proline