Abstract
We detected differences in both onset and progression of visible petal senescence among morning glory cultivars by application of a digital image analysis system. The system is based on semiautomated time-lapse measurement of corolla areas. The system could also be applied to evaluate the effects of ethylene and its inhibitor on visible petal senescence. Both onset and progression of visible petal senescence were accelerated by ethylene treatment in all six cultivars tested. Treatment with aminooxyacetic acid (AOA), an ethylene biosynthesis inhibitor, prolonged time to onset of visible petal senescence in three of the six tested cultivars. In contrast, AOA treatment had no effect on duration of visible petal senescence in any tested cultivars. These data suggested differences among morning glory cultivars in the role of endogenous ethylene in controlling onset of visible petal senescence. In addition, we propose a new application of image analysis to fine quantification of time-lapse changes in the shape of plant organs.
This is a preview of subscription content, log in to check access.
Access options
Buy single article
Instant access to the full article PDF.
US$ 39.95
Price includes VAT for USA
Subscribe to journal
Immediate online access to all issues from 2019. Subscription will auto renew annually.
US$ 99
This is the net price. Taxes to be calculated in checkout.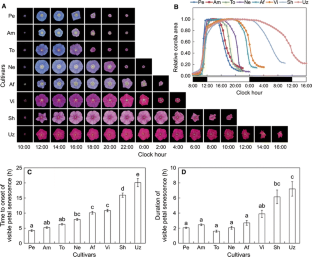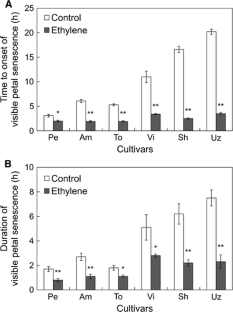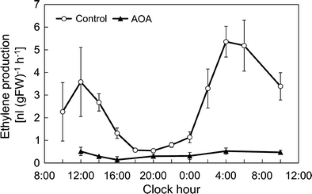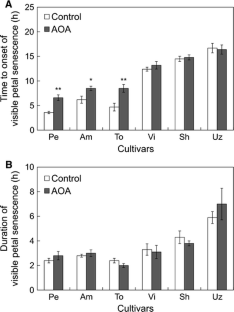 References
Bylesjö M, Segura V, Soolanayakanahally RY, Rae AM, Trygg J, Gustafsson P, Jansson S, Street NR (2008) LAMINA: a tool for rapid quantification of leaf size and shape parameters. BMC Plant Biol 8:82

Hunter DA, Steele BC, Reid MS (2002) Identification of genes associated with perianth senescence in daffodil (Narcissus pseudonarcissus L. 'Dutch Master'). Plant Sci 163:13–21

Hunter DA, Yi M, Xu X, Reid MS (2004) Role of ethylene in perianth senescence of daffodil (Narcissus pseudonarcissus L. 'Dutch Master'). Postharvest Biol Technol 32:269–280

Kende H, Baumgartner B (1974) Regulation of aging in flowers of Ipomoea tricolor by ethylene. Planta 116:279–289

Koning RE (1986) The role of ethylene in corolla unfolding in Ipomoea nil (Convolvulaceae). Am J Bot 73:152–155

Matile PH, Winkenbach F (1971) Function of lysosomes and lysosomal enzymes in the senescing corolla of the morning glory (Ipomoea purpurea). J Exp Bot 22:759–771

Nam HG (1997) The molecular genetic analysis of leaf senescence. Curr Opin Biotechnol 8:200–207

Onozaki T, Ikeda H, Shibata M (2004) Video evaluation of ethylene sensitivity after anthesis in carnation (Dianthus caryophyllus L.) flowers. Sci Hortic 99:187–197

Panavas T, Pikula A, Reid PD, Rubinstein B, Walker EL (1999) Identification of senescence-associated genes from daylily petals. Plant Mol Biol 40:237–248

Shibuya K, Yamada T, Suzuki T, Shimizu K, Ichimura K (2009) InPSR26, a putative membrane protein, regulates programmed cell death during petal senescence in Japanese morning glory. Plant Physiol 149:816–824

Tanabata T, Yamada T, Shimizu Y, Shinozaki Y, Kanekatsu M, Takano M (2010) Development of automatic segmentation software for efficient measurement of area on the digital images of plant organs. Hort Res (Japan) 9:501–506 (in Japanese with English abstract)

van Doorn WG, Woltering EJ (2008) Physiology and molecular biology of petal senescence. J Exp Bot 59:453–480

Xu X, Gookin T, Jiang CZ, Reid M (2007) Genes associated with opening and senescence of Mirabilis jalapa flowers. J Exp Bot 58:2193–2201

Yamada T, Takatsu Y, Kasumi M, Ichimura K, van Doorn WG (2006) Nuclear fragmentation and DNA degradation during programmed cell death in petals of morning glory (Ipomoea nil). Planta 224:1279–1290

Yamada T, Ichimura K, Kanekatsu M, van Doorn WG (2007) Gene expression in opening and senescing petals of morning glory (Ipomoea nil) flowers. Plant Cell Rep 26:823–835
Acknowledgments
The authors thank Dr. Eiji Nitasaka and the National BioResource Project, Japan, for providing seeds of Q61, Q62, Q65, Q438, and Q1065, and Dr. Kenichi Shibuya for his technical assistance with ethylene measurement. This work was supported by a Japan Society for the Promotion of Science Grant-in-Aid for Young Scientists (Start-up) (no. 18880009 to T.Y.) and by a Ministry of Education, Culture, Sports, Science and Technology Grant-in-Aid for Young Scientists (B) (no. 19780019 to T.Y.).
About this article
Cite this article
Shinozaki, Y., Tanabata, T., Ogiwara, I. et al. Application of Digital Image Analysis System for Fine Evaluation of Varietal Differences and the Role of Ethylene in Visible Petal Senescence of Morning Glory. J Plant Growth Regul 30, 229–234 (2011). https://doi.org/10.1007/s00344-010-9182-8
Received:

Accepted:

Published:

Issue Date:
Keywords
Flower longevity

Ipomoea nil

Morphological character

Phenotypic variation

Quantitative determination

Shape analysis