Abstract
Weeds are one of the major constraints in oilseed Brassica production. Use of effective herbicides to control weeds in the fields is one of the major objectives of agronomists. To improve weed control efficacy and minimize the application costs, complex combinations of 5-aminolevulinic acid (ALA) and a new postemergence herbicide, propyl 4-(2-(4,6-dimethoxypyrimidin-2-yloxy)benzylamino)benzoate (ZJ0273), were used to investigate their combined effects in relation to seedling growth and development of oilseed rape (Brassica napus cv. ZS 758). Brassica seeds were treated with different concentrations of ZJ0273 [100 (normal dose for rape), 200, 500, and 1000 mg/L] and ALA (0.1, 1, 10, and 50 mg/L). ALA was applied as pre- and post-treatment alone and in combination with ZJ0273. We found that ZJ0273 stress imposed negative effects on rape seedling growth. Shoot fresh weight, shoot length, and root fresh weight were inhibited significantly under ZJ0273 stress, and the rate of decline increased consistently with increased ZJ0273 concentration. Root oxidizability was also inhibited significantly under ZJ0273 stress conditions, and the higher the concentration of the herbicide ZJ0273, the lower the oxidizability. Herbicide ZJ0273 treatment produced a gradual decrease in antioxidant enzymes (peroxidase, superoxide dismutase, and ascorbate peroxidase) and an increase in peroxidation substance (malondialdehyde accumulation). The increase and decrease were consistent with the ZJ0273 dosage. Our results indicated that pre- and post-treatments with a lower dosage of ALA (1 mg/L) improved rape seedling growth and root oxidizability parameters, whereas a higher concentration of ALA (50 mg/L) depressed growth. We also found that plants treated with 1 mg/L ALA produced the highest shoot fresh weights, shoot lengths, root fresh weights, and root oxidizability when the seeds were treated with different concentrations of ZJ0273. Lower dosages of ALA improved the activities of antioxidant enzymes, whereas the highest dosage of ALA increased the accumulation of peroxidation substance. These results indicate that ALA has promotive effects in the recovery of growth and development of rape seedlings under herbicide ZJ0273 toxicity stress.
Access options
Buy single article
Instant access to the full article PDF.
US$ 39.95
Tax calculation will be finalised during checkout.
Subscribe to journal
Immediate online access to all issues from 2019. Subscription will auto renew annually.
US$ 79
Tax calculation will be finalised during checkout.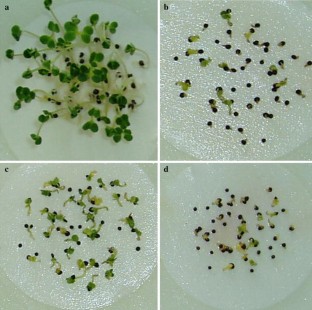 References
Agricultural Chemicals Verification Institute, China Ministry of Agriculture (2000) Encyclopedia of agricultural chemicals registration. China Agricultural University Press, Beijing, pp 2–58

Asada K (1994) Production and action of active oxygen species in photosynthetic tissues. In: Foyer CH, Mullineaux PM (eds) Causes of photooxidative stress and amelioration of defense systems in plants. CRC Press, London, pp 77–104

Barberi P (2002) Weed management in organic agriculture: are we addressing the right issue? Weed Res 42:177–193

Bowler C, Van Montagu M, Inzé D (1992) Superoxide dismutase and stress tolerance. Annu Rev Plant Physiol Plant Mol Biol 43:83–116

Carson AG, Bandeen JD (1975) Influence of ethephon on absorption and translocation of herbicide in Canada Thistle. Can J Plant Sci 55:795–800

Castelfranco PA, Beale SI (1983). Chlorophyll biosynthesis: Recent advances and areas of current interest. Annu Rev Plant Physiol 34:241–278

Chakraborty N, Tripathy BC (1992) Involvement of singlet oxygen in 5-aminolevulinic acid induced photodynamic damage of cucumber chloroplast. Plant Physiol 98:7–11

Duke SO, Rebeiz CA (1994) Porphyrin biosynthesis as a tool in pest management: An overview. In: Duke SO, Rebeiz CA (eds) Porphyric Pesticides: Chemistry, Toxicology and Pharmaceutical Applications, ACS Symp Ser 559. American Chemical Society, Washington DC, pp 1–17

Haidar MA, Sidahmad MM (2000) Soil solarization and chicken manure for the control of Orobanche crenata and other weeds in Lebanon. Crop Prot 19:169–173

Hotta Y, Tanaka T, Takaoka H, Takeuchi Y, Konnai M (1997a) New physiological effects of 5-aminolevulinic acid in plants: The increase of photosynthesis, chlorophyll content, and plant growth. Biosci Biotech Biochem 61:2025–2028

Hotta Y, Tanaka T, Takaoka H, Takeuchi Y, Konnai M (1997b) Promotive effects of 5-aminolevulinic acid on the yield of several crops. Plant Growth Regul 22:109–114

Hotta Y, Tanaka T, Bingshan L, Takeuchi Y, Konnai M (1998) Improvement of cold resistance in rice seedlings by 5-aminolevulinic acid. J Pesticide Sci 23:29–33

Hykaliuk PB, Peeper TF, Basler E (1982) Stimulation of basipetal herbicide translocation with GAF 141. Weed Sci 30:6–10

James PG, Daniel AB, William MS, Dusky AJ (1989) Pre-emergence weed control in row middles of polyethylene mulched cauliflower (Brassica oleracae). Weed Technol 3:340–344

Jerey LF, Michael B (1989) Effect of glyphosate combinations with 2,4-D and dicamba on field bindweed (Convolvulus arvensis). Weed Sci 37:12–18

Kroonen-Backbeir BM, Zwart-Roodzant MH (1998) Integrated cultivation of cabbage is competitive. PAV Bull Akkerbouw 5:23–26

Lanini WT, Bell CE, Smith RF, LeStrange M, Cudney DW (2002) Weeds. University of California, Pest Management Guidelines: Cole Crops. Division of Agriculture and Natural Resources Publication No. 3442. Available at http://www.ipm.ucdavis.edu

Leul M, Zhou WJ (1999) Alleviation of waterlogging damage in winter rape by uniconazole application: Effects on enzyme activity, lipid peroxidation and membrane integrity. J Plant Growth Regul 18:9–14

Li BX (1994) The synergism effect of gibberellin on herbicide in wheat fields. Chinese J Weed Sci 8:31–35

Liu H, Kang L, Wang LJ (2006) Promotion of 5-aminolevulinic acid on seed germination of watermelon (Citrullus lanatus) under salt stress. Acta Hortic Sin 6:854–859

Lu L, Chen J, Wu J (2004) 2-Pyrimidinyloxy-n-aryl-benzylamine derivatives, their processes and uses. US Patent 6,800,590 B2

Mishra SN, Srivastava HS (1983) Stimulation of nitrate reductase activity by delta aminolevulinic acid in excised maize leaves. Experientia 39:1118–1120

Momoh EJJ, Zhou WJ, Kristiansson B (2002) Variation in the development of secondary dormancy in oilseed rape genotypes under conditions of stress. Weed Res 42:446–455

Nakano Y, Asada K (1981) Hydrogen peroxide scavenged by ascorbate-specific peroxidase in spinach chloroplasts. Plant Cell Physiol 22:867–880

Nishihara E, Kondo K, Parvez MM, Takahashi K, Watanabe K, Tanaka K (2003) Role of 5-amino-levulinic acid (ALA) on active oxygen-scavenging system in NaCl-treated spinach (Spinacia oleracea). J Plant Physiol 160:1085–1091

Qasem JR (2007) Weed control in cauliflower (Brassica oleracea var. Botrytis L.) with herbicides. Crop Prot 26:1013–1020

Qiu MH (1994) The effect of glyphosate and triacontanol in weed control. Chinese J Weed Sci 8:26–28

Rebeiz CA, Montazer-Zouhoor A, Jopen HJ, Wu SM (1984) Photodynamic herbicides: Concepts and phenomenology. Enzyme Microb Technol 6:390–401

Romero-Puertas MC, McCarthy I, Gómez M, Sandalio LM, Corpas FJ, del Río LA, Palma JM (2004) Reactive oxygen species-mediated enzymatic systems involved in the oxidative action of 2,4-dichlorophenoxyacetic acid. Plant Cell Environ 27:1135–1148

Song WJ, Zhou WJ, Jin ZL, Cao DD, Joel DM, Takeuchi Y, Yoneyama K (2005) Germination response of Orobanche seeds subjected to conditioning temperature, water potential and growth regulator treatments. Weed Res 45:467–476

Song WJ, Zhou WJ, Jin ZL, Zhang D, Yoneyama K, Takeuchi Y, Joel DM (2006) Growth regulators restore germination of Orobanche seeds that are conditioned under water stress and suboptimal temperature. Aust J Agric Res 57:1195–1201

Su SQ, Song SZ (1996) Encyclopedia of chemical control of weeds on farmland. China Agriculture Press, Beijing, p 320

Subrahmaniyan K, Zhou WJ (2008) Soil temperature associated with degradable, non-degradable plastic and organic mulches and their effect on biomass production, enzyme activities and seed yield of winter rapeseed (Brassica napus L.). J Sustainable Agric (In press)

Subrahmaniyan K, Kalaiselvan P, Balasubramanian TN, Zhou WJ (2008) Soil properties and yield of groundnut associated with herbicides, plant geometry and plastic mulch. Commun Soil Sci Plant Analysis (In press)

Tang QH, Chen J, Lu L (2005) An innovative research for novel rape herbicide ZJ0273. Chinese J Pest 44:496–502

Van Huystee RB (1976) A study of peroxidase synthesis by means of double labeling and affinity chromatography. Can J Bot 54:876–880

Van Huystee RB (1977) Porphyrin and peroxidase synthesis in cultured peanut cells. Can J Bot 55:1340–1344

von Wettstein D, Gough S, Kananagara CG (1995) Chlorophyll biosynthesis. Plant Cell 7:1039–1105

Wang LJ, Jiang WB, Huang BJ (2004) Promotion of 5-aminolevulinic acid on photosynthesis of melon (Cucumis melo) seedling under low light and chilling stress conditions. Physiol Plant 121:258-264

Wang LJ, Jiang WB, Liu H, Kang L, Hou XL (2005) Promotion by 5-aminolevulinic acid of germination of Pakchoi (Brassicca campestris ssp. chinensis var. communis Tsen et Lee) seeds under salt stress. J Integr Plant Biol 47:1084–1091

Watanabe K, Tanaka T, Hotta Y, Huramochi H, Takeuchi Y (2000) Improving salt tolerance of cotton seedlings with 5-aminolevulinic acid. Plant Growth Regul 32:99–103

Weinstein JD, Beale SI (1985) Enzymatic conversion of glutamate to δ-aminolevulinic acid in soluble extracts of the unicellular green alga, Chlorella vulgaris. Arch Biochem Biophys 239:454–464

Zaragoza C (2003) Weed management in vegetables. In: Labrada R (ed), Weed Management for Developing Countries (Addendum 1), FAO Document Repository. FAO Plant Production and Protection paper 120 Add. 1. Agriculture Department, Food and Agriculture Organization of the United Nations, Rome

Zhang XZ (1992) The measurement and mechanism of lipid peroxidation and SOD, POD and CAT activities in biological system. In: Zhang XZ (ed), Research Methodology of Crop Physiology. Agriculture Press, Beijing, pp 208–211

Zhang ZJ, Li HZ, Zhou WJ, Takeuchi Y, Yoneyama K (2006) Effect of 5-aminolevulinic acid on development and salt tolerance of potato (Solanum tuberosum L.) microtubers in vitro. Plant Growth Regul 49:27–34

Zhou WJ (2001) Oilseed rape. In: Zhang GP, Zhou WJ (eds) Crop production. Zhejiang University Press, Hangzhou, pp 153–178

Zhu JW, Zhu GN, Wu HM, Liu QK (2003) Effect of six plant growth regulators on phytotoxicity of glyphosate. J Shanghai Jiaotong Univ (Agric Sci) 21:160–163

Zhou WJ, Leul M (1998) Uniconazole-induced alleviation of freezing injury in relation to changes in hormonal balance, enzyme activities and lipid peroxidation in winter rape. Plant Growth Regul 26:41–47

Zhou WJ, Leul M (1999) Uniconazole-induced tolerance of rape plants to heat stress in relation to changes in hormonal levels, enzyme activities and lipid peroxidation. Plant Growth Regul 27:99–104

Zhou W, Ye Q (1996) Physiological and yield effects of uniconazole on winter rape (Brassica napus L.). J Plant Growth Regul 15:69–73

Zhou WJ, Yoneyama K, Takeuchi Y, Iso S, Rungmekarat S, Chae SH, Sato D, Joel DM (2004) In vitro infection of host roots by differentiated calli of the parasitic plant Orobanche. J Exp Bot 55:899–907

Zhou W, Zhao D, Lin X (1997) Effects of waterlogging on nitrogen accumulation and alleviation of waterlogging damage by application of nitrogen fertilizer and mixtalol in winter rape (Brassica napus L.). J Plant Growth Regul 16:47–53

Zhou XM (2003) Effect of four plant growth regulators on rice injured by ethametsulfuron. Mod Agrochem 2:41
Acknowledgments
This work was supported by the National Natural Science Foundation of China (20632070, 30600377), the National High Technology Research and Development Program of China (2006AA10A214, 2006AA10Z234), Chinese Academy of Sciences (KGCX3-SYW-203-03), Zhejiang Provincial Natural Science Foundation (R307095), and the 111 Project from China Ministry of Education and the State Administration of Foreign Experts Affairs (B06014).
About this article
Cite this article
Zhang, W.F., Zhang, F., Raziuddin, R. et al. Effects of 5-Aminolevulinic Acid on Oilseed Rape Seedling Growth under Herbicide Toxicity Stress. J Plant Growth Regul 27, 159–169 (2008). https://doi.org/10.1007/s00344-008-9042-y
Received:

Accepted:

Published:

Issue Date:
Keywords
Brassica napus

New herbicide propyl 4-(2-(4,6-dimethoxypyrimidin-2-yloxy)benzylamino)benzoate

5-Aminolevulinic acid

Synergism

Antioxidants