Abstract
Design and application of an evanescent field fiber loop ring-down (EF-FLRD) spectroscopy system for discrimination of chemicals via their refractive indices are presented. To our knowledge, this is the first system that utilizes visible light. The system employs a broadband laser source at 800 nm at 80 MHz whose pulses were selectively picked by a Pockels cell to eliminate overlap of the pulses in the cavity. Chemically etched fiber region was used as a sensing element and eight organic solvents were discriminated compared to the reference sample mainly due to their differences in refractive indices. The solvent dielectric constants cover a broad range from 2 (of decane) to 80 (of water) at 20 °C (dielectric constants are obtained from Solvent Polarities, http://murov.info/orgsolvents.htm#TABLE2, 2019). Prior to the measurements, optimization of data collection protocols, etched sensing region geometry, and the sample compartment configuration was achieved. The results show that solutions with a refractive index unit difference of 0.0018 (acetone–ethanol couple) were able to be differentiated as the lowest difference and the detectable lowest loss was calculated to be 1.10 × 10−5 dB. A single measurement takes less than 1 min (which is limited by the control system) with the lowest error of 0.37% (for acetone) and the highest error of 1.71% (for ethanol) showing real-time measurement possibility. Simplicity and unique design of the set-up is a promising first step in construction/utilization of EF-FLRD systems for trace chemical detection in the visible range.
Graphic abstract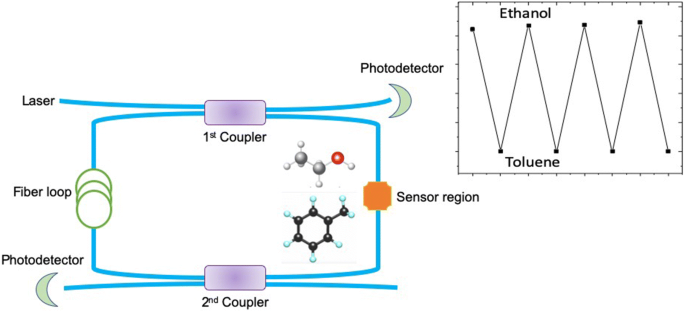 Access options
Buy single article
Instant access to the full article PDF.
USD 39.95
Price includes VAT (USA)
Tax calculation will be finalised during checkout.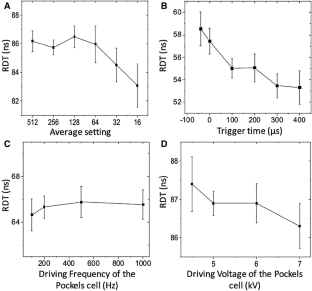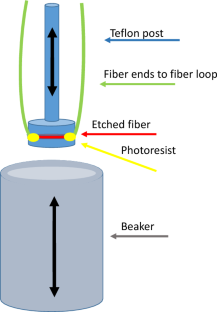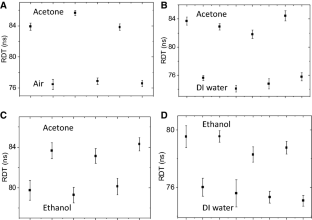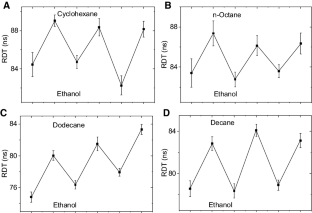 References
1.

M.D. Wheeler, S.M. Newman, A.J. Orr-Ewing, M.N.R. Ashfold, J. Chem. Soc. Faraday Trans. 94(3), 337–351 (1998)

2.

C. Wang, S.T. Scherrer, Opt. Lett. 29(4), 352–354 (2004)

3.

R. Li, C. Tian, Y. Zhang, J. Zhang, X. Chen, S. Liu, J. Light. Technol. 33(17), 3607–3612 (2015)

4.

C. Wang, M. Kaya, C. Wang, J. Biomed. Opt. 17(3), 037004 (2012)

5.

X. Zhou, X. Wang, K. Chen, X. Mao, W. Peng, Q. Yu, Opt. Commun. 333, 105–108 (2014)

6.

E. Austin, A. van Brakel, M.N. Petrovich, D.J. Richardson, Sens. Actuators B Chem. 139(1), 30–34 (2009)

7.

Y. Zhao, L. Bai, Q. Wang, Opt. Commun. 309, 328–332 (2013)

8.

A. Yolalmaz, F. Hanifehpour Sadroud, M.F. Danışman, O. Esenturk, Opt. Commun. 396 (2017)

9.

M. Jiang, W. Zhang, Q. Zhang, Y. Liu, B. Liu, Opt. Commun. 283(2), 249–253 (2010)

10.

T.K. Gangopadhyay, A. Giorgini, A. Halder, M. Pal, M.C. Paul, S. Avino, G. Gagliardi, Sens. Actuators B Chem. 206, 327–335 (2015)

11.

R.S. Brown, I. Kozin, Z. Tong, R.D. Oleschuk, H.-P. Loock, J. Chem. Phys. 117(23), 10444–10447 (2002)

12.

J.V. Ittiarah, S. Sidhik, T.K. Gangopadhyay, Sens. Actuators A Phys. 223, 61–66 (2015)

13.

P. Sahay, M. Kaya, C. Wang, Sensors 13(1), 39–57 (2012)

14.

A.W. Snyder, J.D. Love, Optical Waveguide Theory (Springer, Boston, 1984)

15.

N.J. Harrick, K.H. Beckmann, Characterization of Solid Surfaces (Springer, Boston, 1974), pp. 215–245

16.

C. Wang, C. Herath, Meas. Sci. Technol. 21, 085205 (2010)

17.

W. Di, Z. Yong, W. Qi, IEEE Photon. Technol. Lett. 27(17), 1802–1805 (2015)

18.

S.-M. Tseng, C.-L. Chen, Appl. Opt. 31(18), 3438 (1992)

19.

H. Alali, C. Wang, Appl. Opt. 55(31), 8938 (2016)

20.

C. Herath, C. Wang, M. Kaya, D. Chevalier, J. Biomed. Opt. 16(5), 050501 (2011)

21.

T. Shen, Y. Feng, B. Sun, X. Wei, Appl. Opt. 55(4), 673 (2016)

22.

F. Ye, C. Zhou, B. Qi, L. Qian, B Sens. Actuators Chem. 184, 150–155 (2013)

23.

R.-Q. Lv, Y. Zhao, M.-C. Liu, Instrum Sci. Technol. 44(5), 547–557 (2016)

24.

K. Sharma, M.I.M. Abdul Khudus, S.U. Alam, S. Bhattacharya, D. Venkitesh, G. Brambilla, Opt. Commun. 407, 186–192 (2018)

25.

N. Ni, C.C. Chan, L. Xia, P. Shum, IEEE Photon. Technol. Lett. 20(16), 1351–1353 (2008)

26.

W. Yan, Q. Han, Y. Chen, H. Song, X. Tang, T. Liu, Sens. Actuators B Chem. 255, 2018–2022 (2018)

27.

S. Silva, O. Frazão, Opt. Laser Technol. 91, 112–115 (2017)

28.

A. Yolalmaz, Utilization of Fiber Loop Ring Down Technique for Sensing Applications (Middle East Technical University, Ankara, 2017)

29.

M.N. Polyanskiy, Refractive Index Database. http://refractiveindex.info. Last Accessed 06 May 2019

30.

J.M. Porter, J.B. Jeffries, R.K. Hanson, J. Quant. Spectrosc. Radiat. Transf. 110(18), 2135–2147 (2009)

31.

M. Kaya, C. Wang, in AIP Conference Proceedings (2017), p 020027

32.

G. Liu, Y. Wu, K. Li, P. Hao, P. Zhang, M. Xuan, IEEE Photon. Technol. Lett. 24(8), 658–660 (2012)

33.

Solvent Polarities. http://murov.info/orgsolvents.htm#TABLE2. Accessed 18 June 2019 (2019)
Acknowledgements
This study is financially supported by The Scientific and Technological Research Council of Turkey Grant No. 212T079 and funded in part by METU Scientific Research Project Coordinator.
Additional information
Publisher's Note
Springer Nature remains neutral with regard to jurisdictional claims in published maps and institutional affiliations.
Electronic supplementary material
Below is the link to the electronic supplementary material.
About this article
Cite this article
Yolalmaz, A., Danışman, M.F. & Esenturk, O. Discrimination of chemicals via refractive index by EF-FLRD. Appl. Phys. B 125, 156 (2019). https://doi.org/10.1007/s00340-019-7261-5
Received:

Accepted:

Published: