Abstract
Absolute distance measurements can be achieved by frequency scanning interferometry which uses a tunable laser. The main drawback of this method is that it is extremely sensitive to the movement of targets. In addition, since this method is limited to the linearity of frequency scanning, it is commonly used for close measurements within tens of meters. In order to solve these problems, a double-sideband frequency scanning interferometry system is presented in the paper. It generates two opposite frequency scanning signals through a fixed frequency laser and a Mach–Zehnder modulator. And the system distinguishes the two interference fringe patterns corresponding to the two signals by IQ demodulation (i.e., quadrature detection) of the echo. According to the principle of double-sideband modulation, the two signals have the same characteristics. Therefore, the error caused by the target movement can be effectively eliminated, which is similar to dual-laser frequency scanned interferometry. In addition, this method avoids the contradiction between laser frequency stability and swept performance. The system can be applied to measure the distance of the order of kilometers, which profits from the good linearity of frequency scanning. In the experiment, a precision about 3 μm was achieved for a kilometer-level distance.
This is a preview of subscription content, log in to check access.
Access options
Buy single article
Instant access to the full article PDF.
US$ 39.95
Price includes VAT for USA
Subscribe to journal
Immediate online access to all issues from 2019. Subscription will auto renew annually.
US$ 99
This is the net price. Taxes to be calculated in checkout.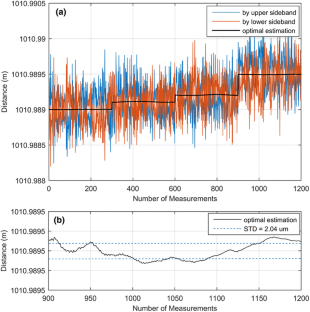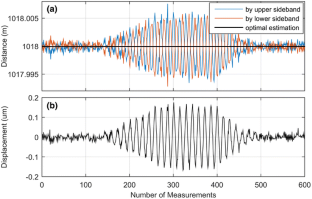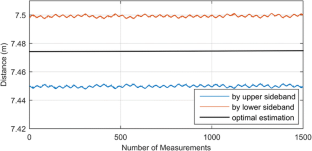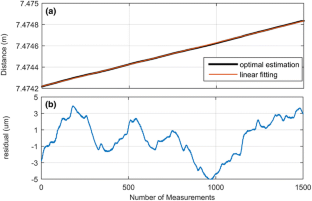 References
1.

J.A. Stone, A. Stejskal, L. Howard, Appl. Opt. 38, 5981 (1999)

2.

P.A. Coe, D.F. Howell, R.B. Nickerson, Meas. Sci. Technol. 15, 2175 (2004)

3.

S. Kakuma, Y. Katase, Opt. Rev. 19, 376 (2012)

4.

P.A. Roos, R.R. Reibel, T. Berg, B. Kaylor, Z.W. Barber, W.R. Babbitt, Opt. Lett. 34, 3692 (2009)

5.

Y.C. Li, Y.Q. Wang, C.Y. Liu, J.R. Yang, Q. Ding, Appl. Phys. B 122, 1 (2016)

6.

S.M. Beck, J.R. Buck, W.F. Buell, R.P. Dickinson, D.A. Kozlowski, N.J. Marechal, T.J. Wright, Appl. Opt. 44, 7621 (2005)

7.

R. Ulrich, R. Torge, Appl. Opt. 12, 2091 (1973)

8.

S. Nemoto, Appl. Opt. 31, 6690 (1992)

9.

S. N. Lea, H. S. Margolis, G. Huang, G. P. Barwood, H. A. Klein, P. J. Blythe et al., in The 15th Annual Meeting of the IEEE Lasers and Electro-Optics Society (LEOS), Glasgow, UK, 10–14 November (2002), Vol 1 (IEEE, 2003)

10.

H.S. Margolis, G. Huang, S.N. Lea, G.P. Barwood, H.A. Klein, P. Gill et al., in 2004 Conference on Precision Electromagnetic Measurements, London, UK, 27 June–2 July (2004), 18 (IEEE, 2004)

11.

F.R. Giorgetta, I. Coddington, J.R. Dahl, N. Greenfield, N.R. Newbury, P.A. Roos et al., Opt. Lett. 36, 1152 (2011)

12.

H.J. Yang, S. Nyberg, K. Riles, Appl. Opt. 44, 3937 (2004)

13.

H.J. Yang, S. Nyberg, K. Riles, Nucl. Instrum. Methods Phys. Res. Sect. A 575, 395 (2007)

14.

B.L. Swinkels, N. Bhattacharya, J.J.M. Braat, Opt. Lett. 30, 2242 (2005)

15.

J. Thiel, T. Pfeifer, M. Hartmann, Measurement 16, 1 (1995)

16.

A.F. Fox-Murphy, D.F. Howell, R.B. Nickerson, A.R. Weidberg, Nucl. Instrum. Methods Phys. Res. Sect. A 383, 229 (1996)

17.

J. Wang, J. Yu, W. Miao, B. Sun, S. Jia, W. Wang, Opt. Lett. 39, 4412 (2014)

18.

L. Tao, Z. Liu, W. Zhang, Y. Zhou, Opt. Lett. 39, 6997 (2014)

19.

Z. Liu, Z. Liu, Z. Deng, L. Tao, Appl. Opt. 55, 2985 (2016)
Acknowledgements
We acknowledge the financial support from Institute of Electronics Chinese Academy of Sciences (IECAS). And this work is partly supported by the National Natural Science Foundation of China (NSFC) (61575198).
About this article
Cite this article
Mo, D., Wang, R., Li, G. et al. Double-sideband frequency scanning interferometry for long-distance dynamic absolute measurement. Appl. Phys. B 123, 272 (2017). https://doi.org/10.1007/s00340-017-6849-x
Received:

Accepted:

Published: