Abstract
A correction for the undesirable effects of direct and indirect cross-interference from water vapour on ammonia (NH3) measurements was developed using an optical laser sensor based on cavity ring-down spectroscopy. This correction relied on new measurements of the collisional broadening due to water vapour of two NH3 spectral lines in the near infra-red (6548.6 and 6548.8 cm−1), and on the development of novel stable primary standard gas mixtures (PSMs) of ammonia prepared by gravimetry in passivated gas cylinders at 100 μmol mol−1. The PSMs were diluted dynamically to provide calibration mixtures of dry and humidified ammonia atmospheres of known composition in the nmol mol−1 range and were employed as part of establishing a metrological traceability chain to improve the reliability and accuracy of ambient ammonia measurements. The successful implementation of this correction will allow the extension of this rapid on-line spectroscopic technique to exposure chamber validation tests under controlled conditions and ambient monitoring in the field.
Access options
Buy single article
Instant access to the full article PDF.
US$ 39.95
Tax calculation will be finalised during checkout.
Subscribe to journal
Immediate online access to all issues from 2019. Subscription will auto renew annually.
US$ 79
Tax calculation will be finalised during checkout.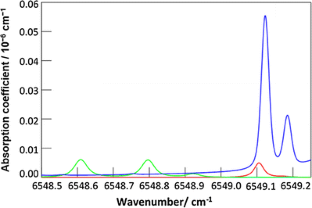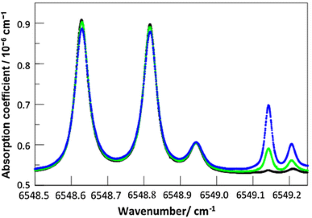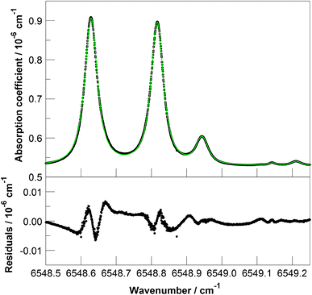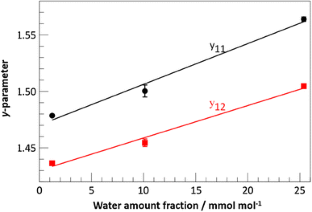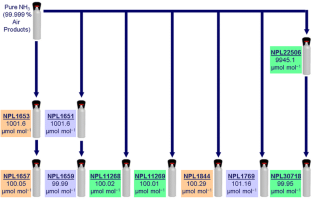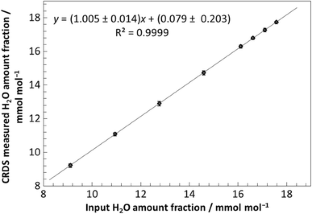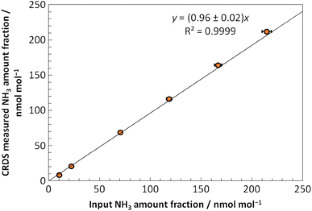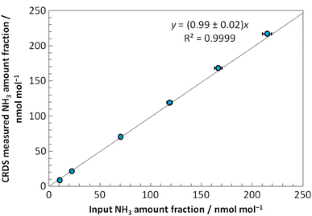 References
1.

M. Hornung, M.R. Ashmore, M.A. Sutton, Ammonia in the UK, Chapter 3 (DEFRA, London, 2002), pp. 24–33

2.

C.E.R. Pitcairn, I.D. Leith, M.A. Sutton, D. Fowler, R.C. Munro, Y.S. Tang, D. Wilson, Environ. Pollut. 102, 41 (1998)

3.

Directive 2001/81/EC of the European Parliament and of the Council of 23 October 2001 on national emission ceilings for certain atmospheric pollutants

4.

Air Pollution and Climate Secretariat website, http://www.airclim.org/tags/clrtap. Accessed June 2016

5.

Implementation of the National Emission Ceilings Directive website: http://ec.europa.eu/environment/air/pollutants/implem_nec_directive.htm. Accessed June 2016

6.

Federal Ministry for Environment, Nature Conservation and Nuclear safety. First General Administrative Regulation Pertaining the Federal Immission Control Act (Technical Instructions on Air Quality Control—TA Luft) of 24 July 2002. (GMBI. [Gemaieisames Ministerialblatt-Joint Ministerial Gazette] p. 511) (Techniische Anlei-tung zur Reinhaltung der Luft-TA Luft)

7.

B. Bessagnet, M. Beauchamp, C. Guerreiro, F. De Leeuw, S. Tsyro, A. Colette, F. Meleux, L. Rouil, P. Ruyssenaars, F. Sauter, G.J.M. Velders, V.L. Foltescu, J. Van Aardenne, Environ. Sci. Policy 44, 149 (2014)

8.

A. Pogány, D. Balslev-Harder, C.F. Braban, N. Cassidy, V. Ebert, V. Ferracci, T. Hieta, D. Leuenberger, N. Lüttschwager, N.A. Martin, C. Pascale, C. Tiebe, M.M. Twigg, O. Vaittinen, J. van Wijk, K. Wirtz, B. Niederhauser: 17th International Congress of Metrology 07003 (2015). doi:10.1051/metrology/201507003

9.

D.A. Anderson, J.C. Frisch, C.S. Masser, Appl. Opt. 23, 1238 (1984)

10.

E. Crosson, B. Fidric, B. Paldus, S. Tan: Wavelength control for cavity ring-down spectrometer, US Patent 7,106,763 B2, Picarro, Inc. 2006

11.

A.R. Awtry, J.H. Miller, Appl. Phys. B 75, 255 (2002)

12.

J.B. Leen, X.-Y. Yu, M. Gupta, D.S. Baer, J.M. Hubbe, C.D. Kluzek, J.M. Tomlinson, M.R. Hubbell, Environ. Sci. Technol. 47, 10446 (2013)

13.

D.J. Miller, K. Sun, L. Tao, M.A. Khan, M.A. Zondlo, Atmos. Meas. Tech. 7, 81 (2014)

14.

K. Sun, Le Tao, D.J. Miller, M.A. Khan, M.A. Zondlo, Environ. Sci. Technol. 48, 3943 (2014)

15.

S. Schilt, Appl. Phys. B 100, 349 (2010)

16.

K. Owen, E. Es-sebbar, A. Farooq, J. Quant. Spectrosc. Radiat. Transf. 121, 56 (2013)

17.

R. Sur, R.M. Spearrin, W.Y. Peng, C.L. Strand, J.B. Jeffries, G.M. Enns, R.K. Hanson, J. Quant. Spectrosc. Radiat. Transf. 175, 90 (2016)

18.

E.R. Crosson, Appl. Phys. B 92, 403 (2008)

19.

S. M. Tan, Wavelength measurement method based on combination of two signals in quadrature, US Patent 7,420,686 B2, Picarro, Inc. 2008

20.

L.S. Rothman, I.E. Gordon, Y. Babikov, A. Barbe, D.C. Benner, P.F. Bernath, M. Birk, L. Bizzocchi, V. Boudon, L.R. Brown, A. Campargue, K. Chance, E.A. Cohen, L.H. Coudert, V.M. Devi, B.J. Drouin, A. Faytl, J.-M. Flaud, R.R. Gamache, J.J. Harrison, J.-M. Hartmann, C. Hill, J.T. Hodges, D. Jacquemart, A. Jolly, J. Lamouroux, R.J. Le Roy, G. Li, D.A. Long, O.M. Lyulin, C.J. Mackie, S.T. Massie, S. Mikhailenko, H.S.P. Müller, O.V. Naumenko, A.V. Nikitin, J. Orphal, V. Perevalov, A. Perrin, E.R. Polovtseva, C. Richard, M.A.H. Smith, E. Starikova, K. Sung, S. Tashkun, J. Tennyson, G.C. Toon, V.G. Tyuterev, G. Wagner, J. Quant. Spectrosc. Radiat. Transf. 130, 4 (2013)

21.

L. Galatry, Phys. Rev. 122, 1218 (1961)

22.

P.L. Varghese, R.K. Hanson, Appl. Opt. 23, 2376 (1984)

23.

A. Cygan, P. Wcisło, S. Wójtewicz, P. Masłowski, J. Domysławska, R.S. Traviński, R. Ciuryło, D. Lisak, J. Phys. Conf. Ser. 548, 012015 (2014)

24.

D. Lisak, A. Cygan, D. Bermejo, J.L. Domenech, J.T. Hodges, H. Tran, J. Quant. Sectrosc. Radiat. Transf. 164, 221 (2015)

25.

A.M.H. van der Veen, G. Nieuwenkamp, R.M. Wessel, M. Maruyama, G.S. Heo, Y.-D. Kim, D.M. Moon, B. Niederhauser, M. Quintilii, M.J.T. Milton, M.G. Cox, P.M. Harris, F.R. Guenther, G.C. Rhoderick, L.A. Konopelko, Y.A. Kustikov, V.V. Pankratov, D.N. Selukov, V.A. Petrov, E.V. Gromova, Metrologia 47, 08023 (2010)

26.

Spectra-Seal™, Registration Nr. 3853813, 2010, BOC Limited

27.

Aculife™, Registration Nr. 4104439, 2012, Air Liquide America Specialty Gases LLC

28.

International Organization for Standardization (ISO) 6142:2001. Gas analysis—Preparation of calibration gas mixtures—Gravimetric method

29.

J. Winderlich, H. Chen, C. Gerbeig, T. Seifert, O. Kolle, J.V. Larvič, C. Kaiser, A. Höfer, M. Heimann, Atmos. Meas. Tech. 3, 1113 (2010)

30.

I. M. Smith, Software for determining polynomial calibration functions by generalised least squares: user manual, NPL Report MS 11 (Teddington, 2010)

31.

International Organization for Standardization (ISO) 6145-7:2010 Gas analysis: Preparation of calibration gas mixtures using dynamic volumetric methods. Part 7: Thermal mass-flow controllers
Acknowledgments
We gratefully acknowledge the funding received from the Chemical and Biological Metrology Programme of the UK Department for Business, Innovation and Skills (BIS) and the European Metrology Research Programme (EMRP) of the European Union. The EMRP is jointly funded by the EMRP participating countries within EURAMET and the European Union. © Crown copyright 2016 and reproduced by permission of the Controller of HMSO and the Queen's Printer for Scotland.
About this article
Cite this article
Martin, N.A., Ferracci, V., Cassidy, N. et al. The application of a cavity ring-down spectrometer to measurements of ambient ammonia using traceable primary standard gas mixtures. Appl. Phys. B 122, 219 (2016). https://doi.org/10.1007/s00340-016-6486-9
Received:

Accepted:

Published:
Keywords
Doppler Width

Amount Fraction

Metrological Traceability

Ambient Ammonia

Repeatability Standard Deviation