Abstract
We design a grism compressor based on transmission gratings and high refractive index prisms to compensate for both the second- and third-order dispersions of SF57 glass at 800 nm. The use of transmission gratings eases the geometrical constraints, allows a final recombination of the spectral components out of the bulk of the prisms and suggests a potential application of these grims to high-energy pulse compression. The dispersion law of this grism compressor is measured in double-pass configuration and negative third-order dispersion is achieved. We demonstrate efficient operation with an overall throughput >60% over a 100 nm bandwidth.
Access options
Buy single article
Instant access to the full article PDF.
US$ 39.95
Tax calculation will be finalised during checkout.
Subscribe to journal
Immediate online access to all issues from 2019. Subscription will auto renew annually.
US$ 79
Tax calculation will be finalised during checkout.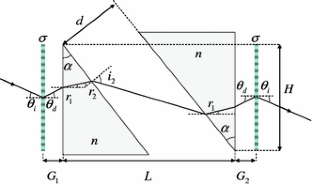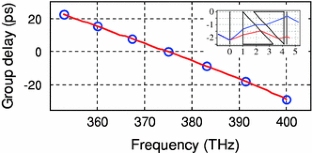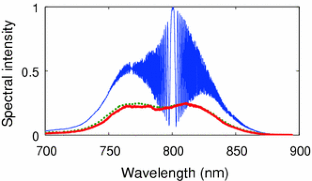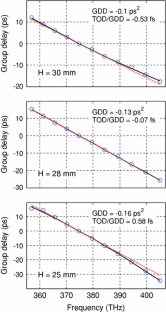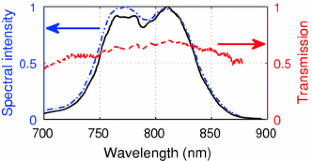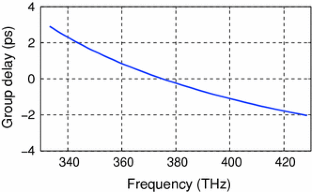 References
1.

D. Strickland, G. Mourou, Opt. Commun. 55, 447–449 (1985)

2.

E.B. Treacy, Phys. Lett. A 28, 34–35 (1968)

3.

E. Treacy, IEEE J. Quantum Electron. 5, 454–458 (1969)

4.

P. Maine, D. Strickland, P. Bado, M. Pessot, G. Mourou, IEEE J. Quantum Electron. 24, 398–403 (1988)

5.

O. Martinez, IEEE J. Quantum Electron. 23, 59–64 (1987)

6.

G. Cheriaux, P. Rousseau, F. Salin, J.P. Chambaret, B. Walker, L.F. Dimauro, Opt. Lett. 21, 414–416 (1996)

7.

P. Tournois, C.R. Acad. Sc. Paris 269, 455–458 (1969)

8.

P. Tournois, Electron. Lett. 29, 1414–1415 (1993)

9.

T.H. Dou, R. Tautz, X. Gu, G. Marcus, T. Feurer, F. Krausz, L. Veisz, Opt. Express 18, 27900–27909 (2010)

10.

F. Tavella, Y. Nomura, L. Veisz, V. Pervak, A. Marcinkevičius, F. Krausz, Opt. Lett. 32, 2227–2229 (2007)

11.

J. Zheng, H. Zacharias, Appl. Phys. B Lasers Opt. 96, 445–452 (2009)

12.

V. Chauhan, P. Bowlan, J. Cohen, R. Trebino, J. Opt. Soc. Am. B 27, 619–624 (2010)

13.

R. Fork, C. Cruz, P. Becker, C. Shank, Opt. Lett. 12, 483–485 (1987)

14.

S. Kane, J. Squier, J. Opt. Soc. Am. B 14, 661–665 (1997)

15.

E.A. Gibson, D.M. Gaudiosi, H.C. Kapteyn, R. Jimenez, S. Kane, R. Huff, C. Durfee, J. Squier, Opt. Lett. 31, 3363–3365 (2006)

16.

M.S. Kirchner, S.A. Diddams, Opt. Lett. 35, 3264–3266 (2010)

17.

J.J. Field, C.G. Durfee III, J.A. Squier, S. Kane, Opt. Lett. 32, 3101–3103 (2007)

18.

B.A. Richman, S.E. Bisson, R. Trebino, M.G. Mitchell, E. Sidick, A. Jacobson, Opt. Lett. 22, 1223–1225 (1997)

19.

C. Pitris, B. Bouma, M. Shiskov, G. Tearney, Opt. Express 11, 120–124 (2003)

20.

D.A. Peyrot, C. Lefort, M. Steffenhagen, T. Mansuryan, G. Ducourthial, D. Abi-Haidar, N. Sandeau, C. Vever-Bizet, S.G. Kruglik, L. Thiberville, F. Louradour, G. Bourg-Heckly, Opt. Express 3, 840–853 (2012)
About this article
Cite this article
Forget, N., Crozatier, V. & Tournois, P. Transmission Bragg-grating grisms for pulse compression. Appl. Phys. B 109, 121–125 (2012). https://doi.org/10.1007/s00340-012-5126-2
Received:

Revised:

Published:

Issue Date:
Keywords
Group Delay

Diffraction Efficiency

Apex Angle

Group Delay Dispersion

Transmission Grating