Abstract
This paper presents the fabrication of large-area four-terminal (4 T) perovskite-Si solar cells. Large-area semi-transparent perovskite solar cells were fabricated by utilizing a thin copper layer as the low-cost transparent electrode. Carrier selective contact (CSC)-based Si solar cell was also fabricated with molybdenum oxide (MoOx) hole selective layer. Large-area semi-transparent perovskite solar cells (PSCs) with active areas 1 cm2 and 2 cm2 showed a power conversion efficiency (PCE) of 5.07% and 4.10%, respectively. The CSC Si solar cell displayed a PCE of 3.42%. The CSC-Si cell exhibited an efficiency of 2.24% under filtered light when placed under the semi-transparent perovskite top cell. The four-terminal effect was also demonstrated with a commercially available monocrystalline-Si solar cell. The efficiency of commercial c-Si solar cell was 14.11% under 100 mW cm−2 illumination and 10.08% under filtered light. The combined efficiency values of the 4 T configurations with perovskite top cell and the bottom CSC Si cell, and the commercial c-Si solar cell, were 7.31% and 15.15%, respectively. These values were more than the individual cell efficiencies.
Graphical Abstract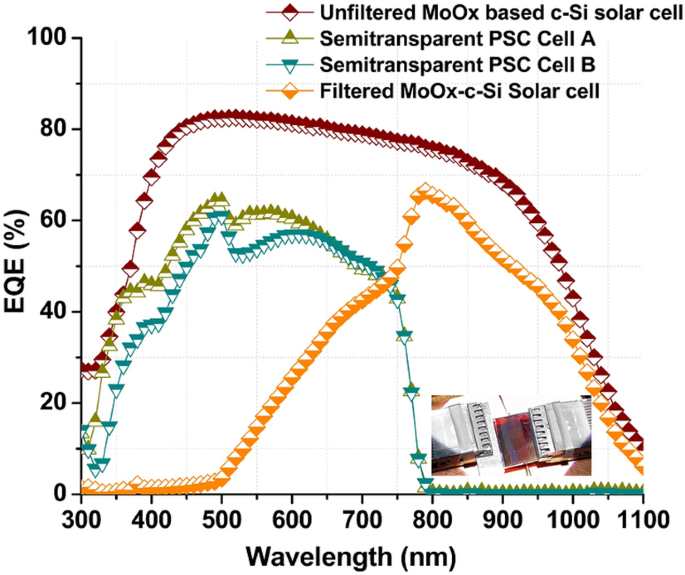 Access options
Buy single article
Instant access to the full article PDF.
USD 39.95
Price excludes VAT (USA)
Tax calculation will be finalised during checkout.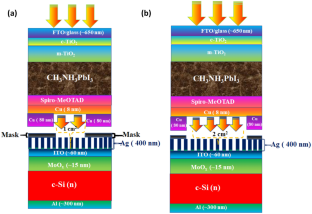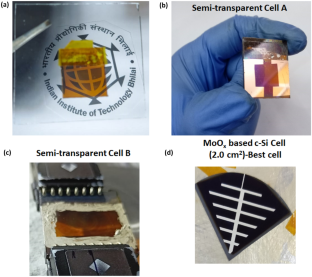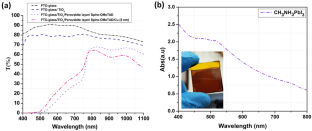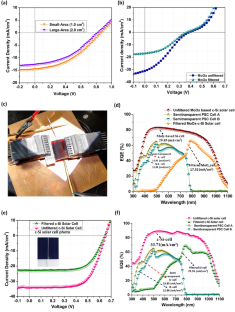 Acknowledgements
The authors acknowledge financial support through research grants DST/INSPIRE/04/2015/003204 and DST/NM/NT/2018/146.
Ethics declarations
Conflict of interest
The authors declare that they have no conflict of interest.
Additional information
Publisher's Note
Springer Nature remains neutral with regard to jurisdictional claims in published maps and institutional affiliations.
Supplementary Information
Below is the link to the electronic supplementary material.
About this article
Cite this article
Samantaray, M.R., Ghosh, D.S. & Chander, N. Four-terminal perovskite/silicon tandem solar cells based on large-area perovskite solar cells utilizing low-cost copper semi-transparent electrode. Appl. Phys. A 128, 111 (2022). https://doi.org/10.1007/s00339-021-05234-w
Received:

Accepted:

Published:

DOI: https://doi.org/10.1007/s00339-021-05234-w
Keywords