Abstract
We report a volatile liquid detector by engaging metal oxide sensor, which is further assisted by an Arduino kit to develop a prototype of alcohol detection. We have used ethanol as the main volatile liquid to design the prototype. To verify the most selective nature of the metal oxide sensor towards alcohol, we have compared with Methanol, Isopropyl alcohol, Acetone and Ammonia along with Ethanol. The proposed sensing device has been found to be highly sensitive towards ethanol with an excellent linearity closing to unity. With a working domain of ~ 230–800 ppm, the probe renders good degree of reproducibility. Through a little up scaling, the proposed device can be used as a transducer to reduce the speed of a running car when the exhale of driver exceeds dangerous concentration of alcohol.
This is a preview of subscription content,
to check access.
Access this article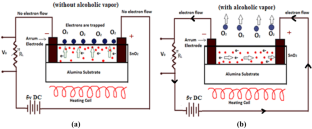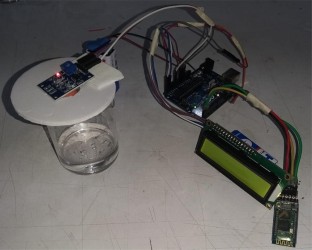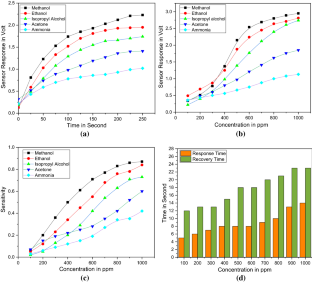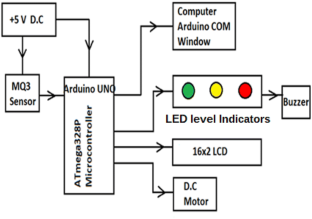 References
I.S. Hwang, J.K. Choi, H.S. Woo, S.J. Kim, S.Y. Jung, T.Y. Seong, I.D. Kim, J.H. Lee, Facile control of C2 H5 OH sensing characteristics by decorating discrete Ag nanoclusters on SnO2 nanowire networks. ACS Appl Mater Interfaces 3, 3140–3145 (2011)

A. Tiwari, R. Kumar, M. Prabaharan, R.R. Pandey, P. Kumari, A. Chaturvedi, A.K. Mishra, Nanofibrous polyaniline thin film prepared by plasma-induced polymerization technique for detection of NO2 gas. Polym Adv Technol 21, 615–620 (2010)

T. Baimpos, P. Boutikos, V. Nikolakis, D. Kouzoudis, A polymer-Metglas sensor used to detect volatile organic compounds. Sens Actuators A 158(2), 249–253 (2010)

Paul D, Dutta S, Biswas R (2016) LSPR enhanced gasoline sensing with a U-bent optical fiber. In: Article in Sensors and Actuators B Chemical 250

A. Tiwari, S. Li, Vacuum-deposited poly(o-phenylenediamine)/WO3·nH2 O nanocomposite thin film for NO2 gas sensor. Polym. J. 41, 726–732 (2009)

N. Hongsith, E. Wongrat, T. Kerdcharoen, S. Choopun, Sensor response formula for sensor based on ZnO nanostructures. Sens Actuators B 144, 67–72 (2010)

R.N. Mariammal et al., Ethanol sensor using Zn1—xCdxO (x = 0.00 and 010) Nanorods by Fibre-Optic Technique. Sens Lett 10, 18–25 (2012)

D. Paul, R. Biswas, Highly sensitive LSPR based photonic crystal fiber sensor with embodiment of nanospheres in different material domain. Opt Laser Technol 101, 379–387 (2018)

D. Paul, S. Dutta, R. Biswas, LSPR enhanced gasoline sensor. J Phys D Appl Phys 49, 305104 (2016)

M.-H. Sheikhi et al., Volatile gas sensing mechanism by optical fiber with SnO2 deposited layer. Sens Actuators D 147, 54–78 (2014)

M. Hernaez, C.R. Zamarreño et al., Optical fibre sensors using graphene-based materials: a review. Sensors 17(1), 155 (2017)

S.H. Girei, A.A. Shabaneh et al., Tapered optical fiber coated with graphene based nanomaterials for measurement of ethanol concentrations in water 22(3), 385–392 (2015)

A. Chowdhuri, S.K. Singh, K. Sreenivas, V. Gupta, Contribution of adsorbed oxygen and interfacial space charge for enhanced response of SnO2 sensors having CuO catalyst for H2 S gas. Sens Actuators B 145, 155–166 (2010)

N.M. Ravindra, P. Ganapathy, J. Choi, Energy gap–refractive index relations in semiconductors. Infrared Phys Technol 50, 21–29 (2007)

W. Liu, Y. Hu, Y. Hou, Ethanol gas sensitivity sensor based on roughened POF taper of modified polypyrrole films. Sensors 20(4), 989 (2020). https://doi.org/10.3390/s20040989

R. Maolanon, W. Wongwiriyapan, S. Pratontep, TiO2/Pt/TiO2 sandwich nanostructures: towards alcohol sensing and UV irradiation-assisted recovery. J Chem (2017). https://doi.org/10.1155/2017/8545690

J. Ho, K. Keun, S. HeonLeeb, Y. Hwan, NDIR Ethanol gas sensor with two elliptical optical structures. Procedia Eng 168, 359–362 (2016)

S. Devendiran, D. Sastikumar, Gas sensing based on detection of light radiation from a region of modified cladding (nanocrystalline ZnO) of an optical fiber. Opt Laser Technol 89, 186–191 (2017)

S. Sharifpour-Boushehri, S.M. Hosseini-Golgoo, M.H. Sheikhi, A low cost and reliable fiber optic ethanol sensor based on nano-sized SnO2. Opt Fiber Technol 24, 93–99 (2015)
Funding
This work received no funding. It was entirely from the personal grant of corresponding author.
Ethics declarations
Conflict of interest
The authors declare no conflict of interest.
Additional information
Publisher's Note
Springer Nature remains neutral with regard to jurisdictional claims in published maps and institutional affiliations.
About this article
Cite this article
Biswas, R., Saha, D. Probing volatile liquid through an electrical sensor with up gradation to a breathalyzer for drunken drivers. Appl. Phys. A 126, 313 (2020). https://doi.org/10.1007/s00339-020-03479-5
Received:

Accepted:

Published:

DOI: https://doi.org/10.1007/s00339-020-03479-5
Keywords