Abstract
NiFe2O4, Al2O3 and their nanocomposites; (1−x) NiFe2O4 + (x) Al2O3, 0.0 ≤ x ≤ 1; were synthesized using the citrate–nitrate technique. The crystal structure was examined by X-ray diffraction, the microstructure was observed by transmission electron microscopy. The Curie temperature T C grows until reaching more than 1100 K with increasing alumina content (x), while the saturation magnetization (M s) decreased. The large improvement of room temperature resistivity which achieved two orders of magnitude from x = 0 to x = 70% was interpreted from the fact that the NiFe2O4 grains become electrically isolated and the conduction path is broken by the insulating Al2O3 nanoparticulates in the composite. The electrical properties of the nanocomposite could thus be tuned easily by adjusting the Al2O3 ratio to realize the targeted value of losses and resistivity at any temperature and frequency.
Access options
Buy single article
Instant access to the full article PDF.
USD 39.95
Price excludes VAT (USA)
Tax calculation will be finalised during checkout.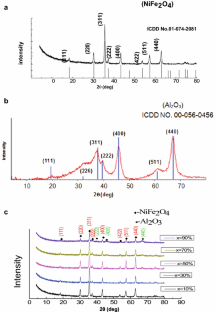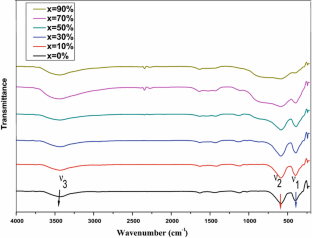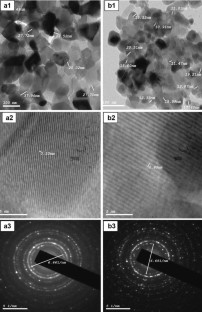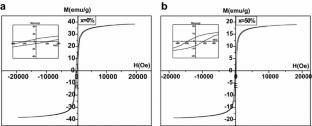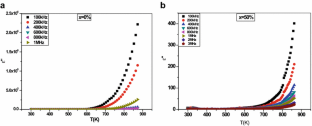 References
V.G. Harris, A. Geiler, Y. Chen, S.D. Yoon, M. Wu, A. Yang, Z. Chen, P. He, P.V. Parimi, X. Zuo, C.E. Patton, M. Abe, O. Acher, C. Vittoria, Recent advances in processing and applications of microwave ferrites. J. Magnet. Magnet. Mater. 321, 2035–2047 (2009)

H. Yin, H.P. Too, G.M. Chow, The effects of particle size and surface coating on the cytotoxicity of nickel ferrite. Biomaterials 26, 5818–5826 (2005)

Y. Wang, X. Teng, J.S. Wang, H. Yang, Solvent-free atom transfer radical polymerization in the synthesis of Fe2O3@ polystyrene core-shellnanoparticles. Nano Lett. 3, 789–793 (2003)

G.R. Dube, V.S. Darshane, Decomposition of 1-octanol on the spinel system Ga1-x FexCuMnO4. J. Mol. Catal. 79, 285–296 (1993)

C.V.G. Reddy, S.V. Manorama, V.J. Rao, Preparation and characterisation of ferrites as gas sensor materials. J. Mater. Sci. Lett. 19, 775–778 (2000)

Z.L. Tian, Y.Q. Lai, J. Li, Y.X. Liu, Effect of Ni content on corrosion behaviour ofNi/(10NiO–90NiFe2O4) cermet inert anode. Trans. Nonfer. Met. Soc. China 18, 361–365 (2008)

Y.Q. Lai, Z.L. Tian, J. Li, S.L. Ye, X.Z. Li, Y.X. Liu, Results from 100 h electrolysis testing of NiFe2O4 based cermet as inert anode in aluminium reduction. Trans. Nonfer. Met. Soc. China 16, 970–974 (2006)

E. Olsen, J. Thonstad, Nickel ferrite as inert anodes in aluminum electrolysis: part I material fabrication and preliminary testing. J. Appl. Electrochem. 29, 293–299 (1999)

S. Muralidharan, V. Saraswathy, L.J. Berchmans, K. Thangavel, K.Y. Ann, Nickel ferrite (NiFe2O4): a possible candidate material as reference electrode for corrosion monitoring of steel in concrete environments. Sens. Actuators B Chem. 145, 225–231 (2010)

Z.H. Bi, J.H. Zhu, J.L. Batey, CoFe2O4 spinel protection coating thermally converted from the electroplated Co–Fe alloy for solid oxide fuel cell interconnect application. J. Power Sour. 195, 3605–3611 (2010)

X. Montero, F. Tietz, D. Sebold, H.P. Buchkremer, A. Ringuede, M. Cassir, A. Laresgoiti, I. Villarreal, MnCo1·9Fe0.1O4 spinel protection layer on commercial ferritic steels for interconnect applications in solid oxide fuel cells. J. Power Sour. 184, 172–179 (2008)

K.Y. Park, K.Y. Jung, Synthesis of nano-structured alumina powders thru the aerosol process. Ceramist 12(2), 27–37 (2009)

F. Mirjalili, L.C. Abdullah, H. Mohamad, A. Fakhru'l-Razi, A. B. D. Radiah, R. Aghababazadeh, Process for producing nano-alpha-alumina powder, ISRN Nanotechnol., Article ID 692594, 1–5 (2011)

H. Noda, K. Muramoto, H. Kim, Preparation of nano-structured ceramics using nanosized Al2O3 particles. J. Mater. Sci. 38, 2043–2047 (2003)

P.A. Janeway, Nanotechnology—it's more than size. Am. Ceram. Soc. Bull. 82(4), 31–38 (2003)

S. Kim, J.J. Gislason, R.W. Morton, X.Q. Pan, H.P. Sun, R.M. Laine, Liquid-feed flame spray pyrolysis of nanopowders in the alumina-titania system. Chem. Mater. 16(12), 2336–2343 (2004)

M. Trueba, S.P. Trasatti, Eur. J. Inorg. Chem. 17, 3393–3403 (2005)

R.S. Zhou, R.L. Snyder, Acta Crystallogr. B 47, 617–630 (1991)

M.A. Ahmed, S.F. Mansour, S.I. El-Dek, Investigation of the physicochemical properties of nanometric NiLa ferrite/PST matrix. Solid State Ionics 181, 1149–1155 (2010)

Z. Ghezelbash, D. Ashouri, S. Mousavlan, A.H. Ghandi, Y. Rahnama, Bull. Mater. Sci. 35(6), 925–931 (2012)

P. Sivakumar, R. Ramesh, A. Ramanand, S. Ponnusamy, C. Muthamizhchelvan, J. Alloy. Compd. 563, 6–11 (2013)

V. Jagadeesha Angadi, A.V. Anupama, R. Kumar, S. Matteppanavar, B. Rudraswamy, B. Sahoo, J Alloys Compd. 682, 263–274 (2016)

S.L. Young, H.Z. Chen, C.C. Lin, J.B. Shi, L. Horng, Y.T. Shih, J. Magn. Magn. Mater. 303(2), 325 (2006)

Z.L. Wang, Y. Liu, Z. Zhang, Handbook of nanophase and nanostructured materials. Materials systems and applications, vol. 3 (Kluwer Academic, Plenum Publishers, USA, 2003)

E.C. Stoner, E.P. Wohlfarth, Philos. Trans. R. Soc. Lond. A 240, 599 (1948)

J. Maxwell, Electricity and magnetics, section 328, vol. 1 (Oxford University Press, London, 1873)

K. Wagner, Ann. Phys. 40, 817 (1913)

C.G. Koops, Phys. Rev. 83, 121 (1951)

F. Haberey, H.J.P. Wijn, Phys. Stat. Sol. (a) 26, 231 (1968)

J. Smit, H.J.P. Wijn, Ferrites (Cleaver-Humepress, London, 1959), p. 239

J.B. Goodenough, A.L. Loeb, Phys. Rev. 98(2), 391 (1955)

T. Xiao-Xia, A. Manthiram, J.B. Goodenough, J. Solid State Chem. 79, 250 (1989)

M. Hamzah, E. Saion, A. Kassim, E. Mahmud, I. Shahrim, J. Adv. Sci. 1(1), 9–14 (2009)

E.J.W. Verwey, P.W. Haayman, C.W. Romeijn, J. Chem. Phys. 15, 181–187 (1947)

M.A. Ahmed, N. Okasha, S.F. Mansour, S.I. El-dek, Bi-modal improvement of the physico-chemical characteristics of PEG and MFe2O4 sub nano ferrite. J. Alloys Compd. 496, 345–350 (2010)

M.J. Iqbal, M.N. Ashiq, P.H. Gomez, J. Magn. Magn. Mater. 320, 881–886 (2008)

M.J. Iqbal, Z. Ahmad, T. Meydan, I.C. Nlebedim, Mater. Res. Bull. 47, 344–351 (2012)

N. Ponpandian, P. Balaya, A. Narayanasamy, J. Phys. Condens. Mater. 14, 3221–3237 (2002)

M.P. Pandya, K.B. Modi, H.H. Joshi, J. Mater. Sci. 40, 5223 (2005)

M.A. Ahmed, S.I. El-Dek, A. Abd Elazim, Superlattices Microstruct. 74, 34–51 (2014)

S.R. Elliott, Adv. Phys. 36(2), 135 (1987)

A.R. Long, Adv. Phys. 31(5), 553 (1982)
About this article
Cite this article
Mansour, S.F., Ahmed, M.A., El-Dek, S.I. et al. Enhancement of the physical properties of novel (1−x) NiFe2O4 + (x) Al2O3 nanocomposite. Appl. Phys. A 123, 480 (2017). https://doi.org/10.1007/s00339-017-1084-1
Received:

Accepted:

Published:

DOI: https://doi.org/10.1007/s00339-017-1084-1