Abstract
A rare earth doped heavy metal PbO–Bi2O3–B2O3–CeO2–TbO2 system was fabricated and characterized for waveguide fabrication. A glass host was selected among 11 heavy metal oxides candidates for rare earth doping and photosensitive study in visible range. The influences of rare earth contents on spectral and properties of glasses were investigated. Glass Pb50Bi20B30 + 1 % Tb + 1 % Ce was found to be ideal for laser irradiation multifunctional waveguides material which exhibited good thermal stability, high absorption and big refractive index change (7.9 × 10−3) at 1553 nm after visible laser exposure at 10,000 pulses for 60 s.
Access options
Buy single article
Instant access to the full article PDF.
USD 39.95
Price excludes VAT (USA)
Tax calculation will be finalised during checkout.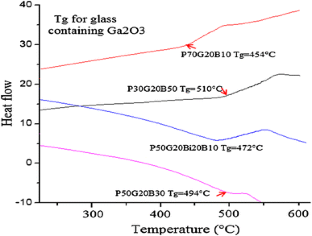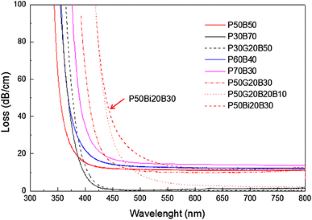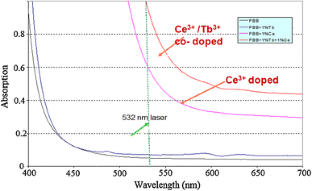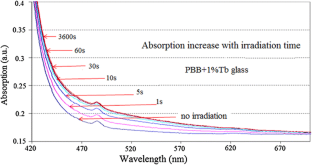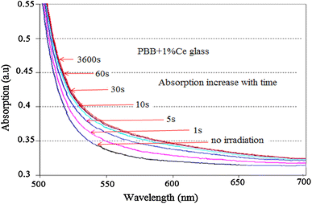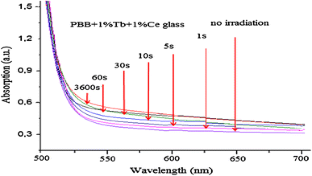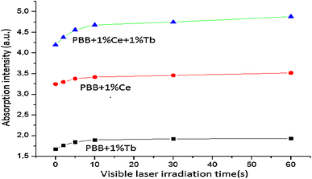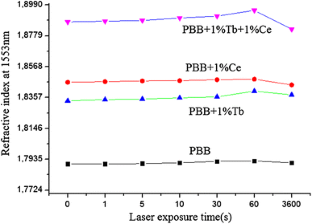 References
B.G. Potter, S. Potter, Photosensitive point defects in optical glasses: science and applications. Nucl. Instrum. Methods Phys. Res. B 166–167, 771–781 (2000)

H.E. Heidepriem, Laser writing of waveguide in photosensitive glasses. Opt. Mater. 25, 109–115 (2004)

O.M. Efimov, L.B. Glebov, K.A. Richardson et al., Waveguide writing in chalcogenide glasses by a train of femtosecond laser pulses. Opt. Mater. 17, 379–386 (2001)

A.M. Ljungstrom, T.M. Monro, Light-induced self-writing effects in bulk chalcogenide glass. J. Lightwave Technol. 20, 78–85 (2002)

A.K. Mairaj, A.M. Chardon, Laser performance and spectroscopic analysis of optically written channel waveguides in neodymium-doped gallium lanthanum sulphide glass. J. Sel. Top. Quantum Electron. 8, 1381–1388 (2002)

C. Contardi, E.R. Taylor, Study of UV-written channels in lead silicate glasses. J. Non-Cryst. Solids 291, 113–120 (2001)

K.O. Hill, Y. Fujii, Photosensitivity in optical fiber waveguide: application to reflection filter fabrication. Appl. Phys. Lett. 32, 647–649 (1978)

B.G. Potter, Thermal stability of photosensitive Bragg gratings in sputter deposited germano silicate glass. J. Non-Cryst. Solids 277, 114–119 (2000)

Z. Yang, Q. Zhang, Photo-induced refractive index change of bismuth-based silicate glass. J. Phys. D Appl. Phys. 38, 1461–1463 (2005)

Q. Chen, Q. Ma, Structural and properties of heavy metal oxide Faraday glass for optical current transducer. J. Non-Cryst. Solids 429, 13–19 (2015)

Q. Chen, H. Wang, Structural, optical and magnetic properties of Fe3O4 sputtered TeO2–PbO–B2O3 and PbO–Bi2O3–B2O3 glasses for sensing applications. J. Non-Cryst. Solids 408, 43–50 (2015)

Q. Chen, H. Wang, Properties of tellurite core/cladding glasses for magneto-optical fibers. J. Non-Cryst. Solids 400, 51–57 (2014)

S. Tanabe, N. Sugimoto, Broad-band 1.5 μm emission of Er3+ ions in bismuth based oxides glasses for potential WDM amplifier. J. Lumin. 87–89, 670–672 (2000)

S. Baccaro, A. Cemmi, Gamma rays effects on the optical properties of cerium doped glasses. Int. J. Appl. Glass Sci. 3, 1–7 (2015)

P. Liu, H. Yin, Faraday effect and luminescence properties of magneto-optical glasses with high Tb3+ content. Chin. J. Lumin. 36, 293–298 (2015)

G. Gao, A. Winterstein-Beckmann, Faraday rotation and photoluminescence in heavily Tb3+-doped GeO2–B2O3–Al2O3–Ga2O3 glasses for fiber-integrated magneto-optics. Sci. Rep. 5, 8942–8948 (2015)

Y. Li, X. Gao, Fabrication of magneto-optical microstructure by femtosecond laser pulses. Chin. Opt. Lett. 10(10), 102–201 (2012)

S. Nakashima, K. Sugioka, Optical and magneto-optical properties in Fe-doped glasses irradiated with femtosecond laser. Appl. Phys. B 113, 451–456 (2013)

Q. Liu, B.F. Johnston, A parametric study of laser induced effects in terbium doped borosilicate glasses: prospects for compact magneto optic devices. Opt. Mater. Express 3, 2097–2111 (2013)

Q. Chen, M. Ferraris, Novel erbium doped PbO and B2O3 based glasses with broad 1.5 μm absorption line width and low refractive index. J. Non-Cryst. Solids 324, 1–11 (2003)

Q.L. Chen, Q.P. Chen, A new Faraday rotation measurement method for the study on magneto optical property of PbO–Bi2O3–B2O3 glasses for current sensor applications. Open J. Inorg. Non-Met. Mater. 1, 1–7 (2011)

B. Yale, K. Fyles, Borosilicate glass compositions incorporating cerium oxide, US, patent no. 5017521m (1991)

J. Heo, C. Kim, Y. Kim, Characterization and X-Ray photoelectron spectroscopy investigation of PbO–Bi2O3–Ga2O3 glasses. J. Am. Ceram. Soc. 78, 1285–1290 (1995)

T. Takaishi, J. Jin, Structural study of PbO-B2O3 classes by X-ray diffraction and B-11 MAS NMR techniques. J. Am. Ceram. Soc. 83(10), 2543–2548 (2000)

H. Dachraoui, R. Rupp, Photochromism of doped terbium gallium garnet. Phys. Rev. B Condens. Matter 74, 144104–144109 (2006)

Y. Zhang, Synthesis of LaF3:Ce3+/Tb3+ crystals via solvothermal method and functionalization. Stud. Synth. Chem. 3, 19–23 (2015)

B. Speit, E. Radlein, Radiation resistant optical glasses. Nucl. Instrum. Methods Phys. Res. B 65, 384–386 (2012)

L. Zhang, M. Peng, G. Dong, An investigation of the optical properties of Tb3+-doped phosphate glasses for green fiber laser. J. Opt. Mater. 34, 1202–1207 (2012)
About this article
Cite this article
Chen, Q., Ma, Q., Wang, H. et al. Visible laser-induced photosensitive effects in Tb3+-/Ce3+-doped heavy metal glasses for optical waveguide fabrication. Appl. Phys. A 122, 149 (2016). https://doi.org/10.1007/s00339-016-9694-6
Received:

Accepted:

Published:

DOI: https://doi.org/10.1007/s00339-016-9694-6
Keywords