Abstract
Easel paintings have been considered one of the most important art expressions, constituting today outstanding works of art with important historic and cultural value. Unfortunately, due to the presence of several organic materials, these artworks have been affected by microbial contamination that among other factors can be responsible for different aesthetic and structural alterations. For this study, four easel paintings from the late nineteenth century by Giorgio Marini with evident chromatic and structural alterations due to biocontamination were analysed in order to better understand the materials used and the source of high microbial contamination within a focused conservation intervention process. For this end, both the biofilms and the painting materials were characterised by several analytical techniques. Fungal communities were found to prevail in areas with evident structural and aesthetic damages, which were confirmed by scanning electron microscopy analyses that allowed the observation of the fungal hyphae proliferation capacity. Energy-dispersive X-ray spectroscopy, μ-X-ray diffraction, μ-Raman, μ-FTIR and optical microscopy were used to further identify the painting materials. Immunological assays revealed the presence of a mixture of proteins of ovalbumin, collagen and casein, suggesting that the presence of these proteinaceous materials in these paintings is one of the main reasons of microbial biofilms appearance on the painting's surface. These approaches contribute for a better knowledge of these artworks providing at the same time relevant information for the ongoing conservation–restoration intervention.
This is a preview of subscription content, log in to check access.
Access options
Buy single article
Instant access to the full article PDF.
US$ 39.95
Price includes VAT for USA
Subscribe to journal
Immediate online access to all issues from 2019. Subscription will auto renew annually.
US$ 99
This is the net price. Taxes to be calculated in checkout.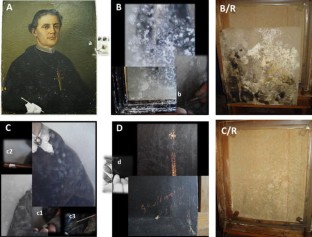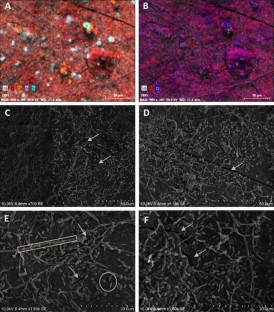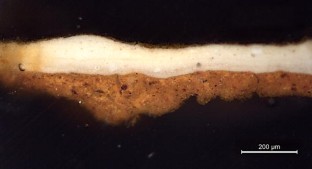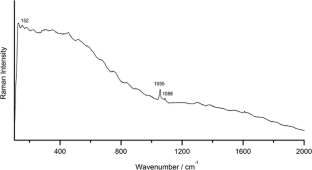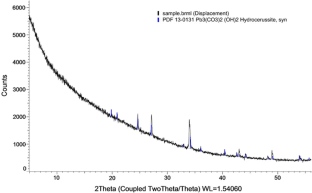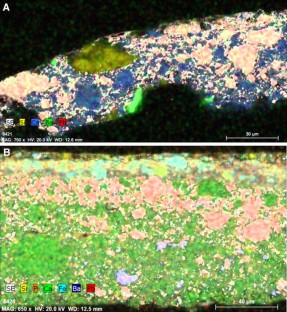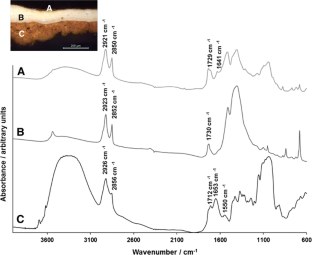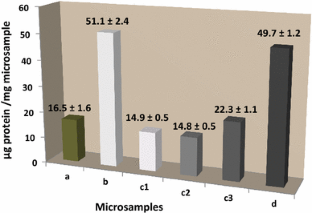 References
1.

J. Arslanoglu, J. Schultz, J. Loike, K. Peterson, Immunology and art: using antibody-based techniques to identify proteins and gums in artworks. J. Biosci. 35(1), 3–10 (2010)

2.

H.E. Ahmed, F.N. Kolisis, A study on using of protease for removal of animal glue adhesive in textile conservation. J. Appl. Polym. Sci. 124, 3565–3576 (2012)

3.

S. Capodicasa, S. Fedi, A.M. Porcelli, D. Zannoni, The microbial community dwelling on a biodeteriorated 16th century painting. Int. Biodeterior. Biodegradation 64(8), 727–733 (2010)

4.

M. Elias, N. Mas, P. Cotte, Review of several optical non-destructive analyses of an easel painting. Complementarity and crosschecking of the results. J. Cult. Herit. 12(4), 335–345 (2011)

5.

E. Albertini, L. Raggi, M. Vagnini, A. Sassolini, A. Achilli, G. Marconi, L. Cartechini, F. Veronesi, M. Falcinelli, B. Brunetti, C. Miliani, Tracing the biological origin of animal glues used in paintings through mitochondrial DNA analysis. Anal. Bioanal. Chem. 399, 2987–2995 (2011)

6.

B.H. Stuart, Analytical Techniques in Materials Conservation (Wiley, London, 2007)

7.

M. Palmieri, M. Vagnini, L. Pitzurra, P. Rocchi, B. Brunetti, A. Sgamellotti, L. Cartechini, Development of an analytical protocol for a fast, sensitive and specific protein recognition in paintings by enzyme-linked immunosorbent assay (ELISA). Anal. Bioanal. Chem. 399, 3011–3023 (2011)

8.

A. Lluveras, I. Bonaduce, A. Andreotti, M.P. Colombini, GC/MS analytical procedure for the characterization of glycerolipids, natural waxes, terpenoid resins, proteinaceous and polysaccharide materials in the same paint microsample avoiding interferences from inorganic media. Anal. Chem. 82, 376–386 (2010)

9.

S.G. Kazarian, K.L.A. Chan, ATR-FTIR spectroscopic imaging: recent advances and applications to biological systems. Analyst 138, 1940–1951 (2013)

10.

G. Sciutto, L.S. Dolci, M. Guardigli, M. Zangheri, S. Prati, R. Mazzco, A. Roda, Single and multiplexed immunoassays for the chemiluminescent imaging detection of animal glues in historical paint cross-sections. Anal. Bioanal. Chem. 405(2–3), 933–940 (2012)

11.

L. Cartechini, M. Vagnini, M. Palmieri, L. Pitzurra, T. Mello, J. Mazurek, G. Chiari, Immunodetection of proteins in ancient paint media. Acc. Chem. Res. 43, 867–876 (2010)

12.

C. Tokarski, E. Martin, C. Rolando, C. Cren-Olivé, Identification of proteins in renaissance paintings by proteomics. Anal. Chem. 78(5), 1494–1502 (2006)

13.

J. Schultz, K. Petersen, Antibody-Based Techniques to Distinguish Proteins and Identify Sturgeon Glue in Works of Art, in Proceedings of Symposium 2011—Adhesives and Consolidants for Conservation (2011)

14.

T. Rosado, M. Gil, A.T. Caldeira, M.R. Martins, C. Dias, L. Carvalho, J. Mirão, A. Candeias, Material characterization and biodegradation assessment of mural paintings: renaissance Frescoes from Santo Aleixo Church, Southern Portugal. Int. J. Archit. Herit. 8(6), 835–852 (2014)

15.

C. Salvador, M. Silva, T. Rosado, R.V. Freire, R. Bordalo, A. Candeias, A.T. Caldeira, Biodeterioration of easel paintings: development of new mitigation strategies. Conserv. Patrim. 23, 119–124 (2016)

16.

C. Salvador, M.R. Martins, J.M. Arteiro, A.T. Caldeira, Molecular evaluation of some Amanita ponderosa and the fungal strains living in association with these mushrooms in the southwestern Iberian Peninsula. Ann. Microbiol. 64, 1179–1187 (2014)

17.

K. Domsch, W. Gams, T. Anderson, Compendium of Soil Fungi, vol. 1 (Academic Press, London, 1980)

18.

P.M. Crous, G.J.M. Verkley, J.Z. Groenewald, R.A. Samson (eds.) Fungal Biodiversity. CBS Laboratory Manual Series, ed. by P.M. Crous and R.A. Samson (CBS-KNAW Fungal Biodiversity Centre, Utrecht, 2009)

19.

R. Bordalo, C. Bottaini, C. Moricca, A. Candeias, Material Characterisation of a Florentine painter in Portugal in the Late 19th century: paintings by Giorgio Marini. Int. J. Conserv. Sci. 7(4), 967–980 (2016)

20.

C. Salvador, A. Branco, A. Candeias, A.T. Caldeira, Innovative approaches for immunodetection of proteic binders in art. E-Conserv. J. (in press) (2016)

21.

M.M. Bradford, A rapid and sensitive method for the quantitation of microgram quantities of protein utilizing the principle of protein-dye binding. Anal. Biochem. 72, 248–254 (1976)

22.

C. Salvador, M.R. Martins, M.F. Candeias, A. Karmali, J.M. Arteiro, A.T. Caldeira, Characterization and biological activities of protein-bound polysaccharides produced by cultures of pleurotus ostreatus. J. Agric. Sci. Technol. A 2, 1296–1306 (2012)

23.

J. Arteiro, M. Martins, C. Salvador, M. Candeias, K.A.A. Caldeira, Protein-polysaccharides of trametes versicolor: production and biological activities. Med. Chem. Res. 21(6), 937–943 (2012)

24.

L. Libjaková, S. Bystrický, I. Lizicárová, E. Paulovicová, E. Machová, Evaluation of different mannan polysaccharide usage in enzyme-linked immunosorbent assay for specific antibodies determination. Pharm. Biomed. Anal. 45, 521–525 (2007)

25.

A. Karmali, P. Oliveira, Glucose 1- and 2-oxidases from fungal strains: isolation and production of monoclonal antibodies. J. Biotechnol. 69, 151–162 (1999)

26.

C. Salvador, A. Branco, A. Fialho, M. Semedo, S. Martins, M.F. Candeias, A. Candeias, A.T. Caldeira, A. Karmali, in Science, Technology and Cultural Heritage, ed. by M.A. Rogerio-Candelera. Detection of proteic binders in easel paintings using monoclonal antibodies, (CRC Press/Balkema Taylor & Francis Group, London, 2014), pp. 329–334

27.

S. Martins, A. Karmali, J. Andrade, A. Custódio, M.L. Serralheiro, Characterization of monoclonal antibodies against altered (T103I) amidase from Pseudomonas aeruginosa. Mol. Biotechnol. 30, 207–219 (2005)

28.

S. Martins, A. Karmali, M. Serralheiro, Chromatographic behaviour of monoclonal antibodies against wild -type amidase from Pseudomonas aeruginosa on immobilized metal chelates. Biomed. Chromatogr. 25, 1327–1337 (2011)

29.

T. Rosado, A. Reis, J. Mirão, A. Candeias, P. Vandenabeele, A.T. Caldeira, Pink! Why not? On the unusual colour of Évora Cathedral. Int. Biodeterior. Biodegradation 94, 121–127 (2014)

30.

T. Rosado, M. Silva, C. Pereira, J. Mirão, A. Candeias, A.T. Caldeira, Gilded woodcarving alteration: assessment of filamentous fungi action. Int. J. Conserv. Sci. 6 (Special Issue) 499–506 (2015)

31.

T. Rosado, J. Mirao, A. Candeias, A.T. Caldeira, Microbial communities analysis assessed by pyrosequencing-a new approach applied to conservation state studies of mural paintings. Anal. Bioanal. Chem. 406(3), 887–895 (2014)

32.

M.P. Nugari, A.M. Pietrini, G. Caneva, F. Imperi, P. Visca, Biodeterioration of mural paintings in a rocky habitat: the Crypt of the Original Sin (Matera, Italy). Int. Biodeterior. Biodegradation 63(6), 705–711 (2009)

33.

K. Sterflinger, Fungi: their role in deterioration of cultural heritage. Fungal Biol. Rev. 24(1–2), 47–55 (2010)

34.

M. Lopez-Miras, G. Pinar, J. Romero-Noguera, F.C. Bolivar-Galiano, J. Ettenauer, K. Sterflinger, I. Martin-Sanchez, Microbial communities adhering to the obverse and reverse sides of an oil painting on canvas: identification and evaluation of their biodegradative potential. Aerobiologia (Bologna) 29(2), 301–314 (2013)

35.

O. Pepe, S. Palomba, L. Sannino, G. Blaiotta, V. Ventorino, G. Moschetti, F. Villani, Characterization in the archaeological excavation site of heterotrophic bacteria and fungi of deteriorated wall painting of Herculaneum in Italy. J. Environ. Biol. 32, 241–250 (2011)

36.

K. Sterflinger, G. Pinar, Microbial deterioration of cultural heritage and works of art-tilting at windmills? Appl. Microbiol. Biotechnol. 97(22), 9637–9646 (2013)

37.

A.B. Strzelczyk, Observations on aesthetic and structural changes induced in Polish historic objects by microorganisms. Int. Biodeterior. Biodegradation 53(3), 151–156 (2004)

38.

I.M. Bell, R.J.H. Clark, P.J. Gibbs, Raman spectroscopic library of natural and synthetic pigments (pre- ≈ 1850 AD). Spectrochim. Acta Part A 53(12), 2159–2179 (1997)

39.

M. Derrick, D. Stulik, J.M. Landru, Infrared Spectroscopy in Conservation (The Getty Conservation Institute, Los Angeles, 1999)
Acknowledgements
The authors would like to thank the HIT3CH project—HERCULES Interface for Technology Transfer and Teaming in Cultural Heritage (ALT20-03-0246-FEDER-000004) and MEDUSA project—"Microorganisms Monitoring and Mitigation—Developing and Unlocking Novel Sustainable Approaches" (ALT20-03-0145-FEDER-000015), co-financed by the European Regional Development Fund (ERDF) and ALENTEJO 2020 (Alentejo Regional Operational Programme). R. Bordalo also acknowledges Fundação para a Ciência e Tecnologia for a postdoctoral fellowship (SFRH/BPD/85259).
About this article
Cite this article
Salvador, C., Bordalo, R., Silva, M. et al. On the conservation of easel paintings: evaluation of microbial contamination and artists materials. Appl. Phys. A 123, 80 (2017). https://doi.org/10.1007/s00339-016-0704-5
Received:

Accepted:

Published:
Keywords
Ground Layer

Rose Bengal

Paint Layer

Proteinaceous Material

Cerussite