Abstract
Hybrid graphene–copper ultra-wideband array sensor applied to microwave imaging technique is successfully used in detecting and visualizing tumor inside human brain. The sensor made of graphene coated film for the patch while copper for both the transmission line and parasitic element. The hybrid sensor performance is better than fully copper sensor. Hybrid sensor recorded wider bandwidth of 2.0–10.1 GHz compared with fully copper sensor operated from 2.5 to 10.1 GHz. Higher gain of 3.8–8.5 dB is presented by hybrid sensor, while fully copper sensor stated lower gain ranging from 2.6 to 6.7 dB. Both sensors recorded excellent total efficiency averaged at 97 and 94%, respectively. The sensor used for both transmits equivalent signal and receives backscattering signal from stratified human head model in detecting tumor. Difference in the data of the scattering parameters recorded from the head model with presence and absence of tumor is used as the main data to be further processed in confocal microwave imaging algorithm in generating image. MATLAB software is utilized to analyze S-parameter signals obtained from measurement. Tumor presence is indicated by lower S-parameter values compared to higher values recorded by tumor absence.
Access options
Buy single article
Instant access to the full article PDF.
US$ 39.95
Tax calculation will be finalised during checkout.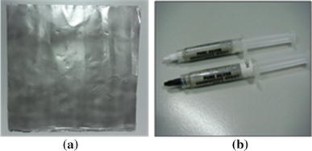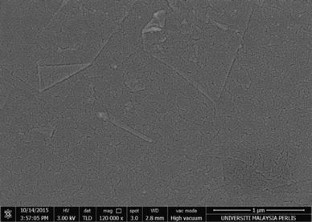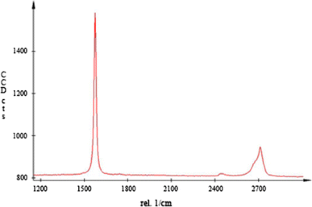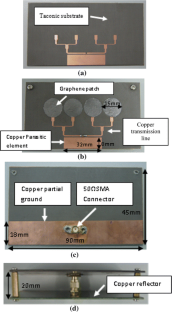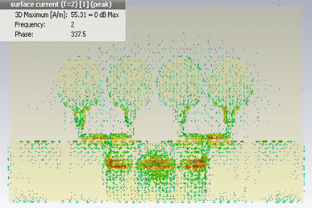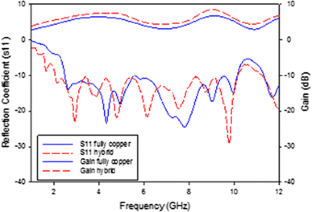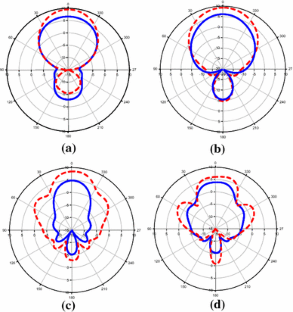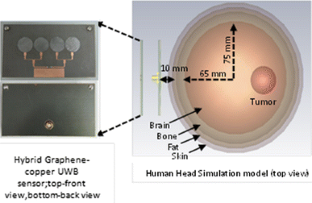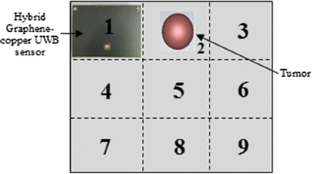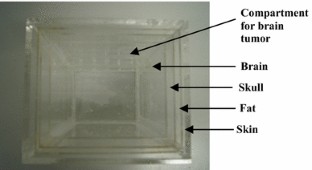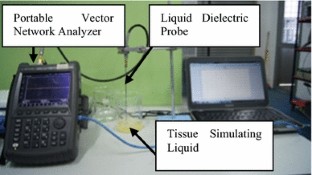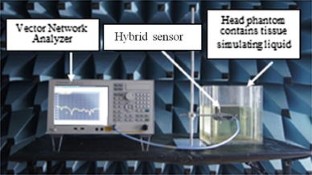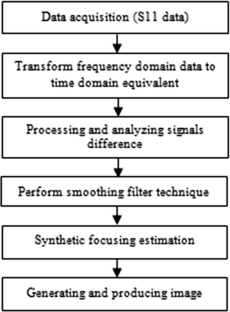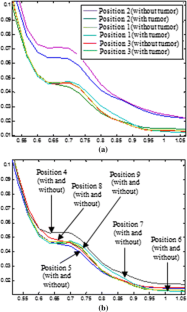 References
1.

B.J. Mohammed, A.M. Abbosh, D. Ireland, M.E. Bialkowski, Compact wideband antenna immersed in optimum coupling liquid for microwave imaging of brain stroke. Prog. Electromagn. Res. C 27, 27–39 (2012)

2.

P.M. Meaney, M.W. Fanning, D. Li, S.P. Poplack, K.D. Paulsen, A clinical prototype for active microwave imaging of the breast. IEEE Trans. Microw. Theory Tech. 48, 1841–1853 (2000)

3.

F.S.G.B. Barnes, Handbook of Biological Effects of Electromagnetic Fields (CRC/Taylor & Francis, Boca Raton, 2007)

4.

L.M. Camacho, S. Tjuatja, FDTD simulation of microwave scattering from a lung tumor, in Antennas and Propagation Society International Symposium, 2005 IEEE (2005), pp. 815–818

5.

X.N. Low, Z.N. Chen, T.S.P. See, A UWB dipole antenna with enhanced impedance and gain performance, in IEEE Transactions on Antenna and Propagations, vol. 57, No. 10 (2009)

6.

J.S. Moon, D.K. Gaskill, Graphene: its fundamentals to future applications, in IEEE Transactions on Microwave Theory and Techniques, vol. 59, No. 10 (2011)

7.

A. Eesuola1, Y. Chen, G.Y. Tian, Novel ultra-wideband directional antennas for microwave breast cancer detection, in APS/URSI (2011)

8.

Graphene Supermarket, Graphene Coatings/films, Conductive Graphene Sheet. https://graphene-supermarket.com/Conductive-Graphene-Sheets.html

9.

C. Isaac, A.J. Luis, P. Wonjun, C. Helin, P.C. Yong, Raman spectroscopy of graphene and related materials, Chapter 19, Department of Physics, Purdue University, West Lafayette, IN, US, Birck Nanotechnology Center, Purdue University, West Lafayette, IN, US, School of Electrical and Computer Engineering, Purdue University, West Lafayette, IN, US

10.

A.C. Ferrari, J.C. Meyer, V. Scardaci, C. Casiraghi, M. Lazzeri, F. Mauri, S. Piscanec, D. Jiang, K.S. Novoselov, S. Roth, A.K. Geim, Raman spectrum of graphene and graphene layers. Phys. Rev. Lett. PRL 97, 187401 (2006)

11.

N. Ab Wahab, Z.B. Maslan, W.N.W. Muhamad, N. Hamzah, Microstrip rectangular 4 × 1 patch array antenna at 2.5 GHz for WiMax application, in 2010 Second International Conference on Computational Intelligence, Communication Systems and Networks (2010)

12.

A.M. Abbosh, Directive antenna for ultrawideband medical imaging systems. Int. J. Antennas Propag. 2008, 854012 (2008). doi:10.1155/2008/854012

13.

N. Ojaroudi, M. Ojaroudi, F. Geran, S. Amiri, Omnidirectional antenna with multi-resonance performance for microwave imaging systems. Telfor J. 5(2), 161–164 (2013)

14.

H. Mosallaei, K. Sarabandi, Magneto-dielectrics in electromagnetics: concept and applications. IEEE Trans. Antennas Propag. 52(6), 1558–1567 (2004)

15.

D.L. Wynants, DK or dielectric constant or relative permittivity or Er, in Process Engineer Taconic ADD (2011)

16.

IT'IS Foundation, Database of tissue properties. http://www.itis.ethz.ch/virtual-population/tissue-properties/overview
About this article
Cite this article
Jamlos, M.A., Ismail, A.H., Jamlos, M.F. et al. Hybrid graphene–copper UWB array sensor for brain tumor detection via scattering parameters in microwave detection system. Appl. Phys. A 123, 112 (2017). https://doi.org/10.1007/s00339-016-0691-6
Received:

Accepted:

Published:
Keywords
Human Head

Patch Antenna

Graphene Film

Microwave Imaging

Parasitic Element