Abstract
The comparative study based on spectroscopic analysis of the materials used to produce four sixteenth-century Manueline Charters (the Charters of Alcochete, Terena, Alandroal and Évora) was performed following a systematic analytical approach. SEM–EDS, μ-Raman and μ-FTIR analysis highlighted interesting features between them, namely the use of different pigments and colourants (such as different green and yellow pigments), the presence of pigments alterations and the use of a non-expected extemporaneous material (with the presence of titanium white in the Charter of Alcochete). Principal component analysis restricted to the C–H absorption region (3000–2840 cm−1) was applied to 36 infrared spectra of blue historical samples from the Charters of Alcochete, Terena, Alandroal and Évora, suggesting the use of a mixture of a triglyceride and polysaccharide as binder.
This is a preview of subscription content, log in to check access.
Access options
Buy single article
Instant access to the full article PDF.
US$ 39.95
Price includes VAT for USA
Subscribe to journal
Immediate online access to all issues from 2019. Subscription will auto renew annually.
US$ 99
This is the net price. Taxes to be calculated in checkout.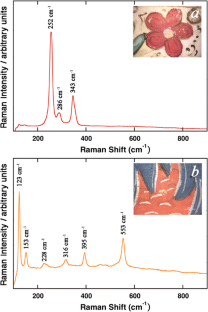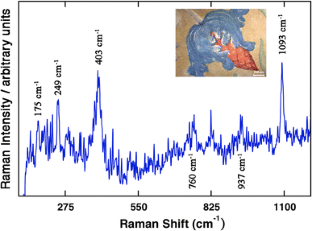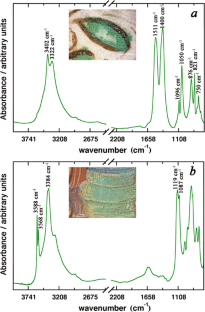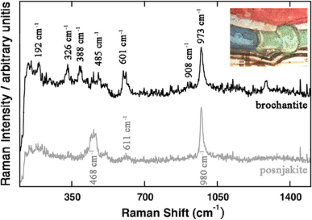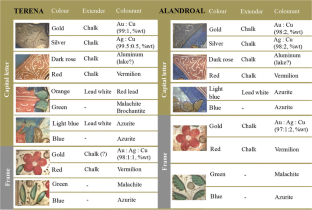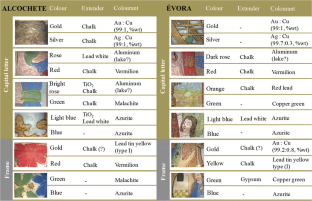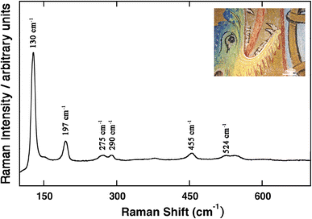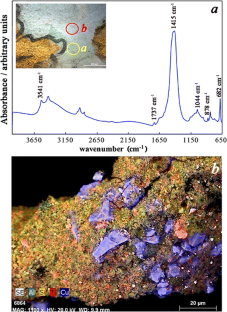 References
1.

J.M. Branco, M.M. Lina, C. Miguel, C. Dias, L. Dias, and A. Candeias, Forais Manuelinos. Juromenha-Alandroal-Terena (1512–1516) (Edições Colibri, Lisboa, 2015)

2.

J.M. Garcia, Os Forais Novos do reinado de D (Lisboa, Manuel I (Colecção do Banco de Portugal, 2009)

3.

M. Clarke, E-Conserv. J. 2, 10–16 (2014)

4.

L. Moura, M.J. Melo, C. Casanova, A. Claro, J Cult. Herit. 8, 299–306 (2007)

5.

A. Candeias, A. Claro, A. Fialho, C. Dias, S. Valadas, T. Ferreira, and J. Oliveira (coord.), O Foral Manuelino de Marvão—contexto, leitura e estudo material (IBN—Revista Cultural do Conselho de Marvão, Marvão, 2012)

6.

M.J.M.M Brigote Chorão, C. Candeias, A Lousã e os seus forais (Câmara Municipal da Lousã, Lousã, 2013)

7.

M. Manso, A. Le Gac, S. Longelin, S. Pessanha, J.C. Frade, M. Guerra, A. Candeias, M.L. Carvalho, Spectrochim. Acta Part A 105, 288–296 (2013)

8.

A. Le Gac, S. Pessanha, S. Longelin, M. Guerra, J.C. Frade, F. Lourenço, M.C. Serrano, M. Manso, M.L. Carvalho, Appl. Radiat. Isot. 82, 242–257 (2013)

9.

C. Miguel, C. Dias, L. Dias, M. Beltrame, and A. Candeias, in Foral de Alcochete e Aldeia Galega—17 de Janeiro de 1515, coord. By Museu Municipal de Alcochete (Museu Municipal de Alcochete, Alcochete, 2015)

10.

C. Miguel, J.A. Lopes, M. Clarke, M.J. Melo, Chemometr. Intell. Lab. 119, 32–38 (2012)

11.

M.P. Merrifield, Medieval and Renaissance Treatises on the Arts of Painting (Dover Publications, London, 1999)

12.

D.V. Thomson, The Craftsman's Handbook 'Il libro dell'Arte' by Cennino d'A Cennini (Dover Publications, New York, 1960)

13.

F. Brunello, De Arte Illuminandi e Altri tratatti sulla tecnica della miniatura medievale (Neri Pozza Editore, Vicenza, 1992)

14.

R.L. Frost, S. Bahfenne, E.C. Keeffe, J. Raman Spectrosc. 41, 1779–1783 (2010)

15.

H.G.M. Howards, D.W. Farwell, E.M. Newton, F.R. Perez, Analyst 124, 1323–1326 (1999)

16.

S. Rada, A. Dehelean, E. Culea, J. Mol. Model. 17, 2103–2111 (2011)

17.

C.N.R. Rao, H.S. Randhawa, N.V.R. Reddy, D. Chakravorty, Spectrochim. Acta Part A 31(9–10), 1283–1291 (1975)

18.

I. Shaltout, Y. Badr, J. Mater. Sci. 40(13), 3367–3373 (2005)

19.

P. Vandenabeele, L. Moens, Comprehensive Analytical Chemistry (Elsevier, Amsterdam, 2004)

20.

E. Mattei, G. Vivo, A. de Santis, C. Gaetani, C. Pelosi, U. Santamaria, Raman Spectrosc. 39(2), 302–306 (2008)

21.

R.L. Frost, W.N. Martens, L. Rintoul, E. Mahmutagic, J.T. Kloprogge, J. Raman Spectrosc. 33(4), 252–259 (2002)

22.

M. Derrick, D. Stulik, J.M. Landru, Infrared Spectroscopy in Conservation (The Getty Conservation Institute, Los Angeles, 1999)

23.

W.N. Martens, R.L. Frost, J.T. Kloprogge, P.A. Williams, J. Raman Spectrosc. 34(2), 104–111 (2003)

24.

B. Gilbert, S. Denoël, G. Weber, D. Allart, Analyst 128, 1213–1217 (2003)

25.

P. Ricciardi, A. Pallipurath, K. Rose, Anal. Methods 5, 3819–3824 (2013)

26.

R.J.H. Clark, L. Cridland, B.M. Kariuki, K. D. M. Harris, and R. Withnall, J. Chem. Soc. Dalton Trans 16, 2577–2582 (1995)

27.

H.G.M. Howards, Spectrochim. Acta A Mol. Biomol. Spectrosc. 80(1), 14–20 (2011)

28.

N. Eastaugh, V. Walsh, T. Chaplin, R. Siddall, The Pigment Compendium—A Dictionary of Historical Pigments (Elsevier Butterworth-Heinemann, Burlington, 2004)

29.

M.P. Colombini, F. Modugno, Organic Mass Spectrometry in Art and Archaeology (Wiley, Chichester, 2009)
Acknowledgements
This work was financially supported by UID/Multi/04449/2013 (POCI-01-0145-FEDER-007649) project. Catarina Miguel thanks the Fundação para a Ciência e Tecnologia for financial support under grant SFRH/BPD/92865/2013. The authors would like to acknowledge Ana Manhita from HERCULES Lab for the preliminary Py-GC/MS results and to Câmara Municipal de Alcochete, Câmara Municipal do Alandroal and Câmara Municipal de Évora for the study of the Charters.
Electronic supplementary material
Below is the link to the electronic supplementary material.
About this article
Cite this article
Miguel, C., Barrocas-Dias, C., Ferreira, T. et al. The comparative study of four Portuguese sixteenth-century illuminated Manueline Charters based on spectroscopy and chemometrics analysis. Appl. Phys. A 123, 72 (2017). https://doi.org/10.1007/s00339-016-0659-6
Received:

Accepted:

Published:
Keywords
Blue Paint

Green Paint

Cochineal

Methyl Indole

Brochantite